How Does SalesZone Theme Comply with Premmerce Plugins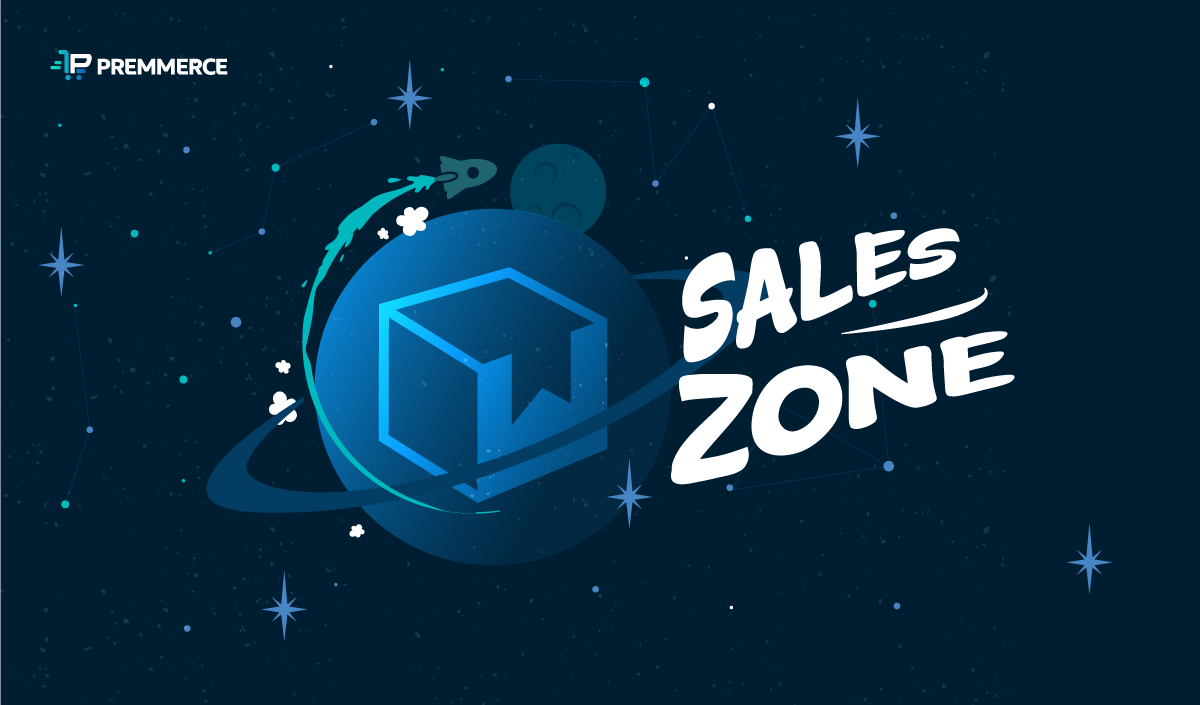 The SalesZone WordPress theme for your online store ensures the best in class performance of your site by using additional addons that are fully compatible with this theme. Check out short compatibility guidance on the SalesZone theme and its work together with plugins developed by Premmerce.
What Is a SalesZone Theme?
SalesZone is a multifunctional WordPress e-commerce theme, specially designed for WooCommerce stores. It has many additional plugins that work together to improve store performance. It allows you to customize your store interface quickly and seamlessly using the toolbar of the SalesZone theme.
SalesZone theme by Premmerce has a few options. One of them is free, while as you make a purchase, you also get access to the child themes that continuously undergo updating.
What Are the Key Features of SalesZone?
Speed
A small number of requests, a page size, minimal scripts, and a high page load speed make SalesZone one of the fastest WooCommerce themes on the market.
Compatibility
The theme is designed to support the work of the all must have third-party plugins.
Navigation friendly
SalesZone theme improves navigation capabilities of your website.
Additional child themes available
After buying SalesZone Theme, you'll get access both to the main theme and a set of child themes. Child themes activation is possible with Premmerce or Premmerce Premium.
Flexible theme customization
You can make all the necessary changes and the slightest details with the Live Customizing manager.

Tested: Navigation Plugins that Work Smoothly with SalesZone
SalesZone theme works seamlessly with WooCommerce and Premmerce plugins that will help users find the necessary product and make their orders.
Premmerce WooCommerce Product Filter
It's a multifunctional plugin that is very easy in use and withstands heavy traffic loads. It is one of the fastest filters for WooCommerce.
What are its main features?
A single widget to control the display of all available filters
Ability to filter search results
Filter by price
An improved caching system that speeds up your website.
In the Premium version, there're advanced SEO settings that will help increase traffic by optimizing filter pages. It's essential not only for customers but also for search engines.
Read more about plugin features here.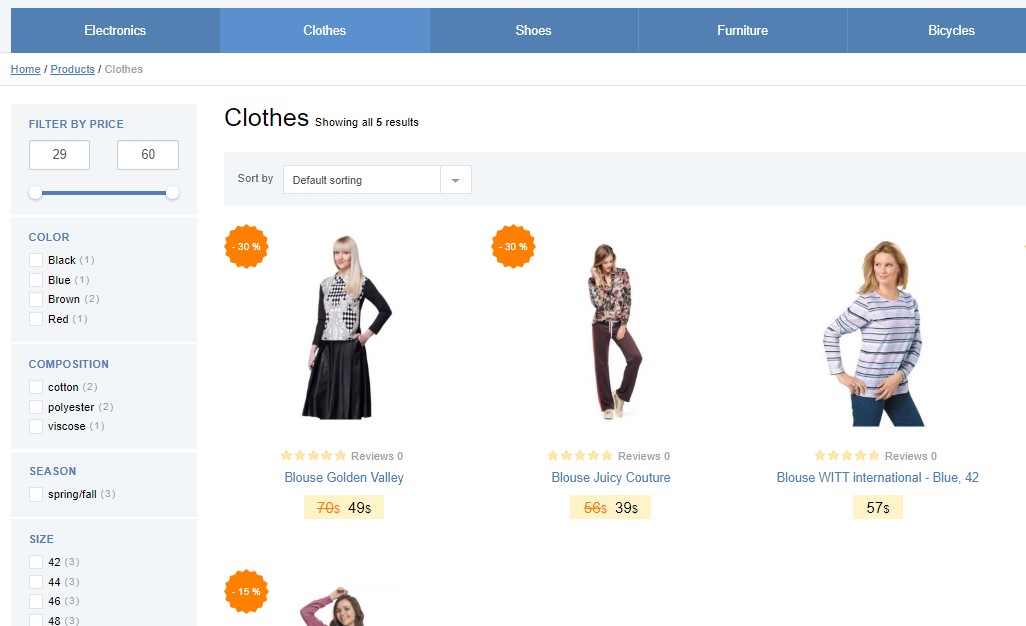 View the SalesZone demo with customized Premmerce filters.
Premmerce WooCommerce Variation Swatches
Premmerce WooCommerce Variation Swatches plugin enables you to extend the standard features of WooCommerce flexibly. It allows you to highlight the main attributes and display them on the product category page. With this plugin, you can also set product variations, such as color, label, image, or radio box.
In WooCommerce, there is no default feature of adding a description to the attribute, but with the WooCommerce Variation Swatches plugin, you can do it when there's a need.
Users of WooCommerce Variation Swatches Premium can also add a product variation to the cart directly on the product category page. This option will enable your customers to make purchases quickly on your website without having to go to the product page. This is especially useful if your customers make repeated purchases. It also improves the usability of your website as a whole.
Explore the plugin features.
How product options of colors and labels look like: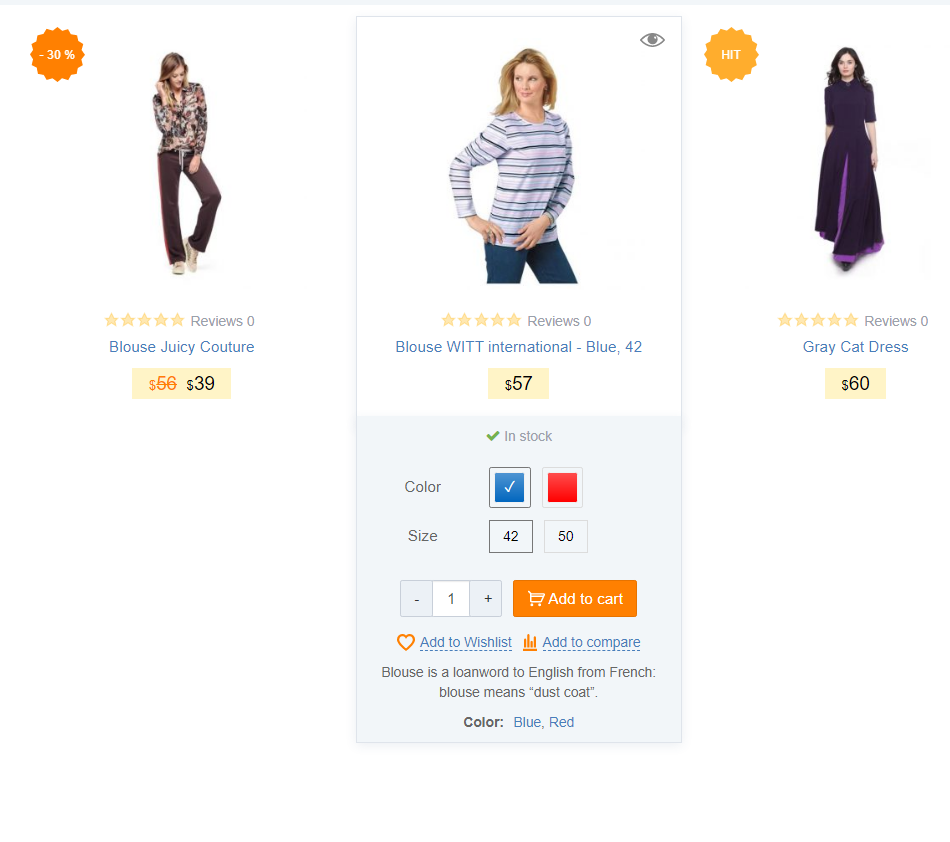 How a product variation looks like: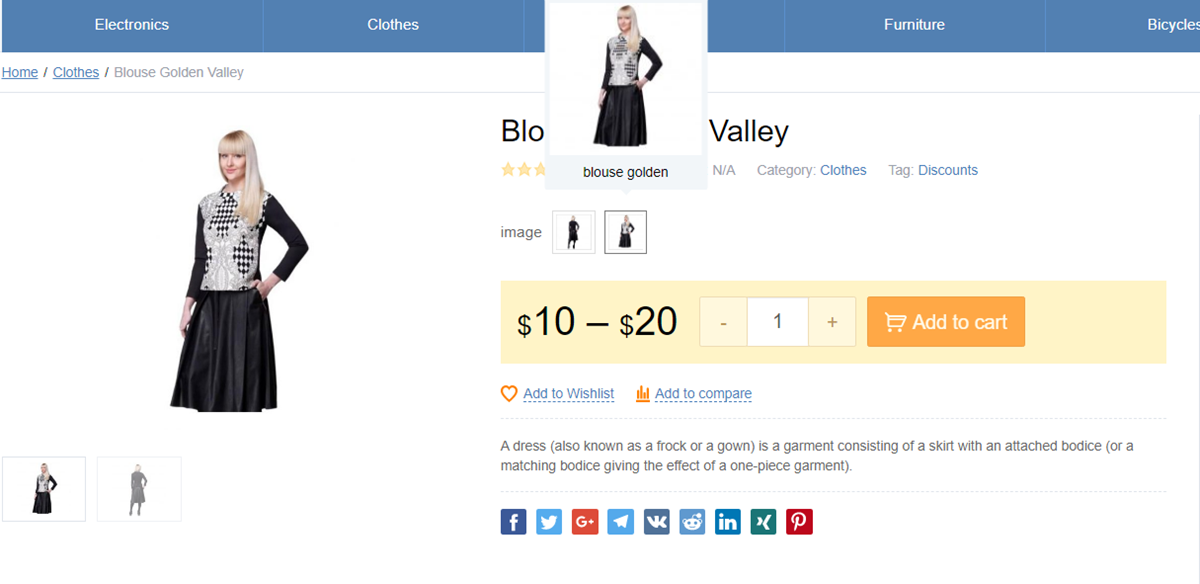 View the demo of SalesZone with Premmerce Swatches.
Premmerce WooCommerce Product Search
WooCommerce Product Search is a plugin allowing a live search and provides additional search results using spelling correction.
You will get the maximum possible relevancy of products search within your store. Forget about creating databases of synonyms and duplicating the words with common mistakes in the product name or its description.
Learn about all the WooCommerce Product Search plugin features.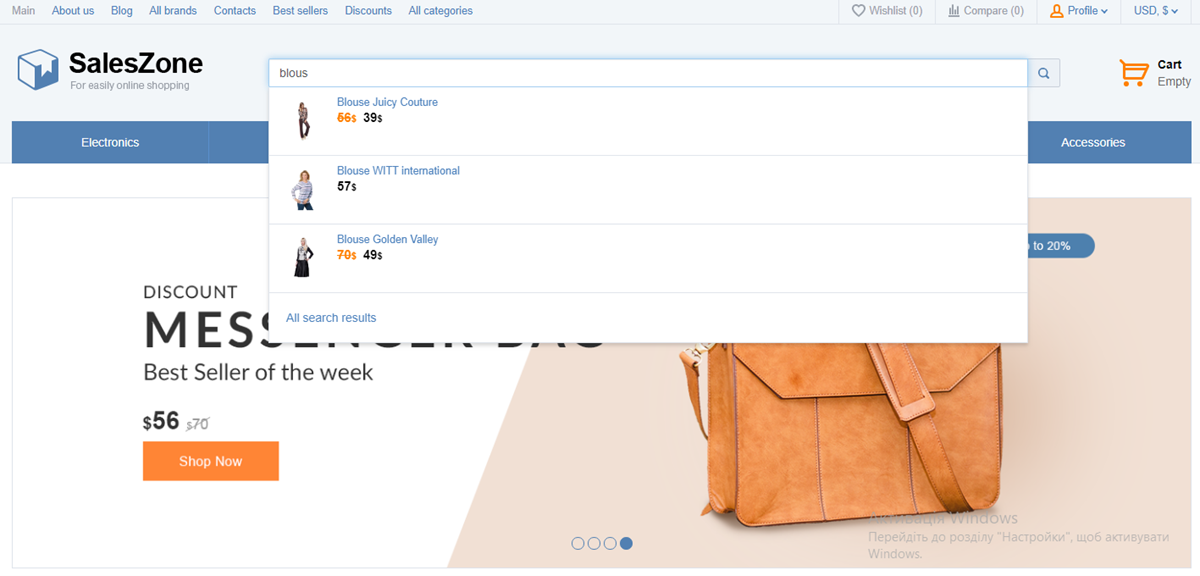 See the SalesZone demo with the Premmerce search.
Premmerce WooCommerce Brands
It enables you to create an unlimited number of brands and assign them to products for better cataloging and product search. It also enables additional opportunities for marketing and product promotion by brands.
Discover all the Premmerce WooCommerce Brands plugin features.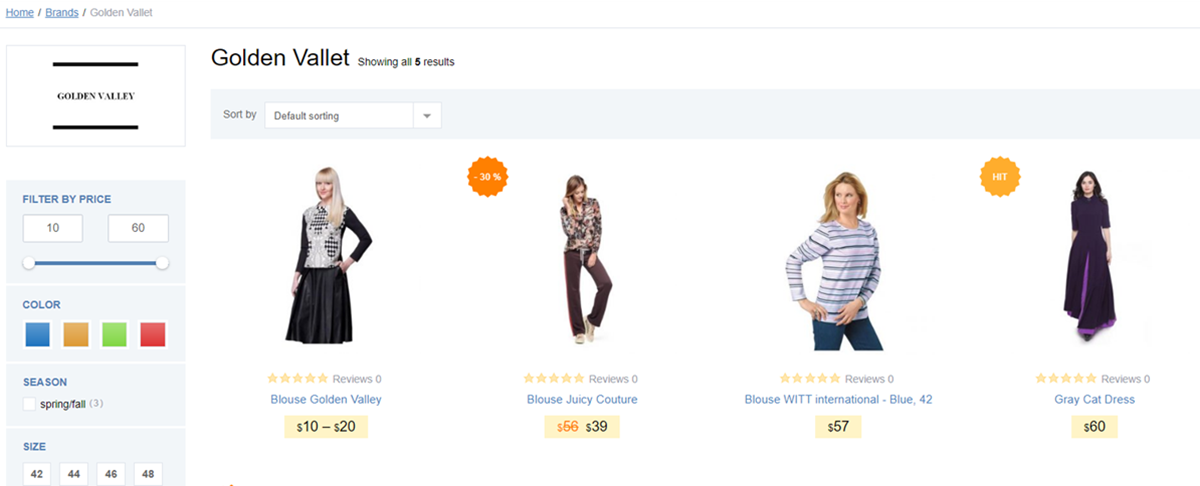 View the demo of SalesZone with Premmerce WooCommerce Brand.
Which Tools Can Be Used With SalesZone for Usability Improvement
SalesZone theme allows users to extend usability and improve performance with more plugins. The following plugins will extend the usability of your online store and help you draw more customers.
Frequently Bought Together
Premmerce Frequently Bought Together plugin is used to display a block of products with discounts and show them as a carousel on a product page. You can add bundles of frequently bought products directly from a product editing page and display them as discounts under a regular price.
You can create the bundles of WooCommerce Frequently Bought Together products from simple products, from product variations, and add bundles from the Product Edit page.
There's also an individual page for managing all the bundles. It will help you to create product sets to boost sales through discounts in a bundle. A well-formed proposal of this kind also increases the number of site page views.
How it looks like on the product page: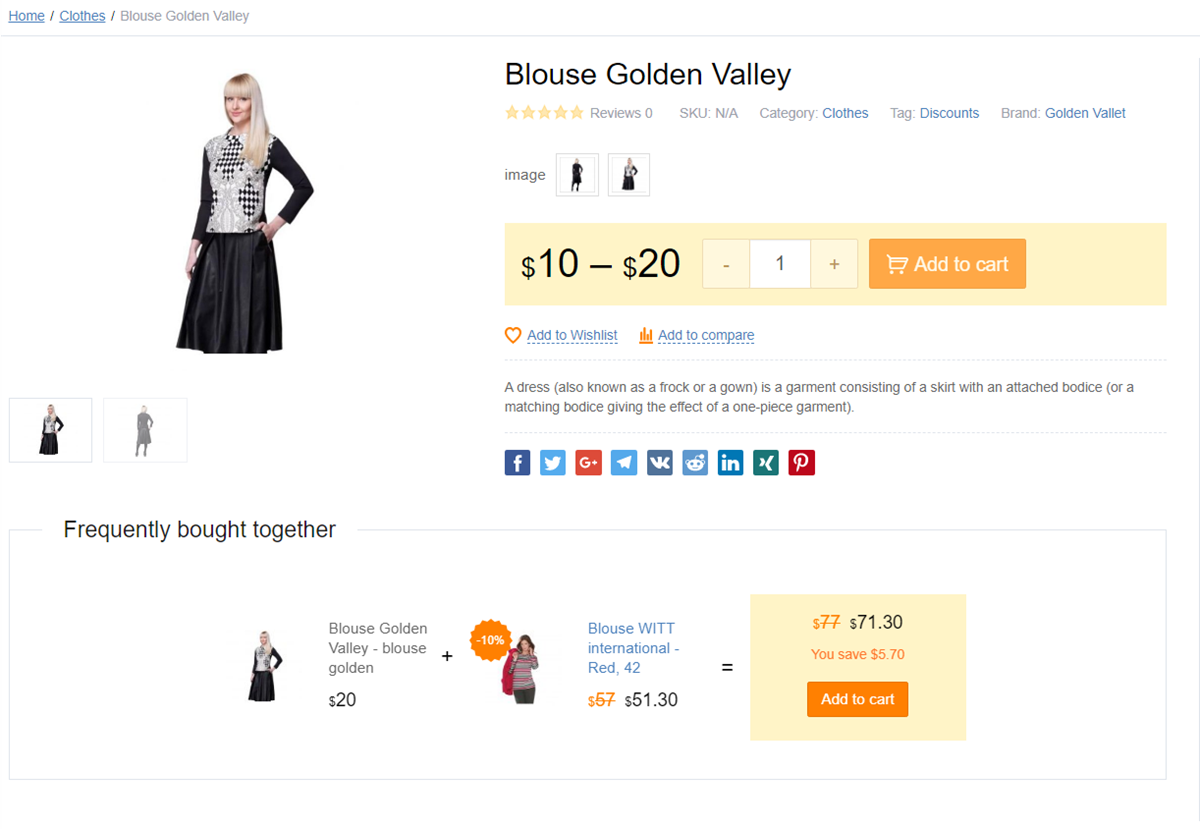 View the SalesZone demo with Premmerce Frequently Bought Together plugin.
Premmerce WooCommerce Wishlist
The ability to add a chosen product to the wishlist will be beneficial for customers who haven't made a final purchase decision yet. Or those who like a product but are unable to pay for it at once. For example, customers accidentally came across it while viewing the catalog, and they loved it. They can add it to the wishlist so they can return to the site later.
Check out other features of Premmerce WooCommerce Wishlist plugin.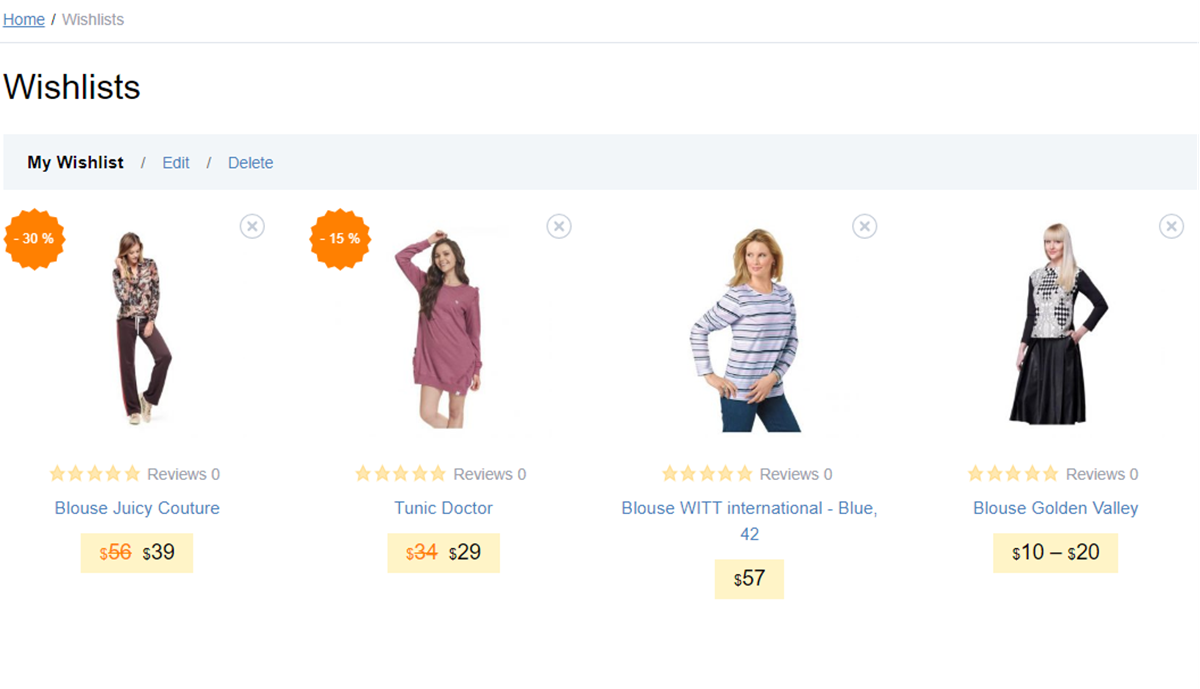 Premmerce plugin add-on – Premmerce Product Comparison
This is a tool for comparison of alternative products in your online store. It helps your customers to make the best decision for the purchase. In this way, you help a person who hesitates. At the same time, you get an increased number of purchases.
Explore the add-on features here.

Premmerce Woocommerce Multi-currency
This plugin will help you set up several currencies in your online store. Now any customer from any country can pay in any currency for your store products.
Learn about all the WooCommerce Multi-currency plugin features.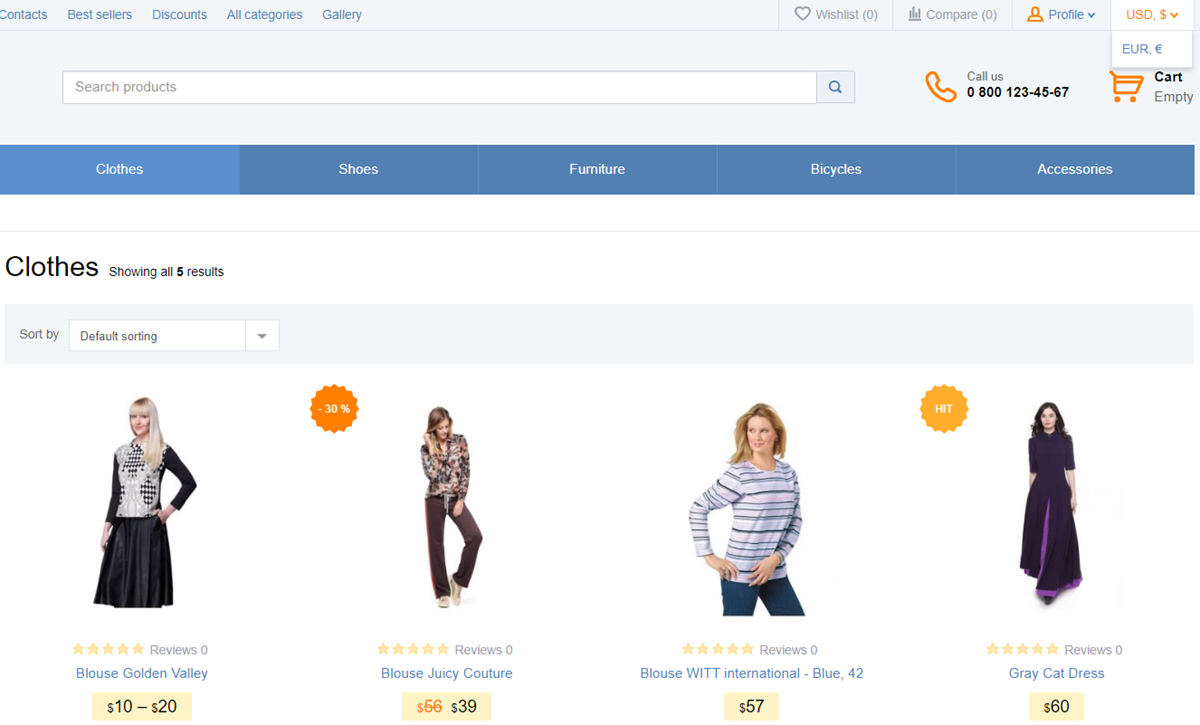 Premmerce Performance Optimizer
Every online store owner tries to optimize and improve the performance of the site to ensure the best experience for their existing and potential customers. We've striven to open the door to optimization and productivity gains by creating the plugin that automatically speeds up the store.
Explore the features of the Premmerce Performance Optimizer features.
Additional Plugins That Don't Affect the Store Display
Here's a bunch of other Premmerce plugins that make your online store setup even more flexible:
Premmerce WooCommerce Permalink Manager is developed to improve the current WooCommerce URL configuration features. It provides your store with better display options and additional SEO capabilities to adhere to WooCommerce SEO Audit standards.
With Premmerce Redirect Manager, you can create 301 and 302 redirects. It also enables you to set up automatic redirects for the deleted products in the WooCommerce store.
Premmerce User Roles enables you to create WordPress custom user roles from the WordPress admin area and assigning arbitrary access rights for them.
Premmerce WooCommerce Customers Manager broadens the standard user list and the edit user page in WordPress. It also adds the customer data from WooCommerce. This is the primary customer management plugin Premmerce. We are continuously enhancing it and adding new features, considering the needs of its users.
Premmerce Woocommerce Wholesale Pricing allows you to add prices to products for each user role.
Premmerce WooCommerce SEO Addon plugin boosts the functionality of Yoast SEO for microdata management and provides all the instruments you need for your store's SEO improvement.
The Premmerce Plugins Pricing
Almost all Premmerce plugins have free versions. In many cases, it can be sufficient to deal with several issues. You can find all of them in the official WordPress marketplace.
Some plugins offer Premium versions to expand their basic features. Besides, users of Premium versions get technical support and regular updates. We regularly update our plugins by adding new features to keep your store trendy and functional. The pricing for Premium versions of Premmerce plugins ranges from $45 to $65. Take a closer look at Premium versions in our marketplace.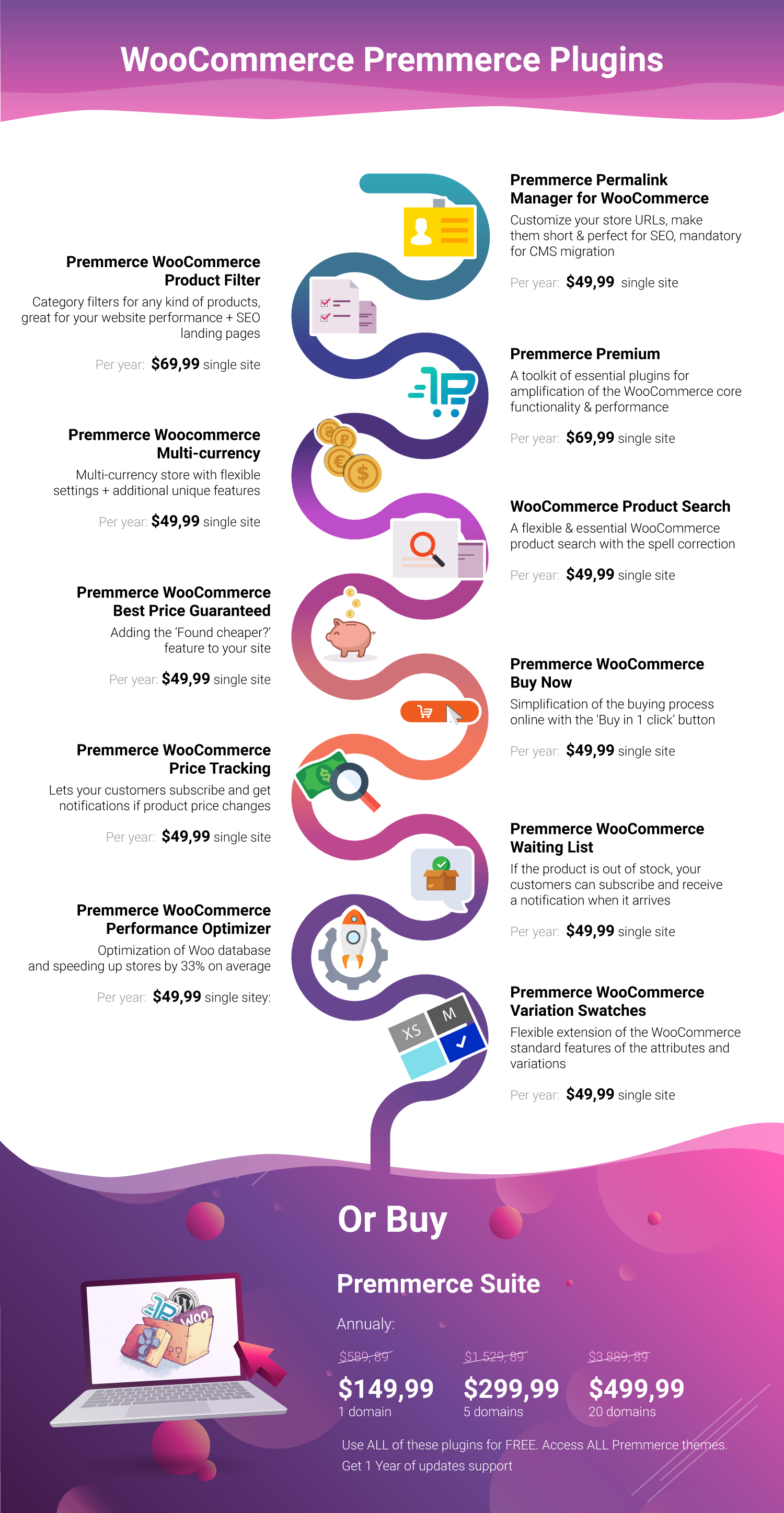 How to Boost Performance of SalesZone Based Online Stores
The Premmerce Suite will enable you to improve your SalesZone based online stores at once with all or most of Premmerce plugins. It provides access to all the premium versions at a price just above the cost of 2 plugins. Check it out!
SalesZone Theme is compatible with several third-party WordPress plugins that have already been successfully tested. Depending on your personal needs, you may require to purchase some of the plugins to boost your website performance or get a Premmerce Suite that has united the functionality of basic WordPress plugins.
Comments
Ready to Get Started?
Join over 100,000 smart shop owners who use Premmerce plugins to power their WooCommerce stores.
Get started