7 Best WooCommerce SEO Plugins and Tools for Traffic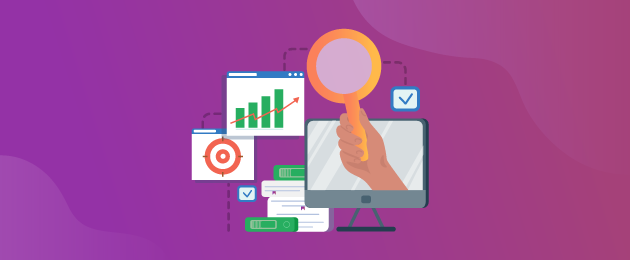 It's a competitive digital world out there, and the race to the top of the search engine rankings is fiercer than ever.
Here's an interesting fact to consider – a comprehensive study by Ahrefs, which analyzed over 1 billion web pages, found that a staggering 90% of them didn't receive any traffic from Google.
If you're the owner of a WooCommerce store or a freelancer or agency building WordPress websites for clients, these statistics might sound quite alarming.
However, it's not a cause for despair, but rather, a call to action.
As we navigate the labyrinthine complexities of Google's Search algorithm – the undisputed titan of the search engine market – we need to ask ourselves, how can we avoid falling into that 90%?
The answer lies in a powerful combination of two things: WooCommerce and smart SEO strategy.
WooCommerce, a customizable, open-source eCommerce platform built on WordPress, is renowned for its flexibility and vast array of features.
But to truly leverage its potential and ensure your products are seen by the right people at the right time, you need to master the art of Search Engine Optimization (SEO). This is where the necessity for a WooCommerce SEO plugin comes in.
But with a myriad of SEO plugins available, which one should you choose?
This post is your comprehensive guide to the best WooCommerce SEO plugins and tools, including a detailed comparison of features and benefits, as well as tips to optimize your SEO strategy.
Fasten your seatbelts and prepare for a deep dive into the world of WooCommerce SEO. The road to better visibility, increased traffic, and higher conversions starts here!
How does SEO work in default WooCommerce?
WooCommerce, out of the box, does come equipped with some basic SEO features designed to help you start your journey toward better search engine visibility.
One of the key advantages of WooCommerce is its ability to create custom URLs, also known as permalinks. These are the unique addresses for each of your WordPress site pages, which are crucial for both search engines and users.
Custom URLs are important for SEO because they allow you to insert relevant keywords related to your product or category directly into the web address. This makes it easier for search engines to understand the content of your page, thus aiding in efficient crawling and indexing of your site.
For users, a descriptive URL gives a clear indication of what they can expect when they click on the link, improving readability, user experience, and boosting your credibility.
Another notable SEO feature in WooCommerce is the ability to add meta descriptions.
These brief snippets are a summary of your web page's content, and they appear below the title in search engine results. Crafted well, meta descriptions can pique a user's interest and significantly increase your click-through rates (CTR).
While these features provide a basic foundation for SEO, it's important to note that they merely scratch the surface of what's possible.
SEO is a complex and ever-evolving field, and to truly stand out in the crowded digital marketplace, you need more advanced tools and strategies.
This is where the limitations of WooCommerce's default SEO features become apparent, and the real power of SEO plugins comes into play.
Let's look at how you can leverage the best SEO plugins to supercharge your WooCommerce store's SEO, taking it from basic to brilliant!
What is an SEO plugin and why should you use it?
In the grand theatre of eCommerce, SEO is the star of the show, and an SEO plugin is the director, making sure everything runs smoothly behind the scenes.
But why should you consider using an SEO plugin for your WooCommerce store?
Let's break down the various benefits:
Advanced SEO capabilities
While WooCommerce's default SEO features provide a basic foundation, SEO plugins take things to a whole new level.
They come packed with a plethora of advanced capabilities, many of which are simply not available with WooCommerce out of the box.
For instance, consider the task of optimizing your product page. An SEO plugin can:
Automatically generate relevant and targeted metadata and tags, making your page more appealing and click-worthy in search results, bringing in more organic traffic.
Provide structured data markup, a sophisticated form of SEO that makes it easier for search engines to understand the information on your page, enhancing your visibility in rich snippets and knowledge graphs.
Generate XML sitemaps, which are like a roadmap of your eCommerce store that guide search engines to discover and index all the pages of your store, ensuring none of your valuable content is missed.
Conduct SEO audits and offer insightful SEO analysis and recommendations that can be instrumental in improving various aspects of your website, from increasing speed, adding backlinks for better site structure, enhancing content quality, and optimizing keyword usage.
Customization
SEO plugins typically have advanced SEO settings that offer more customization options than the default WooCommerce setup. For example, you can tailor your title tags, meta descriptions, and URLs to align better with your business's branding and optimize for specific keywords.
Imagine you're selling handmade wooden furniture. A customized URL like 'www.yourstore.com/handmade-oak-dining-table' clearly communicates the page's content, is keyword-rich, and is significantly more SEO-friendly than a generic or auto-generated URL.
Improved website performance
Website performance is a crucial factor in SEO, and some SEO plugins are equipped with features to enhance this aspect.
Image compression, for example, reduces the file size of your images without compromising quality, ensuring faster page loading times. Similarly, caching mechanisms can store a version of your site to serve to users, significantly improving site speed.
Faster websites provide a better user experience, and Google recognizes this by giving an SEO boost to sites with quicker load times.
An SEO plugin is like your personal SEO consultant, providing insights, automations, and advanced capabilities that go beyond the default WooCommerce functionalities. With the right SEO plugin, you'll be well-equipped to climb the SERPs and attract more traffic, leads, and sales. Let's now go through some of the top choices to consider.
7 best WooCommerce SEO plugins and tools
In WordPress, there's a galaxy of SEO plugins available, each with its own unique offerings. From comprehensive, all-encompassing tools that cover all aspects of SEO, to specialized plugins that focus on specific features like caching or product filters, the choices are vast.
Here is a curated list of the top 7 WooCommerce SEO plugins and tools, each chosen for its unique features, ease of use, and overall impact on SEO performance.
Let's dive in!
1. Yoast SEO
Starting off our list is a heavyweight contender in the world of best WordPress SEO plugins – Yoast SEO. With its comprehensive suite of tools, Yoast SEO is like an all-in-one solution for your WooCommerce SEO needs.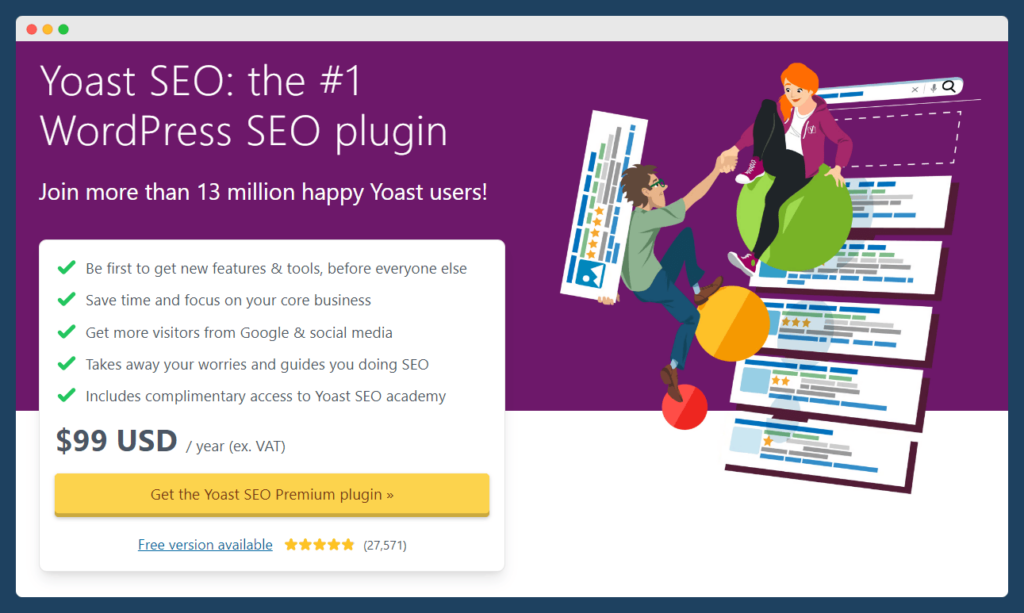 Features
Content analysis, allowing you to gauge how well your content is optimized for search engines.
Ability to manage meta keywords, alt text, and descriptions, crucial elements that tell search engines what your pages are all about.
Option for setting smart canonical URLs to handle duplicate content – a common issue that can harm your search rankings.
Ability to generate XML sitemaps, making it easier for search engines to crawl and index your website.
Addition of social features and rich snippets, enhancing your website's visibility in Google search results.
Power to fine-tune nearly every aspect of your SEO strategy. You can set a focus keyphrase, customize SEO titles and meta descriptions, and even use a handy configuration wizard to get your site set up in no time.
Integration with Google Analytics and Google Search Console to optimize product pages for both users and search engines.
Yoast SEO's biggest strength lies in its comprehensive analysis of your pages. The plugin provides you with actionable steps and tutorials to improve your SEO, acting as your personal SEO coach.
It's incredibly user-friendly, offering a traffic light system that makes it easy to understand how well your pages are optimized.
However, despite its many advantages, Yoast SEO does have a few limitations. Some users may find the sheer range of options a bit overwhelming, particularly if they're new to SEO. Also, while the free version offers a wealth of features, some of the advanced functionalities are only available in the premium version.
Pricing
Yoast SEO offers a free version with basic SEO tools. For more advanced features, you can upgrade to the premium version, which starts at $89 per year for a single site.
2. Rank Math SEO
Next on our list is Rank Math SEO, a powerful plugin that simplifies SEO and takes the guesswork out of content optimization.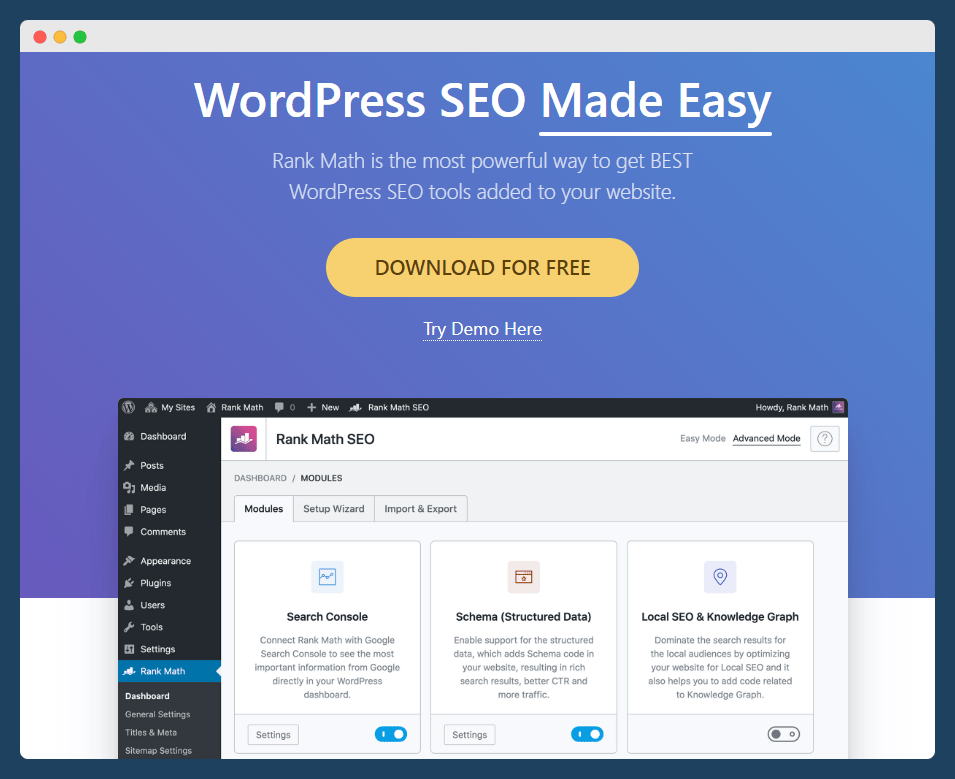 Features
Customizable SEO titles and meta descriptions, allowing you to tailor these critical elements to your specific needs.
Ability to craft engaging descriptions for your social media posts.
Focus keyword analysis feature that provides insights into the effectiveness of your chosen keywords, helping you fine-tune your content for maximum SEO performance.
XML sitemaps and structured data/schema, essential tools for enhancing your website's visibility to search engines.
Features for local SEO, product image SEO, and internal link suggestions, offering a comprehensive suite of tools for every aspect of your SEO strategy.
Breadcrumbs for improved site navigation.
A link counter to keep track of your internal and external links.
Tools for managing redirections and monitoring 404 errors.
One of the biggest advantages of Rank Math SEO is its wealth of free features. While many plugins offer advanced features at a premium, Rank Math SEO provides a comprehensive SEO toolkit right out of the box, making it a cost-effective choice for WooCommerce store owners.
However, for beginners, the sheer volume of options and settings can be overwhelming. Additionally, while the plugin offers a smooth setup process, some users have reported compatibility issues with certain themes and plugins.
Pricing
Rank Math SEO offers a free version that includes a wealth of SEO tools. They also offer a Pro version starting at $59 per year, which offers advanced features such as keyword rank tracking, advanced schema generator, Google Trends integration, and more.
3. All in One SEO
All in One SEO (AIOSEO) is a classic in the world of SEO plugins. As the first WordPress SEO plugin, launched in 2007, it's had time to perfect its offerings and has grown a robust user base of over 3 million.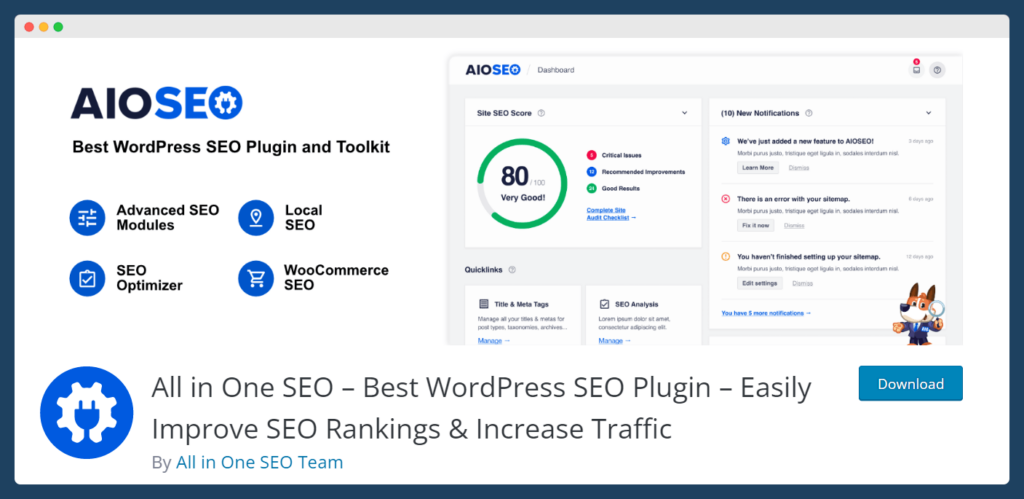 Features
Advanced SEO tools, including XML sitemaps, which help search engines crawl and index your site more efficiently, and optimized search appearance to ensure your site looks its best in search results.
Ability to fine-tune meta titles and descriptions, incorporate SEO keywords, and even manage the information shown on Google's SEO Knowledge Panel.
Social media integration to help boost your online presence across platforms and local SEO features to help your business appear in local search results.
Schema markup for SEO to help search engines understand your content better and significantly boost your visibility in search results.
On-page analysis for your content, schema snippets to enrich search results, control over your robots.txt file, and video SEO features to optimize your multimedia content.
The plugin also offers strong support and documentation, ensuring you're never left in the dark when optimizing your WooCommerce store. Its long history and large user base are testaments to its reliability and effectiveness.
Nevertheless, while AIOSEO is packed with features, some users find its interface less intuitive compared to other plugins.
Pricing
AIOSEO offers a limited free version. The Pro version, which unlocks more advanced features, starts at $49.50 per year.
4. Broken Link Checker
Broken links are more than just a nuisance – they're a detriment to user experience and your website's SEO. This is where Broken Link Checker comes in, a plugin designed to save you time and effort by automating the process of identifying and fixing broken links.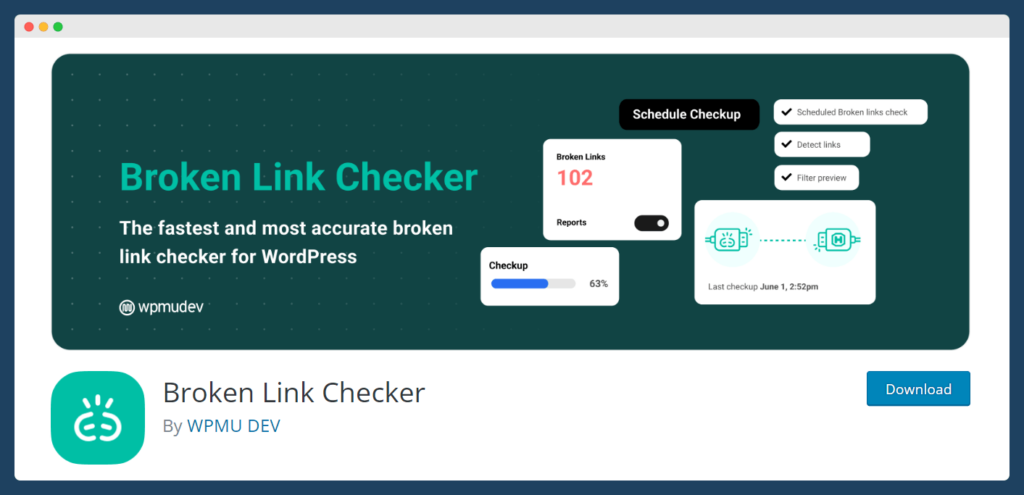 Features
Scans your WooCommerce site for broken links. Once identified, it compiles them into an easy-to-use list, allowing you to quickly remove or replace them.
It also monitors comments, custom fields, and even missing images and redirects.
Has in-page editing capabilities which enable you to modify links directly from the plugin's primary page, saving you the hassle of navigating to individual pages.
Feature to prevent search engines from following broken links, thus preventing any negative impact on your SEO.
The strength of Broken Link Checker lies in its simplicity and automation. It takes a tedious task and simplifies it, saving you valuable time. Its ability to prevent search engines from following broken links is a valuable feature that helps protect your website's SEO.
On the other hand, while a powerful tool, Broken Link Checker can be resource-intensive, potentially slowing down your website's performance. Therefore, it's advisable to use it periodically rather than leaving it active all the time.
For an even more comprehensive solution to link-related SEO issues, consider pairing Broken Link Checker with WooCommerce Permalink Manager.

This plugin optimizes your URL structure by:
Removing unnecessary elements.
Automatically redirecting old and broken URLs to new ones.
Ensuring your permalinks are SEO-friendly.
WooCommerce Permalink Manager provides 301 redirects for duplicate pages, 'rel=canonical' tag support, and even integrates with Yoast SEO.
This makes your URLs not only cleaner but also in line with Google's recommended permalink structure, potentially giving your SEO a significant boost.
5. WP Rocket
One of the significant factors that influence your SEO performance and user experience is your website's speed. WP Rocket is a powerful caching plugin that can give your WooCommerce store the speed boost it needs to impress both users and search engines.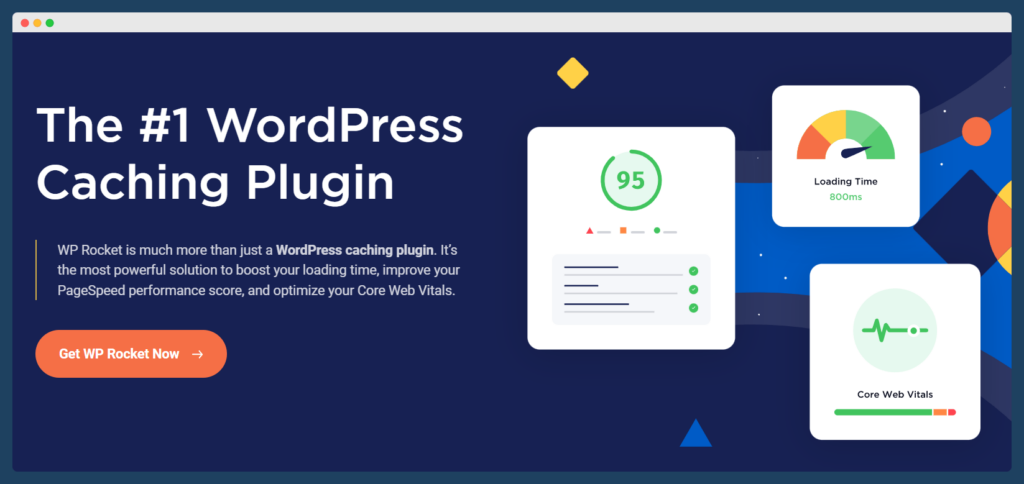 Features
Upon activation, it automatically applies caching, reducing the number of requests to your database and preventing your server from overloading. This not only improves your site's speed but also its overall performance, offering a smoother user experience.
It also provides CSS and JavaScript optimization, reducing the load times of these elements on your site.
It offers a lazy-loading feature, which delays the loading of images until they're needed, further enhancing your site's performance.
It's a beginner-friendly plugin, requiring no coding skills to get started.
It's also compatible with most hosting services and plugin tools, ensuring seamless integration with your existing setup.
The plugin is easy to use, and it starts working right away, with no need for complex configurations. Its wide array of features goes beyond simple caching, providing a comprehensive solution for improving your website's speed and performance.
By reducing server load and bandwidth consumption, WP Rocket makes your site faster, more appealing to search engines, and more enjoyable for users.
Having said that, WP Rocket does come at a price. Unlike some other caching plugins, there is no free version available. Also, some users may find the options somewhat limited compared to more technical caching plugins.
Pricing
WP Rocket is a premium plugin, with prices starting at $49 for a single site license.
6. Schema Pro
Schema markup is an essential tool for communicating your website's content to search engines in a language they understand best. Schema Pro takes this task head-on, making it easier than ever to add schema markup to your WooCommerce store and potentially boost your search result rankings.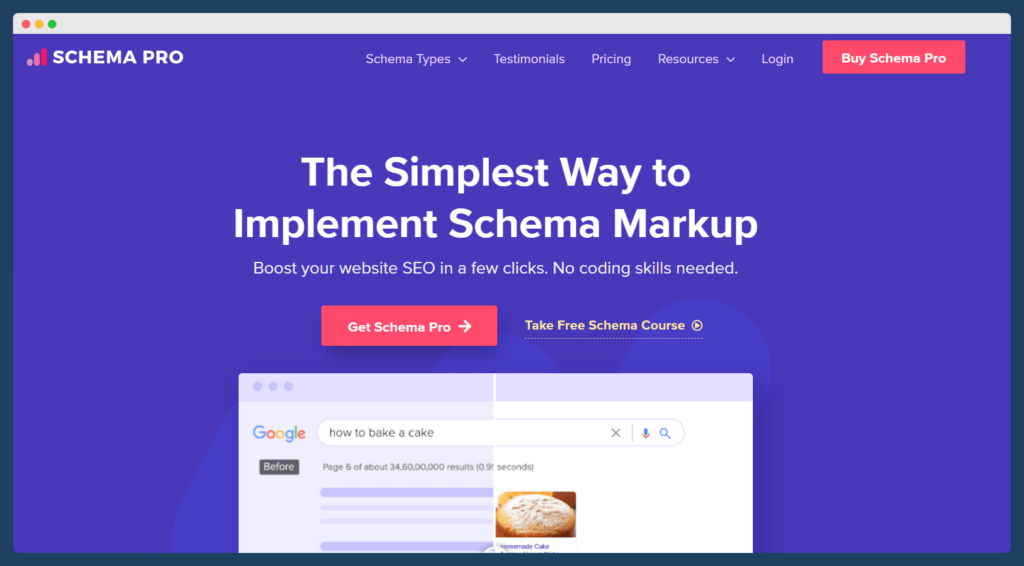 Features
Schema Pro supports an impressive range of schema types. With 13 types of schema markup to choose from, including reviews, recipes, articles, videos, products, local businesses, and individuals, it provides a comprehensive solution for your schema markup needs.
The plugin is extremely easy to use. You can add schema markup by simply selecting a schema type, choosing your target, and mapping your existing content with schema markup. Plus, there's no need for coding skills, making Schema Pro accessible to users of all experience levels.
Schema Pro supports all post types and custom fields, offering extensive flexibility for your WooCommerce store's specific needs.
Schema Pro is a powerful tool, no doubt, but it comes with a learning curve. Understanding schema markup and how to use it effectively can be challenging, especially for beginners. Also, Schema Pro is a premium plugin, which might not suit everyone's budget.
Pricing
Schema Pro is a premium plugin with prices starting at $79 per year for a single site license.
7. WooCommerce Product Filter
With WooCommerce's default functionality, customers often have to reload the page to apply their shopping filters, leading to a less-than-ideal user experience.
That's where the WooCommerce Product Filter plugin steps in, offering a more user-friendly, professional, and SEO-friendly solution to product filtering.

Features
Provides a range of filtering options through a single widget, displaying all available filters. Customers can filter products by price, attribute, category, brand, or any custom taxonomy, ensuring a smooth and efficient shopping experience.
Leverages AJAX filtering technology, delivering instant and precise filtered search results without the need for page reloads. This not only improves the user experience but also enhances the website's loading speed, which is a crucial factor for SEO.
Generates clean URLs and creates landing pages based on filters. These features can enhance your eCommerce site's SEO, improve its crawlability, and make it more accessible to search engines.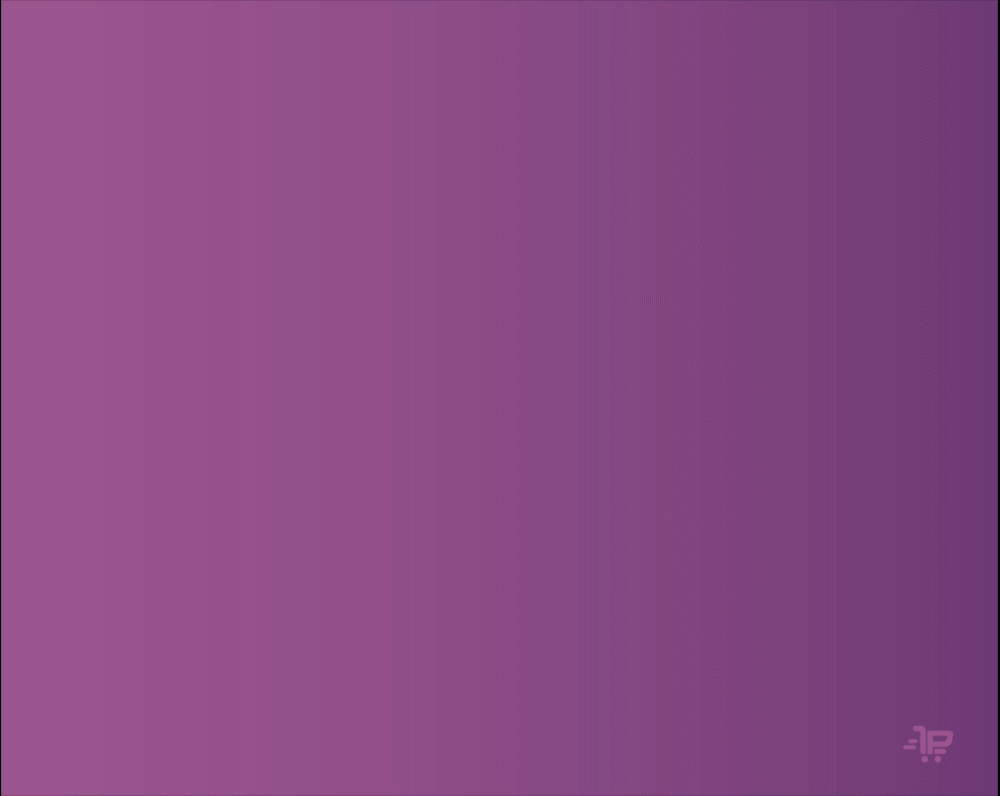 The WooCommerce Product Filter plugin is a premium offering and offers good value for the price. The plugin also offers a variety of filter options, which you can configure to match your store's needs.
Pricing
WooCommerce Product Filter is available at $69.99 per year.
Tips to optimize SEO strategy
If you're looking to enhance the SEO of your WooCommerce store, you might have a few questions.
Here are some answers that should guide you along the way:
Is WooCommerce SEO-friendly? How does SEO work in WooCommerce?
Absolutely! WooCommerce, being a WordPress plugin, inherently benefits from the robust SEO capabilities of WordPress itself.
It allows you to customize URLs, title tags, meta descriptions, and other on-page SEO elements. This makes it not just SEO-compliant, but also incredibly SEO-friendly. Plus, WooCommerce permits the use of additional plugins to further optimize your SEO efforts.
What are the top SEO strategies I can implement on my WooCommerce store?
As this guide to SEO by WooCommerce explains, there's no shortage of strategies you can employ to bolster your WooCommerce store's SEO.
Here are some key strategies:
Implement an eCommerce-focused keyword research strategy: A strong keyword strategy should include a mix of primary focus keywords, semantic or related keywords, product-focused keywords, and long-tail keyword phrases. Tools like Google Keyword Planner or SEMRush can help you identify and optimize these keywords and improve keyword rankings.
Design a simple and intuitive site architecture: Ensure your site is easy for visitors to understand and navigate. This not only improves the user experience, but can also help search engines crawl your site more effectively.
Avoid duplicate pages with canonical tags: Duplicate pages can confuse search engines and dilute your SEO efforts. Use canonical tags to indicate to search engines which version of a page should be considered the original.
Improve your website loading times: Slow websites can frustrate users and damage your SEO. Optimize your website's speed by leveraging caching and AJAX filtering using a plugin like WooCommerce Product Search or WP Rocket.
Remember, SEO is a long-term strategy that requires consistency and patience.
Implement these strategies and consistently monitor your SEO performance. You'll be well on your way to achieving higher visibility in search engine results, driving more traffic to your WooCommerce store, and ultimately, increasing your sales.
Get started with the best WooCommerce SEO plugins
Selecting the best WooCommerce SEO plugin or tool for your online store is a significant decision that can impact your store's visibility, traffic, and sales.
If you're new to website development or running a small business without extensive capacity for SEO, an all-in-one solution like Yoast SEO can be a great starting point.
However, keep in mind that no single plugin covers ALL the possible aspects of SEO. You'll likely need a suite of tools, like a caching plugin, a schema markup plugin, and an AJAX product filter plugin, to optimize your WooCommerce store fully.
And when it comes to improving user experience and engagement, a plugin like WooCommerce Product Filter can prove to be invaluable.
By enabling your users to filter search results in an efficient and user-friendly manner, this plugin can not only reduce your site's bounce rates but also potentially increase its rankings in search engine results.
So go ahead, evaluate, test, and pick the best tools for your site.
Always keep in mind, SEO is a marathon, not a sprint. 
Begin today, and you'll be well on your way to achieving higher visibility, more traffic, and increased sales for your WooCommerce store!
Premmerce WooCommerce Product Filter
Get started giving your customers a better way to filter your products to increase site usability and revenue.

Comments
Ready to Get Started?
Join over 100,000 smart shop owners who use Premmerce plugins to power their WooCommerce stores.
Get started