How to Effortlessly Print Invoices and Packing Lists in WooCommerce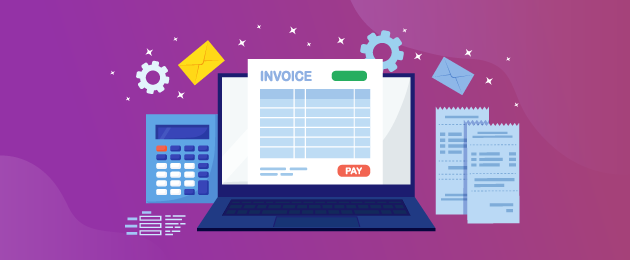 Looking for an effortless way to print invoices and packing slips from your WooCommerce store? You're not alone.
Many eCommerce entrepreneurs find it challenging to maintain efficient record-keeping and streamline order fulfillment due to the lack of proper tools. Printed invoices serve as an essential part of bookkeeping, helping keep track of business transactions for tax purposes, while packing slips help smooth out the order fulfillment process, eliminate errors, and improve customer service by ensuring the right products get to the right customers.
However, many WooCommerce store owners struggle with these aspects due to the absence of a reliable and straightforward method to print invoices and packing slips directly from their WooCommerce interface.
But here's the good news: with the right tools and a touch of setup, you can effortlessly print invoices and packing slips from your WooCommerce store.
This article will guide you through the process, from choosing the right plugin to customizing your invoice and packing slip designs to suit your brand image, and, finally, effectively streamlining your invoicing workflow.
Whether you're a seasoned online store owner or just starting out, this step-by-step guide will offer you an easy and efficient way to manage and print invoices in WooCommerce.
Prepare to transform your WooCommerce store's administrative tasks into a seamless, time-saving process. Let's dive in!
Why print WooCommerce invoices and packing lists?
You might wonder why it's crucial to print invoices and packing lists for your WooCommerce store. The digital world may be taking over many aspects of our lives, but physical invoices and packing lists continue to hold substantial importance for various reasons.
Customer convenience
The beauty of eCommerce lies in its convenience, and providing physical copies of invoices and product lists only enhances that convenience.
Many customers prefer to keep a physical record of their purchases for various reasons – it may be for personal financial tracking, warranty claims, or product returns.
Offering a printed invoice caters to these customers, ensuring that your service meets their needs at every point of the purchase journey.
Professionalism
Including a printed invoice with the products you ship does more than provide a record of the transaction – it also communicates your business's professionalism.
A well-structured, detailed invoice indicates that you are committed to offering comprehensive services and paying attention to the finer details. This can help enhance your business's credibility and improve your customers' overall experience.
Legal compliance
Depending where your business operates, you may be legally obligated to include a printed invoice with each purchase. This requirement isn't just a formality; non-compliance can lead to penalties and even damage your business's reputation. Therefore, printing invoices isn't just good practice, it's often a legal necessity.
Brand visibility
Every touchpoint with your customer presents an opportunity to strengthen your brand identity, and printed invoices are no different. By customizing your invoices with your brand's logo, colors, and even a personalized thank-you note, you can reinforce your brand image.
It's a subtle yet effective way of making your brand more memorable to your customers.
Order accuracy
When packing orders for shipment, a printed invoice or packing list acts as a final checklist to verify that all items are included, and the order details are accurate.
This reduces the chances of errors, ensures a positive customer experience, and saves you the time and cost of correcting mistakes later on.
Resolution of disputes
Should any discrepancy or dispute arise regarding an order, a printed invoice or packing list provides physical evidence of the transaction details. It states clearly what was ordered, when, and at what price, thereby helping resolve disputes more effectively and transparently.
Returns and exchanges
Dealing with returns and exchanges is a common part of running an eCommerce business. A printed invoice or packing list simplifies this process as it includes all necessary transaction details, making it easier for both the customer and the business to handle returns or exchanges smoothly and efficiently.
The importance of printing WooCommerce invoices and packing lists extends beyond mere record-keeping. It enhances customer service, ensures legal compliance, increases brand visibility, and improves operational efficiency. Let's take a look at how to seamlessly integrate this practice into your WooCommerce operations.
Can you print invoices and packing slips in WooCommerce?
Yes, absolutely! You can indeed print invoices and packing slips directly from your WooCommerce store. However, it's essential to note that this functionality is not available natively in WooCommerce.
In other words, the core WooCommerce plugin does not come with built-in features to print invoices or packing slips.
But, don't let this worry you!
The beauty of WooCommerce lies in its extensive flexibility and compatibility with a wide range of plugins designed to extend its functionality. In the context of printing invoices and packing slips, there are several robust plugins available that seamlessly integrate with your WooCommerce store to add this crucial feature.
These plugins allow you to generate, customize, and print invoices and packing slips directly from your WooCommerce dashboard, greatly simplifying your order management and fulfillment processes. As we proceed in this guide, we'll explore these plugins and guide you on how to choose the best one for your specific needs. Let's check them out!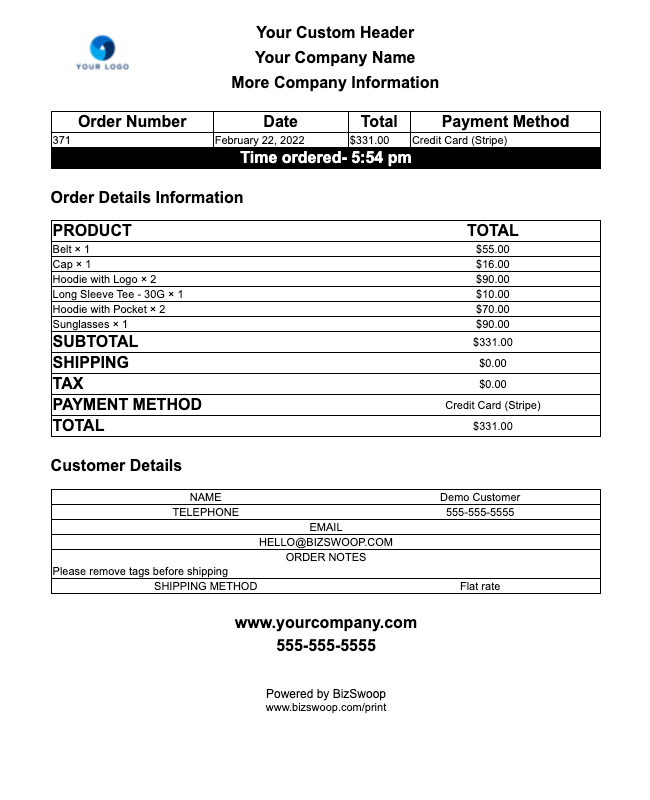 Choosing the right WooCommerce invoice plugin
The right invoice printing plugin will integrate seamlessly with your store, offer the functionality you need, and simplify your invoicing process. So how do you go about choosing the right invoice plugin?
Here are some key factors to consider:
Compatibility: The plugin you choose should be compatible with your WooCommerce store theme as well as other WooCommerce plugins. This compatibility ensures the plugin integrates smoothly with your store without disrupting its design or functionality.
Ease of customization: The ideal plugin should allow you to customize your invoices to match your brand image. Look for plugins that offer customizable invoice templates to add your logo, brand colors, and other personalized elements.
Additional features: Beyond printing invoices, the right plugin should offer features that enhance your store's overall efficiency. This could include auto-printing, bulk invoice printing, packing slips and shipping labels, and handling of taxes and discounts.
Regular updates and support: Ensure the plugin you choose is regularly updated to keep up with WooCommerce updates and industry standards. Furthermore, a plugin that provides prompt and effective support can save you from potential headaches down the line.
Every WooCommerce store is unique, so it's essential to select a plugin that meets your specific requirements and enhances your overall invoicing process. As you assess different plugins, prioritize those that offer the best mix of the features that are most important to your operations.
Let's look at some of the best plugins that can help you with your invoicing process.
1. BizPrint: An all-inclusive WooCommerce printing solution
One of the top contenders in the realm of WooCommerce invoice printing plugins is BizPrint. BizPrint is an automatic printing plugin specifically designed to streamline all your WooCommerce printing needs. Whether it's order receipts, invoices, packing lists, labels, or any other related documents, BizPrint has got you covered.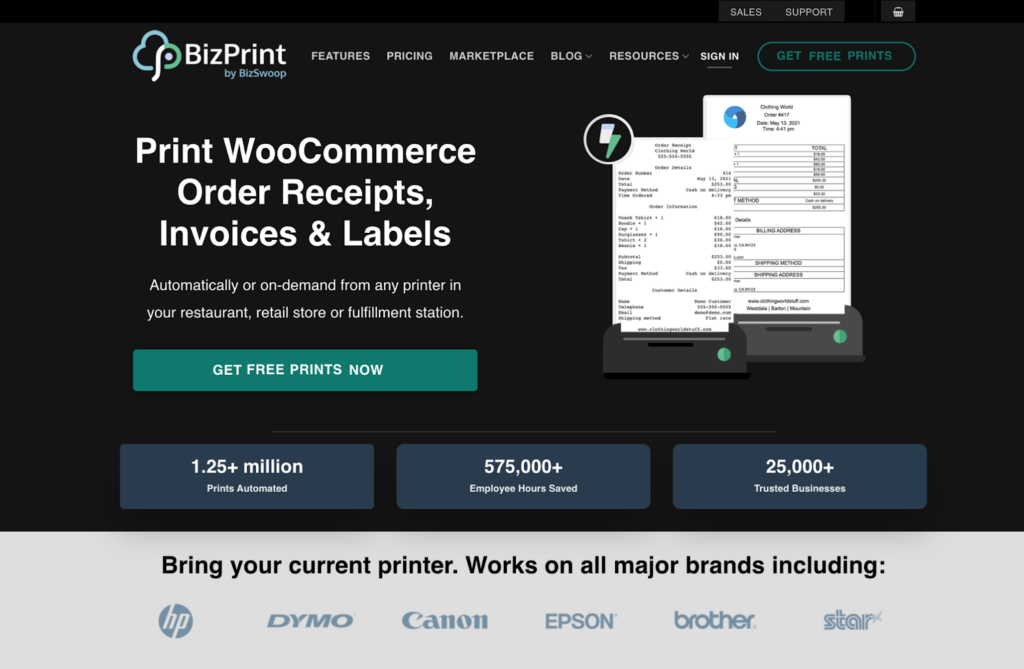 What sets BizPrint apart is its comprehensive range of features, designed to simplify your printing workflow and elevate your WooCommerce store's operational efficiency. Some of the key features include:
Built-in templates: With BizPrint, you don't need to start from scratch. The plugin comes with a variety of built-in templates that you can use to create professional receipts, invoices, packing slips, and other documents. These templates are customizable, giving you the flexibility to align your printed documents with your brand's aesthetic.
Compatibility: BizPrint prides itself on its broad compatibility. Not only is it compatible with popular WooCommerce plugins, but it also supports any printer model. This ensures that regardless of your existing WooCommerce setup or the printer you use, BizPrint can effortlessly integrate into your workflow.
POS integration: For those who operate both online and physical stores, BizPrint's Point of Sale (POS) integration is a boon. This feature enables you to harmonize your online and in-person printing processes, ensuring a consistent customer experience across all sales channels.
Language support: With support for 36 languages, BizPrint extends its usability beyond geographical boundaries. This feature can be particularly beneficial if you operate your WooCommerce store in multiple international markets.
Automatic printing capability: BizPrint can automatically print your invoices, packing lists, or any other document at your preferred location. This feature can be a game-changer in enhancing your operational efficiency by eliminating the need for manual printing commands.
From a cost perspective, BizPrint offers a highly competitive pricing model, with plans starting from just $3 a month. For those who want to try before they buy, BizPrint offers a free trial to test out its features and assess its suitability for your WooCommerce store.
With its broad feature set and affordable pricing, BizPrint certainly earns its spot as one of the top WooCommerce invoice printing plugins.
2. WooCommerce PDF Invoices, Packing Slips, Delivery Notes, and Shipping Labels: A manually-operated option
If you prefer a more hands-on approach to your WooCommerce printing tasks, the WooCommerce PDF Invoices, Packing Slips, Delivery Notes, and Shipping Labels plugin could be an excellent choice for your store.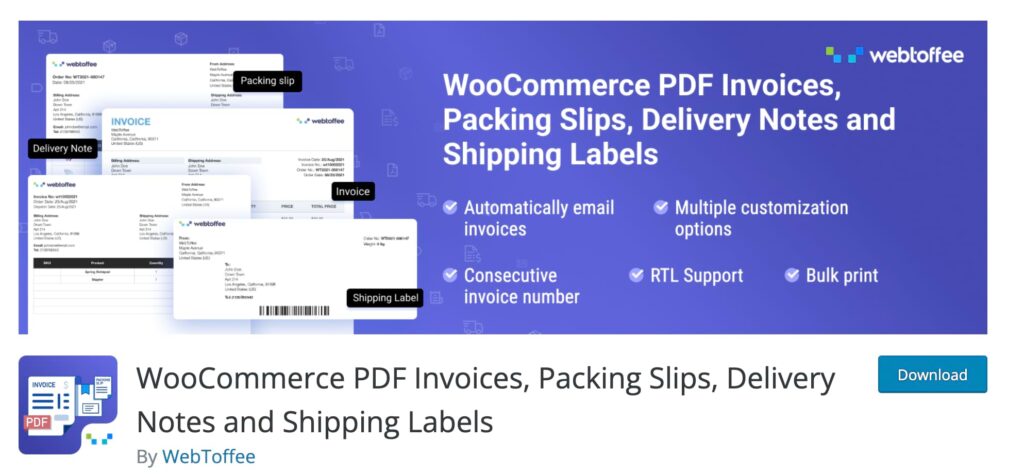 As the name suggests, this plugin offers a straightforward solution for generating and printing a range of essential eCommerce documents.
Here's what you can expect from this plugin:
Customizable templates: This plugin comes with a variety of customizable templates that you can use to create your store's invoices, packing slips, delivery notes, and shipping labels. This ensures that your printed documents align seamlessly with your brand image.
Manual bulk printing: This feature is ideal for businesses that process large volumes of orders. You can select multiple orders and print all the necessary documents in one go, saving you significant time during the order fulfillment process.
With pricing starting from $69 per year, it offers a cost-effective solution for WooCommerce store owners seeking to streamline their manual printing processes.
However, it's worth noting that, unlike BizPrint, this plugin doesn't support automatic printing as a core feature. To add automation to your printing process, you would need to invest in a premium add-on plugin. This is something to consider if you're looking for a fully automated solution.
Additionally, this plugin does not integrate with shipping or courier services to generate supported shipping labels. If this feature is important to your business operations, you may want to explore other plugin options or add-on solutions.
3. Smart Manager: A comprehensive solution for inventory and invoice management
Smart Manager combines inventory management with the ability to print invoices manually. This advanced bulk edit and stock management plugin streamlines multiple aspects of your WooCommerce operations, making it an all-in-one powerhouse for your online store.

Here's what sets Smart Manager apart:
Bulk editing and inventory management: At its core, Smart Manager is a potent tool for managing your WooCommerce store's inventory. The plugin allows you to easily bulk edit products, variations, orders, coupons, and more, saving you a significant amount of time compared to manually editing each item. This means you can quickly update stock quantities, prices, and other product details across your entire inventory in just a few clicks.
Invoice printing: In addition to its inventory management capabilities, Smart Manager also supports the manual printing of invoices. This ensures that you can quickly and easily generate the documents you need during the order fulfillment process.
Pricing for Smart Manager starts at $199 per year, which is a bit steep, but can be reasonable for those seeking to simplify their inventory management and invoice printing processes in one go.
4. WooCommerce Print Invoices & Packing Lists: An easy-to-use option
For those in search of a straightforward solution, the WooCommerce Print Invoices & Packing Lists plugin could be an ideal choice. This plugin is tailored to streamline your WooCommerce order management process, providing the ability to generate invoices, packing slips, and pick lists with ease.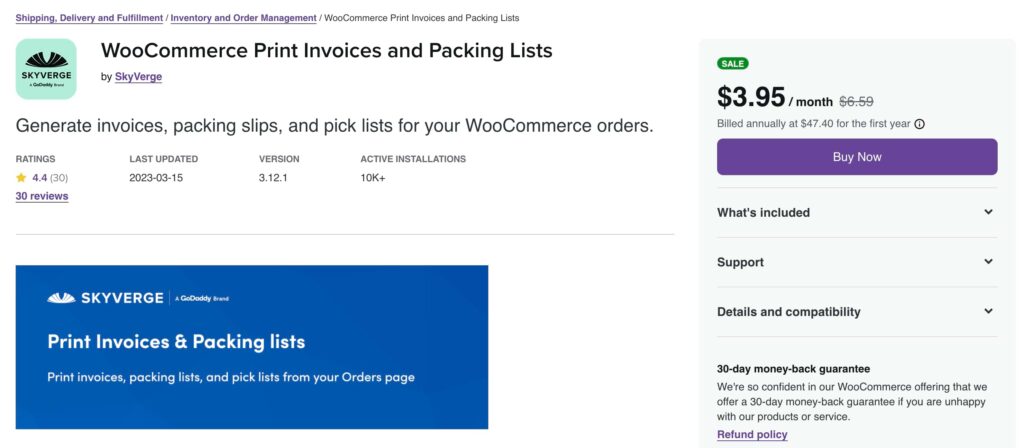 Here's what the WooCommerce Print Invoices & Packing Lists plugin has to offer:
Personalize invoice format: This feature allows you to personalize the format of your invoices, ensuring that your documents align with your brand identity.
Automatic emailing: The plugin can automatically email packing lists to shop admins for new orders. This can help you streamline your order processing workflow and keep all key stakeholders informed about new orders.
Individual bulk printing: Whether you need to print an invoice for a single order or generate documents for multiple orders at once, this plugin offers the flexibility you need. However, it's worth noting that it does not support automatic printing, meaning you'll need to manually initiate each print job.
Despite its robust features, there are a few points to consider when evaluating the WooCommerce Print Invoices & Packing Lists plugin.
Some reviews point out issues with using the plugin on multilingual sites. Moreover, the plugin may offer fewer customization options than some of its competitors. Therefore, if you operate a multilingual WooCommerce store or require highly customizable invoices and packing slips, you may want to explore other options.
How to generate and print a custom invoice with BizPrint
Printing custom invoices with BizPrint is a straightforward process, even for WooCommerce store owners who are new to the platform.
Here's a step-by-step guide to setting up your BizPrint account, installing the plugin, and printing invoices effortlessly.
1. Create a BizSwoop account
The first step is to create an account with BizSwoop. This will allow you to access and utilize the BizPrint WordPress plugin.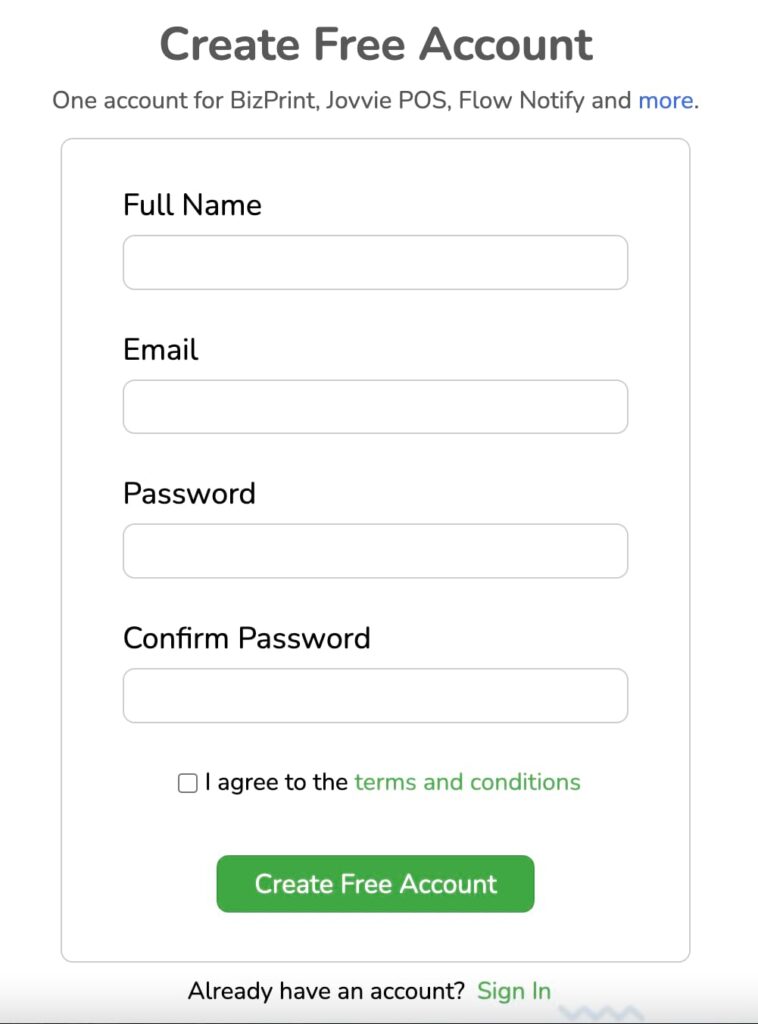 2. Install and set up the plugin
After creating your BizSwoop account, you'll need to install and set up the BizPrint plugin on your WooCommerce store. If you're not sure how to do this, don't worry! BizPrint provides a convenient quick start guide that explains the process in detail.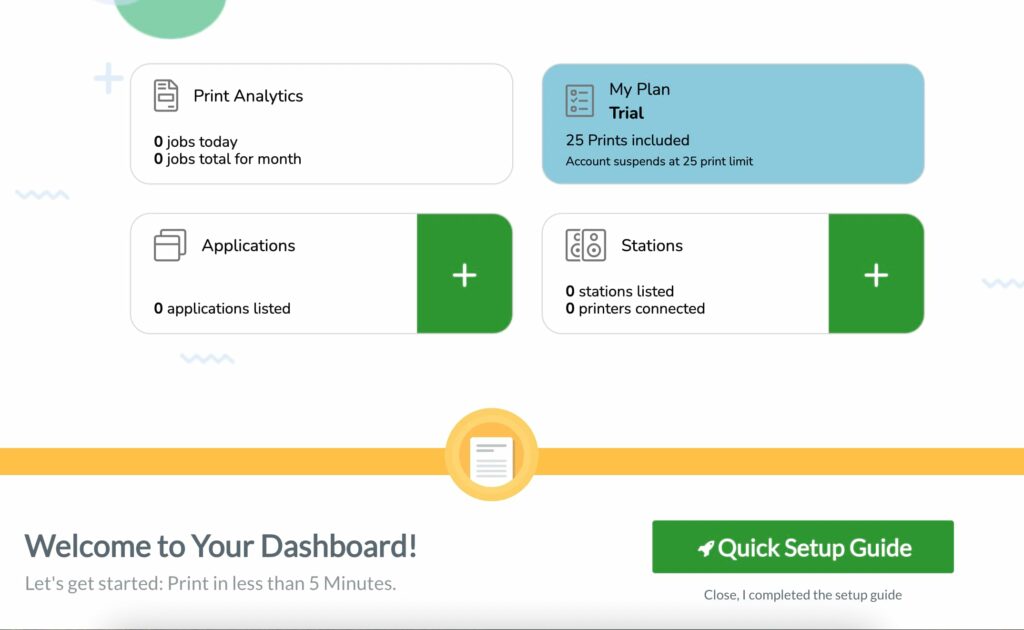 3. Integrate your WordPress website with BizPrint
To connect your WordPress website to your BizSwoop Dashboard, add a new Application. Select 'WordPress' as the Platform.
Enter your site address and webhook URL. (You can find the webhook URL under WooCommerce > Print Manager > Application > Webhook URL)
Select the API version. (By default, this should be REST API.)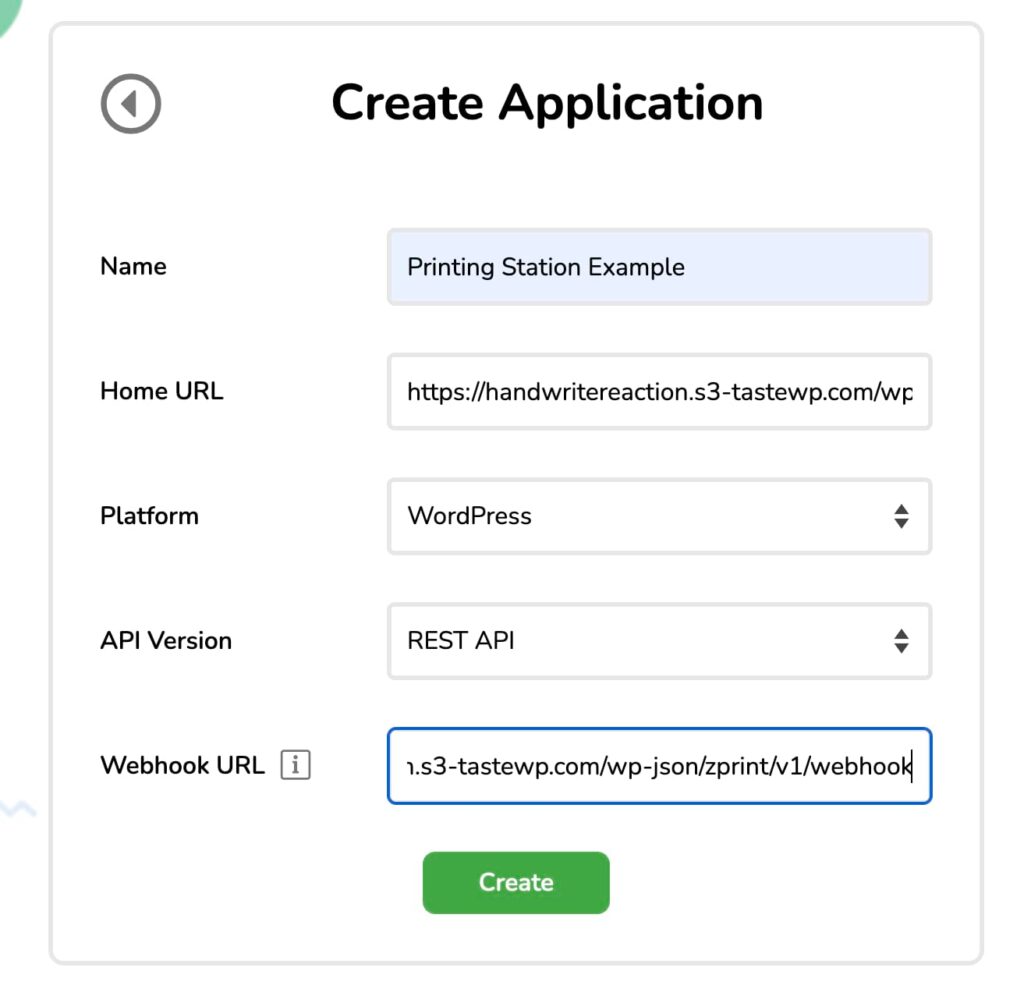 Copy the Public and Secret Keys from the BizPrint Dashboard to your WordPress backend. Navigate to WooCommerce > Print Manager > Application and paste the two keys.

Click on Save Changes. Your WordPress website should be connected to BizPrint.
4. Add a new printer location
Navigate to 'WooCommerce > Print Manager > Printers and click on 'Add New'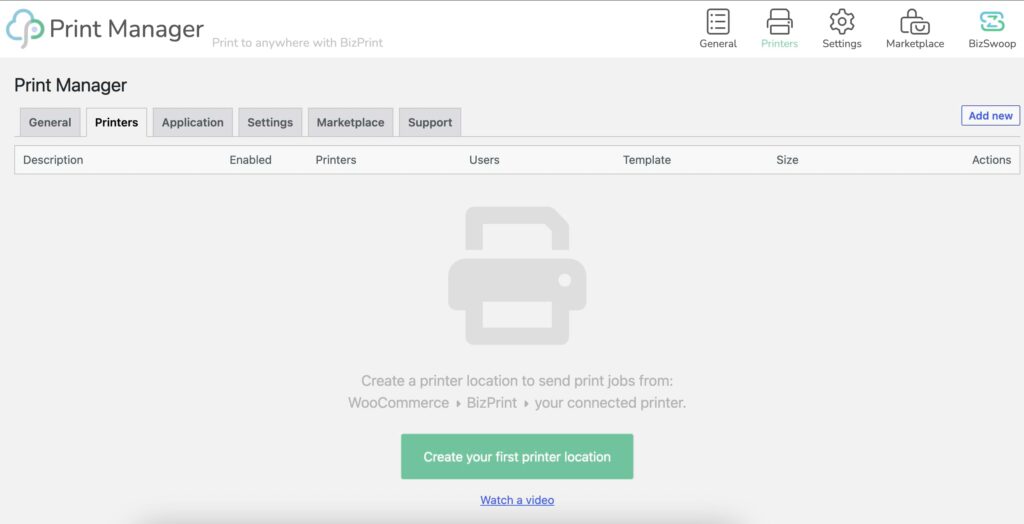 Give your location a title, such as 'invoice print'. This will help you identify it easily if you add more printer locations in the future.
5. Choose your printer
Select the printer that you connected during the plugin setup process. BizPrint is compatible with any printer model, so you can choose the one that best suits your needs.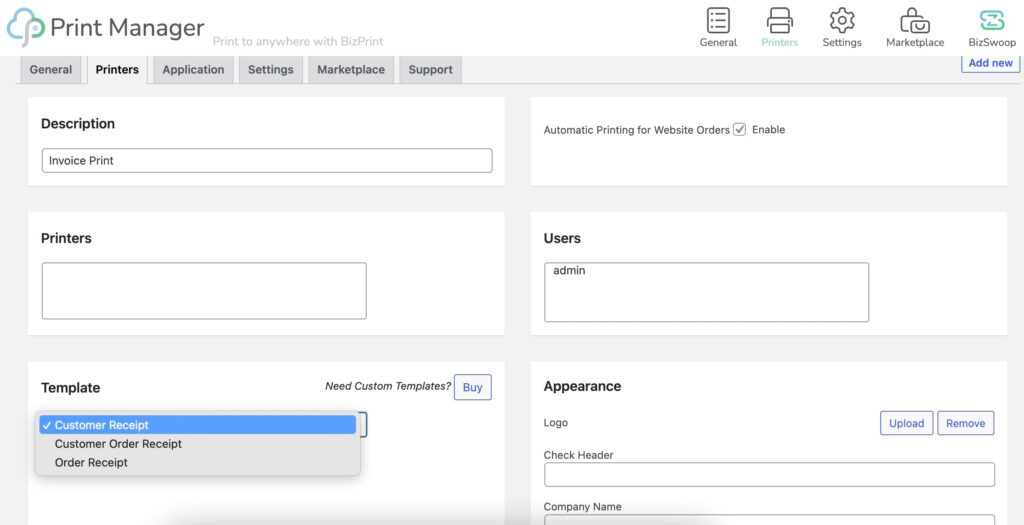 6. Select the customer order receipt template
Choose the 'customer order receipt' template, which includes all the necessary fields for customer invoices, such as the invoice number, a detailed list of products, invoice totals, customer billing address, and shipping address.
7. Enable automatic order printing (optional)
If you want to automate the printing process, navigate to 'WooCommerce > Print Settings > General' in the Print Manager plugin window and locate the option 'enable automatic order printing'.
By checking this box, invoices will automatically be sent to your designated printer location whenever a new order is placed. If you prefer to print orders manually, leave this box unchecked and print orders as needed from the 'WooCommerce > Orders' section of the plugin.
8. View your orders
Go to the 'WooCommerce > Orders' section of the Print Manager plugin, where you'll find a list of WooCommerce orders, each accompanied by its respective invoice.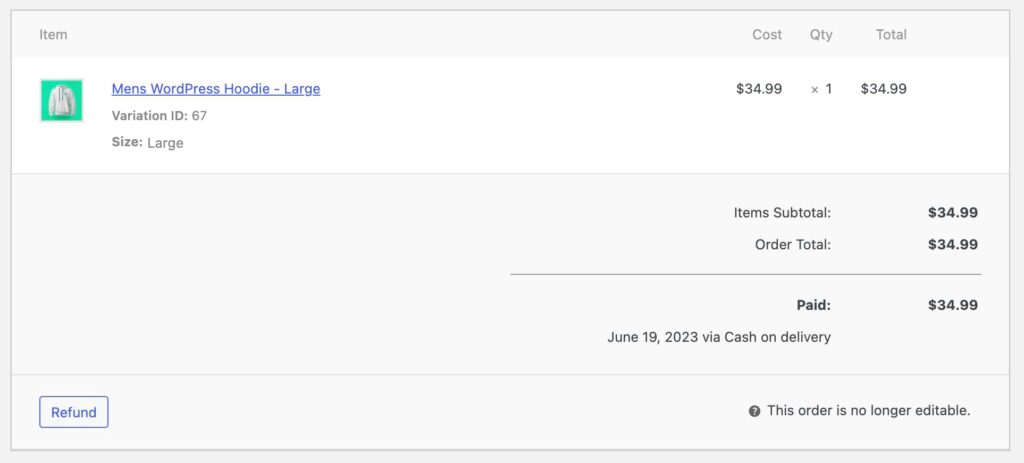 With BizPrint, generating and printing custom invoices for your WooCommerce store becomes a hassle-free process, helping you maintain professionalism and stay organized in your business operations. The process of printing packing slips is very similar and just as simple. You can read this article for the full packing list printing instructions.
Common invoicing workflow issues and solutions in WooCommerce
Maintaining a seamless invoicing workflow is vital for the success of any WooCommerce store. However, it's not uncommon to run into issues along the way. Here's a look at some common invoicing workflow problems and practical solutions to address them:
Troubleshooting printing errors
Incorrect formatting or missing information on invoices. These errors might be due to technical glitches, incorrect settings, or problems with the invoice template.
Solution: Begin by checking your printer settings and ensuring they are correctly configured. Next, verify that all necessary information has been entered correctly in your WooCommerce settings and is reflected on your invoices. If the issue persists, it might be related to the invoice format or template. Explore the options within your invoicing plugin to adjust the invoice format or template accordingly.
Resolving compatibility issues
Your invoicing plugin may not be compatible with other plugins or your store theme, causing errors or disrupting the invoicing workflow.
Solution: To identify whether this is the issue, deactivate other plugins one by one or switch temporarily to a standard theme to see if the problem persists. If the problem is resolved, the conflicting plugin or theme can be identified.
If you're unable to find a workaround, consider reaching out to the support teams of the plugins or theme for assistance.
Compliance with local tax regulations and legal requirements
Ensuring that your invoices comply with local tax regulations and legal requirements can be challenging. This may include requirements such as including tax identification numbers or certain disclaimers on your invoices.
Solution: Familiarize yourself with the tax regulations and legal requirements for invoicing in your country or state. Then, check whether your chosen invoicing plugin supports these requirements. If not, investigate how you can customize the plugin or your invoices to meet these requirements.
Efficient invoice management
Disorganization can slow down your invoicing workflow and lead to errors or confusion.
Solution: Keep your invoices organized by sorting them by date, order status, or other relevant criteria. Utilize any search, filter, or tagging options offered by your invoicing plugin to quickly find specific invoices when needed.
Optimize your WooCommerce store with expert invoice management
Running an online store goes beyond offering quality products and services. Ensuring seamless behind-the-scenes operations, like efficient invoice management, can significantly impact your store's overall success.
This often-overlooked aspect plays a critical role in enhancing customer satisfaction and cementing your store's reputation for professionalism and reliability.
Having the right invoice printing solution can make all the difference. It allows for more effective and streamlined invoice management, ensuring your invoices are accurate, professional, and compliant with all necessary regulations.
The advanced features that some plugins offer, such as auto-printing, can drastically reduce manual work, boost your operational efficiency, and free up time to focus on other critical areas of your business.
While it's important to invest time in researching the best invoicing solution for your WooCommerce store, we recommend BizPrint as a reliable and robust option. It's cost-effective, feature-rich, and designed with your unique needs in mind. With built-in templates, language support, POS integration, and auto-printing capabilities, it simplifies and optimizes the entire invoicing process.
Why not see for yourself?
Start exploring the capabilities of BizPrint today. Transform your WooCommerce store's invoice management and set your business on the path to greater success!
Comments
Ready to Get Started?
Join over 100,000 smart shop owners who use Premmerce plugins to power their WooCommerce stores.
Get started