Woocommerce Multilingual Settings With WPML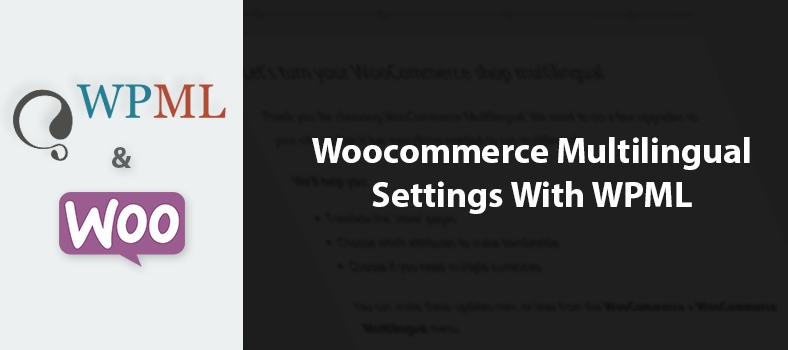 Based on our experience, almost every owner of an online store at least once asked himself a question: "Why do I sell only in my country and what stops me from distributing my products around the world and earning more?". Thats why we've desided to write this tutorial about WooCommerce multilingual settings.
The first step is to make your online store understandable to your target reader or at least to make some steps towards this goal. The most popular plugin for creating WooCommerce multilingual stores is WPML and just see how much it can help you with getting global. In fact, more than 400 000 commercial WordPress websites use WPML.
The main plugin features:
WPML includes more than 40 languages. You can add your language

varieties

(for example, Canadian French or Mexican Spanish) using the WPML language editor.

Powerful translation management

Complete compatibility with WooCommerce

Translation of plugins and themes

Order a professional translation at an affordable price

It supports most WordPress themes

Effective support in 9 languages

Multilingual SEO. WPML allows you to make SEO optimization for each language separately

Domain/Subdomain/Subdirectory. Translations appear in their unique URLs and you can put different languages in completely different domains, subdomains or subdirectories
The main disadvantages:
Price

Performance. WPML has a lot of features that help you manage your multilingual site, but also it requires database resources to run. Sometimes this plugin can slow down your dashboard performance, but not the response rate of your website
WPML is a set of plugins:
WPML Multilingual CMS.

It is a main plugin that makes WordPress multilingual. It adds the basic elements of translation management and allows you to translate the content.

WPML Media Translation.

It allows you to use the WordPress Gallery in different languages. You can control which images will be display for each language.

WPML String Translation.

The String Translation plugin allows you to translate interface strings directly in WordPress without using .mo files. It lets you translate not only static texts but also the texts created by users outside posts and pages. For example, keywords and SEO data.

WPML Translation Management.

When your customers receive their newly created multilingual site, your work ends and their work begins. The Translation Management plugin helps site administrators to manage translation work. They turn ordinary users into translators, send them tasks and monitor the progress of the site's translation status.

WPML Translation Analytics.

Translation Management can be a difficult task, especially if your site has a lot of content and you use the services of several translators. The Translation Analytics module makes this task easier. You'll have detailed reports on the current site's translation status and progress.

WPML XLIFF.

It allows you to send content to translation services or independent translators using the standard XLIFF interface. The XLIFF interface extends the capabilities of the WPML Translation Console allowing you to send documents and receive them in XLIFF format. This module isn't supplied separately in WPML 3.2. It's activated in WPML Translation Management.

WPML Sticky Links.

The Stickey Links plugin keeps internal links from ever breaking. It automatically tracks linked pages in your site and keeps all the incoming links up-to-date. When you change the permalink structure, hierarchy and even page slugs, all the incoming links update immediately.

WPML CMS Navigation.

The CMS Navigation plugin adds navigational elements which you can use when building the site. For example, a breadcrumbs trail, drop-down menus and sidebar navigation.

WooCommerce Multilingual.

It allows you to create multilingual e-commerce sites using WooCommerce and WPML.

Gravity Forms Multilingual.

It allows you to translate Gravity Forms. You will be able to create a form in your language and translate it into different languages. There's no need to use several forms, one per language.

BuddyPress Multilingual.

It allows you to run a multilingual social network site using BuddyPress and WPML.
You can read more here: WPML Core and Add-on Plugins
Read also: WooCommerce Hooks Guide: Full List and Examples
Installation and Setup
If you want to make your site multilingual, we recommend that you upload the following plugins to your site: WPML Multilingual CMS, WPML Media Translation, WPML Translation Management, WPML String Translation, WooCommerce Multilingual.
After WPML Multilingual CMS plugin activation, we recommend that you make the basic settings using the Wizard plugin. You can open it by clicking Configure WPML in the notice that appears after the main plugin has been activated.


You can read more here: WPML Getting Started Guide

Activate WPML Media Translation, WPML Translation Management, WPML String Translation.
Activate WooCommerce Multilingual and make basic settings in the Wizard that will start automatically.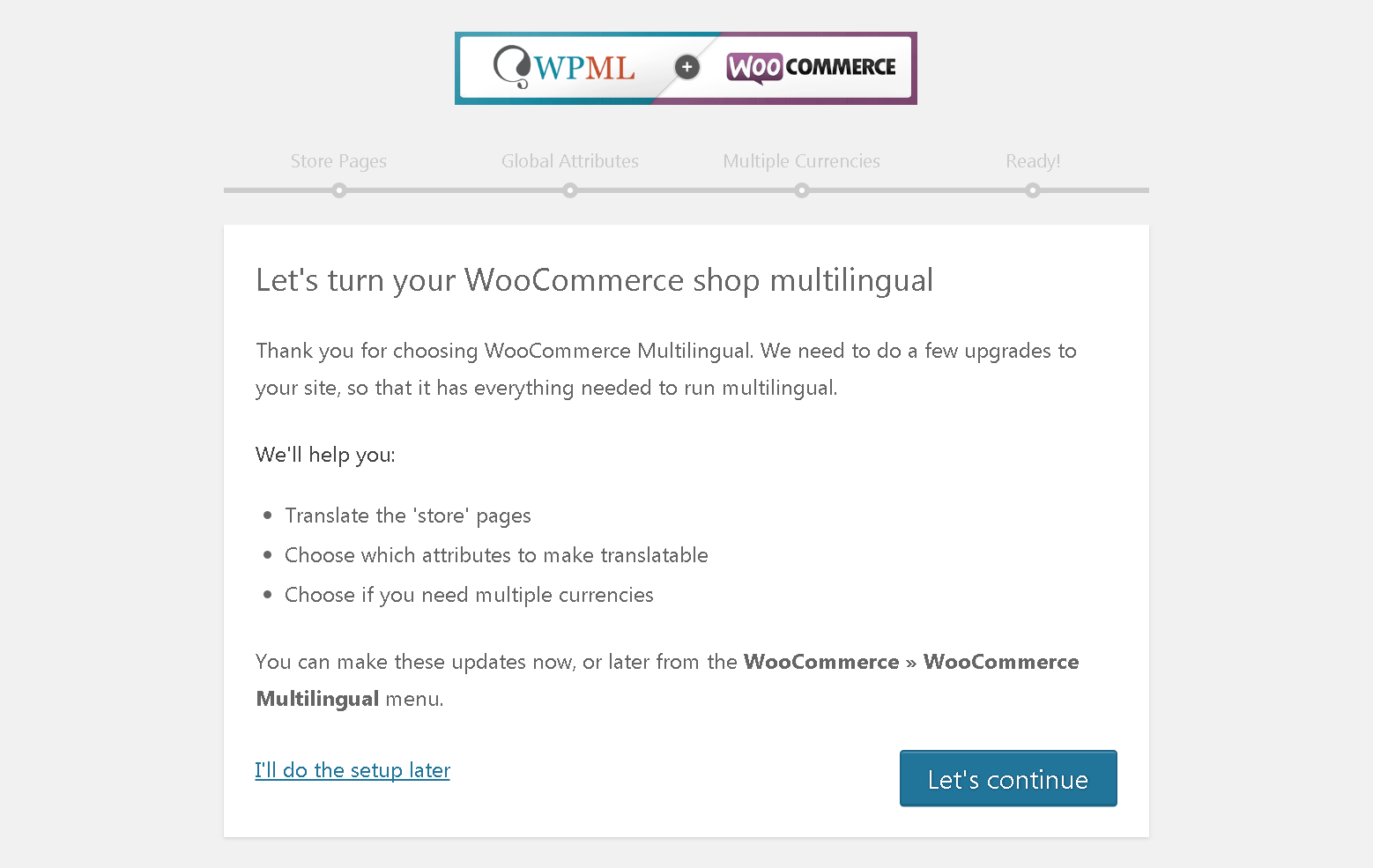 You can read more here: WooCommerce Multilingual
The WooCommerce Multilingual Homepage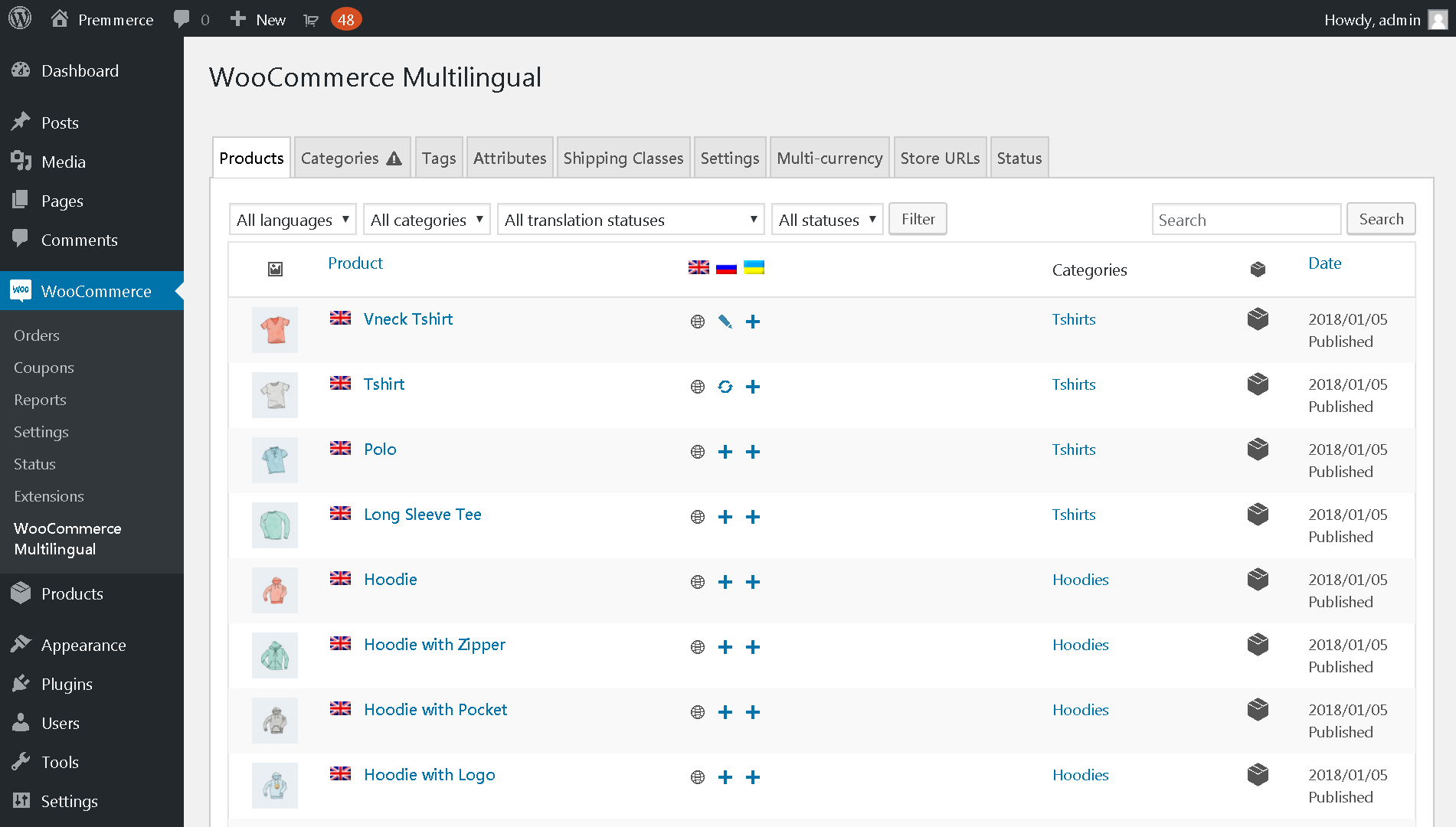 Translating products and other content of your store is very simple and intuitive: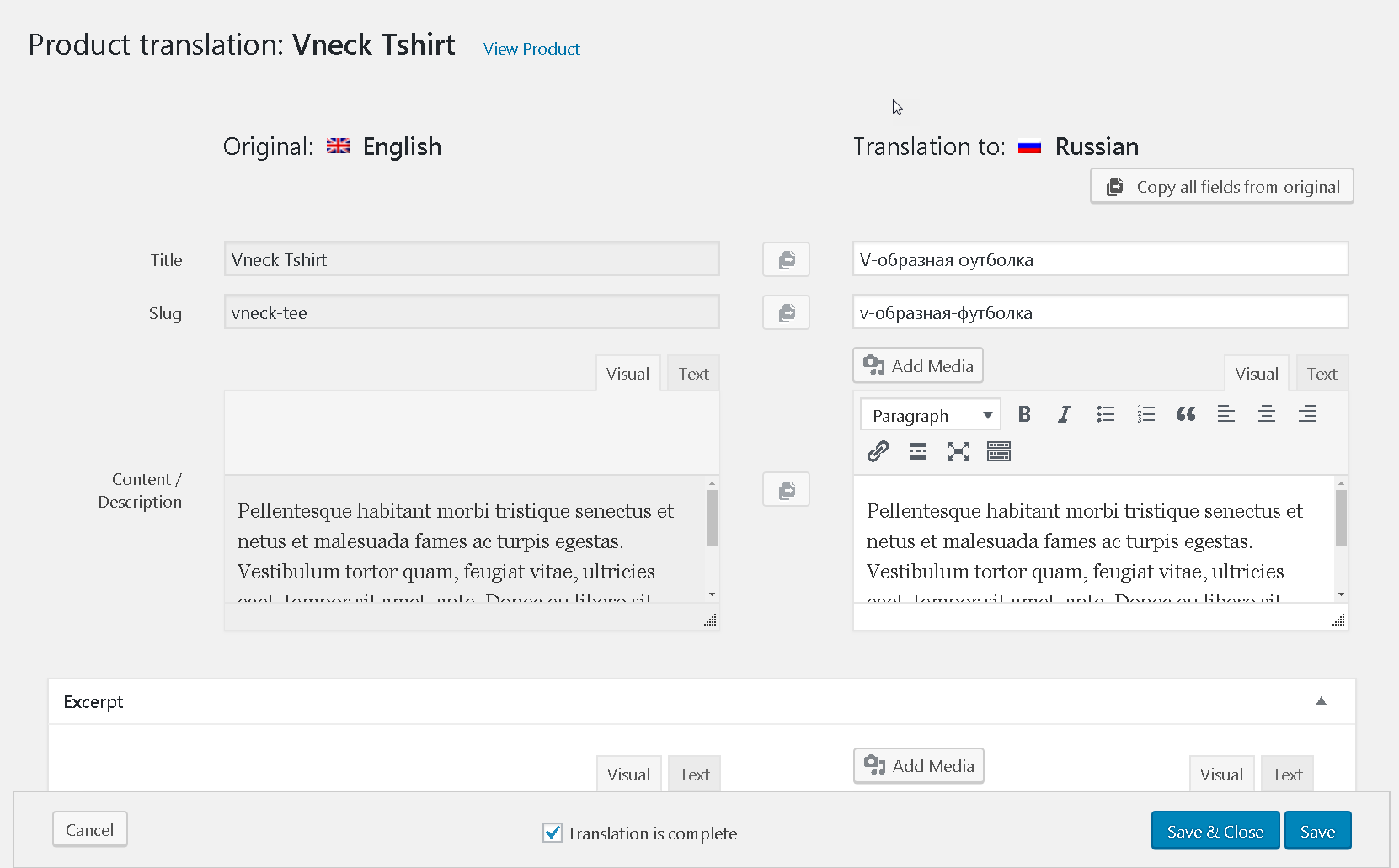 You can read more about translating products here: Translating Product
Some useful reads on translating Product Categories, Tags, Attributes and Custom Taxonomies are here: Translating Product Categories, Tags, Attributes and Custom Taxonomies

Summary
Currently WPML is the best option for creating multilingual websites.
Comments
Ready to Get Started?
Join over 100,000 smart shop owners who use Premmerce plugins to power their WooCommerce stores.
Get started