How to Create a Multilingual WooCommerce Shop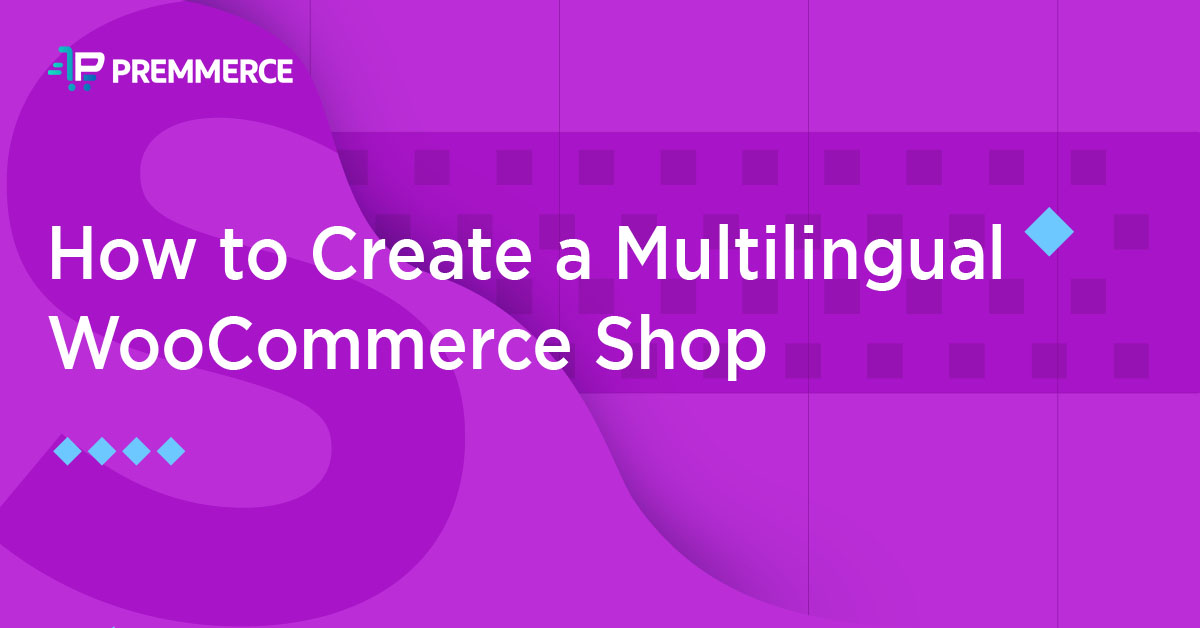 Imagine for a second that Amazon's website is available in English only. Non-English speakers would have a hard time buying from the retail giant, which means millions of dollars in lost revenues for the company. Where would these customers go shopping? They would probably turn to their local eCommerce stores, right?
Well, "probably" is not the most accurate word to use here.
"Definitely" is.
Numbers only confirm what common sense suggests. According to Common Sense Advisory Research, 40% of the customers won't purchase if the product's description isn't available in their native language. Extra data to consider: more than 60% would choose content in the native language while a whopping 65% prefer their native version even if the translation quality leaves much to be desired. Another more than a half of people simply ignore English-language sources. The name of their report says it all: Can't Read, Won't Buy.
Statista adds a puzzle to the picture and shows the not-so-hidden potential of translating content into different languages. China alone has around 854 million internet users, "more than double the amount of third-ranked United States with just over 313 million internet users".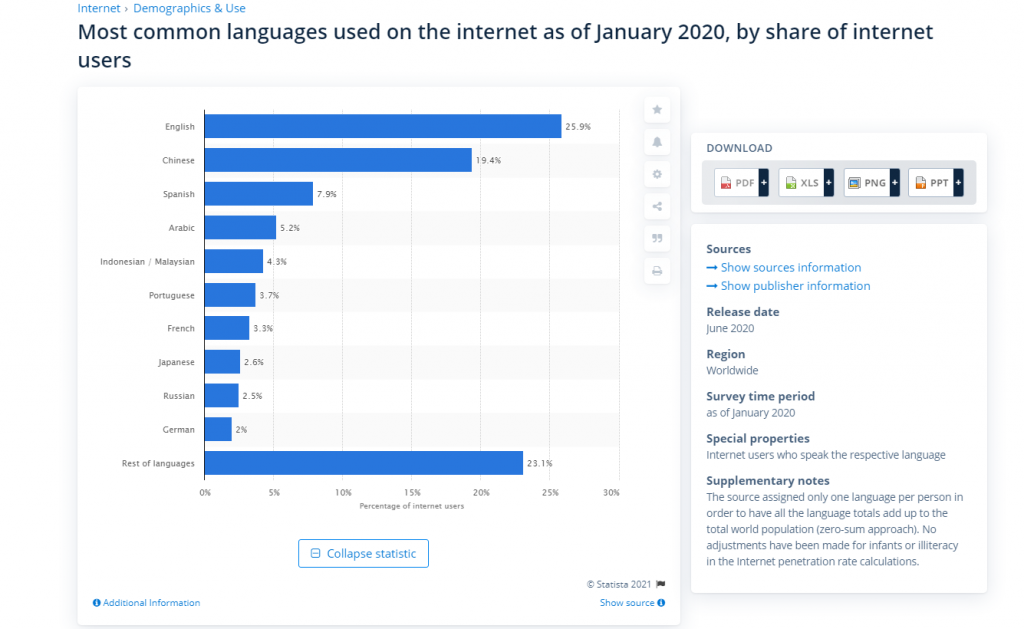 Most common languages used on the internet as of January 2020, by share of internet users
Practically speaking, if you're running a WooCommerce shop, it's important to think about getting traffic not only from English-speaking countries (especially if you're planning on the expansion and becoming an international company). Both in terms of profits and brand recognition.
But can we get more insights from the success cases?
Is Multilingual Store a Key Driver for Your Business Growth?
Let's get this question out of the way before we dive into the technical nuances. Yes, making a multilingual internet store can be a huge step forward. Having a website's content localized into more than one language may have a profound impact on an eCommerce business. Sometimes it's even an inevitable response to the demand as you can see from the following case study.
Amazon doesn't need an introduction. For the countries where it isn't yet represented as well. Up until very recently, that was the case for Poland.
While there was no official Amazon store in Poland, the company operated five fulfillment centers as well as an R&D center in the country. With the number of deliveries to Poland-based addresses being quite decent, Amazon management realized that thousands of Poles would buy from them if their native language was available at the site. To use this information to own advantage, the management has finally decided to do something about it for more traffic and purchases.
The worldwide retailer started from offering a Polish language site on its German platform. This first step attracted more visitors to the page which became culturally credible, something that has made it "the largest American employer in the country and the third-largest American investor".
It was only a matter of time before introducing a fully functional e-store to the consumers. The years-long preparations have come to a logical conclusion, Amazon's launch in Poland, announced at the beginning of the year.
However, imagine how much more revenue may have been gained! The question then is why wait for the necessity and not make a proactive move?
Why Is Multilingual Store A Key to Success?
Here are the main takeaways from the case study above:
Content translation and localization are the keys to eCommerce success. Pay attention that these aren't the same things. The first lets being seen and the second one helps to understand and engage.
The fact that English is widely spoken in a country doesn't mean that going with this language only is the best option. Most online shoppers prefer to make buying decisions when content is available in their native language. They are able to comprehend clearly, thus, they trust.
Bothering with more than one language gives off an impression of respectability and solidity. It makes people think that you're serious about the business and its upscaling right from the get-go and can be relied on.
Finally, a multilingual store improves SEO: if more people visit your website and buy from you, the search engines will treat this as a positive signal and increase its ranking. In its turn, it will be shown to more potential customers who speak different languages.
Now, let's see how to make the first step in the direction of all these cool perks.
How to Create a Successful Multilingual WooCommerce Store?
There are two main ways in which you can make it happen: manually and via the plugin. The second method provides the most benefits for WooCommerce users, still, let's review both options because some people prefer to go with the manual configuration.
Method #1: Manual Installation
The manual part is about creating a separate website for each language.
To do that, you'll need to create a subfolder of your root folder and give it a name that reflects the translation. For instance, if you translate your content to German, create a new subfolder named "de." The new subfolder adds the new version to your store, i.e., www.myWooCommercestore.com/de/.
While this method provides endless possibilities for customization, it has a few major shortcomings. It makes content management much more difficult (you'll need to implement changes to every installation), plus there's no way you can do stress-free inventory sync.
That's why most people consider the second method.
Method #2: Install a Special Plugin
The big reason why WooCommerce multilingual plugins have become so popular is the rich functionality and the fact that they make translation and localization much easier. By using them, eCommerce businesses can perform localization without investing tons of money right away. They're also a great addition to the plugins used for other purposes. For instance, Premmerce plugins are compatible with all Polylang plugins to ensure one gets the best of both worlds.
The list of the most widely used localization tools includes WPML, Polylang, and Weglot Translate, so let's see how they can help you to go international.
! Pro tip:
If you decide to use a plugin which only supports machine translations, you can turn to a translation company like The Word Point to fill the gap and provide truly high-quality content for your users.
Designed to build and manage multilingual WooCommerce websites effectively, this plugin has minimal requirements and offers a range of functions. Here's what you need to know:
Very easy to use. Simply install the plugin, run it, and choose the language you'd like to have your store to be translated into.
A decent selection of languages. Currently, WPML supports more than 40 widely spoken languages and allows adding your regional variations and dialects (Brazilian Portuguese, Austrian German, etc) with the built-in language editor.
User-friendly translation management. The WPML Translation Editor is an intuitive dashboard where you can easily translate website pages and review the progress: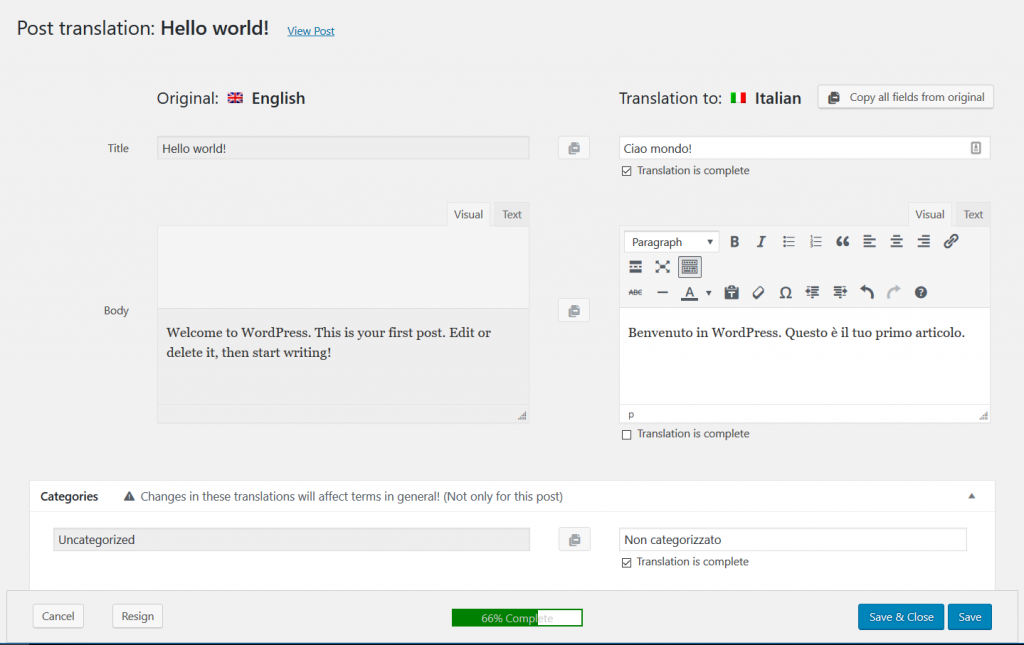 Complete localization. The visitors of a website localized with WPML enjoy a fully native-like purchase process, from product pages to the checkout (by the way, purchase-related emails can also be localized to support the buyer).
Another popular plugin with more than 600,000 active installations, Polylang is designed for adding more languages and managing the translated website.
Here's the list of features that you should know about:
Add as many languages as you want and translate into them both manually and automatically;
Translate products, categories, tags, and attributes;
Synchronize galleries, categories, carts, shipping classes, tags, product categories, and stocks;
Localize emails to support the customer during the purchase process;
Translate product page automatically in one click;
Allows the visitors to access localized website versions by using the widget in the website navigation menu;
Enjoy compatibility with the most widely used WordPress SEO plugin and a design that takes care of HTML, hreflang, and opengraph tags.
The plugin earns high ratings on WordPress.org and is regularly updated by the developers to make sure that the users have no problems with selling internationally.
The third option on our list is packed with the following features to help you set up a multilingual website:
Translation of product pages, categories, and checkout to ensure a completely localized buying experience;
Translation management all in one place;
Automatic indexing of the translated SEO content, including meta tags, descriptions, and URLs;
Effortless switching between languages thanks to a customizable menu button;
Compatibility with all WooCommerce extensions and themes.
Option 4: Multilingual WordPress (still in progress but you may want to keep an eye on it)
Third-party plugins enable you to make a WooCommerce shop multilingual. However, Phase 4 of the WordPress Gutenberg plan states about developing an official approach for it to enhance the website with multilingual support. This final phase of the Gutenberg development is planned for 2022 and beyond and has already stirred a lot of speculating on how it may appear.
According to Pascal Birchler and his "Multilingual WordPress, An Exploration," they expect changes in the nature of WordPress posts, terms, media, and permalinks. However, technical details are lacking in the experimental stage.
When and What to Expect from Gutenberg Phase 4 for Improving User Experience?
Although we are yet to be acquainted with the Gutenberg phase four plan and experience the multilingual WordPress, there are some speculations about what it will bring to the WordPress community.
Since there are other solutions for multilingual WordPress websites, the team that is working on this project takes their time to make the support run smoothly. The lack of urgency is allowing them to work on this without pressure. Robert Windisch, a CIO of Inpsyde, a German WordPress agency explains, "Currently nobody waits for the multilingual in the core, because there are already solutions out there. There's not really the pressure to have it right now."
The first goal is alignment with WordPress core. The multilingual support needs to be integrated into WordPress seamlessly. Users who choose to browse through the website shouldn't notice any difference from the website in the source language. Meaning, that each aspect of the multilingual website needs to run perfectly.
Second, it should provide the users with an all-in-one solution. Even though the plugins do help the users to establish a multilingual site for their customers, the WordPress Gutenberg phase four can eliminate outsourcing. When this phase comes to a successful ending, the users can manage the multilingual solution within WordPress. Any prominent company aims to work on improving user experience and that is exactly what they plan to do with multilingual support. It will be just another reason for e-commerce owners to opt for a WordPress website.
Final Word
Many benefits come from having a multilingual WooCommerce website, increased sales and cultural credibility among them. Luckily, the techniques above are doable, and plugins are easy to use. They are all you need to create an impressive multilingual WooCommerce and start reaping the rewards.
But if you want to take your website to the next level and expand your possibilities, check out our top-5 plugins. All of them are true staples for the much more customized and smoothly functioning e-shop. Each one is responsible for the particular features and all combined they cover the crucial issues.
Premmerce WooCommerce Pinterest, for instance, is a great marketing tool to showcase your products to one of the biggest social networks, create and adjust Rich Pins for the targeted audience. Permalink Manager adds 301 redirects and removes /product and /product-category base from URL. WooCommerce Product Filter is all about filtering the search results in the most user-friendly way. Autocomplete results with the search for similar words or words with the same pronunciation can be done with WooCommerce Product Search. At the same time, WooCommerce Variation Swatches adds up to the flexibility by highlighting the main attributes and/or their description and displaying them on the product category page. As you can see, every plugin is a useful extension of the standard WooCommerce interface. Find more details here.
Comments
Ready to Get Started?
Join over 100,000 smart shop owners who use Premmerce plugins to power their WooCommerce stores.
Get started