How to Filter and Categorize Products by Brand in WooCommerce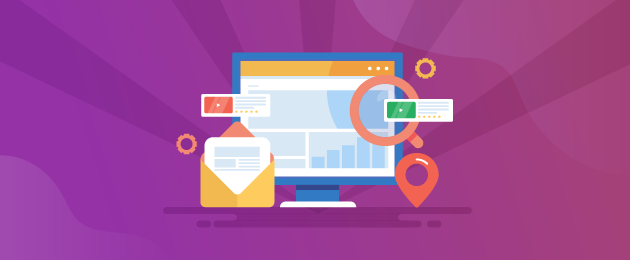 Want to make it easier for customers to find products from the brands they love on your WooCommerce store? A simple WooCommerce plugin can help you do that.
There's a lot of value in filtering and sorting your products by brand on your site. It helps your customers easily find the products they're looking for and also allows you to showcase your products in an intuitive and user-friendly manner. Plus, with the right plugin, it couldn't be easier to add the feature to your website.
In this post, we'll run through a tutorial for everything you need to know about filtering and sorting your products by brand, including the benefits, the plugins you need, and how to get set up.
What's the purpose of filtering products by brand?
Your customers come to your website with intention. They want to get the products they're looking for as quickly as possible. You'll have seen the possibility to filter results by criteria such as price range, product attributes like color or size, and product category, and likely already have those custom criteria settings on your own website.
Though those filter styles are useful starting points, they often don't go far enough. One study found that the vast majority of eCommerce websites – some 84% – did not offer a satisfactory filtering experience to their customers.
One way to improve your customer's experience of your website is to add a brand filter functionality. This custom filter type helps to enhance your store's search capabilities and allows your website visitors to further narrow down the results they're shown based on the specific brands that they're looking for.
If you have branded products in stock on your website, then you'll already be in a good position to build revenue. After all, customers like and trust branded products and wish to buy more products out of brand loyalty. As such, if you stock well-known brands on your online store, then having a brand filtering plugin is essential.
Some of the key benefits of categorizing and filtering products by brand include:
Brand promotion
You'll see more branded product sales and increased awareness for your store if your customers know that you stock those brands. Using the right plugin can help to increase levels of brand awareness and recognition, which can ultimately lead to more sales of those brands – and, thus, more sales for your business.
Better UX
It's in the store's interest to deliver as good a user experience as possible. By offering this filtering service, you'll make it easier for your customers to find products from the brands they love, helping to save time and effort.
Increased sales
By making it easier for customers to find products from their preferred brands, you're more likely to convert visitors into customers. Filtering by brand also increases the likelihood of a customer buying additional branded products since they will be able to see the options available to them.
Increased efficiency
Anything that allows your customers to find the products they're looking for quickly and easily should be welcomed. In addition to making your customers' lives easier, filtering by brand can reduce the workload of your customer support team, who can instead focus on other tasks rather than helping customers find products.
Improved customer satisfaction
Customer satisfaction is key to an eCommerce store's success. Filtering by brand helps to create a well-organized, easy-to-use store, which in turn can lead to word-of-mouth referrals, repeat business, and positive reviews. All of these are things that can lead to more business and, ultimately, more revenue.
The bottom line is that filtering by brand can have a significantly positive impact on your online store. However, it's important to use the correct tools to make the process of filtering and categorizing your product list simple. In the next section, we'll run through the best WooCommerce plugin options available and how to set up filtering.
Which plugins should you use to categorize and filter by brand?
There's no shortage of brand filter plugins to choose from. To get the best results, it's recommended to use a combination of two separate plugins, which, when put together, can deliver powerful results.
Those two plugins are Premmerce's WooCommerce Brands and WooCommerce Product Filter. Here's how they work together, one on the backend and one on the front.
WooCommerce Brands allows you to create an unlimited number of brands and assign those brands to products, helping to improve product search, cataloging, and your brand promotion efforts, handling the behind-the-scenes categorization.
Meanwhile, WooCommerce Product Filter is a plugin that allows your customers to display products by their preferred criteria (in this case, by brand,) handling the dropdown filter settings on the search results page.
With WooCommerce Brands, you can:
Create, edit, and delete an unlimited number of brands.
Assign a brand to a product.
Display your list of brands using a shortcode.
Display particular brand pages.
Add widgets to display selected brands on your website.
Enhance SEO by using semantic markup for the brands on your product pages.
With the WooCommerce Product Filter plugin, you can:
Create an unlimited number of filters by adding attributes and custom taxonomies, such as categories, price, stock, color, rating, and tags.
Help customers to quickly filter products (via AJAX product filter), with filters appearing in a single filter widget that displays all of your product filtering options in one handy place.
Automatically bulk-generate SEO-friendly landing pages for your filter results, which helps your store to appear in more relevant search results.
Both of these plugins are great on their own, but they become especially powerful when they're grouped together.
Premmerce WooCommerce Product Filter
Get started giving your customers a better way to filter your products to increase site usability and revenue.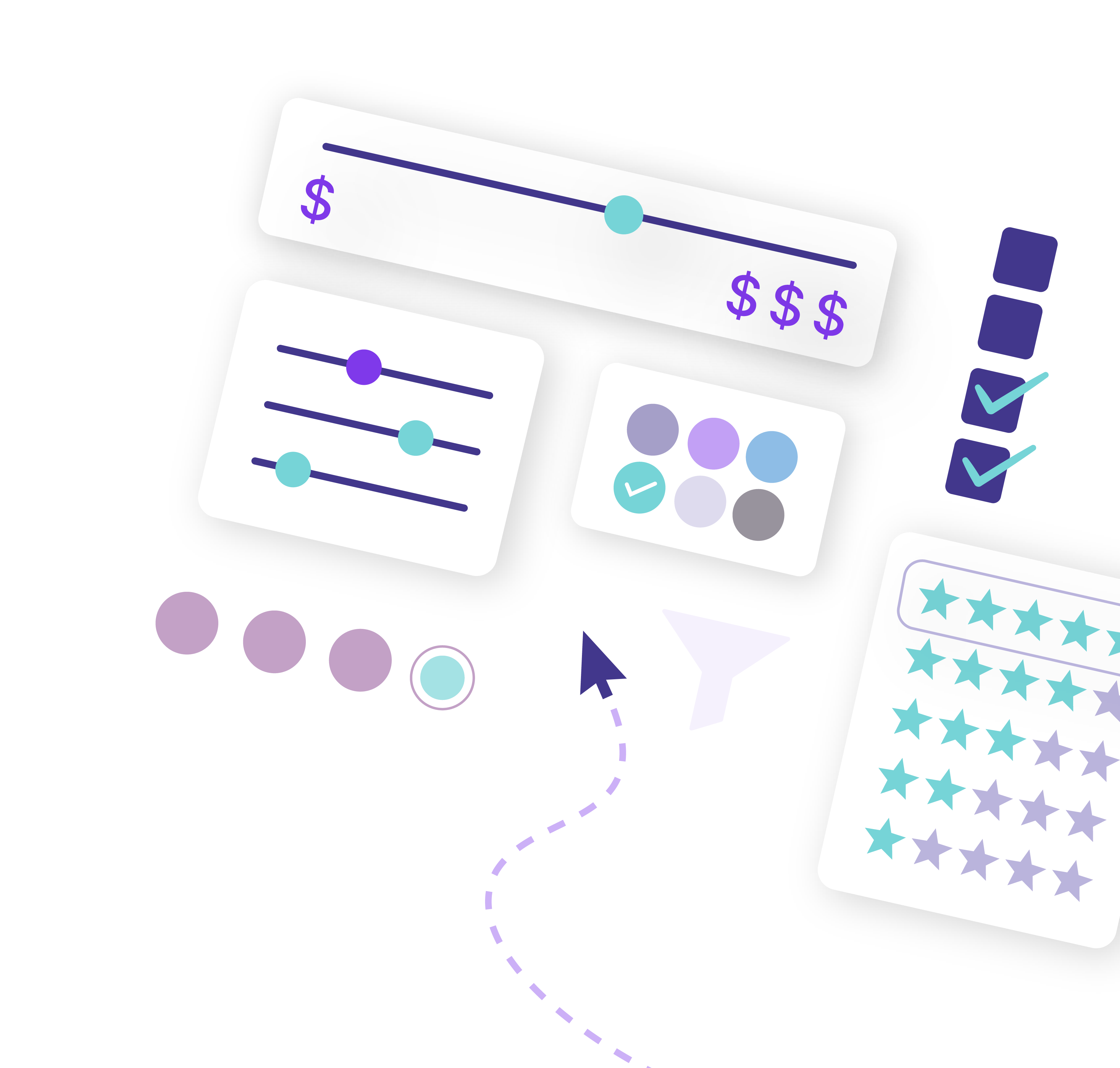 How to set up brands and assign brands to products using WooCommerce (step-by-step)
The first step of the process is to create your brand categories using WooCommerce Brands, which you can do by taking the following steps:
Install the plugin from the WordPress plugin directory.
From within WP, head to Products > Brands.
Create product brands simply by filling in the 'Name,' 'Slug,' and 'Description' field boxes. Add the brand image/logo to the thumbnail, click 'Add New Brand,' and you're done.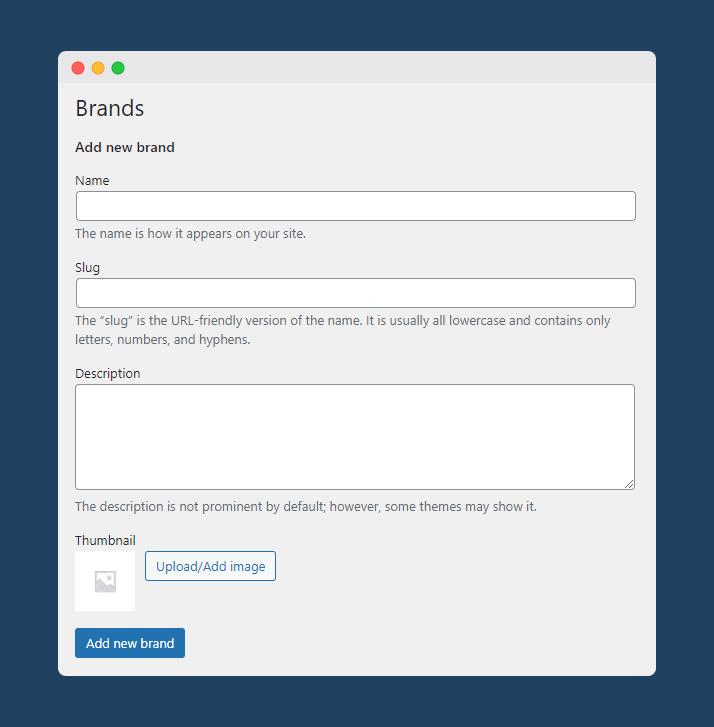 You can use the 'Edit' and 'Quick Edit' buttons next to each brand to make any changes.
If you decide to remove a brand's line of products from your business, simply click 'Delete' next to the brand you want to remove, or you can select the 'Delete' option from the bulk action menu to remove multiple brands at once.
In order to assign brands to products, take the following steps:
Head to the 'Add New Product' or 'Edit Product' page, depending on whether it's a new item or you're assigning a brand to an existing product.
Select the brand you want to assign to the product using the dropdown menu under brands. Then click 'publish' or 'update.'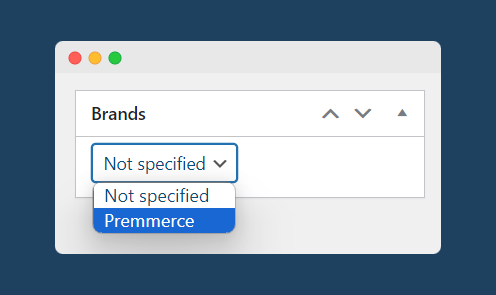 To get more detail on these steps, check out the full setup documentation.
How to create brand filters using WooCommerce Product Filter (step-by-step)
From here, you'll want to configure your brand filters. In this next section, we'll outline the steps you'll need to take to filter products by brand using WooCommerce Product Filter.
If you haven't already, purchase, download and install WooCommerce Product Filter from the Premmerce website.
From within WordPress, head to Premmerce > Product Filter.
There are a number of different tabs that you can use to set up your product filters. The most important is the "Attributes" tab, as this is where you can configure the appearance of all of your product filters, including attribute, tag, category, brand, and any custom taxonomy filters you have added to your store.
Adjust the appearance of your Brands filter to your requirements. You can change the input field type that appears in the filter widget (e.g., checkbox, radio button, dropdown menu), how the brand options are displayed (as a scrolling list, a dropdown menu, or a hoverable dropdown), and toggle the visibility of the Brands filter.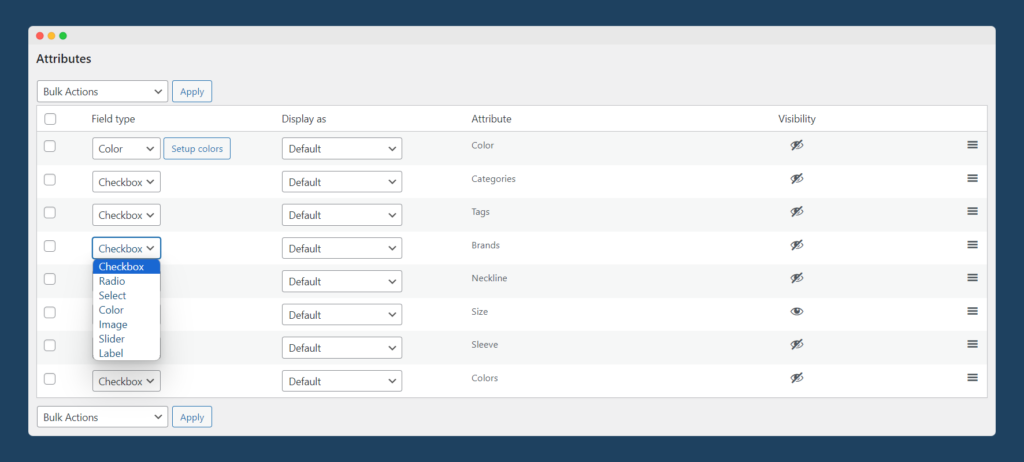 Next, navigate to the "Brands" tab to select which brands should appear in the product filter widget. You can manually toggle the visibility of individual brands, or make bulk changes using the Bulk Actions dropdown menu.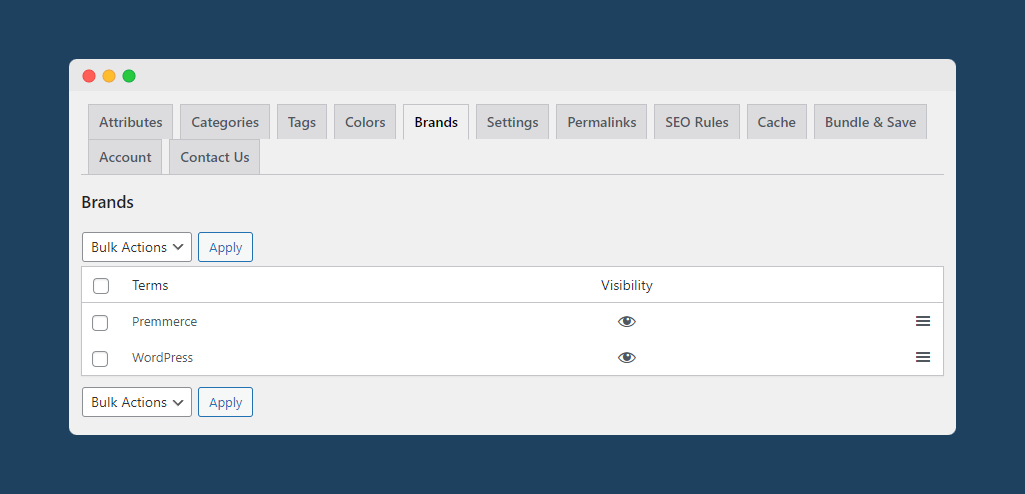 Once you've taken these steps, the brands you've set up and set to visible will be displayed in a clear, convenient product filter widget on the front end of your eCommerce store, allowing customers to easily filter your product catalog by their preferred brand.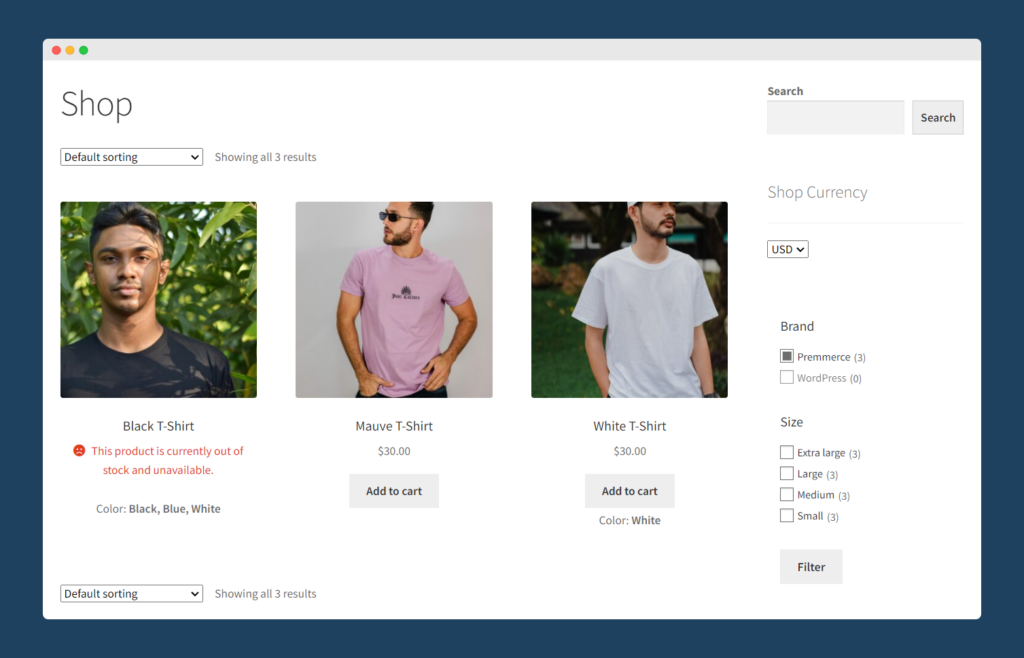 While WooCommerce does offer default options for filtering by brand, the single widget aspect of the WooCommerce Product Filter plugin makes it a superior option for all eCommerce stores looking to offer a superior customer experience.
Set up brand filters with WooCommerce Brands and WooCommerce Product Filter
If you sell branded products on your website, then allowing your customers to filter products by brands can be a hugely beneficial service that can enhance the user experience and ultimately drive more sales. In addition, it can make the admin and customer service aspects of running a store more straightforward, too. In the end, it's good for your customers and good for your business, so it's a no-brainer.
The best way to set up brands for your products and help your customers find them via filtered search is by combining Premmerce's WooCommerce Brands and WooCommerce Product Filter plugins which, when put together, create a powerful product discovery experience on your WooCommerce store.
If you're ready to unleash the potential of brand filtering and categorization, then be sure to try adding WooCommerce Brands to WooCommerce Product Filter. It's used by more than 5,000 eCommerce store owners, and we're confident that your users will love it.
Premmerce WooCommerce Product Filter
Get started giving your customers a better way to filter your products to increase site usability and revenue.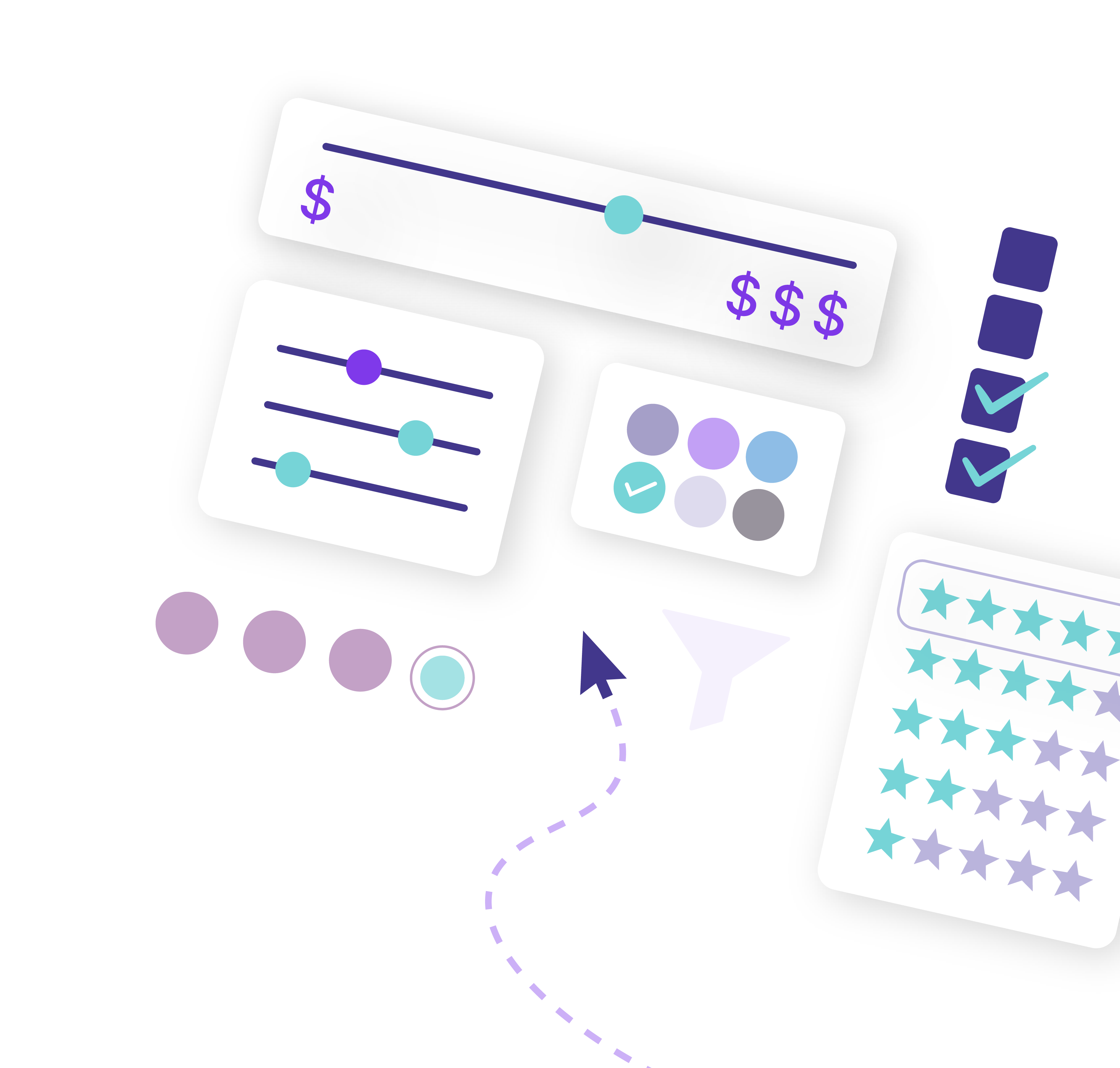 Comments
Ready to Get Started?
Join over 100,000 smart shop owners who use Premmerce plugins to power their WooCommerce stores.
Get started