TOP-5 WooCommerce Product Filter Plugins to increase your conversion and Save Your Customers' Time

Do you want your customers to purchase every time they visit your online store and leave them happy, satisfied and coming for more? Then you have to avoid a buyer wasting his time by viewing hundreds of products to find the one needed thing. The magic wand for this is simple to find: a filter that sorts and selects products by the specified criteria. However, not any filter will be equally effective. It should be easily found by the site visitors, function seamlessly and have no negative impact on your website performance.
This is exactly what one can say about the best WooCommerce product filter plugins below. Now, let's go into depth on each one of them.
Top-5 Filter Plugins
We're proud to introduce you to one of our most popular products. This is a convenient and flexible tool for managing filters for WooCommerce products. It combines a single widget that manages the display of all available filters, perfect Ajax, and unique SEO features. Generating pages with a clean URL and creating landing pages based on filters helps significantly with ranking. Finally, it's compatible with all popular WordPress themes, no strenuous hustle needed.
Key features:
displaying all available filters using a single widget for it;
the ability to filter search results;
all filters in one solution: by price, active filters widget, brands widget, "On sale", "Rating", and "In stock" options;
showing filters in the form of color, checkboxes or labels;
displaying only available attributes depending on the category;
shortcodes for any custom page;
deferred loading and Ajax filter to optimize page load;
restricted indexation to improve rankings;
improved caching system;
automatic adding of pages to the Sitemap;
compatibility with Polylang.
Let's stop for a minute on the SEO features which a truly a gem of the plugin. Their combination is what can get you increased traffic by 230% in 2 months. How can you do it exactly?
The filtered search results serve as the landing pages to strengthen your web presence. They can also be part of the "long-tail keywords" strategy. This means that "women's printed silk shirt" will get you additional traffic to the website without the hustle of creating a page from scratch. To make it human-friendly, the plugin allows for unique H1, title, meta description, and SEO text for these pages. Their automatic adding to the Sitemap makes sure that the search robots know about the many new landing pages.
However, this can potentially produce millions of "empty pages", with no value both for business and users. Most importantly, it influences negatively the rankings. To avoid this, we've implemented an SEO rule: discourage search engines from indexing the not-so-relevant pages to stick to the reasonable "crawl budget". The URLs will be simply blocked from seeing by the crawlers. This gives you the right degree of control.
It's a free WordPress plugin that allows users easy filtering of products by categories, price range, attributes, tags, and much more. Besides, the plugin assists with creating the filter combinations. Unlike many other product filters, where you can only select one filter at a time, Product Filter allows multiple selections which help shoppers to refine the product search results.
The basic features:
live search results;
drag and drop form builder;
multiple filter combinations;
vertical or horizontal layout optionally.
Using this plugin you can create and customize filters to make shopping in your store easy and enjoyable. You can filter by price, categories, tags, and attributes, enable or disable Ajax search, use extensive sorting options and adjust the precise price range.
Premmerce WooCommerce Product Filter
Get started giving your customers a better way to filter your products to increase site usability and revenue.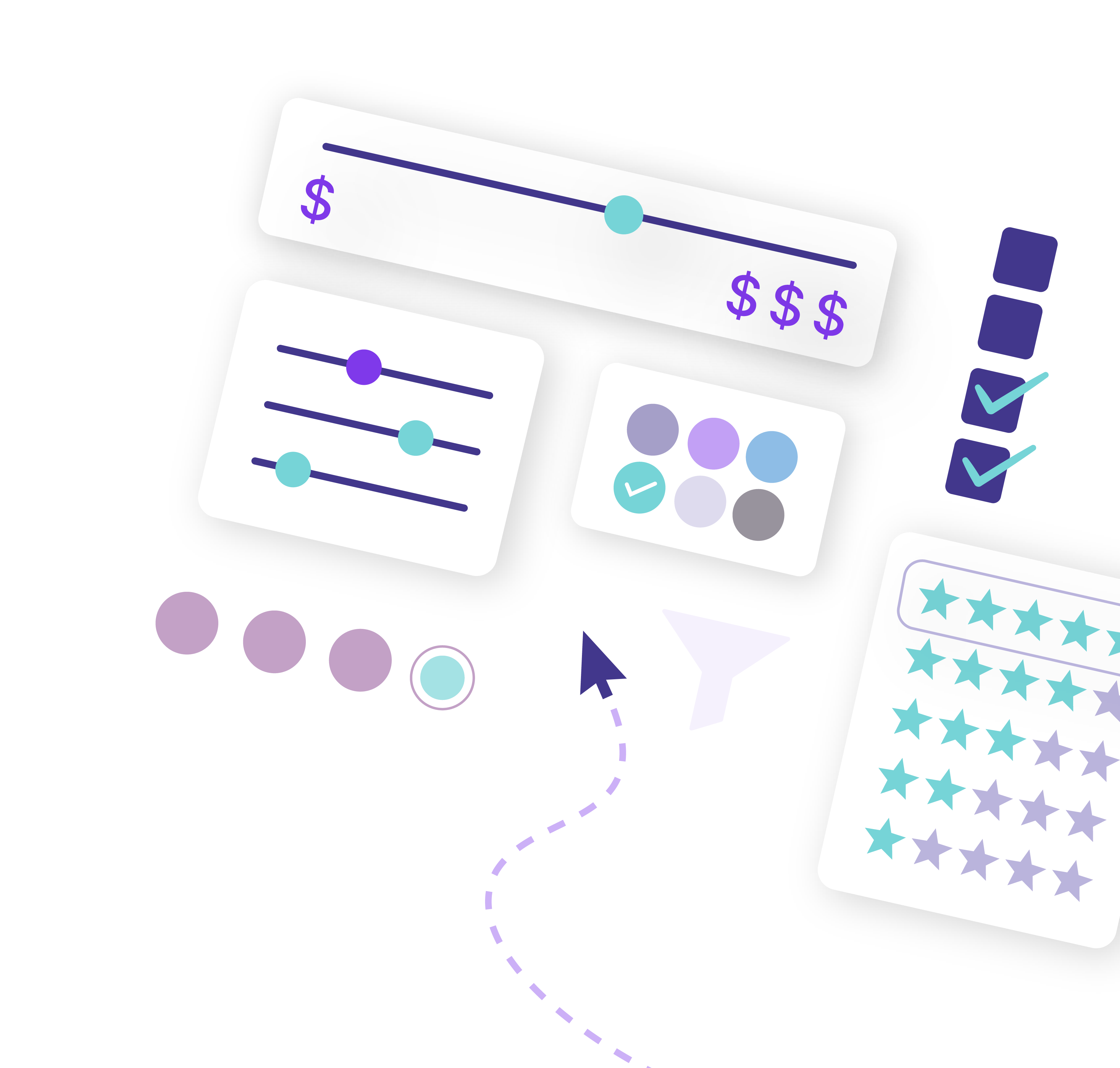 The main features include:
drag and drop builder
unlimited number of filters
customizable title and description for the filter
"hidden, closed, opened" filter label
checkbox, multiple drop-down, and radio button lists
count and search displaying
a hierarchical output of categories
maximum height in front-end for each filter
"Clear all" and "Clear block" buttons
customizable loader icon
This plugin allows you to manage product filters for displaying the best product variations your customers are looking for. They got a massive redesign in 2021 and can boast of many useful implementations.
The free features:
YITH WooCommerce Ajax Product Filter widget (4 layouts available: List, Drop-down list, Colour, Label);
YITH WooCommerce Ajax Reset Filter widget;
the ordering and hierarchy of the terms;
multiple selections available;
scroll-to-top option as a part of the responsive design;
deactivation of indexing of the generated URLs in search engines.
As you can see, the free version has already a lot to offer. The Premium provides even more value, price slider and additional layouts being only a few of them.
This plugin for WooCommerce helps your website visitors to sort out products by categories, attributes, product tags, product custom taxonomies, and price.
The main features:
dynamic products recount;
products search by SKU;
Meta Data filter for WooCommerce products;
products search by Price;
text search by title, content, excerpt, and their combinations;
step by step products filter;
Products Messenger.
Comparison Analysis
All of the filter plugins above make for a quick and enjoyable product search. Both free and premium versions are available, with prices ranging from $40 to $95.
The general functionality and usage principle are pretty much the same, all about filtering the products. Each filter is displayed as a separate widget and contains the filter output in the form of lists, colors, labels, drop-down lists, checkboxes. However, there are some differences to consider when making a choice.
The free version from YITH is much cut compared to the Premium one. It's also the most expensive variant on the list.
Premmerce WooCommerce Product Filter can display only available (in stock) attributes depending on the category. Having unique SEO features, the plugin helps with increasing the quality and quantity of website traffic by increasing the visibility of your store. Besides, it optimizes page load speed by loading filter deferred.
The product filter from WOOF features Products Messenger that allows your logged-in customers to subscribe to certain product filter combinations and be informed about their store arrivals. However, some users complain that their websites started to work slower after the plugin installation.
Themify – WooCommerce Product Filter is open-source software, but there were complaints about its conflictions with the non-Themify themes.
It's important to remember why you need the product filter in the first place. Mostly it's designed to speed up the search of the desired products and to save time. Thus, when choosing the product filter plugin you better pay attention to the filter performance. The Premmerce team holds the lead on this issue. Our Premmerce WooCommerce Product Filter doesn't have any negative impact on the loading speed of a page with filters applied.
Start using the product filter plugin right now = save your customers' time and increase your sales!
Comments
Ready to Get Started?
Join over 100,000 smart shop owners who use Premmerce plugins to power their WooCommerce stores.
Get started