WooСommerce Quickbooks Integration: Plugins and Services Review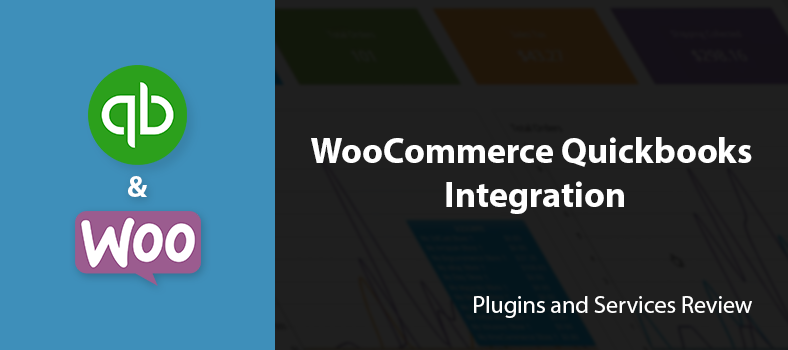 In this research we'll describe all the available WooСommerce Quickbooks integration methods and analyse them in detail.Plus, we'll compare some popular solutions so that you can choose what's the best option for your business.
To start with let's clarify what QuickBooks is and what problems it solves.

About QuickBooks
QuickBooks is an accounting software package. It's used for small and midsize businesses and it helps to manage taxes and invoices thus giving you a comprehensive view of your company's financial situation. You can analyze sales and expenses, view profit & loss reports, do inventory and payroll, track unpaid bills, etc.QuickBooks is linked to thousands of accounts including your bank accounts and credit cards, PayPal and Square downloading all information to its own database and this way simplifying taxation. Plus, the software tracks your expenses and allows you to upload photos of your bills from the phone.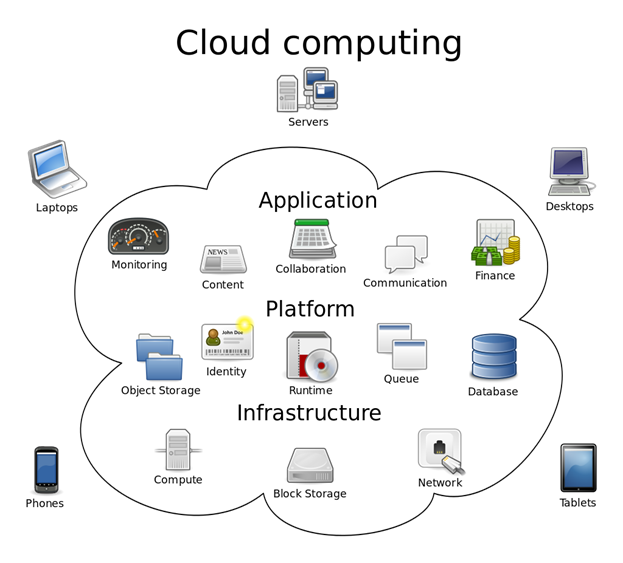 QuickBooks Online is cloud computing. You'll get access to QuickBooks on your smartphone or tablet after you've downloaded its application or used the Web interface. The cost of this service varies from $15 to $50 per month depending on the chosen tariff plan. Moreover, a free 30 day trial period is available. Great news is that the company often offers 70% off discounts on the Quickbooks products for attracting new customers.
WooCommerce Quickbooks Integration in a nutshell
Today the WooCommerce based stores are easily integrated with accounting software and QuickBooks is not an exception. Everything runs naturally and logically contributing greatly to the automation of business processes. Quickbooks is a true ROI and a time-saver. Sounds too good to be true, doesn't it?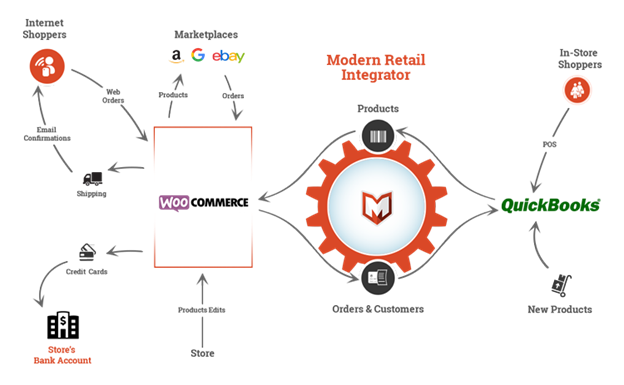 Let's have a look at all existing ways of WooCommerce Quickbooks integration. We've classified integration functions offered by most of the services as basic and additional, highlighting the core benefits of each.
The basic functions are:
Sync prices with the values from QuickBooks

Import items from QuickBooks

Export items from QuickBooks

Send orders to QuickBooks

Send customers to QuickBooks

Manually Push & Pull Data

Chat & Email support
The additional functions are:
Two-way sync

Inventory management

Stock level

Shipping & Fulfillment

Reports & Analytics

Live chat & Phone

Support multiple payments methods

Global Tax

Custom development
The main advantages of integration:
Planning and analysis in a real-time mode

Automatic and quick data synchronization

Update information on the website

No errors during data transferring

Company's productivity increase

Customer care
The main problems solved by integration:
Electronic interchange of

commercial information

Incomplete data about products or services

Manual transferring of data in

QuickBooks

Manual transferring of data in

WooCommerce

Difficulties in informing clients
WooCommerce QuickBooks Integration
Plugins and Services Review
Here is a little review of some popular plugins and services. Read on and you'll get our professional feedback on their functionality and usability.
The service offers a free trial period during 15 days. If you want to use it, you need to be registered. Before you start, you must go through an easy registration process and connect to WooCommerce using the API key.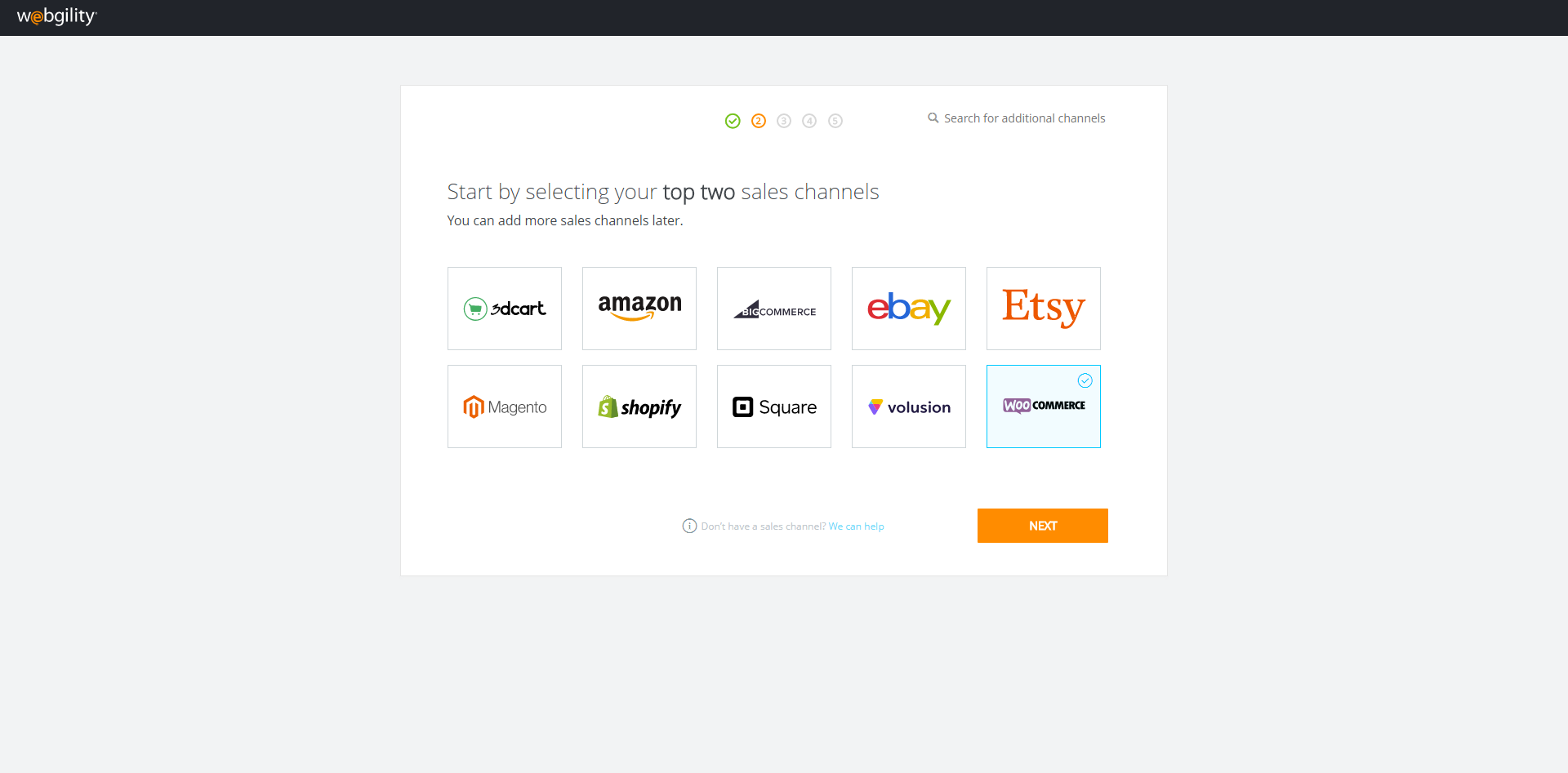 The service has an intuitive and user-friendly interface, sufficient functionality and all needed capabilities. In addition 5 different tariff plans are available, so it can meet needs of its existing and potential users. It's perfect for small and midsize businesses as it provides value for money and great tech capabilities.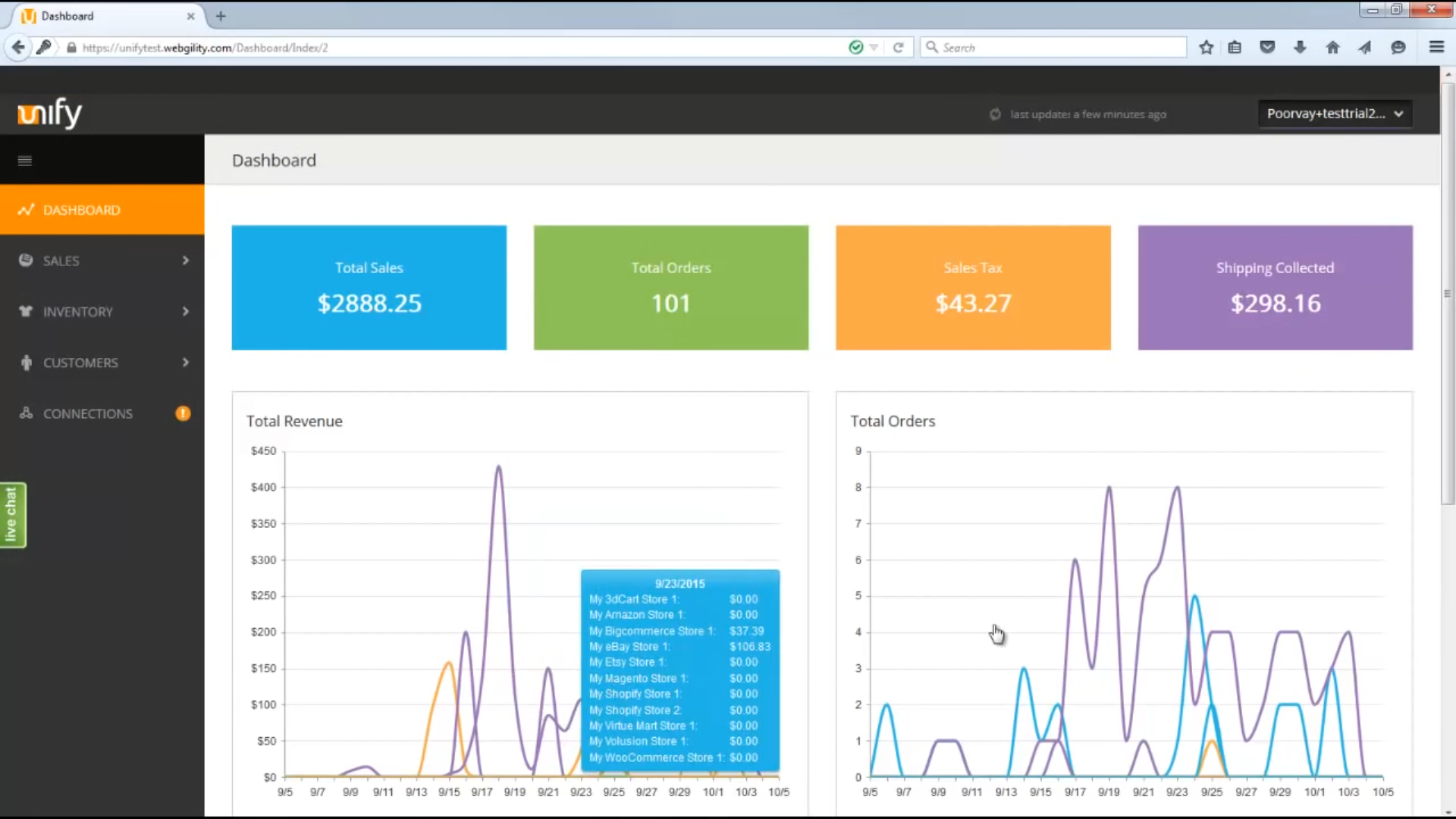 Read more about this product and its tariff plans here: Webgility Pricing
Key Features
Webgility automatically brings your WooCommerce sales data into QuickBooks
Instantly and accurately post and schedule sales data from WooCommerce directly into QuickBooks.

Sync and post WooCommerce sales as receipts, invoices, sales orders, or estimates in QuickBooks.

Assign sales transactions to the appropriate accounts, based on payment method, discounts, promotions, and more.

Know where your money is with full visibility into fees and expenses from any marketplace and WooCommerce with no manual data entry.
Inventory Management on WooCommerce
Manage, sync, track, and expand your product listings on your WordPress site.

Instantly sync price and quantity between your WooCommerce extension and your accounting.

Seamlessly map your WordPress products in accounting and automatically create missing products in QuickBooks.
Managing Shipping on WooCommerce
Add shipping accounts, print labels and pack slips, and notify customers all from one dashboard.

Process partial or multi-package shipments and track them at item level.

Compare rates between major shipping carriers for the best deals.
Post completed orders with tracking ID back to your WordPress site and notify customers right away.
It is an online service which supports WooCommerce 2.6.x and WooCommerce 3.x. In your Account you can easily set up everything you need for the correct work of the service.It has a sufficient functionality as well as intuitive and user-friendly interface. The top toolbar makes the service easier and considerably increases its productivity. You'll have no difficulty finding the necessary information, adding different tasks, importing / exporting or synchronizing data and sending the newsletters to your customers. The company offers 4 different tariff plans and you can try one of them for free during 14 days except the 'ENTERPRISE' package. You can read more about pricing policy here: Primaseller Pricing
The main differences of the tariff plans:
Prices and subscription duration

SKUs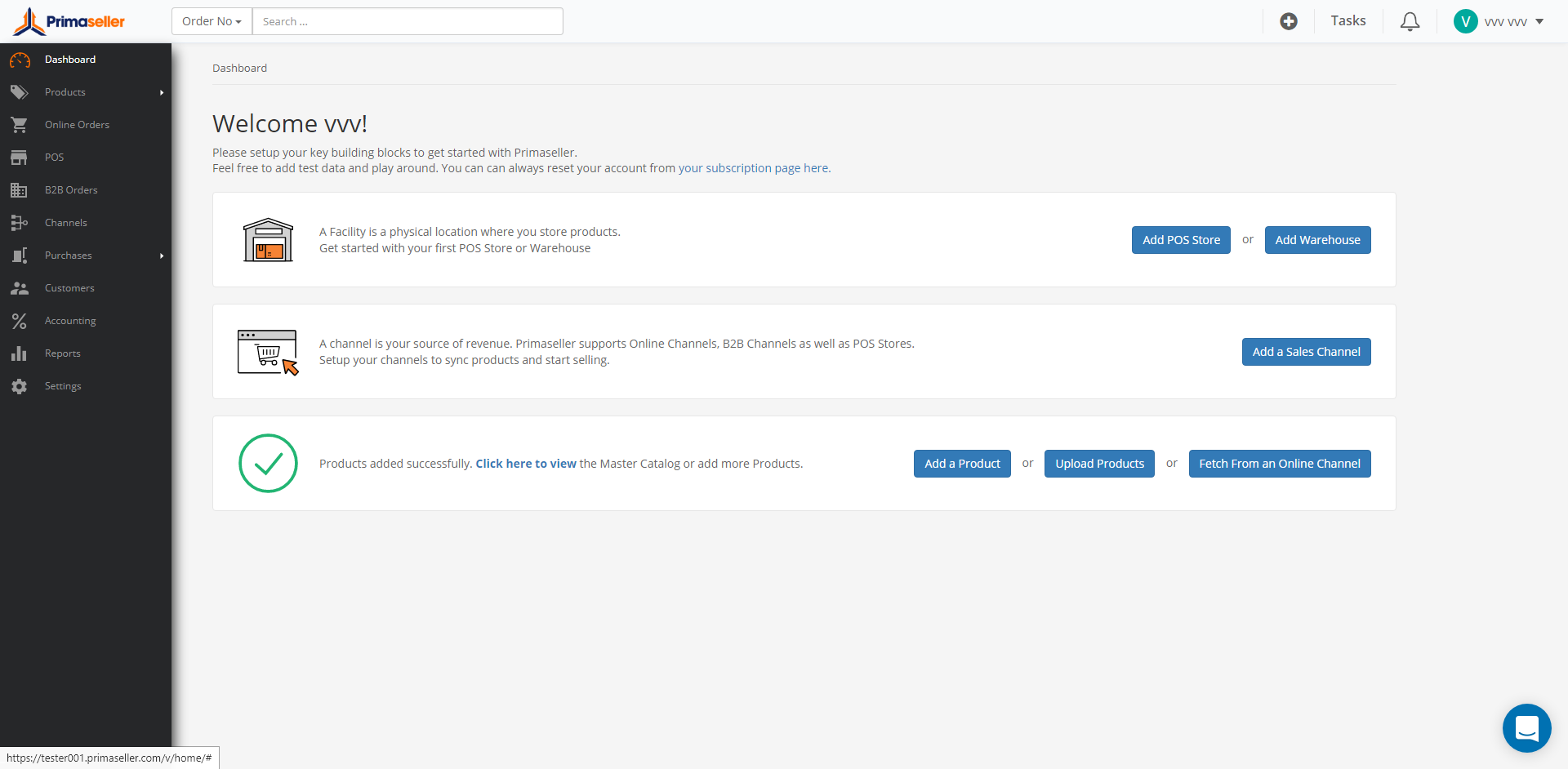 The service appeals to its users owing to a flexible pricing policy and well-thought-out functionality.One of the service advantages is the option to pay additionally for the store traffic in case it exceeds the limit suggested by the chosen tariff plan.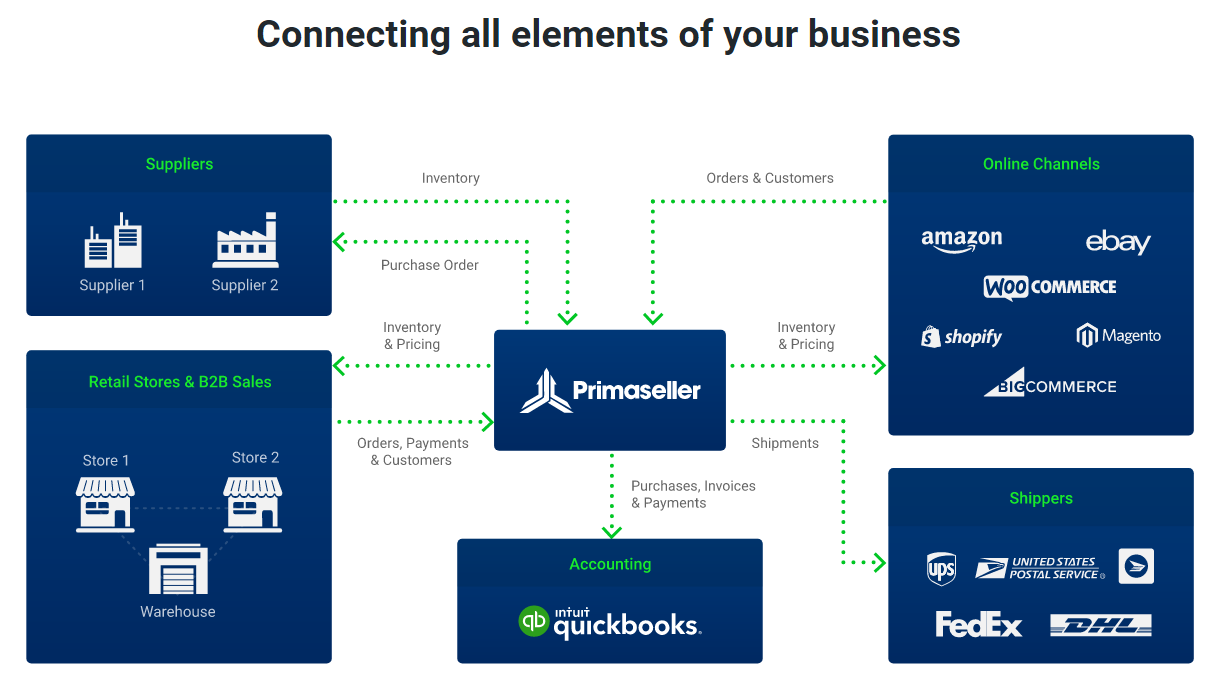 Key features:
Inventory management

WooCommerce order fulfilment

Integrated shippers

Multi-currency store

Product bundles/kitting

Other online channels and POS

Supplier and PO management
It is a unique online builder that allows you to set up Quickbooks integration with your WooCommerce store by yourself or to use some ready solutions. It's one of the leaders in the market of the integration software solutions. The service offers a free trial period during 14 days for Premium Plans and there is also a free tariff plan available after a simple registration. Then you can use Zap integration services and apps. The company offers you 4 different tariff plans. The main differences among them are the price, the number of tasks for completion and the number of possible scenarios.

The main service advantages:
Integration with more than one service

Synchronization with more than 750 services

Profound and flexible integration

Easy setup, no expertise in programming required

High level of automation
The company has developed the WooCommerce Zapier plugin for more effective interaction with the service. However, you can buy it separately and its price ranges from $59 to $158 depending on the number of websites you want to connect to the WooCommerce Zapier plugin.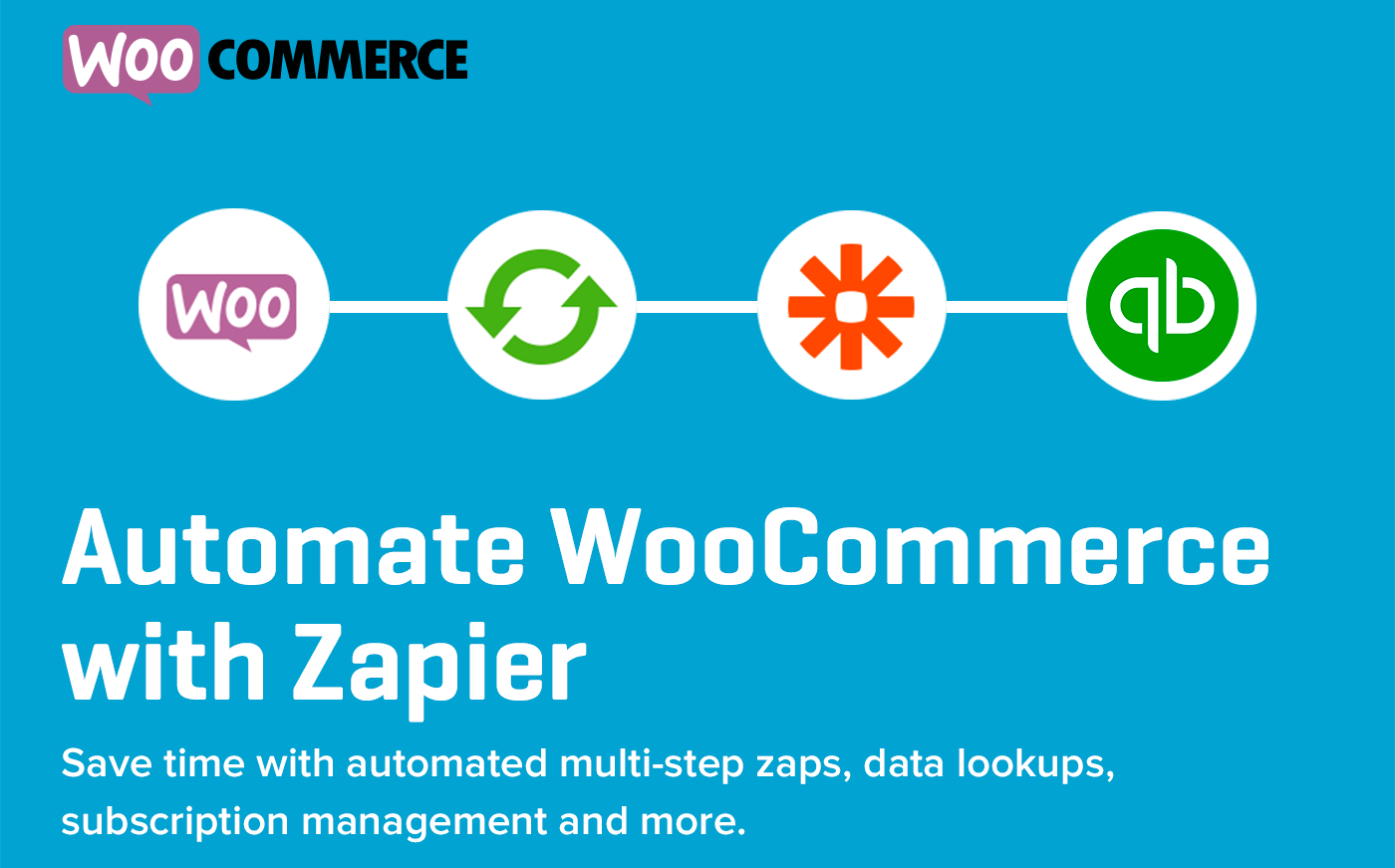 Key features of the plugin:
Uses changes in WooCommerce order, customer and subscription data as triggers for Zapier automations

Supports all WooCommerce currencies, shipping methods and payment gateways

Secure: your WooCommerce data is always sent to Zapier over an encrypted connection

Robust: data is sent to Zapier asynchronously, with automatic retry mechanisms built-in

Adjustable: zap notifications can be filtered to specific users, groups or teams

Full support for simple and variable products

Supports lookups of specific data in select integrations, with more on the way

Supports

WooCommerce Checkout Field Editor

, allowing you to use your custom WooCommerce checkout fields in your zaps

Supports

Sequential Order Numbers Pro

Supports

WooCommerce Subscriptions

, allowing you to perform tasks whenever a subscription is created, renewed, or changes status.

Supports

WooCommerce Pre-Orders

, allowing you to perform tasks when a pre-order is received.

Supports

WooCommerce Product Add-Ons

, allowing you to send your product add-ons to other services.

Supports

WooCommerce Gravity Forms Add-Ons

, allowing you to send your gravity forms product add-ons to other services.

Includes WordPress filters so that other WordPress plugins can override or customize the WooCommerce data that is sent to Zapier
General information:
Version:

1.6.9

Last updated:

5 months ago

Supported WordPress:

4.5 +

Supported WooCommerce:

2.6 +
The company offers two options for integration QuickBooks with WooCommerce and gives 'Free Trial' for 14 days. However, for QuickBooks Desktop you need to pay $199 in advance for its installation. Moneyback is guaranteed. You can choose between the option taking into consideration the following differences:
QuickBooks Online

integrates through the plugin from QuickBooks Online. You set up and integrate by yourself.

QuickBooks Desktop

integrates through the plugin from QuickBooks Desktop. It is 40% more expensive than QuickBooks Online, and you also need to pay a one-time setup fee.
Each integration version has three tariff plans and a free trial period. The main tariff plans differences:
Price and subscription duration

Custom development

Priority email / phone support
Myworks supports all versions of QuickBooks Online – including Canada, United States, United Kingdom, Australia, India – and all other countries QuickBooks Online is offered in. This also includes global tax & currency support, fees and payment processors!
The company also offers additional services for a fee:
WooCommerce intuit payment gateway – 99$ per year

Sequential Order Numbers Pro – 79$ per year

WooCommerce Cost of Goods Sold – 79$ per year

WooCommerce Dropshippers – 79$ per year

WooCommerce + QuickBooks online sync plugin | Developer – 14.99$
Plugin for QuickBooks Online
To use a free trial version you need to register on the website and place your order. Then you'll get an email with the link to download the plugin. After the plugin has been download, you'll get an email with a license key that you need to enter when syncing the plugin with Quickbooks Online. You can use it for free for 14 days.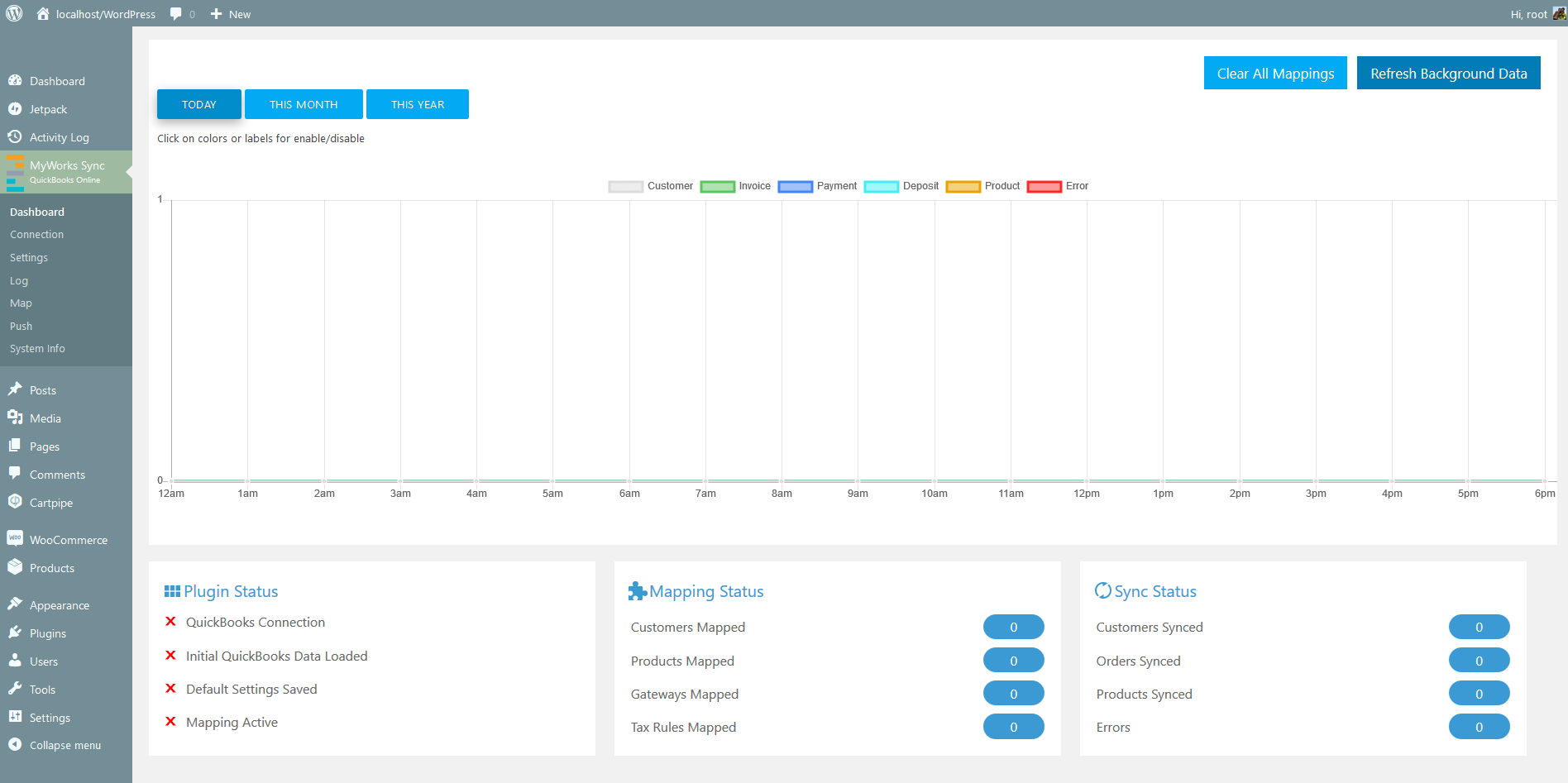 The plugin is easy to install and set up and it has a user-friendly interface. Useful information like diagram view or real-time synchronization is displayed on the homepage. Functions like 'System Info' and 'Log' supply information about WordPress, Server and Database. The plugin also records its own activity in the Log tab. It's definitely worth trying out in your store.
Key features:
Real-Time Sync

Two-Way Sync

Unlimited Transactions

Global Tax & Currency Support

Manually Push & Pull Data
Summary
Here we've compared the reviewed integration services by their basic and premium features.
We've reviewed all options for integration WooCommerce from QuickBooks at the time of writing the article. However, we can not choose a company or service that can fit all businesses as each one presents its unique package of services and is designed for different business models and their needs. On the market you can find free or inexpensive services that will help to solve certain tasks, but unfortunately not all of them. More expensive services are definitely more flexible and customizable for individual business needs.
Before choosing a service make sure you paid attention to the following points:
Services and prices that are included into the tariff plan

Speed response of technical support

Stability and reliability of the service

The possibility of early change of the tariff plan

Providing additional services
Remember! Any business requires constant analytics and various KPIs. You can not understand the effectiveness of a company without having statistics and metrics. You have to collect and analyze as many metrics as possible on a regular basis. Automation will definitely help you with it. As a result you'll see a whole picture of your business and it'll allow you to make the right strategic decisions in the early stages.
Comments
Ready to Get Started?
Join over 100,000 smart shop owners who use Premmerce plugins to power their WooCommerce stores.
Get started