WooCommerce: How to Print PDF Invoices and Packing Lists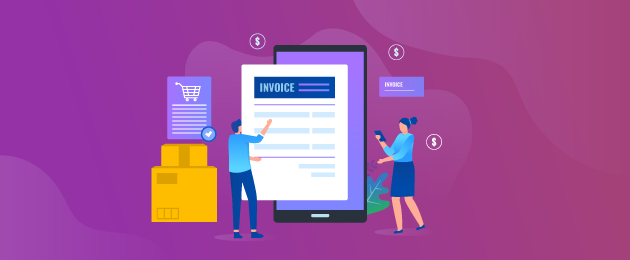 Invoices and packing slips play an essential role in the fulfillment process, ensuring that the right products reach the right customers and acting as a record of sale. Creating digital versions of these documents is important in some cases, considering the rising prevalence of e-billing, but you'll miss out on several benefits by not printing physical records.
Unfortunately, it's not possible to print fulfillment documents by default via WooCommerce – you'll need a dedicated plugin.
In this guide, we'll explain the benefits of printing PDF invoices and packing lists in WooCommerce, examine the best printing plugins for your site, and take you through the setup process one step at a time.
Why should you print invoices and packing lists for your WooCommerce store?
Printing order fulfillment documents is one of the most important aspects of running a successful WooCommerce store. Here's why:
Make your order processing more efficient
A streamlined order fulfillment process and a positive customer experience go hand in hand – 62% of shoppers claim prompt shipping is integral to their overall purchase experience. By printing fulfillment documents as soon as an order is placed, store owners save time that'd otherwise be spent processing orders manually.
Automating the printing process also gives fulfillment staff the information they need (like customer and shipping details, order items, and SKU numbers) to fulfill the order accurately and avoid miscommunications.
Store owners can take these benefits to the next level by using an automated solution that prints documents as orders move through the fulfillment process, allowing for more seamless tracking.
Improve order accuracy
Printing invoices and packing lists as soon as new orders are placed improves the accuracy of the fulfillment process. In addition, the risk of errors and miscommunications is reduced by eliminating the need for human intervention in passing on order details.
This applies to all types of order fulfillment, not just eCommerce. Restaurant owners, for example, benefit from printing order receipts at the point of sale and ensuring clear lines of communication between the person taking the order and the kitchen staff responsible for cooking it.
Your customers will benefit, too! They can cross-check the items they've received against their initial order if provided with a printed invoice or packing list.
Improving order accuracy minimizes mistakes and errors that can lead to returns, refunds, and repeat deliveries, saving store owners money on shipping costs and product replacements.
Provide proof of purchase and maintain good records
The returns process can make or break a customer's shopping experience – in fact, 92% of customers claim they'd be happy to buy from a store again if the returns process is straightforward. Printing invoices and receipts provides physical proof of purchase, making it easier for shoppers to manage returns and refunds.
Businesses are advised to retain physical backups of receipts and invoices, among other documents, to ensure they have an accurate record of their financial transactions. Keeping copies of invoices and receipts also means that store owners have all the necessary information at hand when filing tax returns or conducting an audit.
Reinforce your branding
Including your company logo, color scheme, and other design elements on printed fulfillment documents creates a consistent and recognizable brand image across all your customer touchpoints.
But branding is about more than just aesthetics. A strong, memorable brand identity differentiates your business from competitors. It helps it appear more professional – ultimately leading to the word-of-mouth referrals and repeat business essential for long-term success.
Store owners can also use branded receipts and invoices to share details of upcoming promotions or coupon codes. Highlighting offers on these documents increases customers' likelihood of using them to place a repeat order.
It's also possible to gather valuable customer feedback by including links to surveys on invoices and gain insight into your customers' preferences and thoughts on your products or services. Plus, it's a great way to assure customers that their voice is heard (and valued)!
What are the best plugins for printing invoices, packing lists, and other documents in WooCommerce?
You'll need to rely on a dedicated plugin to print physical fulfillment documents as, unfortunately, WooCommerce doesn't offer PDF printing functionality by default.
Luckily, there are plenty of order printing plugins to choose from! The WooCommerce plugins listed below are all capable of printing invoices, packing lists, receipts, and more.
BizPrint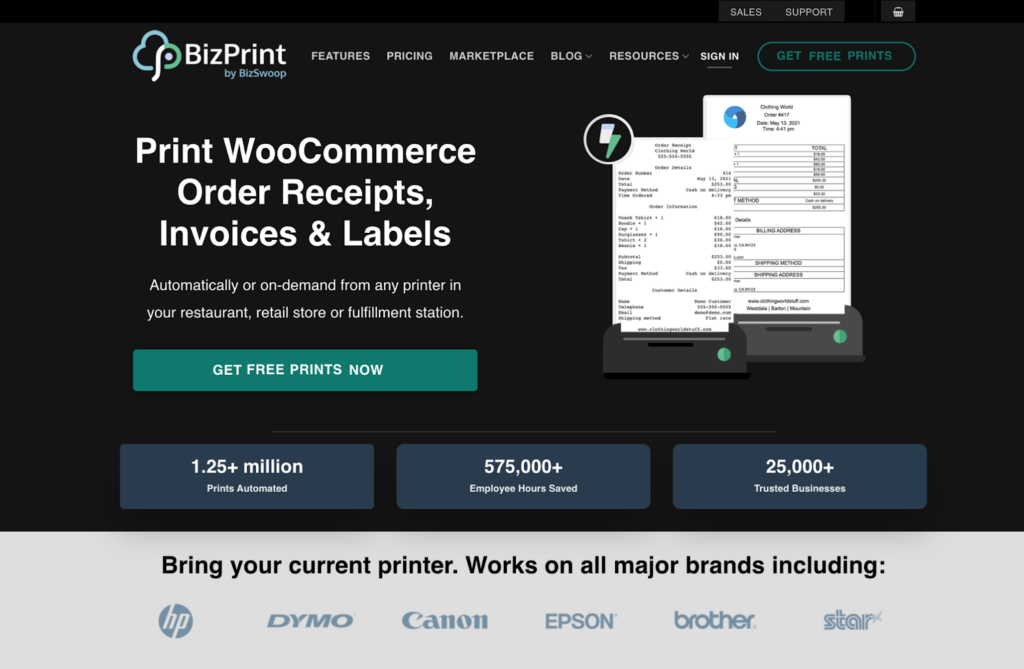 BizPrint, by BizSwoop, is an all-in-one printing solution – a must-have for store owners wanting to streamline their fulfillment process. With BizPrint, you can automate order printing and PDF creation, directly from your WordPress dashboard, with complete control over the experience.
And that's not all! Additional BizPrint features include:
Automatic printing functionality
Order fulfillment involves a variety of documents, and attempting to print them all at different points of the process can quickly become unmanageable. BizPrint's automatic printing functionality takes away the hassle. Printing is triggered by changes in WooCommerce order statuses that ensure the documents you need are ready as soon as you need them.
BizPrint automation results in fewer cases of human error, improves order processing capacity, and allows your staff to spend more time on other essential tasks.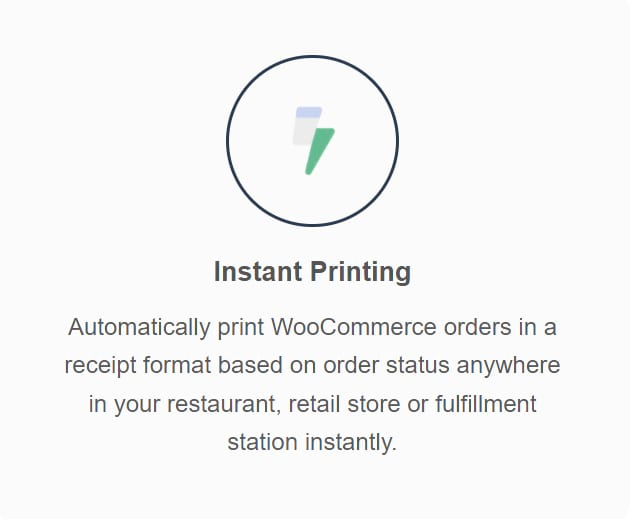 Customizable templates
A boring delivery note or packing slip doesn't reflect that well on your business – which is the last thing you want when building brand recognition. So BizPrint offers users a selection of fully customizable templates for invoices, packing lists, receipts, and more!
Each template field can be tweaked and tailored, and the BizPrint team can even create fully bespoke templates for businesses with specific requirements.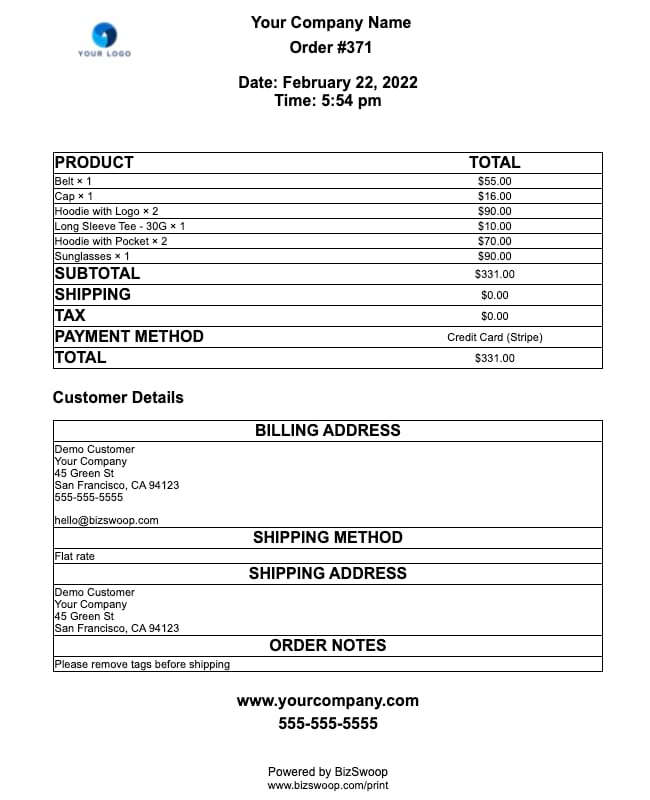 Automatic PDF creation
We've already covered the benefits of producing printed order fulfillment documents for your WooCommerce store, but there are still times when producing a PDF invoice or receipt is more efficient or useful for your business or customers. Fortunately, in these cases, BizPrint still has you covered!
Creating a PDF with BizPrint is as easy as logging into your WordPress dashboard, selecting the WooCommerce sidebar option, and heading to Print Manager > Printers. Click "Add new" to create a new document and select a template via the handy drop-down menu. Then, take your pick of customization options!
Choose your document size, configure font settings, adjust margins, and include essential branded information – like your company name and logo, order details, and custom fields. BizPrint's customization options are incredibly robust and can be adjusted as necessary. You'll also be able to determine whether your PDFs auto-print or auto-save when orders are placed.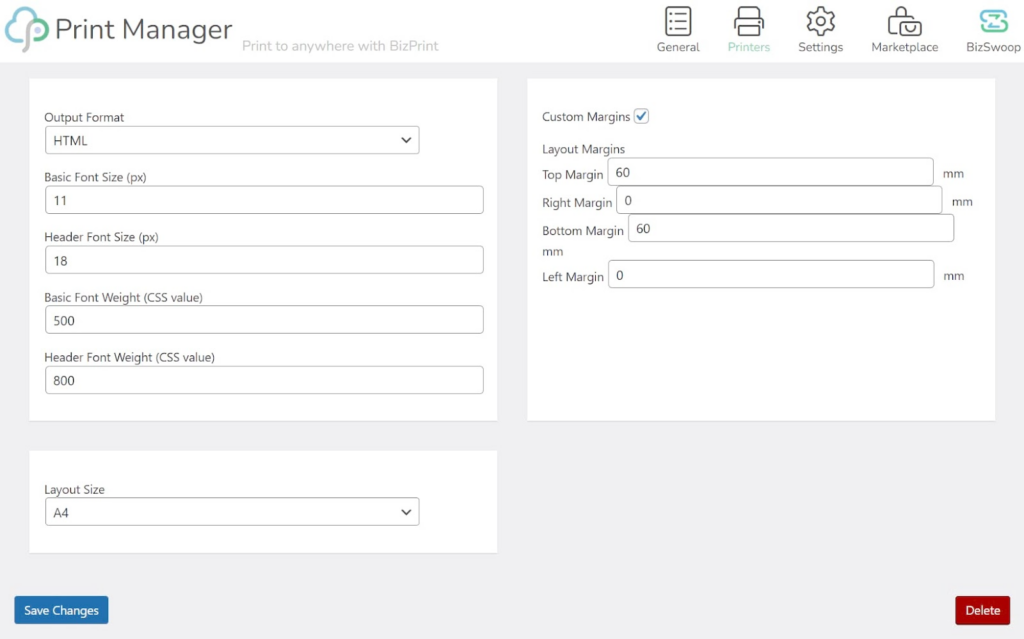 Omnichannel compatibility
BizPrint lets omnichannel stores be as flexible as their online counterparts. This is thanks to its compatibility with any WooCommerce Point of Sale (POS) system – particularly Jovvie, BizPrint's sister plugin.
Integrating with Jovvie lets users automatically print relevant fulfillment documents when a sale is logged at a point of sale. From receipts for customers at the checkout or packing slips for your team at the fulfillment center whenever a new order is made, BizPrint has you covered.
Powerful integrations
BizPrint works with all printer models, including major brands of thermal printers, meaning you won't have to worry about compatibility issues or limitations when printing invoices.
If you have franchises dotted across the globe or multi-lingual teams, you'll also be glad to learn that BizPrint supports up to 36 languages.
BizPrint is also just one of BizSwoop's powerful plugins, and it integrates well with WooCommerce solutions designed to simplify the management of your online store. BizPrint and Flow Notify pair exceptionally well, allowing users to print documents based on custom order statuses.
BizPrint offers several pricing options for stores of all sizes – from solopreneurs to growing enterprises. Plans are available from $3/month, based on the number of required print jobs month-to-month. In addition, users can scale their plan up or down depending on changing demand and get started with free prints!
WooCommerce Print Invoices & Packing Lists by SkyVerge
WooCommerce Print Invoices and Packing Lists by SkyVerge
The WooCommerce Print Invoices & Packing Lists extension allows users to bulk print important documents in just two clicks. Moreover, you'll even have the option to organize packing and pick lists by product category, which is excellent news for your fulfillment teams.
Key features include:
Print invoices, pick lists, and packing lists manually or as a bulk action from your WooCommerce admin page.
Enable customers to view invoices via the "My Account" page.
Print email invoices straight from the WordPress dashboard.
Automatically generate an invoice number (or set it as the order number) and customize the number prefix, suffix, and padding.
Automatically email HTML invoices to customers.
Customize documents without any CSS code.
However, the plugin also has its disadvantages:
No automatic printing functionality.
Updates are infrequent.
"Basic" customization options.
At $79/year, more expensive than BizPrint.
WooCommerce PDF Invoices, Packing Slips, Delivery Notes, and Shipping Labels by WebToffee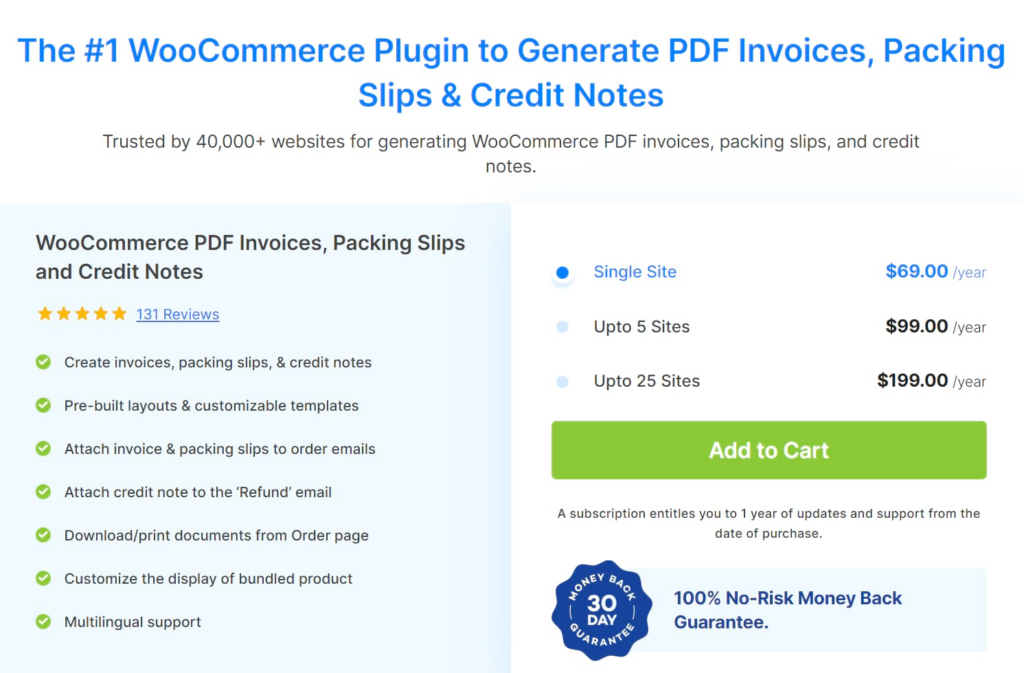 Quickly generate fully-customized invoices, packing slips, shipping labels, and more with this handy extension created by WebToffee. Tweaking the design or data included in these document templates is a breeze, too, and a great way to incorporate company branding.
Key features include:
Create WooCommerce Proforma invoices, packing slips, credit notes, pick lists, and delivery notes – and manually print them as needed.
Choose from pre-built templates.
Customize templates with a built-in code editor.
Custom fields to add VAT and other tax details, tracking information, and company branding.
WPML compatible.
Disadvantages:
Lacks integration with the necessary shipping/courier services to generate supported shipping labels.
At $69/year, more expensive than BizPrint.
WooCommerce PDF Invoices & Packing Slips
Add intuitive printing functionality to key points of your store with WooCommerce PDF Invoices & Packing Slips – an extension that allows users to generate PDF invoices and packing slips in bulk and more!
Key features include:
Automatically attach invoice PDFs to customer order confirmation emails.
Print invoices and packing slips manually from the WooCommerce order page.
A basic invoice template with limited customization options.
Free version available.
Disadvantages:
Advanced features (like auto-printing documents and automatic uploads to Dropbox) are exclusive to the professional version of the app.
Premium extensions are pricey, starting at $59.
Tutorial: How to print invoices and packing lists in WooCommerce with BizPrint
BizPrint is our top recommendation for printing invoices and packing slips directly from your WooCommerce store – and it's incredibly easy to get the plugin set up and ready to use.
We'll walk you through the entire process below.
Step 1: Account and Plugin Setup
First, you'll need a BizSwoop account. Enter your details and check your email for an activation link. Once you've activated your account, log in and click "BizPrint".
You'll arrive at the BizPrint dashboard, where our next goal is to add a new printing station. Click on the "Stations" option, then the "+" button next to "My Stations" and give your station a name. Hit "Create," and you'll get the public and secret keys for the new station.

Download and install the BizPrint Cloud App – select the correct download for your operating system (Windows, Mac, or Linux). Input the public and secret keys for your print station when prompted.
The BizPrint plugin will then find any physical printers connected to your network.
Decide whether you'd like to make PDF versions of your invoices and packing lists. If so, click "Set up PDF Printer" to create a new folder, or designate a local one, where the plugin will store the PDF versions of documents generated with the tool.
Now, head back to the BizSwoop dashboard, hit "+" next to applications, and input a name for the application. You'll also be asked to add your WordPress site URL.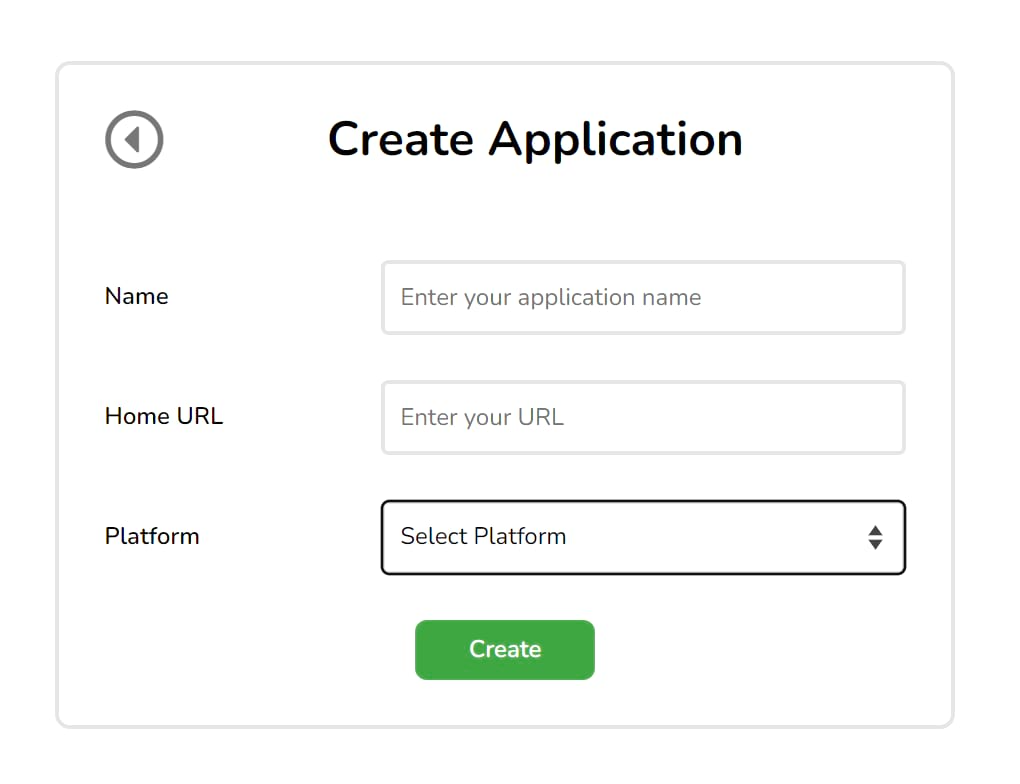 Click "Create" to generate another set of public and secret keys.
Keep these keys handy, and input them when prompted after downloading, installing, and activating the Print Manager plugin.
Step 2: Automatic Printing Configuration
Head to WooCommerce > Print Manager > Printers. Click "Add New" and select which of the printers connected to your account you want to use.
You'll also need to pick a template for your documents via the dropdown menu. BizPrint gives users three default options, though it's possible to customize these to meet your specific needs, or even call on the BizPrint team to create unique templates for your business.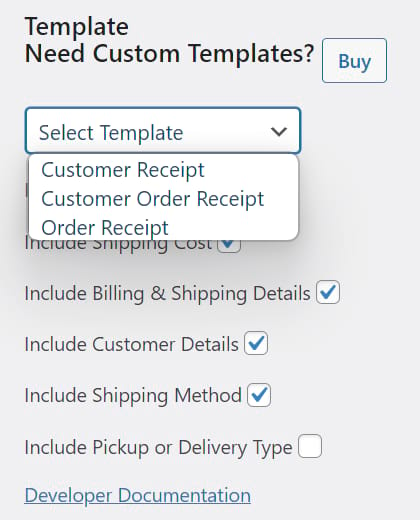 If you'd like to include a header, company logo, return policy, or other custom information in your template, you can do so under "Appearance". You can also select your preferred date format and add sequential order numbers here.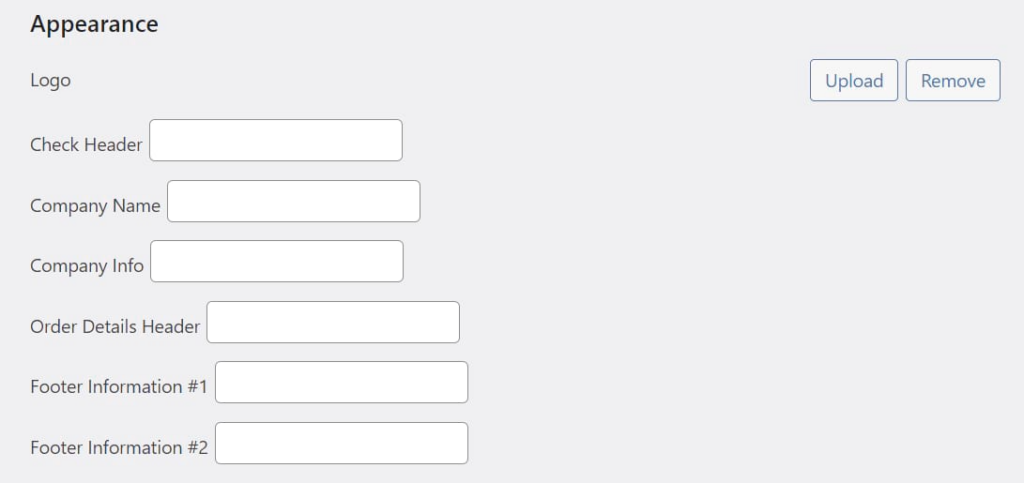 Backtrack to WooCommerce > Print Manager > General. To set up automatic printing for orders that come through different channels (like POS or online orders), scroll to "Enable automatic printing" and check the relevant boxes.

Now it's time to decide which order statuses will trigger an automatic print. BizPrint's automatic prints can trigger via any core WooCommerce order status, or the custom order statuses created with additional plugins, like Flow Notify.
Step 3: (Bonus) Set up Product Mapping
BizPrint's add-ons make automatically printing fulfillment documents even more intuitive! Product and Category Mapping and Shipping Zones and Methods Mapping allow users to configure the plugin to only print to specific locations set by pre-defined parameters.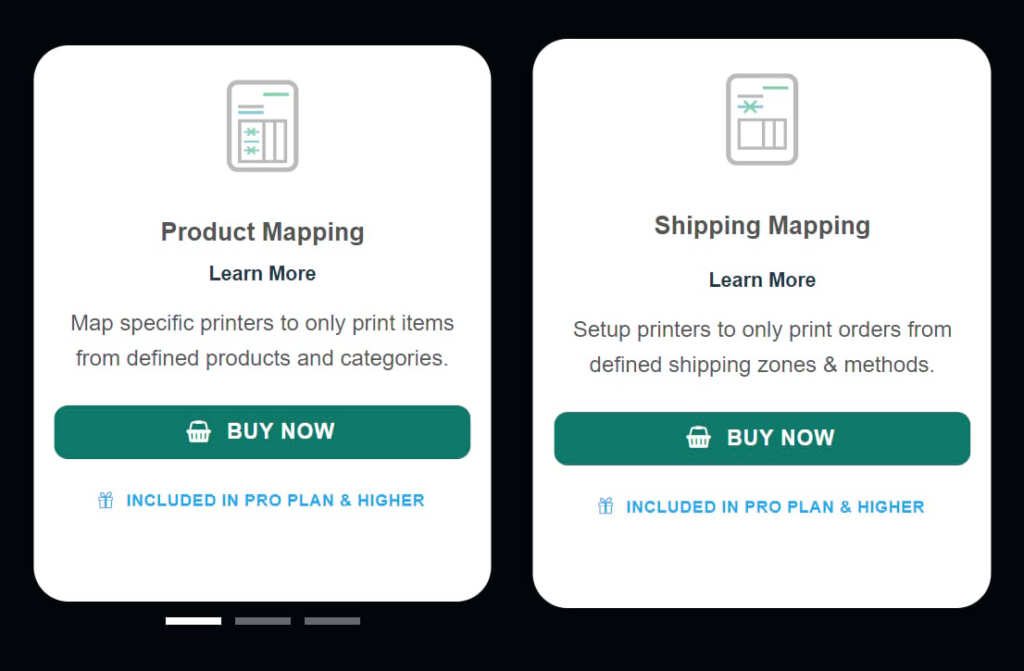 This is useful if your business uses multiple distribution centers for different product lines, and if you want to print orders for certain products or categories at specific fulfillment centers.
BizPrint can also be configured to print orders for distinct shipping zones or methods to a pre-determined location. So, if you run a chain of restaurants offering delivery, this ensures that orders placed on your website are forwarded to the franchise nearest to the delivery address. This means reduced waiting times and happier customers!
Print invoices, packing slips, and pick list PDFs automatically with BizPrint
No eCommerce business should overlook the benefits of printing fulfillment documents. Doing so not only streamlines your order processing and improves accuracy, but allows you and your customers to maintain good financial records with physical proof of purchase.
BizPrint is the perfect solution for any business looking to simplify fulfillment processes, improve the customer experience, and increase repeat business. In addition to automatic printing, the all-in-one solution allows business owners to quickly create and save PDF invoices and packing lists based on pre-made, customizable templates. And with plenty of free prints to get you started, there's no better time to try BizPrint.
So, if you want to generate fully customized fulfillment documents and print them anywhere, anytime, with total confidence, BizPrint makes it happen!
Comments
Ready to Get Started?
Join over 100,000 smart shop owners who use Premmerce plugins to power their WooCommerce stores.
Get started