Woocommerce Google Analytics Integration and Plugins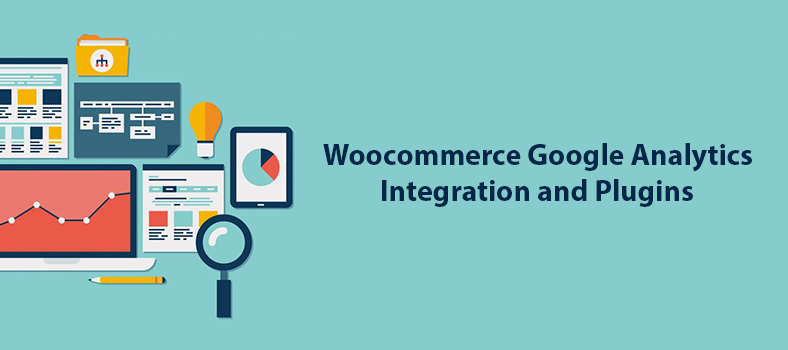 In this tutorial, we are going to look through the best practices for integrating Google Analytics into your WooCommerce store to get all the necessary data about your users and their purchases.
Web analytics is the process of collecting, analyzing and interpreting data about the visitors of your site and their online behavior. Analytical information helps to improve and optimize a web project, contributes to the development of commercial and non-commercial sites. Analytics is particularly valuable for online stores.
Today, many e-commerce niches are highly competitive. Therefore, a careful analysis of the online store and its users' behavior is a necessary stage of business development.
The analytics is of a great benefit to those projects, that have specific goals set (major and secondary). If you want to work not only to raise sales, but also to develop your brand and build your company community, then the goals can be also divided into commercial (purchases, order processing) and non-commercial (reviews, file downloads, etc.).
Woocommerce Google Analytics Integration is a part of our Complete WooCommerce Tutorial.
Google settings
To use Google services, you must create an account on this platform (mailbox). If you still do not have such an account, you can create one here: Create your Google Account
Next, you need to sign up in Google Analytics. You can do it here: https://www.google.com/analytics/
Then create a new account and set it for your website: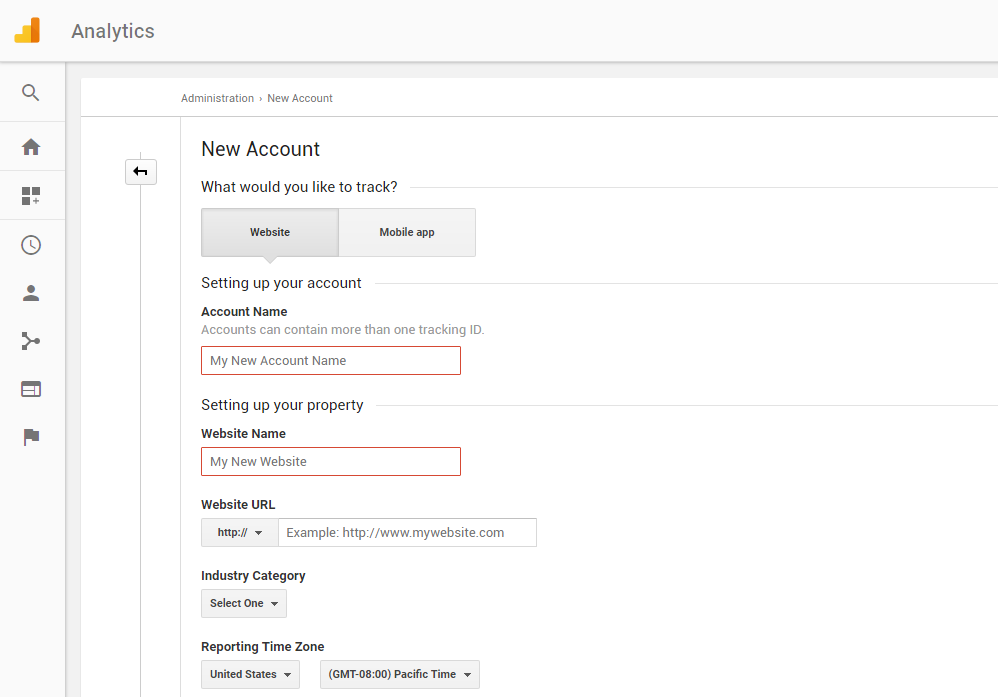 After that, you will be able to get the tracking ID. You need to put it in the plugin settings for Google Analytics integration.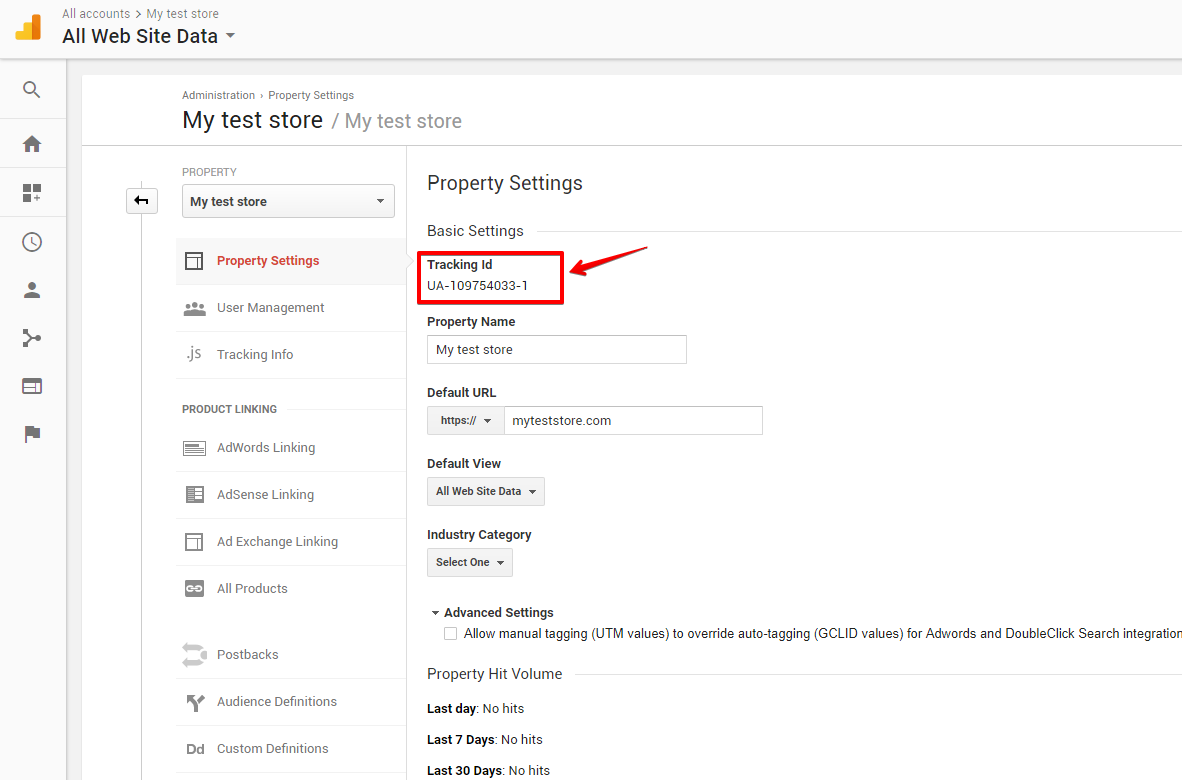 Make sure you've enableв enhanced e-commerce reporting in Google Analytics settings: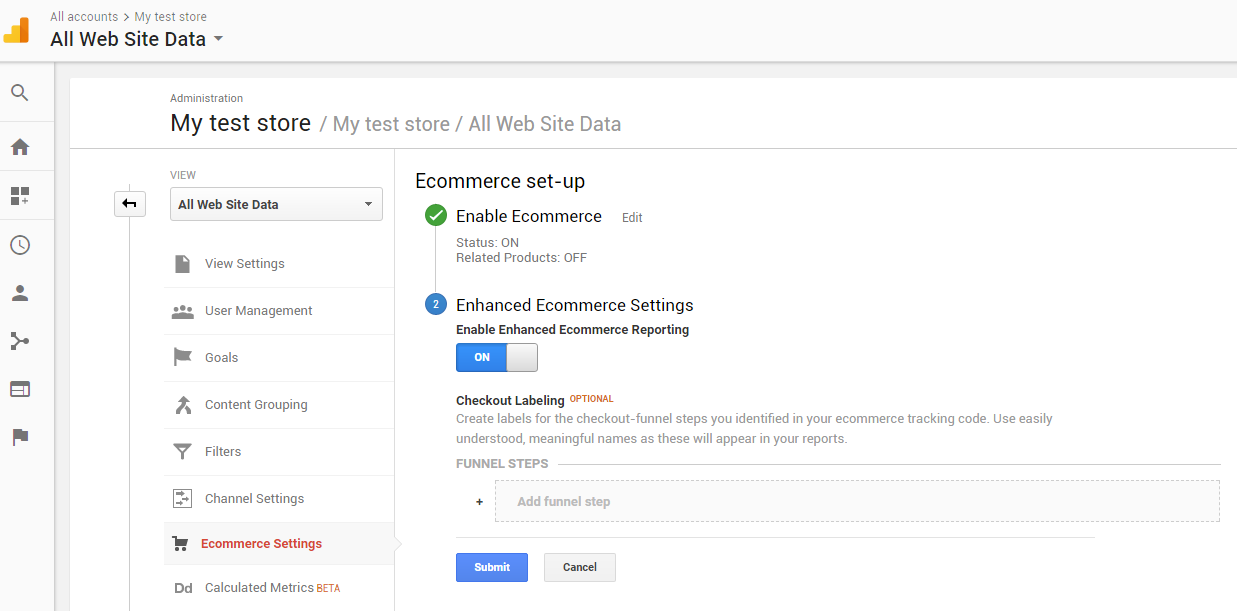 As the Google Analytics setting is finished, you can move to selecting plugins and configuring your online store.
Google Analytics Dashboard for WP (GADWP)
The plugin page in the WordPress.org directory: Google Analytics Dashboard for WP
Of all the plugins we reviewed, we liked this one the most, as it suggests a very simple integration.
After installation, the plugin will offer a connection to your account in the following window: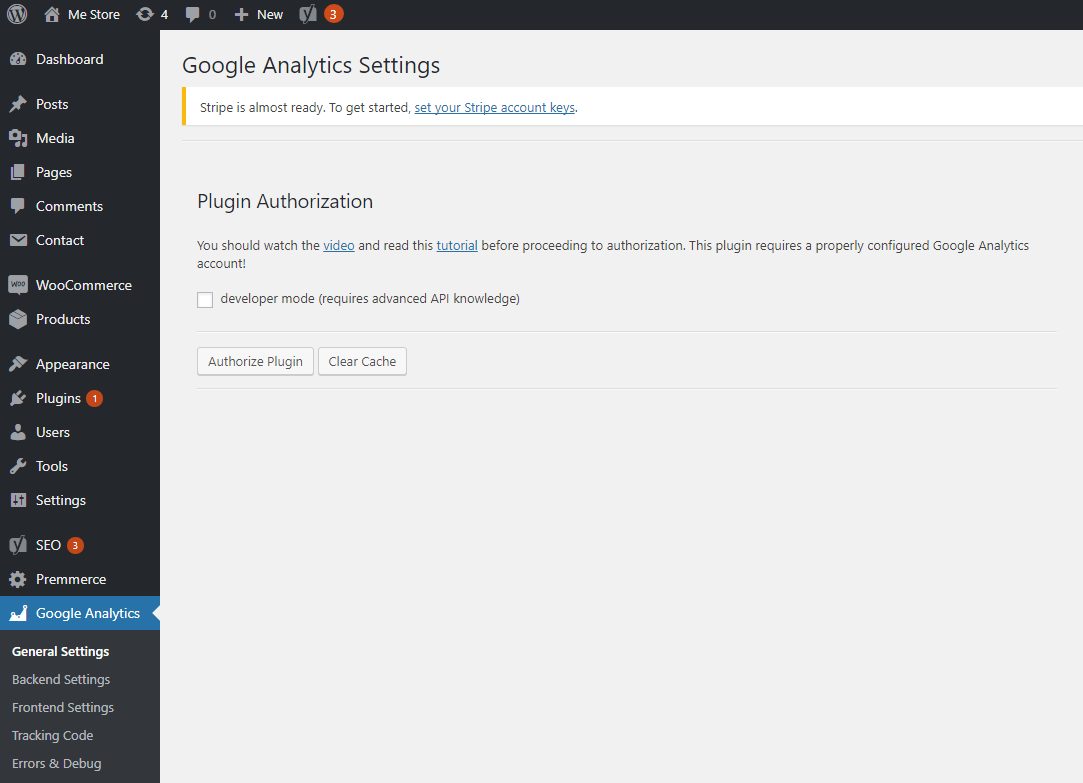 After authorization, you will have a huge number of different settings that allow you to:
Restrict store administrators access right in your analytics

Configure the record of different Events

Enable Remarketing, Interest and Geo Reports
and many other more subtle settings.
This plugin also displays basic reports from Google Analytics on your Dashboard, so you can receive most of the information right from the admin area of WordPress.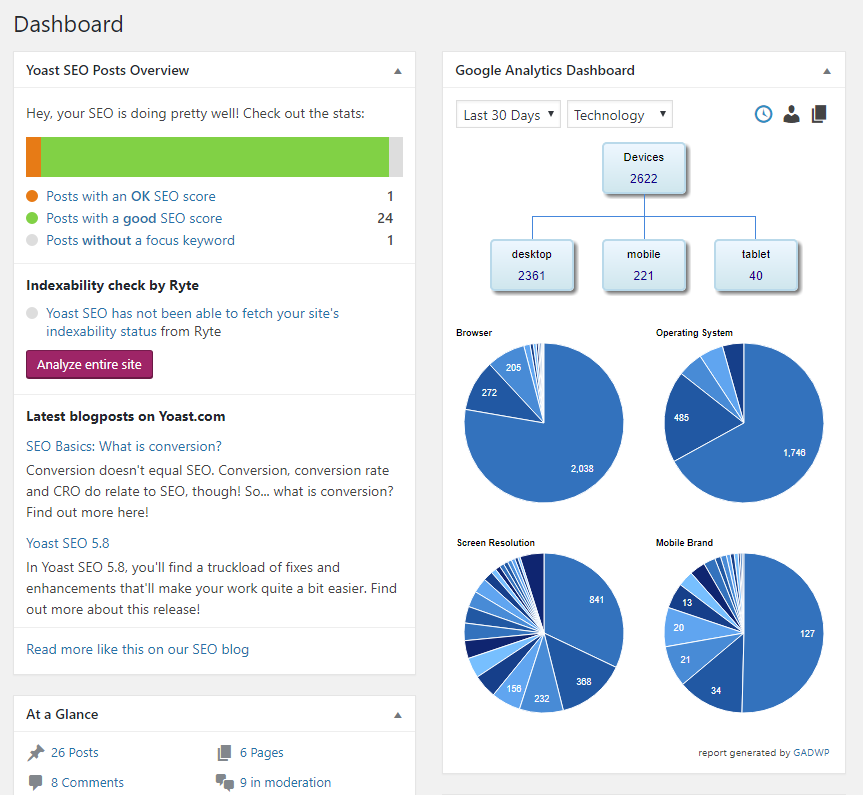 The only, yet significant minus is the lack of integration with WooCommerce; this will require a separate plugin.
Before installing an additional plugin, you need to select Ecommerce Tracking: Enhanced Ecommerce Plugin in the GADWP settings on the Integration tab.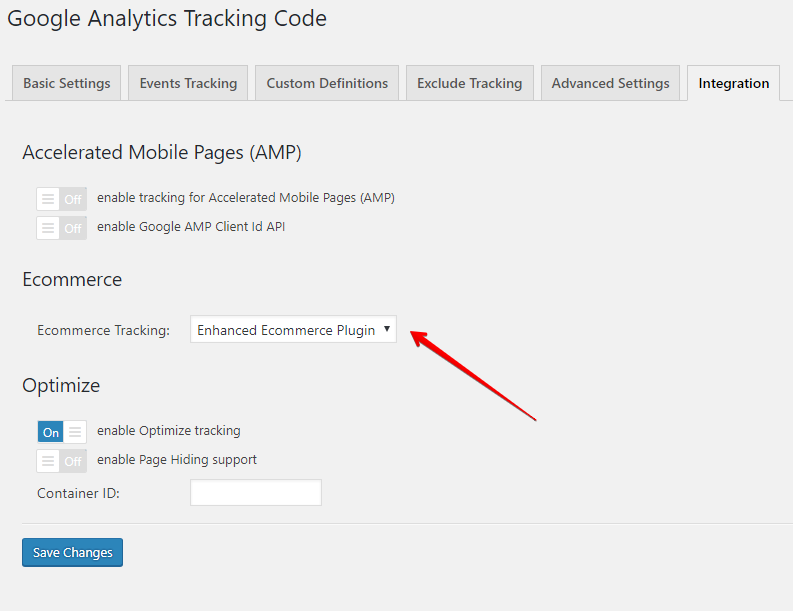 WooCommerce Google Analytics Integration
This plugin is the official plugin for the Google Analytics integration from the team of WooCommerce developers.
The plugin page in the WordPress.org directory: https://wordpress.org/plugins/woocommerce-google-analytics-integration/
After activation in the WooCommerce settings, you will see the Integration tab with various configurations: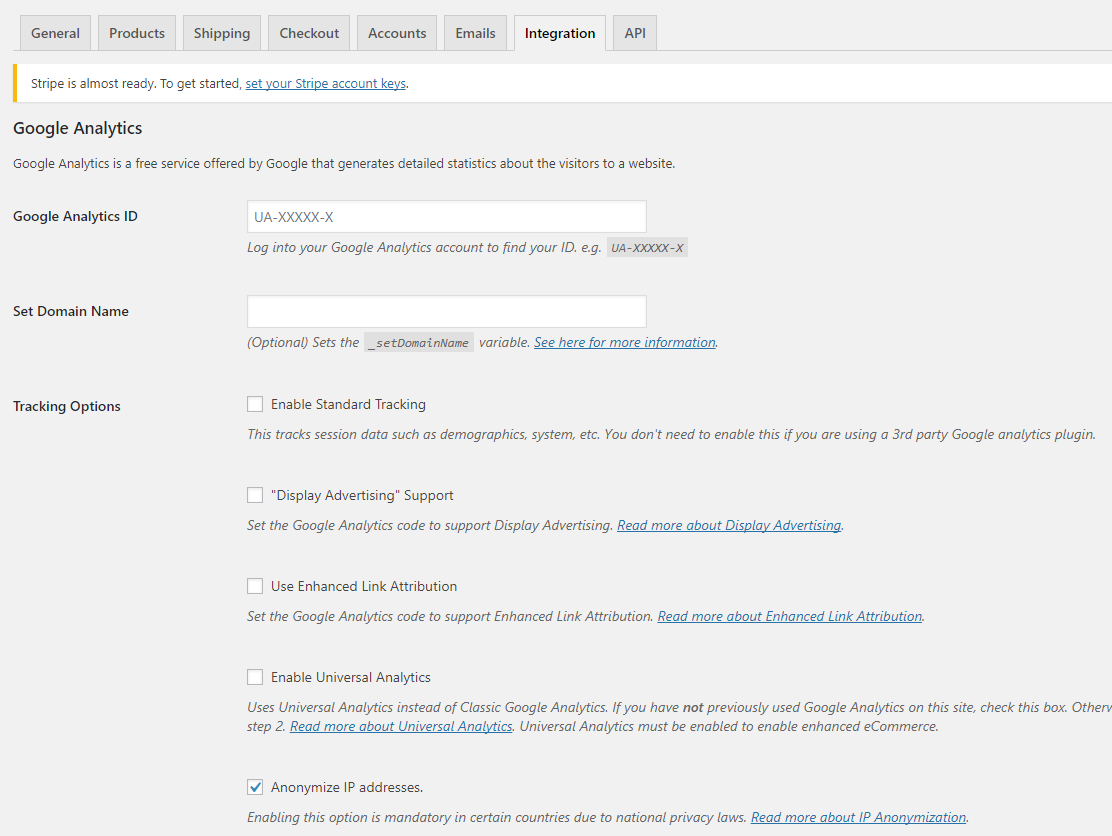 It is necessary to edit the following settings for correct operation:
Google Analytics ID: insert the ID you got during the setting of Google Analytics.
Enable Standard Tracking: leave this field unchecked, as we use the GADWP plugin for these purposes; otherwise the data will be duplicated.
Enable Universal Analytics: check.
Purchase Transactions: check.
Add to Cart Events: check.
Enable Enhanced eCommerce: check.
The remaining options can be left unchecked.
After that, save the settings and take advantage of analytics from Google.
Read more: Complete WooCommerce SEO Guide and Tips
Alternative methods for WooCommerce Google Analytics Integration
As we tested different ways of integrating Google Analytics and WooCommerce, we came across two interesting plugins.
Google Analytics for WordPress by MonsterInsights
This plugin contains many settings for analytics integration, and also it has the possibility of analytics integration for WooCommerce. Thus, you can integrate analytics with a single widget.
The only thing is the analytics for WooCommerce is available only in the paid version, which costs $39; and it does not contain such visual dashboards for the WordPress admin dashboard, like GADWP.
You can find out more at: Google Analytics for WordPress by MonsterInsights
Enhanced Ecommerce Google Analytics Plugin for WooCommerce
The free version of this plugin offers about the same functionality as WooCommerce Google Analytics Integration works on the same principle – by extending WooCommerce settings.
The paid version is quite interesting, as it has possibilities for using a significant number of additional parameters.
Among these parameters, the following can be mentioned:
Custom Dimensions Tracking

Product Discount Tracking

Payment Method Tracking
etc.
You can find out more at: https://wordpress.org/plugins/enhanced-e-commerce-for-woocommerce-store/
Conclusion
In this tutorial, we covered the basic methods for integrating Google Analytics into your online store. This integration should definitely be done and set up before the start of sales in order to obtain the necessary data and monitor store sales on a proper level.
We recommend that our customers take this step as an obligatory in setting up an online store on WooCommerce.
Comments
Ready to Get Started?
Join over 100,000 smart shop owners who use Premmerce plugins to power their WooCommerce stores.
Get started