6 Best Plugins to Sell to B2B Customers on WooCommerce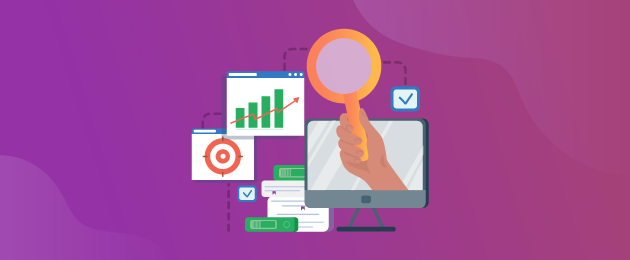 In the complex realm of business-to-business (B2B) sales, you're not just dealing with individual consumers but negotiating with other businesses. These customers have distinct needs, purchasing processes, and decision-making structures.
Fortunately, WooCommerce is a highly customizable and open-source eCommerce platform that offers a wide range of plugins to help you adapt to these challenges and seize the opportunities.
In this post, we'll dive into six of the best WooCommerce plugins for B2B selling.
We'll compare their features, evaluate their pricing and support, and help you choose the best plugin for your needs.
We'll also take a closer look at one standout option: WooCommerce Wholesale Pricing by Premmerce, a plugin specially designed to optimize B2B sales in a wholesale environment.
Beyond wholesale, we'll also touch on other business verticals such as SEO, currencies, and filters. These areas can also play a crucial role in enhancing your B2B WooCommerce store's effectiveness.
So whether you're a freelancer building a website for clients, an owner/operator looking to boost your WooCommerce store's revenue, or a small agency aiming to deliver the best to your clients, this guide has got you covered.
Considerations for selling to B2B
Selling to businesses on your WooCommerce store is a delicate dance that requires understanding, planning, and strategic execution.
While both B2B and B2C share the same goal – selling products or services to meet customer needs – the journey to that goal is quite different.
Here's why:
B2B eCommerce: A complex landscape
In the B2B realm, the purchase decisions are multifaceted. Unlike B2C customers, who might be swayed by impulse or emotion, B2B buyers are usually committees or departments that follow specific protocols. They put in considerable thought and research before making a purchase.
After all, they're not just buying a product; they're forging a relationship with a vendor for repeat purchases, often in bulk.
It's like comparing buying a cup of coffee (B2C) to buying an entire coffee plantation (B2B) – the stakes are higher, the investment is more significant, and the decision process is exponentially more complex.
So, if you're targeting other businesses, you need to roll out the red carpet with a professional and optimized website designed for wholesale selling.
Optimizing your website for B2B eCommerce
Just as a brick-and-mortar store arranges its products strategically, optimizes the ambiance, and trains its staff to provide excellent customer service, your online store needs to meet certain expectations when selling to other businesses.
Here are some critical points to consider:
Wholesale pricing: B2B customers typically place larger orders. Therefore, your checkout page must support bulk order form purchases with dynamic, wholesale pricing, even for product variations. It's about offering more value for more volume.
Fast and dynamic shipping costs: B2B customers often operate on tight schedules and expect swift delivery turnaround times. To meet their demand, your payment gateway should support dynamic and custom shipping costs. These should account for variables such as specific products, optimal shipping methods based on location, discounted shipping costs depending on the size of the order, and local legislation.
Professional inventory management: It's crucial to maintain real-time, accurate inventory management to avoid disappointing your customer groups with out-of-stock situations.
Easy ordering: B2B buyers expect a streamlined, hassle-free ordering process. Your website should be optimized for speed, easy navigation, and accessibility. It should be as easy for a site visitor to find a product, make a query, check minimum quantity, request a quote, fill in the wholesale order form, or complete a purchase, even if they are guest users.
Clear segmentation: Lastly, you need to distinguish your B2B products clearly. This could be done by enabling specific user roles, setting different prices for different users, creating private B2B catalog pricing structures, or other methods.
By understanding and addressing these considerations, you can optimize your WooCommerce store to effectively sell to other businesses.
Premmerce WooCommerce Product Filter
Get started giving your customers a better way to filter your products to increase site usability and revenue.

Top WooCommerce B2B plugins
As we venture into the world of WooCommerce B2B plugins, it's important to note that no two plugins are the same. They vary in their features, pricing, and the specific problems they solve.
Some of the plugins we'll discuss offer comprehensive WooCommerce store development solutions, providing a one-stop-shop for all your B2B needs. However, these all-in-one solutions may not always fit within every budget.
On the other hand, if your budget is tighter, or if you have specific needs, there are plugins that excel in specific functions.
One crucial function is wholesale pricing, a key expectation for any B2B store. It's here where our wholesale plugin, WooCommerce Wholesale Pricing, shines brightly. This plugin is designed specifically to manage dynamic, wholesale pricing for your B2B customers.
So, whether you're seeking an all-inclusive solution or a specialized tool, let's dive in to discover which plugin aligns best with your business needs.
1. WooCommerce Wholesale Pricing
Imagine having the power to nudge your B2B customers to make bulk purchases, boosting your sales, revenue, and margins in the process. That's exactly what WooCommerce Wholesale Pricing can help you achieve.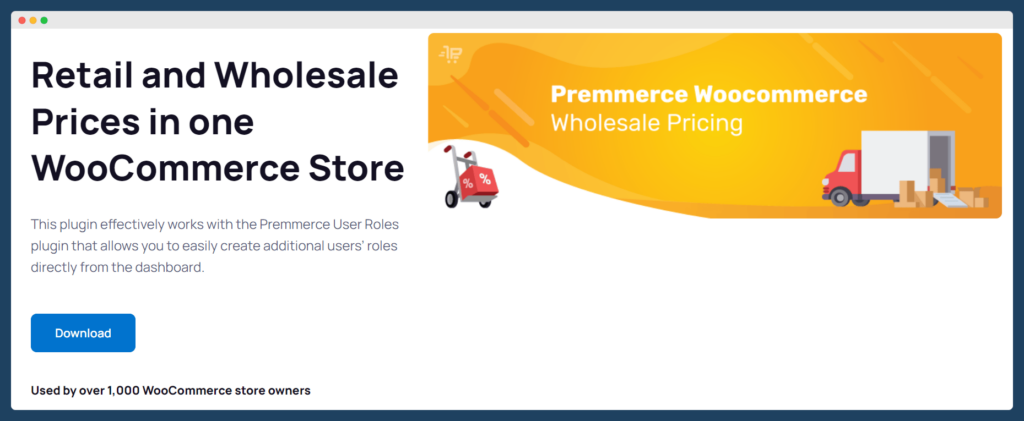 This powerful plugin allows you to add individual wholesale prices or other types of custom fields for your WooCommerce products.
Here are some of its best features:
Wholesale pricing: Easily add, edit, and delete wholesale prices for your WooCommerce products. This feature can incentivize bulk purchases from customers, leading to increased sales and better margins on larger orders.
Custom pricing: Set up custom pricing for various types of products – simple, variable, and affiliate. This gives you the flexibility to manage pricing for different kinds of products on your product page.
Role-based pricing: Integrate WooCommerce Wholesale Pricing with the Premmerce User Roles plugin to create custom pricing based on user roles. This allows you to offer exclusive products to or hide prices from wholesale clients.
Compatibility: This plugin plays well with others. It integrates seamlessly with popular SEO plugins like Yoast, Rankmath, and AISEO, themes like Avada, OceanWP, and Astra, and page builder plugins like Divi and Elementor. It also makes your store multilingual-ready with integrations with WPML, Polylang, and more. WooCommerce Wholesale Pricing can also be paired with the Premmerce User Roles plugin to offer role-based pricing and product visibility.
WooCommerce Wholesale Pricing excels in its focused purpose, integrates well with other plugins, and can be extended with the Premmerce User Roles plugin for role-based pricing. If wholesale pricing is a critical need for your B2B WooCommerce store, this plugin could be your best choice.
2. B2B for WooCommerce
B2B for WooCommerce offers an extensive suite of features that can dramatically optimize your B2B store.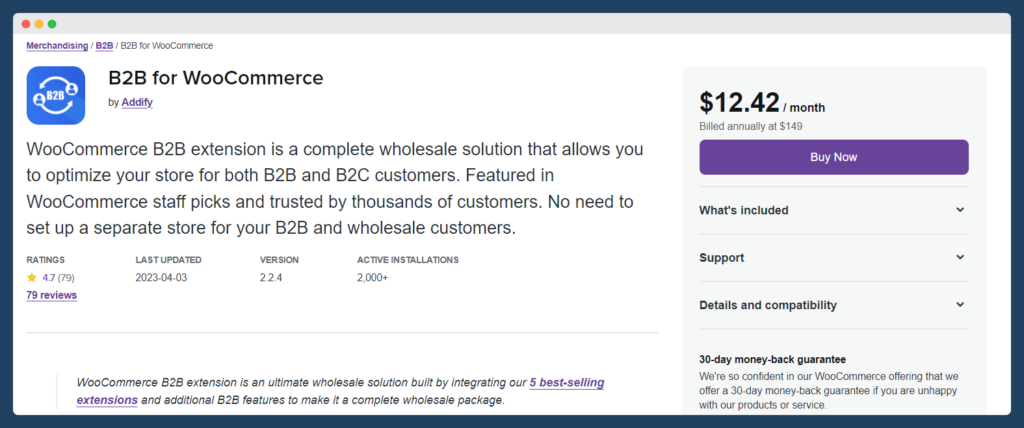 Here's a look at some of its best features:
Custom registration forms: Tailor your registration forms with user roles for wholesale customers and extra B2B registration fields, creating a personalized sign-up experience for your B2B customers.
Role-based customization: Customize products, categories, shipping, and payment methods based on user roles, offering a bespoke shopping experience to different customer categories.
Price quotation: Facilitate negotiations with a price quotation feature, allowing your customers to request quotes.
Dynamic pricing: Implement different types of product prices, such as tiered pricing, providing greater flexibility and incentives for bulk purchases.
The plugin is priced at $12.42 per month and offers a 30-day money-back guarantee in case you do not feel it meets your needs.
3. Wholesale Suite
The Wholesale Suite plugin is another all-encompassing solution, specifically designed for wholesale stores.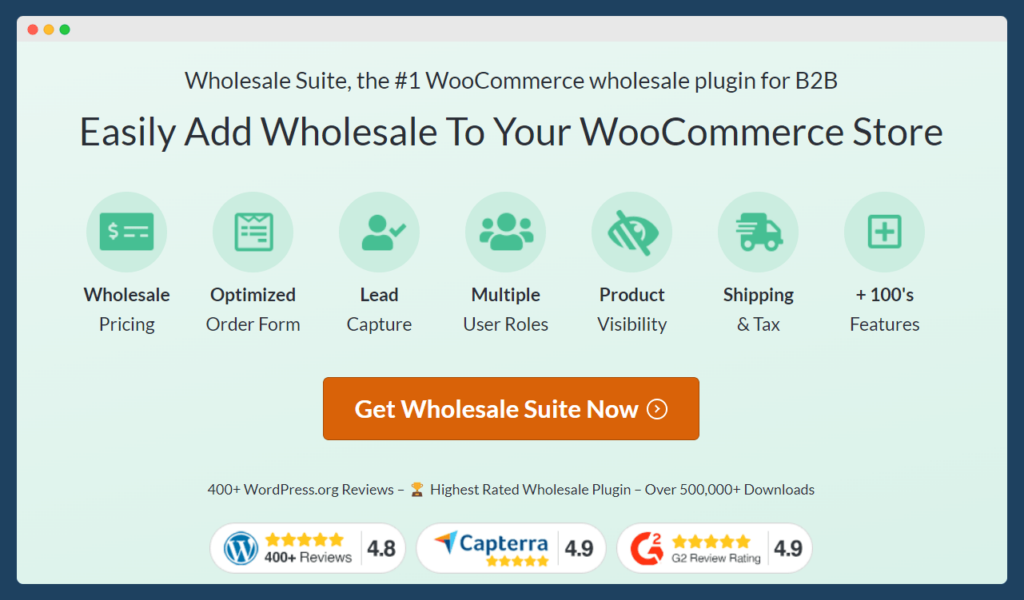 Here's an overview of some of its standout features:
Wholesale pricing: Set pricing rules for bulk purchases, incentivizing wholesale business customers to buy more.
Tax management: Manage additional taxes and tax exemptions with ease, ensuring compliance while providing tax benefits to eligible customers.
Custom shipping and payments: Configure shipping methods and payment options to suit the needs of your B2B customers without compromising their data security.
Purchase rules: Set up easily configurable purchase rules to manage minimum order quantities or values, accessible product categories, and other purchasing conditions.
Integrations: The plugin integrates with many popular third-party plugins, enhancing its functionality and flexibility.
Having said that, the plugin may provide more features than a small or new business might need, potentially complicating the user experience.
4. WooCommerce Multi-Currency
In today's globalized marketplace, it's not uncommon for B2B stores to have customers from around the world. This necessitates a flexible, responsive eCommerce platform that can cater to diverse payment preferences.
Enter WooCommerce Multi-Currency, a plugin designed to help you seamlessly accept payments in multiple currencies across various tax and shipping zones.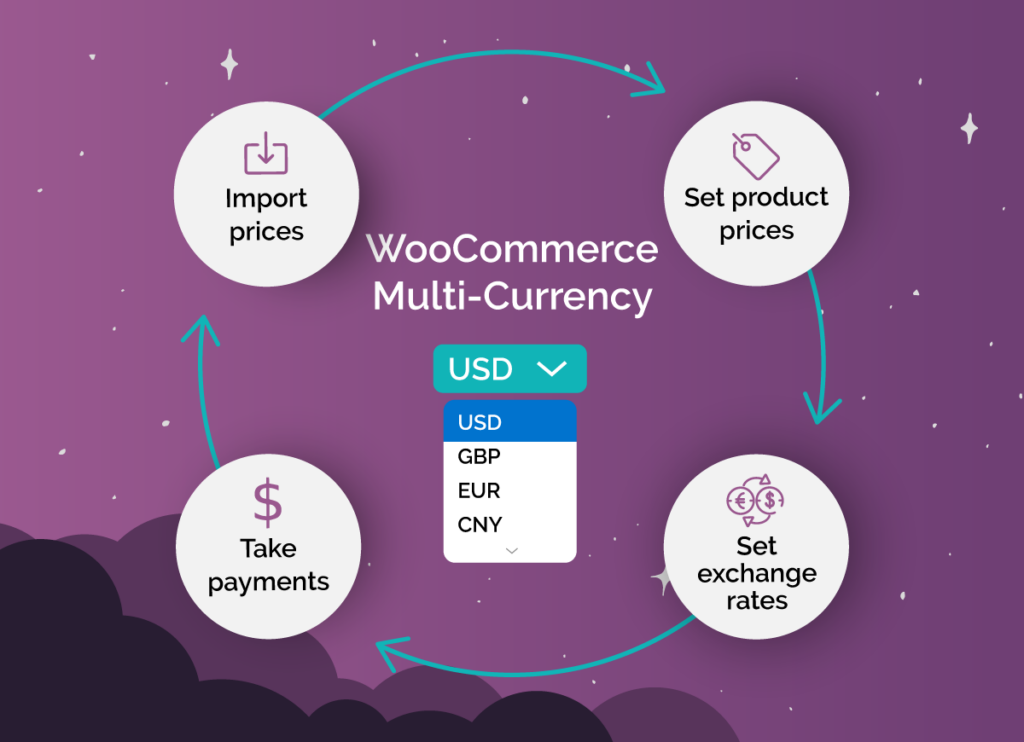 Let's delve deeper into the features of this plugin that can boost your B2B store's global reach:
Multiple currency support: WooCommerce Multi-Currency allows you to display prices and accept payments in various currencies, thus offering greater convenience to your international clientele and enhancing your store's global reach by facilitating transactions in various currencies.
Automatic currency switching: The plugin can automatically switch to the customer's local currency based on their location, making their shopping experience smoother and more personalized.
Updated currency exchange rates: WooCommerce Multi-Currency keeps currency exchange rates up-to-date, ensuring accurate pricing for your customers.
WooCommerce Multi-Currency is a valuable addition to any B2B store looking to expand its global footprint. By enabling multi-currency support, you're not just increasing convenience for your customers; you're also making your pricing more transparent and the purchasing process more accessible.
In the competitive world of B2B eCommerce, these improvements can go a long way in boosting sales and customer satisfaction.
5. Yoast SEO
When it comes to WooCommerce plugins for SEO, Yoast SEO is the superstar, with a whopping 13 million users. It can help you ace both on-page and off-page SEO, making your store more discoverable to search engines and, ultimately, your B2B customers.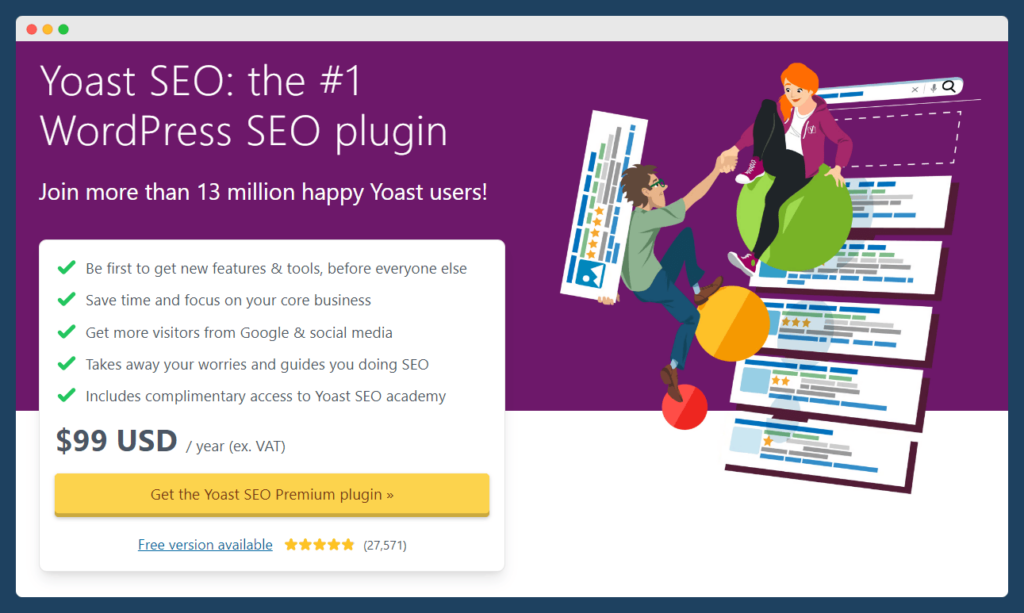 Here is a peek into its features:
Easy post optimization: Yoast SEO makes it easy to optimize your posts for SEO, guiding you to include keywords, meta descriptions, and other essential SEO elements, making it a great choice even for beginners.
Internal linking structure: Improve your website's navigability and SEO performance by creating an effective internal linking structure.
Redirect management: Manage and prevent broken links with the plugin's redirect management feature.
Structured data: Yoast SEO enables you to add structured data to your site, improving your visibility on search engine results pages.
Another advantage of the Yoast SEO plugin is that since it has such a large user base, the developers release frequent updates to ensure the plugin remains up-to-date with the latest SEO practices.
6. WooCommerce Product Filter
Discoverability is key in eCommerce, and the WooCommerce Product Filter plugin excels in this area.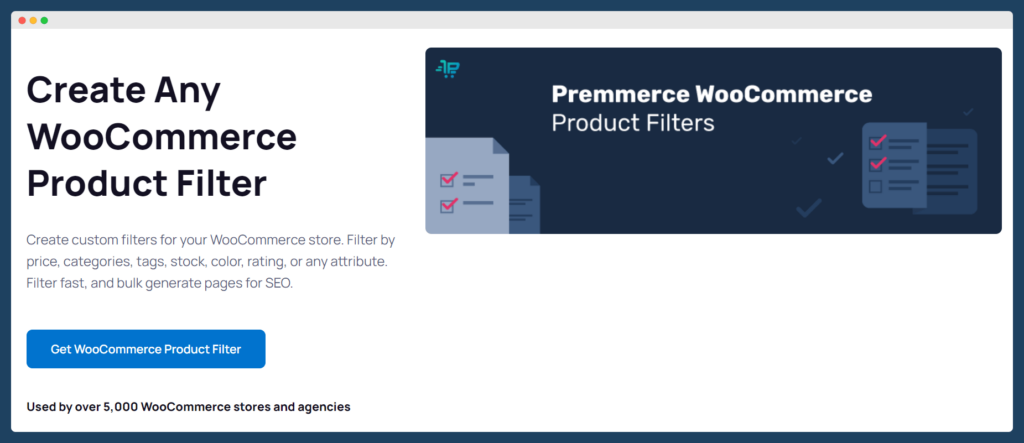 By creating custom filters, you can help your customers find exactly what they're looking for quickly and easily, leading to a better user experience, higher conversions, and improved site navigation, all contributing to better SEO performance.
Here are the plugin's best features:
Custom filters: Create all types of filters, including category, product attribute, tag, and price filters, to enhance product discoverability, improve user experience and boost conversions. You can even create custom taxonomies for filtering.
Price slider: Display products within a specific price range using a price slider. This feature can help customers find products that fit their budget.
Product availability filter: Enable customers to filter products based on their availability, such as whether they are on sale or in stock.
As the plugin's focus is purely on product filtering, you may need additional plugins for other functionalities. However, this focused approach towards microscopic product categorization often helps improve site navigation, which can positively impact your SEO.
Choose the best WooCommerce B2B plugin
In the vast world of eCommerce, stepping into the B2B arena can unlock untold potential for your WooCommerce store. It's a realm that demands precision, professionalism, and personalization, and having the right plugins in your arsenal can significantly enhance your ability to meet these demands.
From comprehensive all-in-one solutions such as B2B for WooCommerce and Wholesale Suite to the dedicated, result-oriented WooCommerce Wholesale Pricing, the selection is rich and diverse.
Remember, wholesale pricing is often the cornerstone of a successful B2B store. WooCommerce Wholesale Pricing, with its user-friendly interface, comprehensive features, and wide-ranging compatibility, can be your steadfast ally in this endeavor.
It enables you to incentivize bulk purchases and manage wholesale and custom pricing in a streamlined and efficient manner.
Moreover, remember that discoverability is key. Plugins like Yoast SEO and WooCommerce Product Filter can help your B2B store climb the SEO ladder and make your products easily discoverable to your B2B customers.
Now, it's your turn to take the reins.
Choose the plugins that resonate with your business goals and try them out for yourself. Start tailoring your WooCommerce store to the specific needs and expectations of your B2B customers today.
Your journey towards a thriving B2B eCommerce store begins with a single step, and that step could be trying out one of these fantastic plugins.
Happy selling!
Premmerce WooCommerce Product Filter
Get started giving your customers a better way to filter your products to increase site usability and revenue.

Comments
Ready to Get Started?
Join over 100,000 smart shop owners who use Premmerce plugins to power their WooCommerce stores.
Get started