WordPress VIP: Benefits, Comparisons, Prices [Review 2020]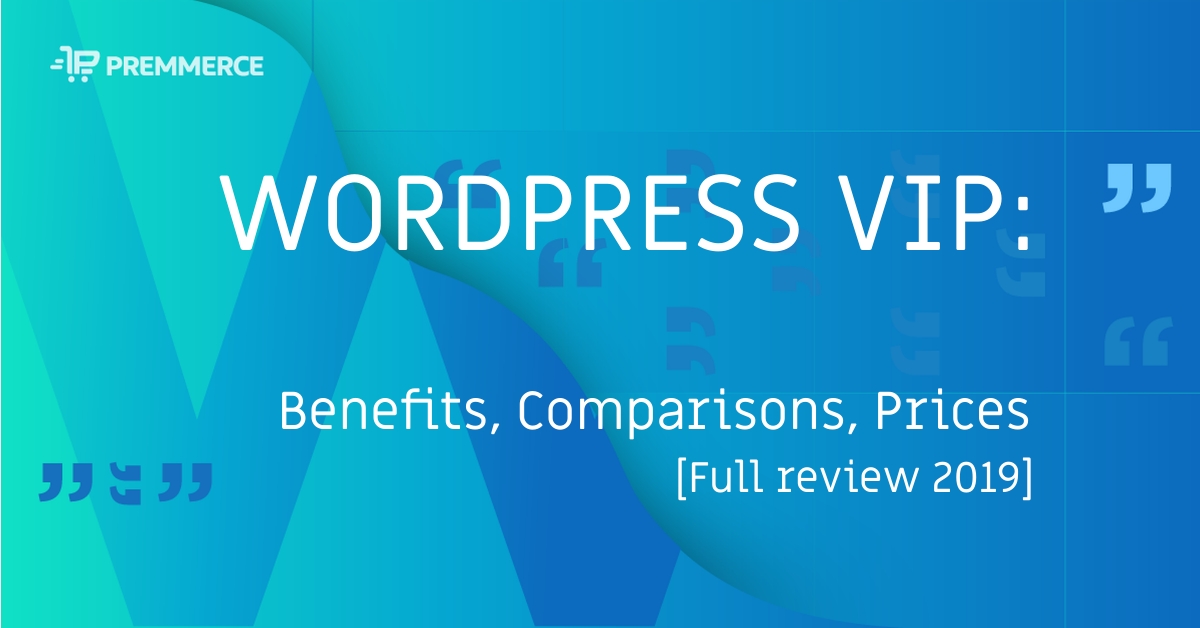 When it comes to one of the leading CMS platforms hosting almost 30% of all the internet WordPress, there are plenty of options for it. WordPress.com, self-hosted WP, and today's topic of discussion WordPress VIP. How is it better than cheaper WordPress services? Whom is it designed for, and what are the benefits? This full review is aimed to help users find the right platform to support their business needs.
What Is WP Vip Compared to Regular WP Self-Hosted Sites
It is a platform for enterprises that have a few high traffic websites. It offers purpose-built systems, various tools, data centers, and practical expertise for those customers who switch to the WP Vip plans. It is designed for large scale businesses and enterprises. It is a premium option offering specialists support so that your team can focus on business instead of worrying about the tech development part.
WP Vip costs quite a fortune, has stringent coding standards and processes, which may make it less suitable for some companies.
The only limitation being, it is possible to opt for only 5 websites.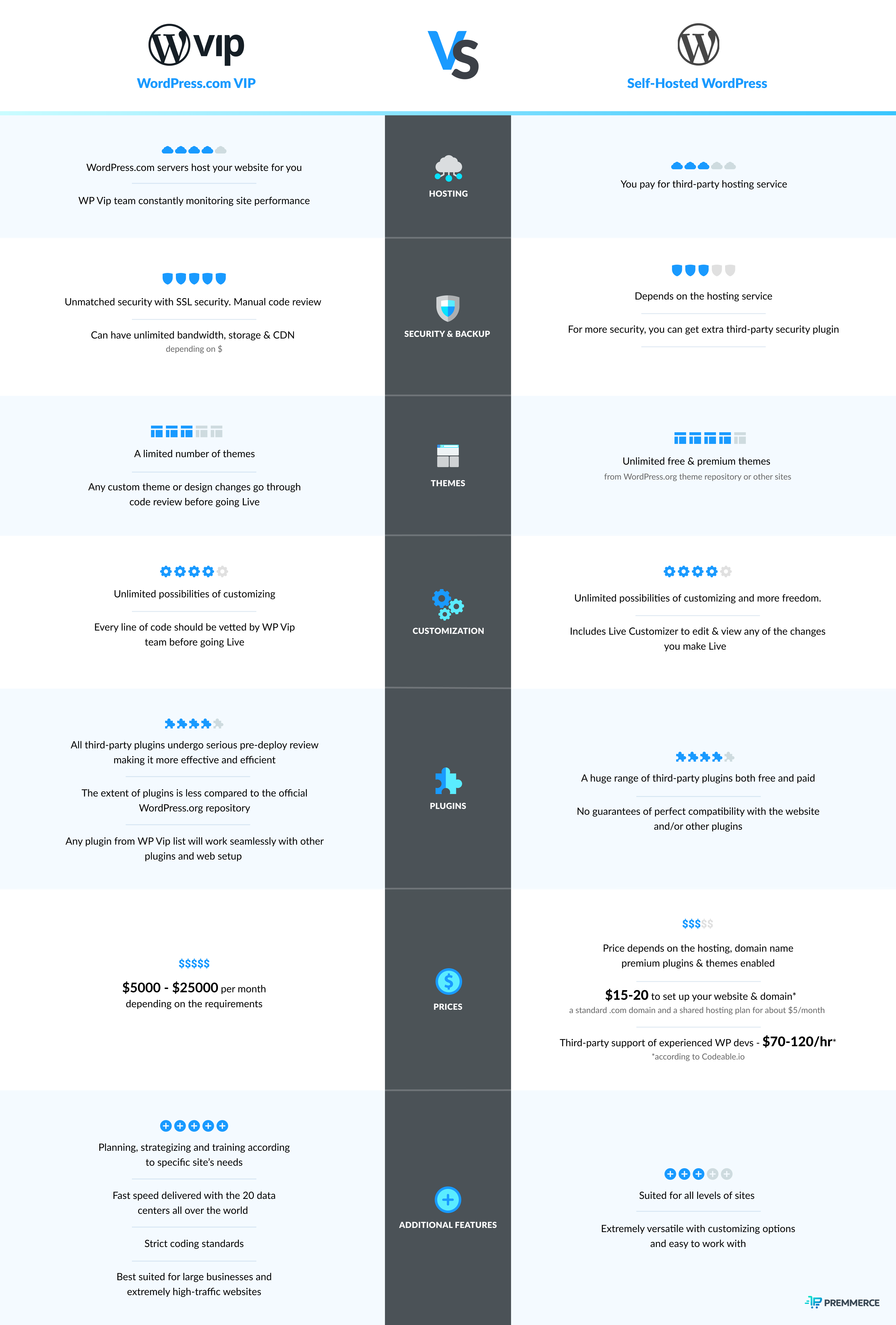 14+3 Advantages of WordPress Vip
On top of all the standard WordPress.com features, the service also provides plenty of advanced functions, such as in-house hosting services, integration with Google AMP, E-Commerce platforms, and Facebook Instant Articles. WP Vip users also get built-in A/B testing, multilingual support, localization aid, integrations with multiple analytics platforms, and much more.
We pointed out three specific features:
Security
A custom-built infrastructure protects all the websites. The proactive guard system blocks most types of attacks. All the website traffic is completely encrypted from edge to origin to ensure efficient brute force blockage and other types of attacks.
Every piece of custom code undergoes manual review. It adds another security layer to protect websites from potentially vulnerable codes.
Manual code reviews
It engages the pre-deploy code review process. The staff members check every single line of code manually before deployment. Such strict regulations always result in quality coding and website efficiency, so it takes some time before officially going live, from 10 to 15 working days.
High optimization
You don't have to worry about code optimization, WordPress Vip plugins, caching, or CDN service. The whole delivery network of 20 data centers worldwide serve the platform. It ensures that users have the best time-to-first byte result, SSL security, latency, and protection against DDOS attacks.
14 benefits of WordPress Vip:
Fully managed WordPress hosting platform
Best in class security and scanning according to the WordPress best practices
Automatic updates for core software
Manual review for third-party plugins and custom codes
Automatic scaling to handle massive traffic spikes
Automated hourly backups
Unlimited storage, bandwidth, CDN, and dedicated support
Code pre-deployment
Great performance & high speed
Uptime and performance monitoring
Full integration with your eCommerce technologies
Seamless integration with the most popular eCommerce platform on the web WooCommerce
The fully guided onboarding with step-by-step support
Training from the team that is carried out in person or virtually
Is WP Vip a Perfect Fit for Your Project?
It suits best for large businesses and high-traffic websites with tens of millions of page views. It takes away the pain associated with managing a platform, hosting and domain issues, security problems, and so much more.
Because of its pricing structure and the services included, it is suitable for enterprise-level sites. Its robust hosting plan is explicitly crafted to handle high-traffic volume.
What to take into account when considering a new enterprise plan for your project? Think about the cost of downtime and reputation losses in case your website falls over. Keep in mind the volume of traffic and the likelihood that your website undergoes malicious attacks.
Which Companies Use WordPress Vip?
Several global high traffic platforms are using enterprise WordPress to ensure the seamless functioning of their businesses. Currently, the total count of WP Vip customers has reached over 850 enterprises.
The most popular customers of WordPress Vip:
TechCrunch
Facebook
Hachette
Smittenkitchen.com
Vancouversun.com
Variety.com
Usatoday.com
People.com
Blogs.dropbox.com
Observer.com
Blog.ted.com
Fortune.com
Metro.co.uk
The New York Post
What WP Vip Team Does on Each Stage of the Project?
After you make the decision, the whole thing goes through several processes to ensure the best-crafted fit and future performance.
The plan usually starts with in-depth planning to ensure the best fulfillment. Once you decide to join, the WP Vip representatives go through your website and discuss with you in-depth planning and strategizing the next move.
After the assessment of your existing website, the team convenes all involved parties and resources and finalize the plan of further development.They train your developers about the platform, performance, and security.
They also help you choose the best theme and design or assess the existing theme. They also analyze existing UI, content, and content to plan migration.
They go with your company goals and requirements and check the existing code for security and compatibility with the new plan.
When you discuss, evaluate, and set up everything, your project is shipped to a new platform. They carry out final checks and launch the project. Afterward, a post-launch assessment is done and accomplished with further optimization if needed.
They provide seamless functioning and top-notch security for the website every day. Their developers deal with cloud hosting, handle all updates, backups, and unique needs. Users have the expert support staff is available if any requirements pop up.
WordPress Vip Service and Infrastructure Overview
WordPress Vip is considered to have seamless top performance rates due to the continuous work of the team behind the scenes. Traffic patterns monitoring, hardware additions, database optimizations, cache tuning, and scaling algorithms are tuned up when necessary.
All the plugins and themes go through code reviews to ensure that they are secure and performant and contain the proper attribution.
There is a list of about 90 plugins that have already been through code review and are whitelisted for use.
WordPress VIP
Self-Hosted WordPress
– Heavy caching.
– Autoscaling.
– Real-time cron jobs for scheduled posts and tasks.
– 24/7 worldwide support.
– Global Content Delivery Networks and data centers.
– Manual code review.
– Hourly backups.
– Caching needs to be set up and implemented with plugins.
– Auto-scaling needs to be configured on AWS or a similar service.
– Cron jobs only fire when a visitor or bot visits the site.
– Support response times from your host can vary.
– Manual configuration of CDNs with AWS S3 and CloudFront or Cloudflare ex.
– No code review (unless your development team does this and is a WordPress specialist).
– Limited or infrequent backups.
Support of Regular WP Sites and WP Vip Support
WordPress is an open-source community project. When it comes to regular WP support, it is your in-house WP developer who deals with backups, plugin updates, emergencies, and other tech stuff.
In case of any burning questions, your devs can use the WordPress support FAQ. If no other option is available, you can get in touch with the WordPress support via twitter, contact form, or use the WordPress phone number 1-917-300-0312 to contact their Customer Service.
If there are any questions about plugins, keep in mind that individual plugin developers or theme authors are not always part of the official WordPress core team. The support forums are the best place to ask for support for free plugins. Response time is a minimum of 24 hours.
Third-party WP support is offered by specializing WordPress companies like Codeable.io that takes care of your project for a reasonable hourly rate. Besides, Codeable offers access to top-notch WordPress developers all over the globe that can do the job for you.
It is possible to find lower rates (e.g., USD 25-35) or use the services of local WP agencies. Here the pricing may value depending on the region from USD 20 to USD 200 per hour.
If you decided to get third-party developer support of your website, here's what you need to consider. The WP support takes care of the following:
Maintain performance
Plugin updates
Ensure timely backups
Save everything in case of emergencies
The scope of work depends on the volumes, features, and traffic of your website. On average, you may need approximately 10-15 hours of support monthly.
Name
Codeable
Service
Highly customizable.
Updates or customization of a theme.
Custom WordPress plugin development.
Error fixing.
Malware fixing.
Response time
1 hour
Communication
Unlimited channels – the most comfortable for a client.
Clients may get a free, no-obligation project estimate
from proven WordPress experts.
Price
USD $70 – $120 /hr and are based on the scope,
complexity, and urgency.
Consultation: USD 59/hr
Name
WP Vip
Service
Dedicated team for a project.
Code pre-deployment.
Automated hourly backups.
Automatic updates for key software.
Manual code review for plugins.
Integration with major E-commerce platforms.
Response time
4 hours
Communication
Slack and a private "P2" site.
Weekly check-ins with the team.
Quarterly Service Reviews.
Annual Client Onsite.
Price
Included into USD 5000/month
Name
Maintann
Service
Off-site website backups.
24/7 security monitoring.
Weekly updates to the WordPress core, plugins, & themes.
Response time
1 hour in Premium plan
Communication
A support button installed to WordPress
dashboard directly in the admin area.
Price
Monthly fee depending on the plan:
$49
$149
$249
Pricing of WordPress Vip
WordPress Vip pricing is still a mystery as to how it works. The official pricing page doesn't have any information about the pricing. Some reliable sources claim that its plans usually range from USD 5,000 to USD 25,000 per month for up to 5 websites with a minimum USD 5,000 setup fee per-site.
For this price, the site owners get the fully managed hosting platform and access to unlimited storage, bandwidth, CDN, training, and dedicated support.
Final Word
This enterprise WP platform takes care of everything from the hosting to the security to unmatched performance. It comes with tons of additional premium features to cater to the needs.
What is WordPress Vip?
WordPress Vip is an enterprise fully-managed platform. It allows customers to put away the technical hassle and focus on business. Besides scalability and high-security standards, WP Vip offers 24/7 support, instant bug fixing, domain, cloud hosting, system updates, hourly backups, updates for the core software, and other tech issues that add much to the performance.
What is the difference between WordPress and WordPress Vip?
The most obvious is naturally that a self-hosted plan requires you to provide your hosting, while the Vip plan takes care of this for you with cloud hosting. WP Vip users get the tech part done for them. With the regular plan, you have to delegate to your in-house developers or outsourcing companies. 
Every line of code undergoes manual review, so it may take some time before updates go live. So WordPress Vip plan has a limited number of themes and plugins to offer. You don't have this limitation in regular WP, but the security performance may decrease too.
What are the benefits of WordPress Vip
This premium enterprise WP provides you with a smooth 24/7 workflow for your visitors, all-in-one support, and analytics tools for managers and administrators. Once you decide to join, the support team guides you through every step, starting with an analysis of your website and in-depth planning. They also take up teaching your team and moving your website to the new premium plan. Besides, you get regular monthly reports to track and improve the website's performance. What is more, WP Vip plans are among the safest and can easily handle websites with large volumes of traffic.
Who is WordPress Vip good for?
These are projects that have millions of users as their actual audience that is for high traffic content-rich websites. WP Vip's customers are those who want to get an all-in-one service avoiding the hassle with any technical aspects, including hosting services, regular updates, backups, bug fixes, etc.
How much does the WordPress Vip cost?
Although there is no info about pricing on the WordPress Vip official website, reliable sources inform that the minimum amount for one site is USD 5,000 per month. It includes cloud hosting, manual code reviews for security matters, automated hourly backups, and updates for crucial software. Manual code review for plugins and a dedicated team for a project are also in the plan for this price.
So with all of the comparison and overall reviews, WordPress Vip is a pretty decent platform aimed at high traffic sites. As it handles maximum traffic spikes with ease and offers secure WordPress hosting, this is the best fit for sites with at least several million page views per month. With limited freedom for customization and adding third-party plugins and themes, enterprise level WordPress ensures an extremely high level of safety. The pricing might sound a bit expensive than other self-hosted sites. However, with the amount of flexibility and scalability, it seems fit that it costs that much.
Comments
Ready to Get Started?
Join over 100,000 smart shop owners who use Premmerce plugins to power their WooCommerce stores.
Get started