The 8 Best WooCommerce Search Plugins to Enhance Your Store's Search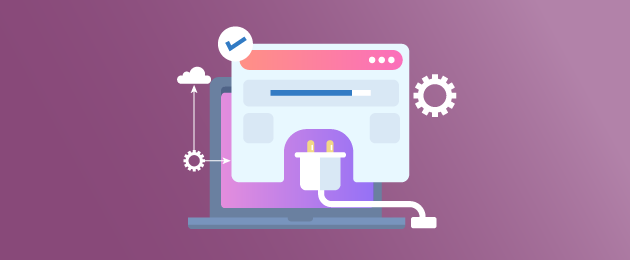 A poor eCommerce search experience is an easy way to lose sales! If this is a problem your eCommerce store is facing, you might want to consider improving your search functionality with a WooCommerce search plugin.
The search function is one of the most important aspects of any online store. It helps customers find what they're looking for quickly and easily, which in turn increases conversions and sales. However, WooCommerce's default product filters and search functions are basic and don't offer what it takes to create a great user experience. Plugins optimize the search experience with additional search fields, live search, spelling correction, and similar word search, among other customization options.
This post lists the eight best WooCommerce search plugins to help you zero in on one that works perfectly for your needs.
Why is WooCommerce search important?
Up to 30% of visitors use a site search box when offered one. Internet users are familiar with how a search engine works, and a search box is a natural way to search on websites, including WooCommerce stores.
The search box matches users' keywords with the products on the site. It is especially useful when users have specific search queries, such as 'Bluetooth mouse' or '55 inch smart TV'. A search bar also helps users discover products related to their search queries. For example, a search for 'Bluetooth mouse' may throw up suggestions like 'Bluetooth mouse and keyboard combo' or 'Bluetooth mouse for MacBook Air', giving the user ideas on the types of Bluetooth mouse/mice available at the store.
Navigation menus also allow for a systematic search but finding a specific product via navigation menus takes longer. Filtering is yet another way for users to narrow down their product selection and find relevant products quickly.
Unfortunately, the default search functions used by the majority of eCommerce stores, including those powered by WooCommerce, don't go far. For example, 70% of desktop e-commerce search implementations are unable to return relevant results for product-type synonyms. For this reason, you need a plugin that can extend the utility of your site's search function in different ways, including:
Understanding and correcting spelling mistakes, and showing similar words and transliterated words for a smooth search experience. The best WooCommerce search plugins have these essential search features.
Offering an autocomplete feature to save users time and reduce their cognitive demand to type, which can also decrease typos and other search errors for better results. In fact, autocomplete has been seen to boost sales and conversions by as much as 24%.
Effective search can also help you rank higher in Google searches because Google favors sites that have a good navigational structure and user experience. A quality WooCommerce plugin provides features that can help you implement the best site search practices. Take a look at your options below!
8 Best WooCommerce Search Plugins
We've compared the best solutions for an effective WooCommerce search by their features, drawbacks, and prices.
WooCommerce Product Search by Premmerce offers a variety of features to make your WooCommerce store more user-friendly and intuitive for customers. The plugin offers AJAX search functionality to provide an immediate preview of the search results without having to load a specific search page. The page includes rich information about the product, including price, subscribe and save offers, the product image, and even an 'add-to-cart' button.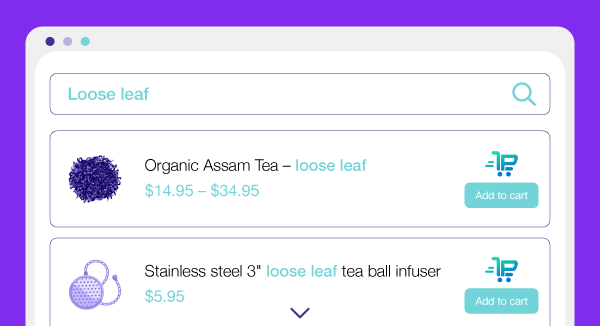 WooCommerce Product Search makes the search experience more user-friendly with built-in functionality to handle spelling mistakes, similar words, and transliterated words, i.e., words that use characters from an alphabet in a different language.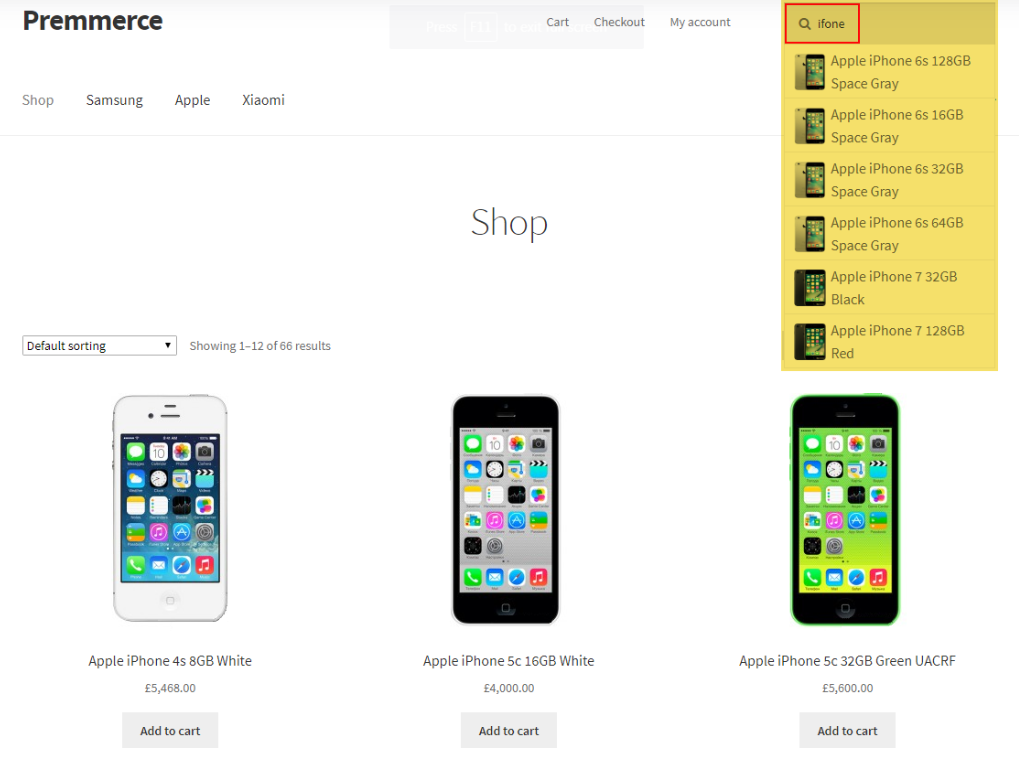 Customers can search by different categories, the product SKU code, product tags, product category, or short description, and add products to the cart from the results. The solution integrates seamlessly with the most popular WordPress page builders and themes, including Elementor, Divi, Astra, Avada, and OceanWP.
WooCommerce Product Search is in use by over 7,000 WooCommerce store owners. It is simple and user-friendly, has a 30-day money-back guarantee, and expert and timely support. Its smart search features and competitive pricing plans make it one of the best WooCommerce search plugins.
Pricing
WooCommerce Product Search has plans starting from $49.99/year for a single site, with a 30-day 100% money-back guarantee.
WooCommerce Product Search
Get started giving your customers a better way to search your products to increase site usability and revenue.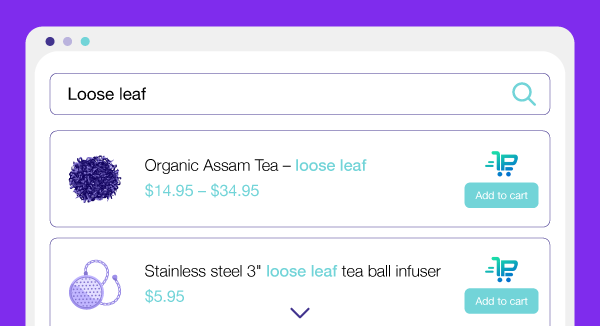 This plugin shows search results based on the usage of searched keywords in the title, description, and tags of listed products. Customers can search by product titles, categories, tags, and SKU. You can place the search box anywhere on your site.
Like the Premmerce solution, WooCommerce Product Search by itthinx has an instant results functionality, aka live search or AJAX search. The live search field allows customers to find products as they type, along with the product image and price, and the option to add the product directly to the cart. Live filters take care of showing updated results on the shop page while the customers search by keyword, price range, categories, tags, or any product attributes to narrow down the results.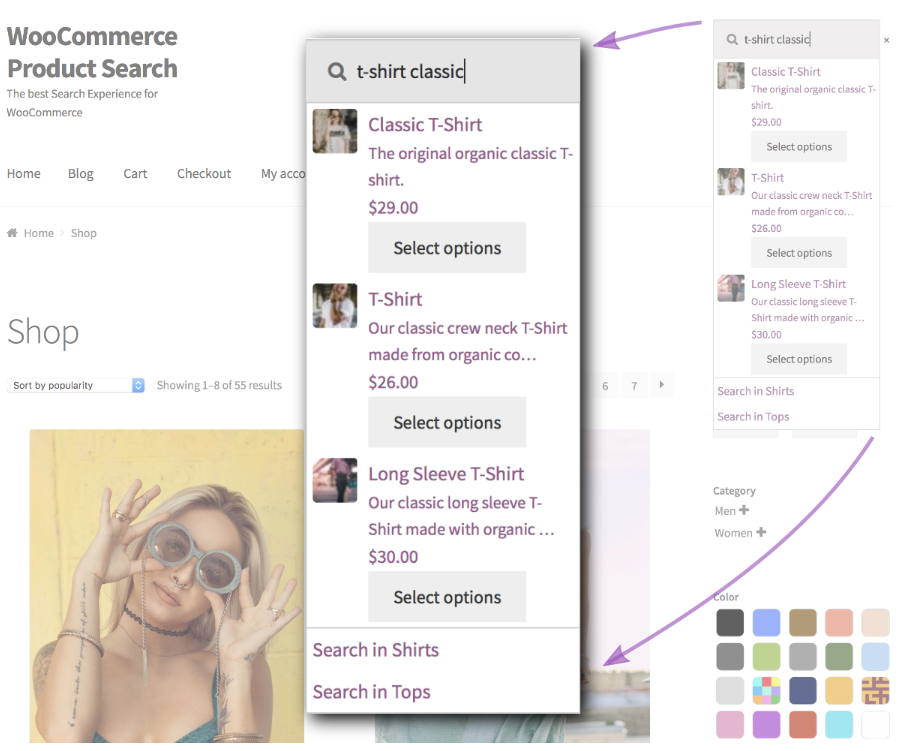 The plugin offers a wealth of insights to help with marketing and meet current and trending demands. You can see what your visitors are searching for in your store, whether they're able to find it or not, and information on real-time and historic search activity.
However, there are some drawbacks – reviews say that customer support for the plugin is poor, and that it struggles in a number of different areas, including:
Ajax search and widgets
Working on other pages apart from the main shop page
Indexing, specifically attributes, tags, and categories
Large databases
Pricing
WooCommerce Product Search by itthinx is available from $49.00/year
This search plugin allows searches by product title, content, excerpt, categories, tags, and SKU. You can enable or disable searches by product category and tag. Customers can use the add-to-cart button in search results to take a faster route to checkout.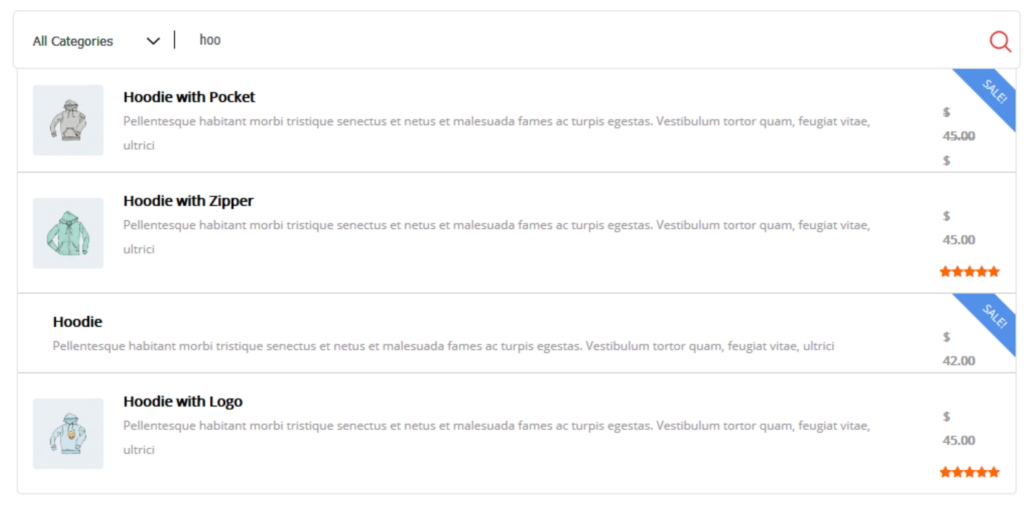 You can place the search box on any page on your site and change the color to match your store color scheme. Advanced Product Search for WooCommerce is one of the best WooCommerce search plugins for easy, no-code installation. That said, some customers have complained about poor customer service, so it is worth checking out reviews of the plugin before considering making a purchase.
Pricing
Advanced Product Search for WooCommerce is available from $16.00 for a single site
YITH's WooCommerce search plugin shows a preview of the product, including a small image, brief description, and price. Customers can search by pages, posts, product excerpt, product categories, product tags, and SKU. The search results highlight discounts and promotions: you can add a customizable label to emphasize discounted and promoted products. However, all these features come with the premium version of the plugin. The free plan has limited features, allowing you to create a simple search box that shows you instant search results.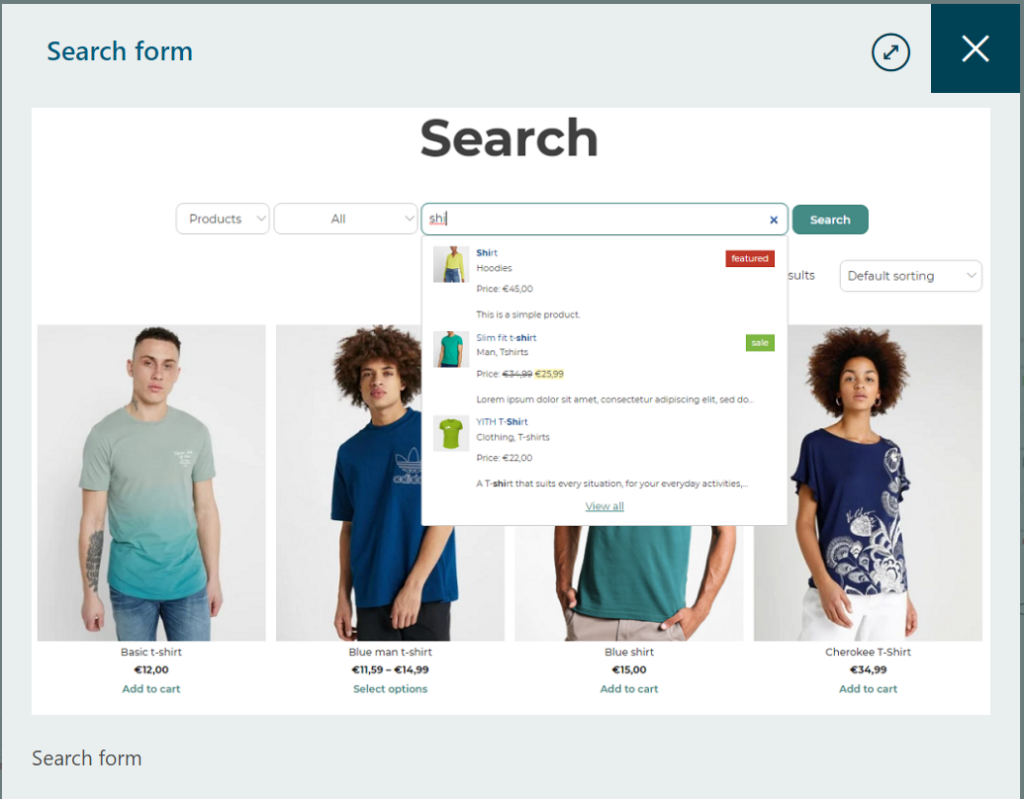 The plugin's WPML compatibility allows you to easily show results in different languages. You can display the search form in a default style and a wide style.
There are some potential downsides to using this plugin, however, with customers complaining about limited design options for the search box, as well as issues with the automatic search function and creation of Fatal Error Logs.
Pricing
YITH WooCommerce Ajax Search Plugin offers a free plan which includes limited functionality. Paid plans start at €69.99/year for a single site.

Using this plugin, you can search by product title, content, excerpt, categories, tags, ID, and SKU. Each search result contains details about the product, such as description, title, category, price, product rating, and stock status (in stock/out of stock). It supports plurals and synonyms as well as the ability to exclude certain words from the search.
You can place the search box anywhere on the site using shortcodes and widgets. The plugin is compatible with WPML and the most popular WordPress page builder plugins.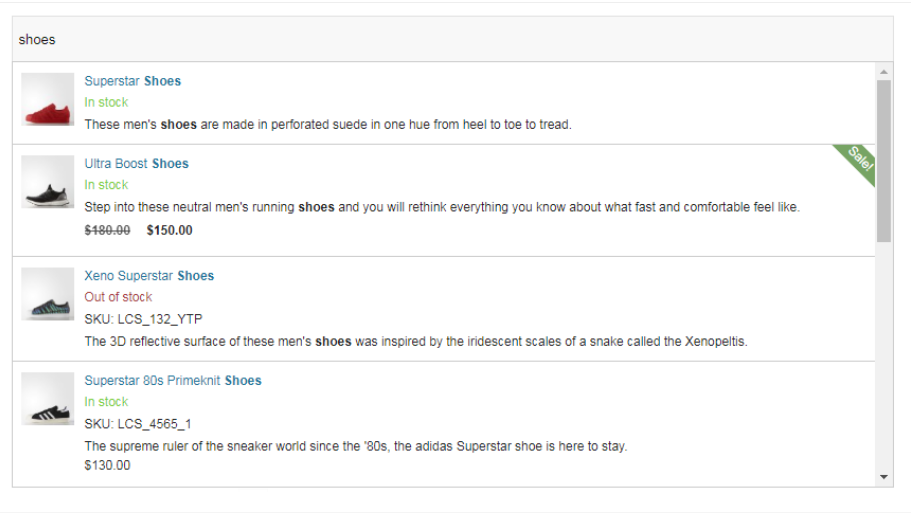 However, it is worth noting that the free version of the plugin doesn't include searches based on product attributes, custom taxonomies, or custom fields. Customers have also raised issues with the 'add to cart' option not working, and about other issues with the functionality of the plugin after the latest updates.
Pricing
Free and paid plans are available for Advanced Woo Search, with the paid offering starting from $59/year for one site.
Smart WooCommerce Search is an all-in-one solution to manage your WooCommerce and WordPress search. The plugin integrates seamlessly into the WooCommerce Product Search widget, and you can create your Smart Search widget and add it to any page on your site.
Customers can search by product categories, tags, or SKU. The pro version includes the option to search by product attribute, brand, and variation, as well as custom fields, taxonomies, and custom post types. It also shows results based on the synonyms of those search terms. In addition, the plugin identifies stop words like articles, pronouns, and prepositions, and you can exclude out-of-stock products. The plugin is compatible with Elementor, DIVI, WPBakery, and Page Builder. All of these features make Smart WooCommerce Search among the best WooCommerce search plugins. That said, some customers have reported that the plugin works quite slowly.
Pricing
Smart WooCommerce search has a limited free plan available. Paid plans start from $49/year.

This plugin offers the option to search by product name, post name, or page name and is fast, even on sites with thousands of products, posts, and pages. Many of the advanced features are only available with the paid version, which enables searches by product name, category, tags, SKU, and by the titles of WordPress posts and pages.
The plugin offers live search and many options for customizing the dropdown style and layout options of your search results. Like the other best WooCommerce search plugins on this list, the solution allows you to add the search box to any page on your site. It is compatible with any WordPress theme that has widget areas, many page builders and WPML (version 2.1.7 and newer).
WooCommerce Predictive Search comes with a 14-day trial. It is easy to install, yet with some themes and builders, it requires coding, which is included in the subscription fee. It is also worth noting that some users have reported the plugin works quite slowly, with others complaining about negative effects on their sites' SEO.
Pricing
WooCommerce Predictive Search has both free and paid plans available, though the free version reportedly has somewhat limited features. Paid plans for the plugin are quite expensive, starting from $99/year.
This plugin comes with all the necessary features to ensure a great search experience on your site. It identifies misspellings, allows the use of labels, synonyms, and search filters, and offers many design options. It is also one of the best WooCommerce search plugins for voice search from customers' mobile devices.
One major consideration when choosing this plugin is that its pricing is based on requests per month, which can make costs unpredictable. Customers have also reported that issues with the plugin's functionality, even after configuration by the plugin developer, have made it difficult to verify the conversion rate.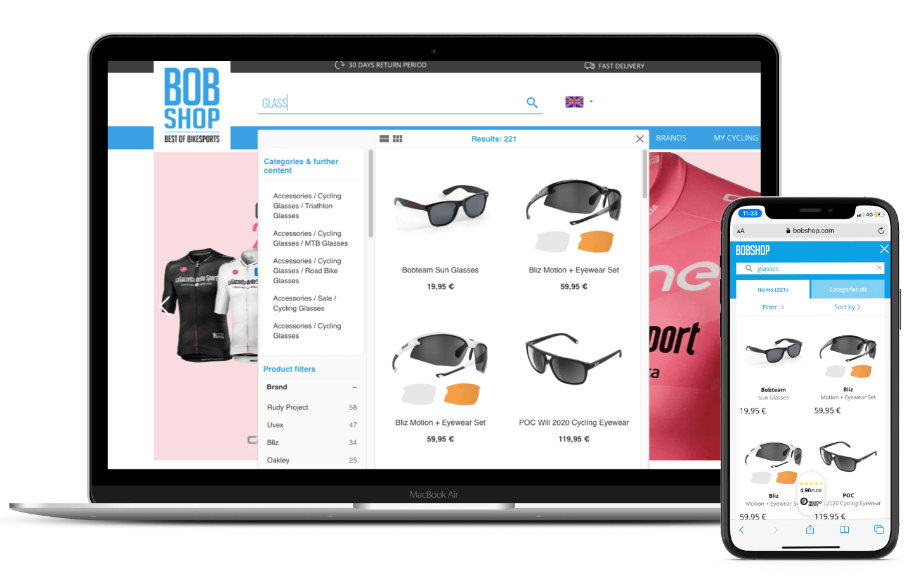 Pricing
Doofinder has somewhat more complex pricing than the other offerings on this list. A free plan is available for up to 1,000 search requests/month. Thereafter, there are three pricing tiers available, starting from approx. $27/month for 10,000 monthly requests. Each different tier comes with different functionality – the following tiers are available:
Basic, which has features such as search suggestions, synonyms, voice search, and analytics)
Pro, which includes all the features of the basic plan and custom results, boosting rules, dynamic re-ranking, and banners
Enterprise, which is a combination of the Pro plan along with search personalization, real-time statistics, one-year search statistics, and visual search.
How to make the most of your WooCommerce search plugin
A positive search experience on your site directly affects conversions. When choosing a search plugin for your site, keep in mind the best practices of eCommerce site search and whether you can achieve them using your plugin. Here's a look at some easy ways of improving your online store's search experience, some of which will also help you to choose the best WooCommerce search plugin for your site.
Understand site search dynamics
Product search isn't a straightforward process, and it is a shop owner's duty to guide all prospective customers to the relevant products. That is why modern search algorithms come loaded with multiple features to handle misspellings, plural queries, synonyms, and others. A handle on search dynamics will help you understand the different ways in which your customers search for products on your site, and how a search plugin addresses those needs.
Refine long-tail queries
If you have not refined your search functionality, your search tool might return several products based on each of the single words in the long-tail keyword. A great solution is to use 'AND' separators in the search.
Use autosuggestion
Autosuggestion helps users to further refine their searches and reduces search time. Showing suggestions related to the search query tells users about the various products you carry.
Leverage keyword research
Search data is useful for including alternate spellings and synonyms in your search logic. Make sure to search competitors' sites to get all the relevant keywords related to a product, then use the data to refine your store's product search.
Consistently analyze your searches
Experts advise doing a manual analysis of your search results to gain a better perspective to understand how the existing search tools are performing. The most important criterion would be understanding if the returned results are all relevant.
Place search boxes in multiple locations
Add the search box in various locations on your site. For example, you could place a search box on every product page so customers can quickly search for one product while checking out another. 
Make the search box easy to use
Keep the search box distinguishable but not flashy. Leave enough room in the search box: leaving half of the text hidden while typing makes the search form harder to use.
Get the best WooCommerce search plugin for faster, better searches that drive results!
Visitors to an eCommerce site will expect to find a search box. Making the search box visually accessible is essential. Once visitors begin their search, they should be able to find the products they want as quickly and easily as possible. The good news is that there are many ways to improve WooCommerce search, and the top plugins have the functionality to deliver a great customer experience that helps boost sales.
Premmerce's WooCommerce Product Search plugin has all the features that allow you to create a user-friendly search experience on your WooCommerce store. Live search, spelling correction, similar word search, SKU-based search, and support for transliterated words let visitors find information easily. Product image and price in search results provide additional information that can aid comparison and purchase, and help your site's overall user experience. Another handy feature is the ability to add products directly from the search bar to the shopping cart.
Try WooCommerce Product Search risk-free with a 100% 30-day money-back guarantee. Get the plugin now for profitable site search optimization!
WooCommerce Product Search
Get started giving your customers a better way to search your products to increase site usability and revenue.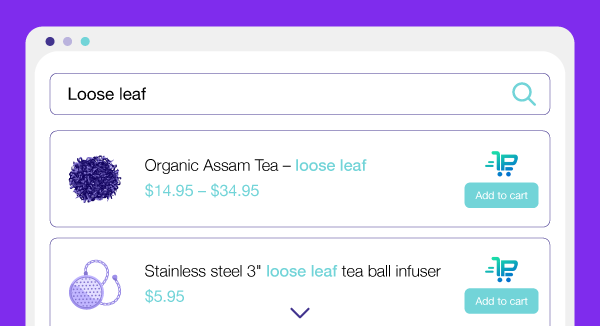 Comments
Ready to Get Started?
Join over 100,000 smart shop owners who use Premmerce plugins to power their WooCommerce stores.
Get started