Magento or WooCommerce: Choosing the Right eCommerce Platform for Your Store in 2019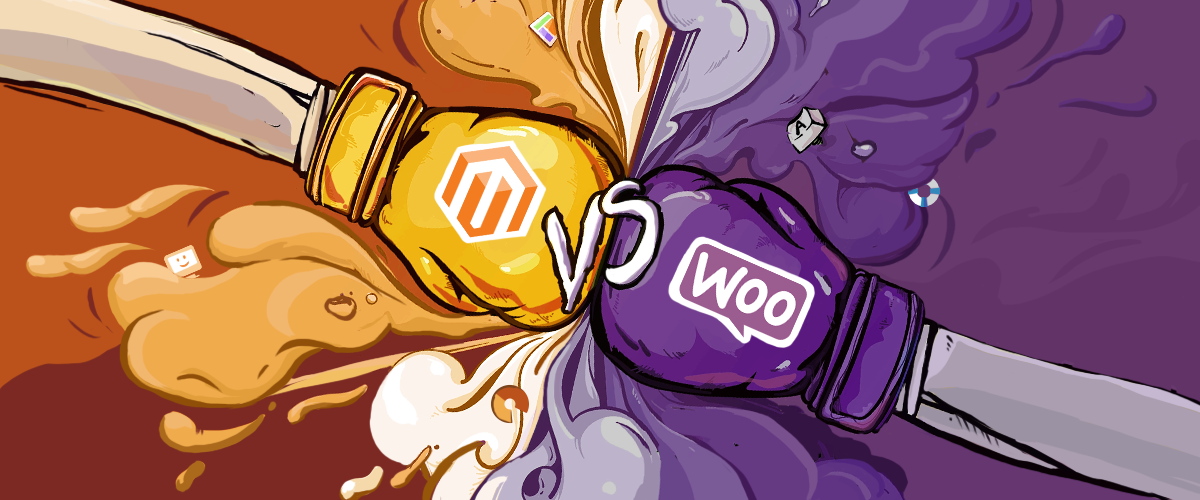 Picking an overall winner in the WooCommerce vs. Magento pairing is not an easy thing to do. They both work like constructors, are popular and have many benefits for setting up an eCommerce store.
We decided to take an unbiased look at both Magento and WooCommerce and crafted a comparison to guide you through it, so in the end, you will have an idea which of the two fits you best.
Let's roll!
Which Is Better Magento or WooCommerce?
WooCommerce is a WordPress plugin allowing you to design any website you want without changing the easy-to-use and user-friendly WordPress. Most of the things there you can do independently after ready freely available guides, instructions, and videos available on WP. It is the most popular platform for online stores at the moment with four millions of live websites and 25% share in the eCommerce market.
Magento is an e-commerce platform for medium to large online shops. It is more tailored to web development professionals. It has one of the most top-notch feature sets in the field, which makes it ideal for stores with high aspirations.
Presently 168,472 currently live websites use Magento with a 9% share of the CMS market. It is the second most frequently used pure eCommerce CMS after Shopify.
When deciding which of the platforms is right for you, check which of them fits your specific requirements.
Magento & WooCommerce Essential Features
WooCommerce key features
Being a WordPress plugin, it can manage all E-commerce related issues from the WP-Admin dashboard of your site.
It comes with a robust extension system, based on the WordPress plugin format.
It supports marketing campaigns such as coupon codes, discounts, usage limitations, etc.
It has advanced reporting facility of sales income, level of inventory, overall store performances, product, and customer reviews.
It supports the payment gateways for credit card payments, Cash, on delivery, Paypal, Stripe, etc. Most of them can be integrated by adding specific plugins.
It enables you to set free or flat rate shipping for product delivery.
It has options to control tax settings with local tax rates, including tax classes.
You can choose almost any payment processors you want using extensions.
It offers a lot of premium and free themes, including SalesZone, a specially crafted theme for online stores.
Magento key features
Its templates offer you to get an exclusively customizable design online shop.
It can perform target marketing, customer segmentation, and merchandising.
Options to set more than one wish list.
It is a highly portable device responsive application.
Facility to add countless product attributes.
It has an integrated content management system.
Supports an unlimited number of products.
It includes efficient APIs that can connect with any third-party solution.
It comes with it its own layout and the theming system.
Intuitive admin interfaces and product creation tools.
Magento vs WooCommerce Themes
Magento also has over 800+ Magento themes in ThemeForest, giving its users complete freedom to design the e-store their way.
WooCommerce allows you to use almost all the available WordPress themes, which is over 1800 by the numbers. The themes are customized, and some of them are specially designed for online stores.
Extensions for Magento vs Plugins for WooCommerce
There are over 5,000 extensions on the official Magento Marketplace. While a lot of Magento Developers offer their extensions in this store, there are also more extensions provided by the developers directly. On average, the themes come with nine pre-installed extensions to add extra value and functions. You can choose between free and paid extensions for payments and security, accounting and finance, shipping and fulfillment, site optimization, customer support, and marketing. You can use rich features of Magento extensions to discover new and customized functionality, in essential business categories, to accelerate your business. But here you'll need assistance from Magento developers to install the extensions properly and make them work.
With WooCommerce, you can use all available WP plugins, either free or paid, including over 20 Premmerce plugins to extend website SEO, usability, navigation, and marketing features.
You can use add-ons to personalize or customize their website depending on the business needs. Compared with Magento, it is far cheaper to buy a few necessary plugins for your WooCommerce store. You may not need developer assistance to add plugins to your WP-admin.
WooCommerce and Magento: Free Versions & Pricing
WooCommerce gives all the core and essential features of an eCommerce store for free. You can also add more advanced functionalities, including auction, PoS, booking, subscription, etc. using paid extensions.
The free version of Magento also has some free add-ons, but it doesn't do much.
It is excellent for stores with less than 300,000 – 500,000 SKUs (Stock Keeping Units) with minimal attributes selling only in one currency and in one country.
When Magento is a good pick for you:
No plans to expand your online store in the future.
No need for 24/7 support.
You sell in one country and in one currency.
You have your team of developers.
Magento Enterprise Edition can be quite costly. The pricing ranges from $22,000.00 to $125,000.00 per year. Higher prices come with additional functionalities your business might need while growing and scaling.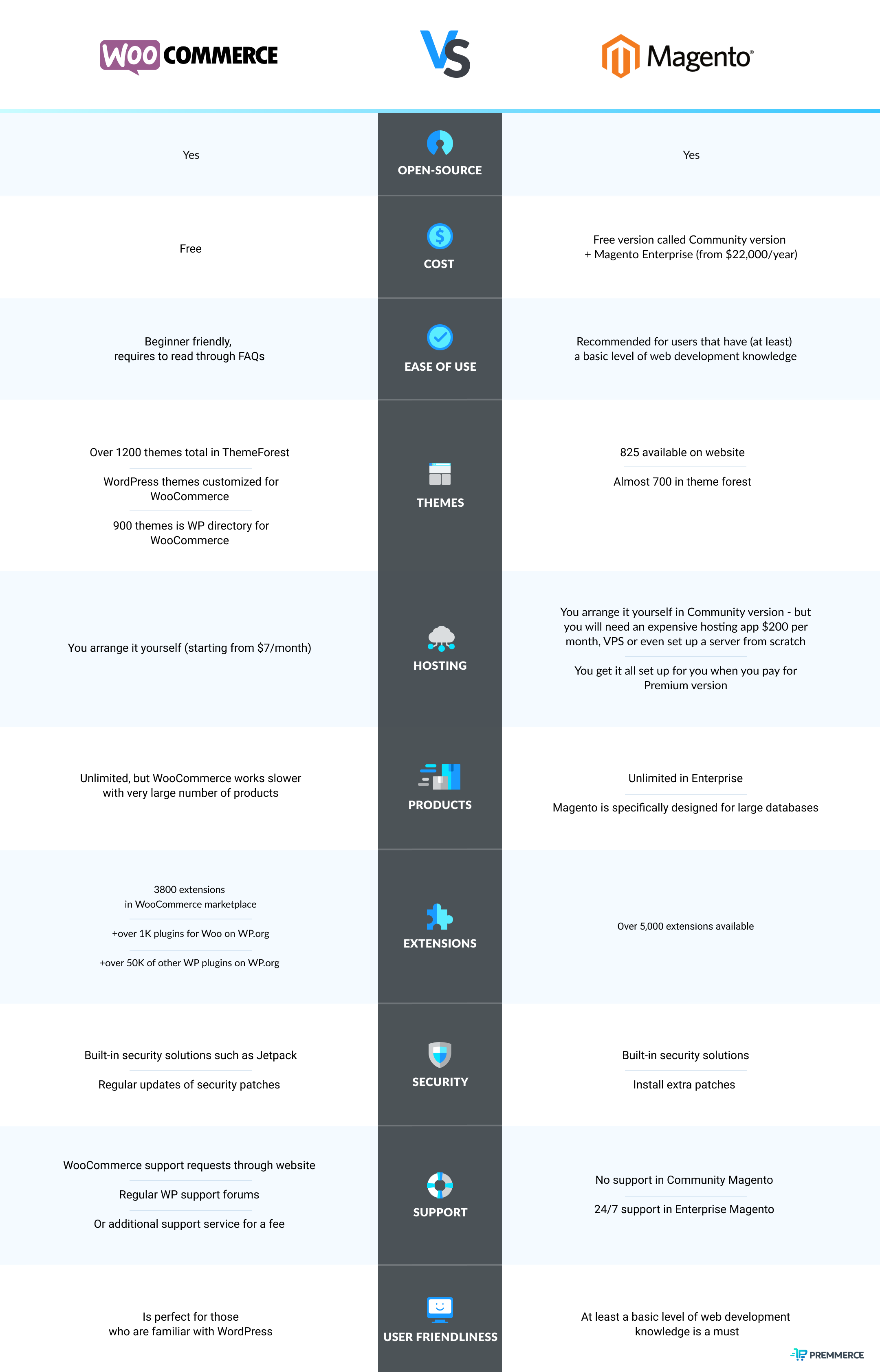 Magento Vs. WooCommerce: What Makes a Difference
Simple and comprehensive architecture
This technology is well designed from an e-commerce perspective. All the data is well structured, but learning all of Magento's features takes quite a lot of time to start using and expanding them. WooCommerce is a good choice for users with no eCommerce experience. It is excellent if you've used WordPress before or already have a WP site. If you haven't worked with WooCommerce before, you'll find its excellent documentation and a number of online tutorials appealing.
Scalability
The Magento system as a whole is modular. Still, the development of the module requires some coding knowledge because the theme inheritance system is implemented in a complicated way, which makes it harder to develop customized solutions.
WooCommerce stores are Scalable and can handle an unlimited amount of products as long as those products don't make your website slow. To ensure this, one should concentrate on optimizing their website's speed, page load time, and database queries.
Support and update
The core of Magento is updated regularly by the team of project developers. However, gettings support for your projects, themes, and modules is quite tricky due to the complexity of the core examination.
You are granted free access to tons of guidelines, blogs, and forums about WordPress and WooCommerce online stores. So basically, you can handle all the fundamental issues independently. The system is systematically updated, which means your store does, too.
The level of customization
Magento. Due to the complexity of learning the new technology, and the lack of scalability, the development of individual solutions may get more challenging to implement and causes extra costs.
WooCommerce. It is highly customizable; you may not even require any in-depth knowledge of web development to adjust your WooCommerce store to your needs.
Standardization and dependency on the developers
Magento standardization is well structured. You are dependant on developers when using Magento, it may be hard to hire the right people, plus they may charge higher fees.
WooCommerce takes the reward here, as you can be independent of the staff if you have/or are willing to have basic knowledge of WordPress.
Security issues
There is well-designed basic security in Magento and some additional solutions. You need to get the hosting and follow the updates.
With WooCommerce, you also have built-in security features. Plus, you're free to use any security plugins from the WooCommerce store or sign up for third-party services.
Marketing tools and SEO
Magento's additional modules for SEO and marketing are quite complex. Due to the lack of a flexible system for working with blogs and content, it is tough to do content marketing, the most trending marketing method so far.
WooCommerce is designed for content and marketing optimizations. It is open for integrations with primary SEO tools and scaled as a content platform. You can use specifically developed SEO plugins for WordPress, such as SEO add-on.
And the Winner Is…
WooCommerce is an excellent option for a beginner level store, allowing you to scale and customize your store if you decide to expand the markets in the future. Using multiple currencies, improving SEO, planning marketing, simplifying web store navigation, and so much more is possible with the WooCommerce store by adding as many plugins as you need.
If you're careful and attentive, you will not end up paying more of that cost if you opt for WooCommerce to give more features for your store.
Magento free version can make it an excellent choice for most merchants who don't have huge budgets with all necessary features for your store. At the same time, you will need the developer's assistance when adding new patches or extensions if you don't have any web development experience. Magento Enterprise will cost you quite a fortune and is scaled, especially for large stores.
What Are the Pros and Cons of Magento
Pros:
You can use a free Community version with limited possibilities
The Community version requires you to get a domain name and hosting on your own. The premium plan includes hosting.
Unlimited sales and orders. 
It offers a wide variety of extensions, both free and paid.
It offers a theme-based system and a decent variety of options.
It offers advanced security features, as well as dedicated patches to close any vulnerabilities that arise.
It offers stats and analytics for your store out of the box.

Cons:
You need to have basic web development skills to use Magento.  
Its Enterprise Edition can be quite costly.
Hiring a Magento developer is a challenge and more expensive than a WP dev.
What Are the Pros and Cons of WooCommerce?
Pros:
It is a free plugin for WordPress; you just need to find a hosting provider and pay for it.
It's easy to catch up with it if you have any experience with WordPress.
In case of any questions, you get access to the extensive documentation or may contact the team behind the project.
Includes SSL support, but you need to buy your certificate.
It integrates with Google Analytics with the help of an extension.

Cons:
You'll have to learn two new platforms if you haven't used WordPress before. 
Premium themes and plugins costs can add up quickly.
You are in charge of monitoring the updates of your plugins to avoid security issues.
Which One Is Better for Beginners, Magento or WooCommerce?
Compared to WooCommerce, Magento doesn't feel as beginner-friendly. If you're not ready to hire experts to help you, the steep learning curve might be too challenging.  
WooCommerce feels more user-friendly and easy to use, mainly if you've ever used WP before.
Comments
Ready to Get Started?
Join over 100,000 smart shop owners who use Premmerce plugins to power their WooCommerce stores.
Get started