WooCommerce Chained Products: How to Create Bundles and Sell More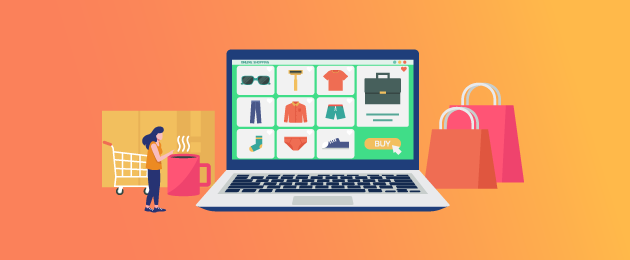 If you have a WooCommerce store with multiple products, creating chained products is an excellent way to bundle your merchandise and sell it as a single product.
Chained products can be used for promotions or upsells, and can either exist along with or replace some of your individual product listings. Using chained products can help boost sales and improve the perceived value for money of your products.
In this post, we'll explain the benefits of WooCommerce chained products and how to set them up for yourself.
What is a chained product?
A chained product is a pre-configured combination (or bundle) of multiple products sold together. It typically has one main/primary product, which, when bought, includes other related (chained) products as well. The combo is sold for the price of the main product, and the customer pays nothing for the chained items. Effectively, this works like a "Buy one get 'X' free" offer.
Let's take a look at a worked example of WooCommerce chained products. Imagine you're an eCommerce computer retailer and you sell a laptop for $999, which comes together with a laptop bag at no additional cost. In this instance, the laptop is the primary product and the laptop bag is a chained product.
You can add as many chained products to your primary product as you want in order to increase the value proposition and encourage sales. As the store owner, you have full control over which chained products you add, rather than allowing buyers to choose from a given set.
Are chained products the same as product bundles?
The terms "chained products" and "product bundles" tend to be used interchangeably. While they share similarities, they're used for different purposes. Here are some ways to use WooCommerce chained products:
As a free gift along with a "main" product purchase.
As combinations of multiple chained products to create a discounted offering that can be used for flash sales.
As multiple products on offer (like buy one, get one free) or a combination of multiple simple or variable products. This is ideal in cases where you have a new product for which you want to build a customer base, or if you want to move stock of a product that isn't selling as well as you'd like.
A product bundle consisting of multiple items is sold as a single product and, most often, at a discounted price. For example, buying complementary products like a T-shirt and hoodie or similar products in one package, like a set of kitchen knives. In other words, a product bundle is a cross-selling implementation.
Like chained products, the items in a product bundle cannot be changed. That would be possible for a different type of product extension known as a custom product box. Here, you'd offer a set of items to add to the custom box and let customers handpick them in a quantity they wish. The price of the custom product box, however, would remain fixed.
The motivation to buy chained products is the free product included in the bundle, so to speak. On the other hand, a product bundle is attractive for its discounted price. A custom product box is appealing for the layer of customization it adds.
Benefits of WooCommerce chained products
Let's take a look at some of the key reasons why it's worth setting up chained products for your eCommerce store.
Elevate sales
Chained products offer better value to customers than if they were to buy individual products. The human brain is hardwired to love free stuff. If someone buying a pair of shoes had the option to buy just the shoes or add a free pair of socks, they'd prefer the latter option.
It stands to reason that WooCommerce chained products can improve conversions and move more product quantities. They're a great solution for shifting slow-selling products and excess inventory too.
On top of this, chained products are a great way of offering samples or tasters of new products to your customers, which can encourage them to return to your store later. For example, if you run an online cosmetics store, you could chain a sample of your new moisturizer to your best-selling makeup products to encourage customers to try it out. If they like the product, they'll be more likely to add it to their order the next time they visit your store.
Increase your average order value and profits
Discounts and free offers entice shoppers to buy faster and in higher quantities. Among your buyers will be those who spend their full budget rather than pocketing the discount. Creating WooCommerce chained products can increase your average order value (AOV) and lift your profits.
Picture a buyer with roughly a $250 budget shopping for beach gear at your online store. They settle on a beach umbrella costing $180 but discover that you're throwing in a beach towel ($50) for free on purchasing a combo of the two items. They choose this offer, and since they're now left with $70, they're open to also buying a cooler or an unrelated product to cover their budget now that they have the opportunity to do so.
Create differentiation with unique offers and bundles
Chained products enable you to create unique offers that can encourage customers to consider purchasing items that they might otherwise not have been interested in. Here are some examples of the types of unique bundles you can create using chained products:
Individual apparel and accessories sold together as an outfit.
An online course with supplementary e-learning materials available for digital download.
Bundling a downloadable product to a physical product, like a free trial of a new video game when a customer purchases a new games console from your store.
There are plenty of options to explore, and by getting creative with your chained products, you stand to increase product visibility, encourage repeat purchases, and boost your bottom line.
How do you create chained products in WooCommerce?
You can create grouped products in WooCommerce directly, but there isn't a built-in function for adding chained products to your online store. You will need to use a plugin that gives you more flexibility and control over your product bundling strategy.
The best WooCommerce plugin for adding chained products to your online store is Frequently Bought Together from Premmerce. This plugin enables you to create not only chained products, but also bespoke product bundles for both individual products and entire product categories.

By offering full control over the discounts you apply to your connected products, this popular WooCommerce chained products plugin enables you to configure your chained product prices to either offer them as free add-ons to customer orders or as discounted products as part of a product bundle.
In a nutshell, with Frequently Bought Together, you can:
Create bespoke product bundles and chained products in a matter of seconds.
Create chained products or product bundles for entire product categories.
Customize the display of your chained products on the store front end using the WooCommerce customizer (or, for even greater control, custom CSS).
This powerful WooCommerce extension makes it straightforward to configure product bundles and chained products on your WooCommerce store. Let's dive into the specifics of how the plugin works.
Woocommerce Frequently Bought Together
Get started giving your customers upsell bundles to increase site usability and revenue.

How do you create chained products with Frequently Bought Together?
Creating chained products with Frequently Bought Together is a quick and easy process. Follow along with our tutorial to learn how to offer chained products on your WooCommerce store in a matter of minutes.
Start by downloading the plugin and installing it from the WordPress plugins area on your WooCommerce dashboard. Once installed, navigate to Premmerce > Frequently Bought Together to access the main settings page.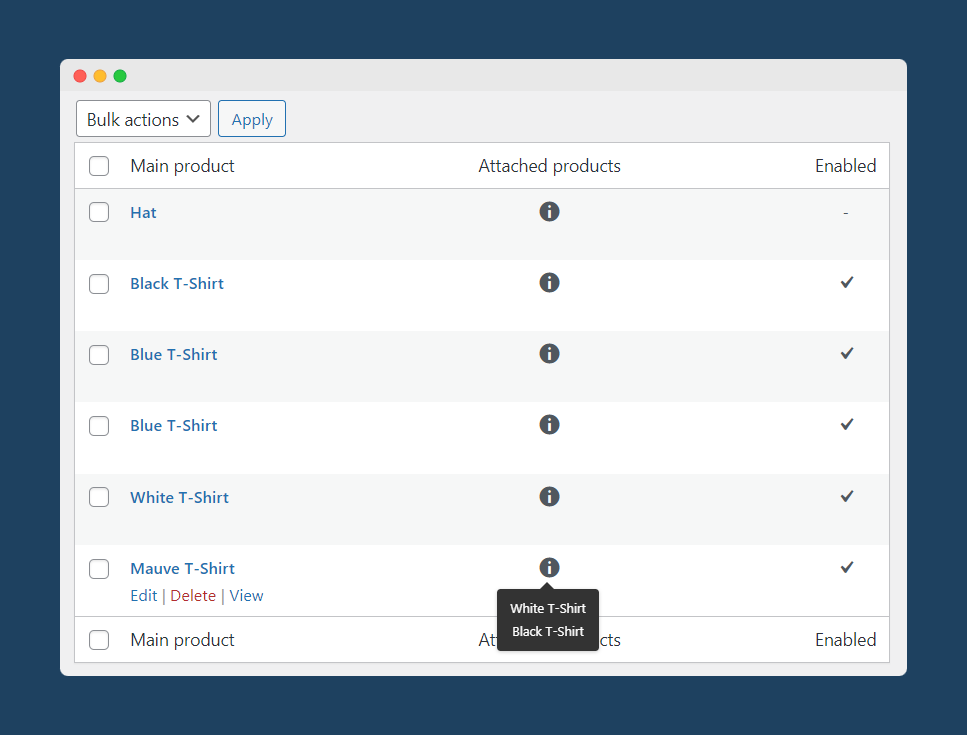 From here, you can add, remove, and edit WooCommerce product bundles, including chained products. All of your existing grouped products are displayed in a handy list, and you can use bulk actions to enable, disable, or delete bundles on the fly.
Create a new chained product
To create a new chained product, go to the "Add new bundle" section of the settings page, and select the primary product that you want to chain other products to from the product dropdown list.
Next, choose any products that you want to chain to the primary product. There is no limit to the number of products you can bundle together. As you add each product, you can also set the discount that should be applied when the product is sold as part of the bundle. As we're creating chained products here, you'll want to set this discount to 100%.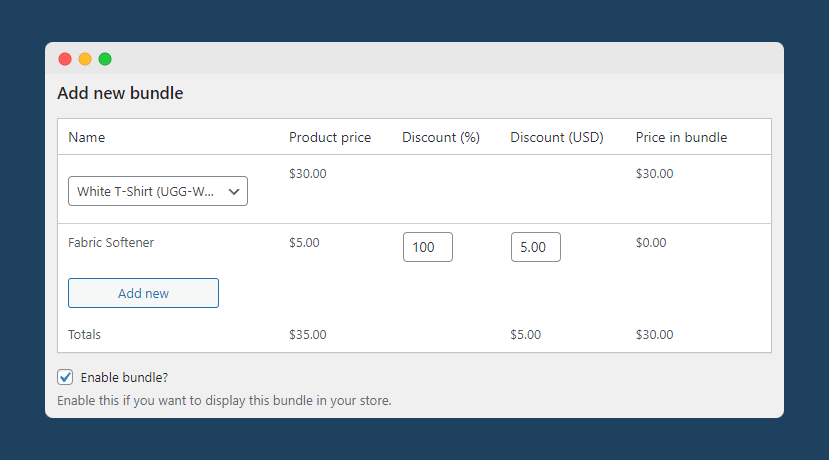 When you're done adding products, click "Add new bundle". Your bundle will be added to the list, and you can view how it appears on the store front-end by hovering over the bundle and clicking "View".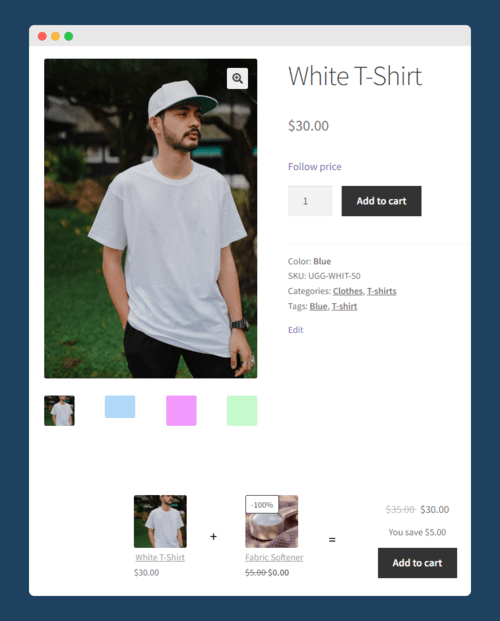 Create chained products for an entire product category
With Frequently Bought Together, setting up chained products in bulk is a breeze, as the plugin offers the option to create bundles for every product in a category. This has a wide range of applications, including:
If you're releasing a new product, and you want to offer free samples to your customers to encourage them to purchase the product when it launches.
If you're running a promotion like a buy-one-get-one offer on a specific line of products.
If you want to increase the perceived value of your products by offering a free add-on in order to encourage more sales.
Setting up chained products for an entire category with Frequently Bought Together is just as straightforward as setting up an individual product bundle. From the settings page, simply navigate to the "Category Bundles" tab.
From here, you can build a bundle in the same way as you did for your individual chained product – the only difference is that you choose an entire product category to chain products to, rather than an individual product.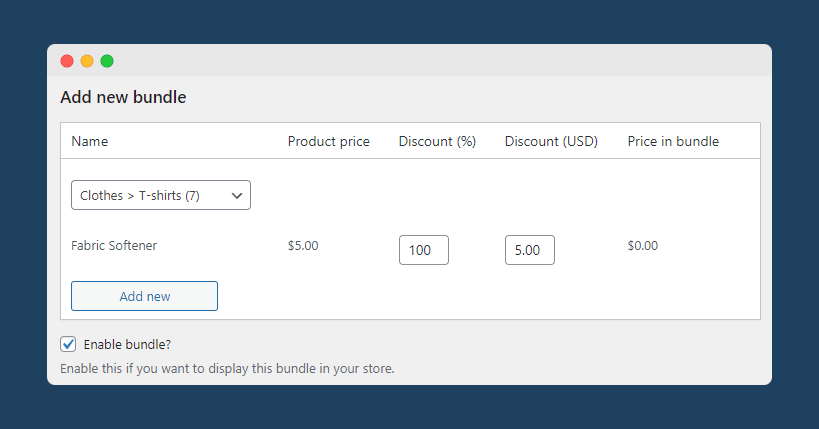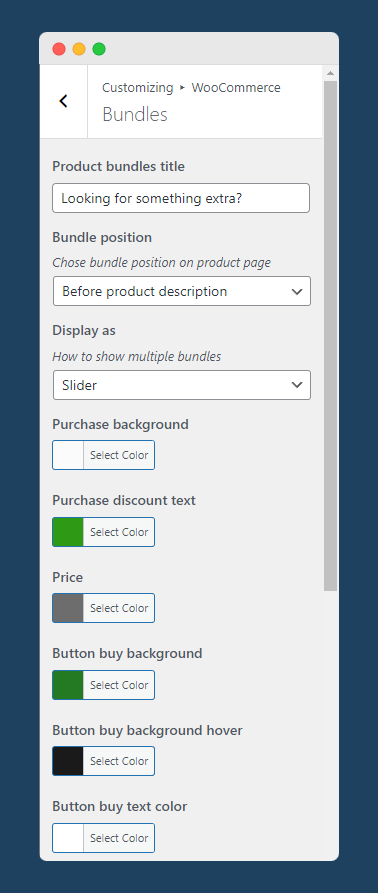 Customize the frontend display of your chained products
If you want to customize how your chained products appear on your WooCommerce store front end, you can edit the appearance of your Frequently Bought Together widget and bundles using the WooCommerce customizer.
Simply navigate to "Appearance" > "Customizer" from your WooCommerce dashboard to open the customizer. Next, go to "WooCommerce" > "Bundles" to access options for customizing the widget. This enables you to make changes like:
Changing the title of the "bundles" section.
Configuring display options like bundle positioning and colors.
Choose whether multiple bundles for a single product display one by one or as a slider.
On top of these customization options, if you want to place your product bundles in a specific area of your product page, you can do so using these built-in shortcodes:
[premmerce_get_bundle_by_id id="2″]
[premmerce_get_bundles_by_main_product_id id="28″]
Boost your WooCommerce store's sales with chained products
From creating perceptions of value and encouraging sales, to increasing order value and offering shoppers more choice in their purchase decisions, WooCommerce chained products offer your business many benefits.
With Frequently Bought Together from Premmerce, you can create not only chained products, but any type of product bundle you require on your WooCommerce store. Sell linked products at a discount, offer them for free within a bundle, or create bundles that don't offer a price advantage but simply allow customers to include related items they'd otherwise overlook before checkout.
Best of all, this versatile plugin is available from just $49/year. Add Frequently Bought Together to your WooCommerce store and start reaping the advantages of chained products today.
Woocommerce Frequently Bought Together
Get started giving your customers upsell bundles to increase site usability and revenue.

Comments
Ready to Get Started?
Join over 100,000 smart shop owners who use Premmerce plugins to power their WooCommerce stores.
Get started