No-Code Solutions for WooCommerce Related Products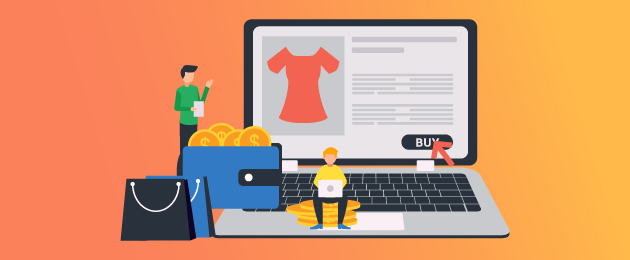 Looking to enhance your eCommerce revenue? Then product recommendations might just be the answer you're looking for. According to one study, more than 30% of eCommerce site revenue comes from recommended products. If you don't have this upsell functionality set on your WooCommerce store, then you'll be leaving potential profits on the table.
Displaying related products in your store can lead to an increase in average order value, optimizing your revenue and enhancing conversions. In other words: incorporating a related-products section is a tactic that all store owners who are serious about increasing their revenue should utilize.
In this post, we'll take a closer look at the benefits of showing similar products to your store visitors and outline how to display them in your own WooCommerce store, including a number of excellent no-code tools that can make adding a related product section a breeze.
What are related products, and why should you use them on your WooCommerce store?
If you've ever used Amazon, then you'll likely have come across related products. It's a type of product recommendation where you show your visitors products related to the one they are looking to purchase. For example, if your customer is purchasing a pair of skis, then you may also show them gloves, jackets, helmets, and other skiing-related products.
Why should you display related products on your WooCommerce store?
It helps you increase your average order value through upsells and cross-sells
Upsells and cross-sells can be invaluable to a store's bottom line. Upselling is a tactic whereby you encourage your customers to purchase products that are more expensive than the ones they're currently interested in buying. For example, if a customer is interested in buying a PlayStation 4 from you, you may show them the more expensive PlayStation 5.
To cross-sell products, you sell additional products related to the primary product that the customer is buying. For example, if a customer is buying an iPhone from you, you may also offer theft insurance, an iPhone case, or other add-ons. Both upsells and cross-sells can increase your average order value because you're earning more than you would have for the original individual product.
It reduces your bounce rate and cart abandonment
Your site's success depends on your ability to increase the chance of a visitor making a purchase. Showing related products can be an effective way to prevent your customers from abruptly leaving your site without making a purchase and increase sales when they are planning to buy.
For example, let's say a visitor lands on your site following a search for a gardening tool. It's possible they overlook it upon first glance, but while they look at others, they'll see the one they wanted in your related products section. Additionally, showing related products can increase the likelihood of them making a purchase in the event that the initial tool is out of stock or does not meet their requirements.
Without showing related products, the customer may leave long before checkout, all because they didn't know that you had other products that may interest them.
It improves your engagement and time spent on site
If you're an eCommerce customer yourself, you'll probably have found yourself browsing a store's collection of products even though you had no initial intention to do so. Showing related products makes it more likely that a visitor will click around and see what your site has to offer. This helps to increase the visibility of your product range, which enhances the chances of making a sale, and also increases the time spent on your website, which can have a positive impact on your online store from an SEO perspective.
It helps customers find products that are helpful to them
Product recommendations have a positive impact on the customer, too, because it reminds them of complementary products that they may need. For example, someone purchasing a smartphone will value being shown charging cables and power banks. This helps to enhance the customer's experience.
How can you display related products on your WooCommerce store?
It's easy to customize a WooCommerce store, and the platform offers a way to show WooCommerce related products as part of its default functionality. There are two main options for how to do this:
Rely on the built-in WooCommerce related products section that appears by default in some themes and templates. You don't have any control over which products are displayed – this section will automatically display products that are related to the primary product by categories or tags.
Add 'Linked Products' to the primary product to display these as upsells or cross-sells on the product page or cart page, respectively. This method gives you more flexibility over which products you display as related to the primary product, but it is also more laborious to set up.
To set up upsell or cross-sell products using the built-in Linked Products functionality in WooCommerce, follow these steps:
Go to WooCommerce > Products and select the product you want to display upsells or cross-sells for.
Go to the Product Data section (located near the bottom) and click on the 'Linked Products' tab.
From here, you can add the products you want to cross-sell or upsell.
Hit the update button, and you're done. Upsell products will be displayed on the product page of the primary product, while cross-sell products will appear in the cart once the primary product has been added.
Why isn't default WooCommerce the best method for displaying related products?
WooCommerce is great for a lot of eCommerce tasks, but its related products function is far from perfect. The default method of showing related products doesn't give you any control over which products appear, while the upsell and cross-sell functionality is time-consuming and repetitive to set up, making it impractical for eCommerce stores with larger product catalogs.
Rather than using WooCommerce's built-in feature set for displaying related products on your online store, it's much more effective to use a WooCommerce plugin that was specifically designed for this task. No-code plugin solutions provide much more scalability and greater control over which related products you display, making the process of setting up custom related products much more straightforward.
The best no-code plugin solutions for WooCommerce related products
Frequently Bought Together by Premmerce

Frequently Bought Together is a powerful plugin that allows eCommerce store owners to easily upsell, cross-sell, and create custom product bundles for their product pages. Highly scalable and customizable, it's a game-changing tool that can help to increase your customer's average order value and all-around enhance the customer experience.
It's the ideal solution for WooCommerce store owners who are looking for greater power for their related products section beyond what the in-built WooCommerce functionality provides.
With the Frequently Bought Together plugin, you can:
Create custom bulk upsells for every product within a specific category.
Create custom product bundles with as many products as you like, which customers can purchase with a single click of their button.
Create custom discounts for each product in your Frequently Bought Together bundles to encourage site visitors to make higher-value purchases.
Get the product page you want thanks to the plugin's highly customizable user interface (UI).
Assign multiple special offers or bundles to one product, giving your customers a range of options and maximizing the chance of conversions.
All in all, Frequently Bought Together is a powerful WooCommerce plugin that can revolutionize how you create and manage your related products function. And from just $49/year, it's a highly cost-effective means of boosting your average order value and increasing conversions.
Woocommerce Frequently Bought Together
Get started giving your customers upsell bundles to increase site usability and revenue.

Related Products for WooCommerce (by WebToffee)
The Related Products for WooCommerce plugin works similarly to the default WooCommerce related products functionality, in how it enables you to set up related products for your WooCommerce store based on categories or tags. The difference is that you can actually define which related products are displayed, making this a more useful solution for targeted upsells and cross-sells.
That said, this solution is somewhat more limited than Frequently Bought Together, as it doesn't offer any form of product bundling or discounting functionality – it simply enables you to show customers related products based on categories or tags.
Product Recommendations
The Product Recommendations plugin allows you to upsell and cross-sell to your customers based on the categories, attributes, tags, and price filters that you select. You can offer related products anywhere on your store, including the product page, cart page, checkout page, and thank you page.
The plugin also includes an amplifier feature with which you can boost a specific product using criteria such as rating, conversion rate, popularity, creation date, and more. While it's a useful tool that has many of the features offered by Frequently Bought Together, it doesn't enable options for discounting your or bundling your recommended products. It is also more expensive, with prices starting at $79 a year.
Displaying WooCommerce related products using Frequently Bought Together
Ready to display related products on your WooCommerce store with Frequently Bought Together? Follow along with this tutorial to learn how.
Creating a product bundle
Frequently Bought Together enables you to recommend related products by creating bespoke product bundles. These bundles can consist of simple products, variable products, or specific product variations. To create a product bundle, follow these steps:
Navigate to the Premmerce section of your WordPress dashboard and click on Frequently Bought Together. This will take you to the Product Bundles section of the main settings page.
To create a bundle, select the main product from the first dropdown list, then select any products you want to group together with the primary product from the second dropdown list. You can add as many products as you want to the bundle.
Configure the discounts for any products in your new bundle – you can set this either as a fixed price or a percentage. Each product in the bundle can have a different discount if required, and you can set the discount to '0' if you don't want to reduce the price when selling related products along with the primary product.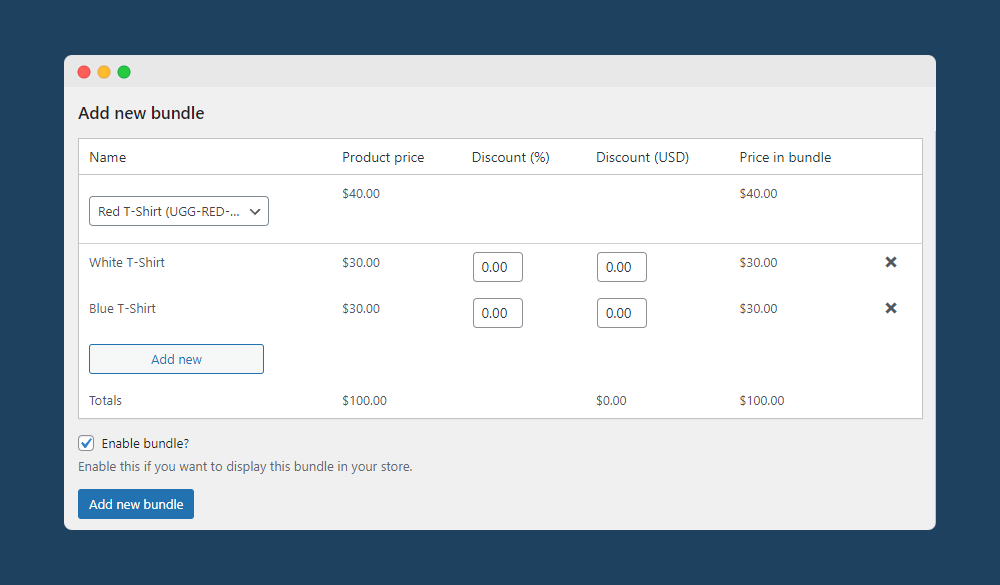 Click 'Add new bundle'. The product bundle will now appear on the primary product page, enabling you to display selected related products along with the primary product.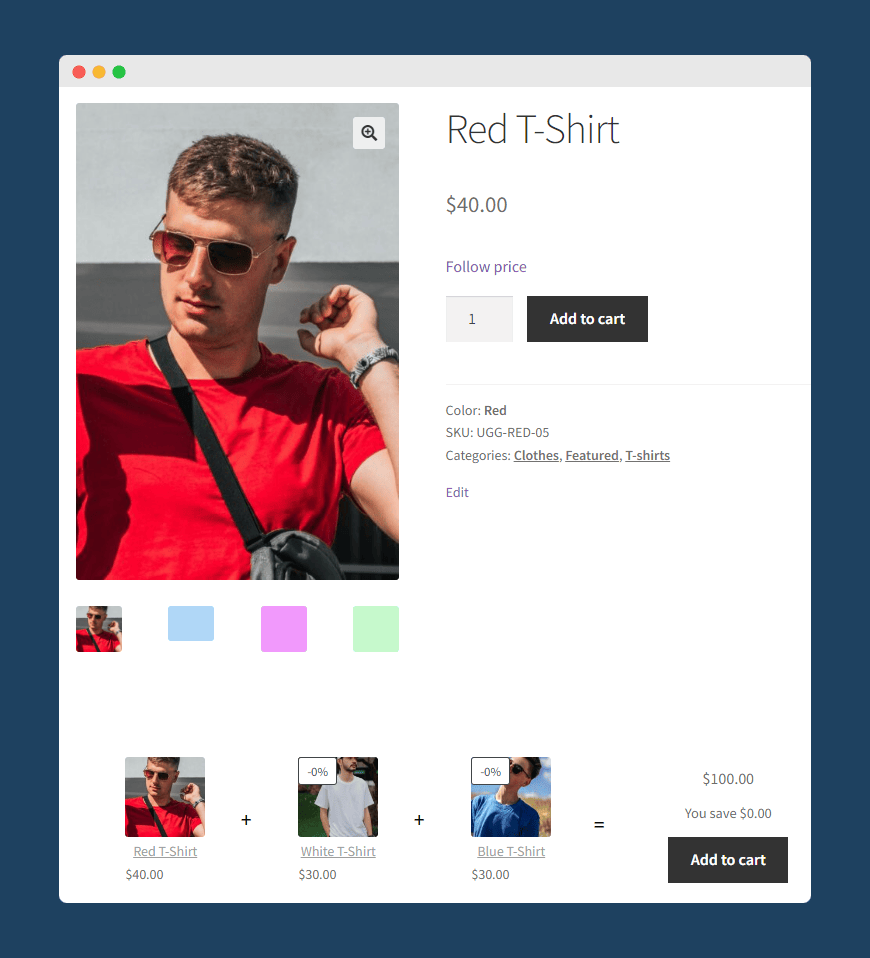 If you need to edit your product bundles at any point, you can do this from the Product Bundles tab on the Frequently Bought Together settings page – simply click 'Edit' next to the bundle you want to adjust in order to add or remove products or adjust discounts. You can also activate or deactivate existing bundles from here.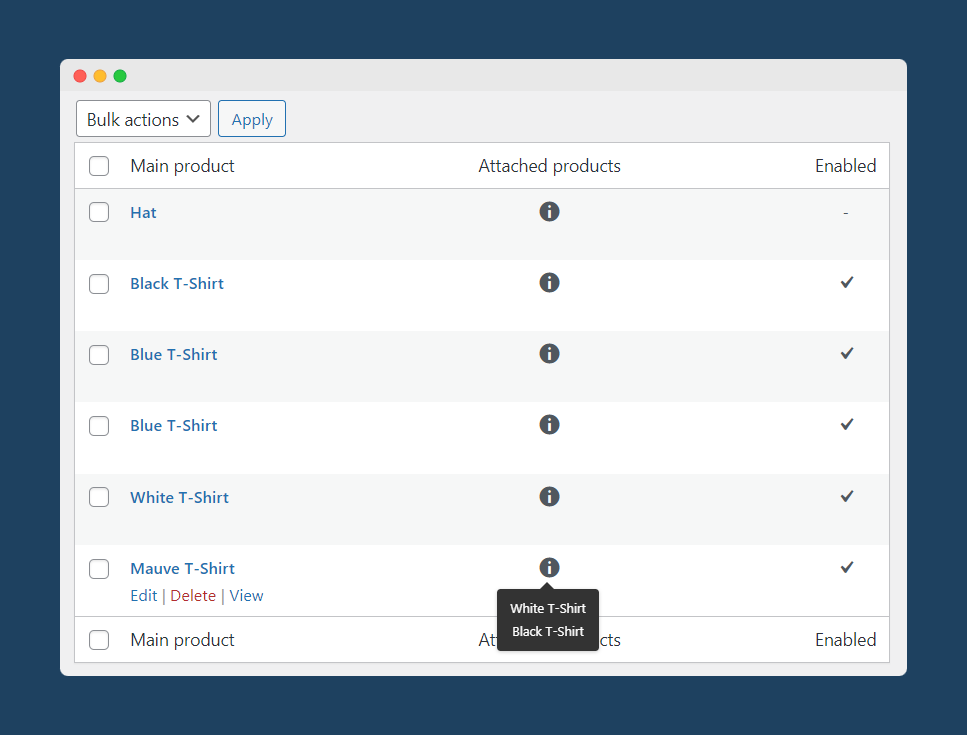 Creating a category bundle
If you want to create a Frequently Bought Together bundle by using a product category, the process is more-or-less the same. All you need to do differently is navigate to the Category Bundles tab to create your bundle and choose a category on which you want to display your product bundles.
By doing this, you can set up bespoke WooCommerce related products for an entire category in one go, rather than having to manually configure them on a per-product basis.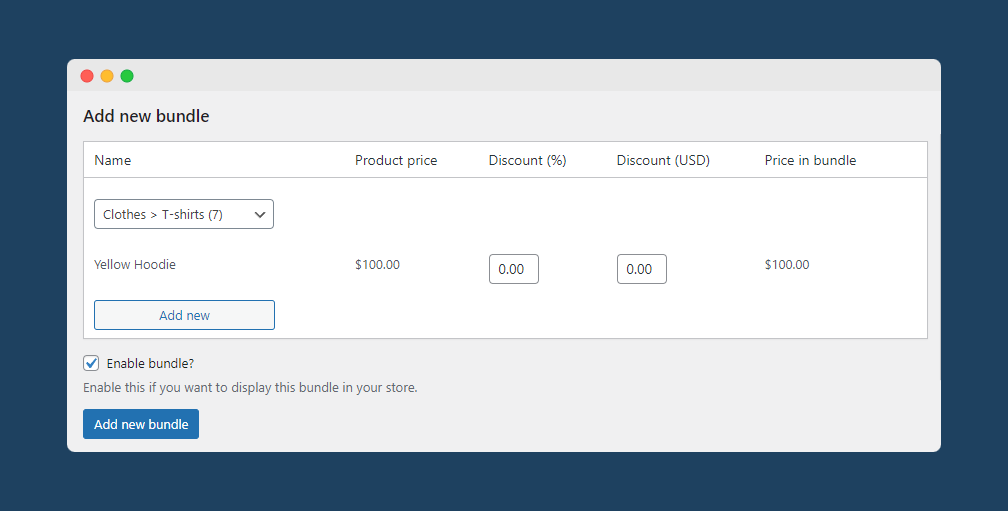 Customizing the related products display
If you want to change how your related products are displayed on the product page, you can use the WooCommerce customizer. This enables you to edit the display of both the Frequently Bought Together widget and your bundles themselves.
To do this, navigate to Appearance > Customizer from your WooCommerce dashboard, then go to WooCommerce > Bundles. From here, you can make adjustments to every aspect of your widget and bundle display, including the title of the bundles section, the colors and positioning of your bundles, and how multiple bundles are displayed for a single product. You can even use built-in shortcodes to place your product bundles wherever you want on your product pages.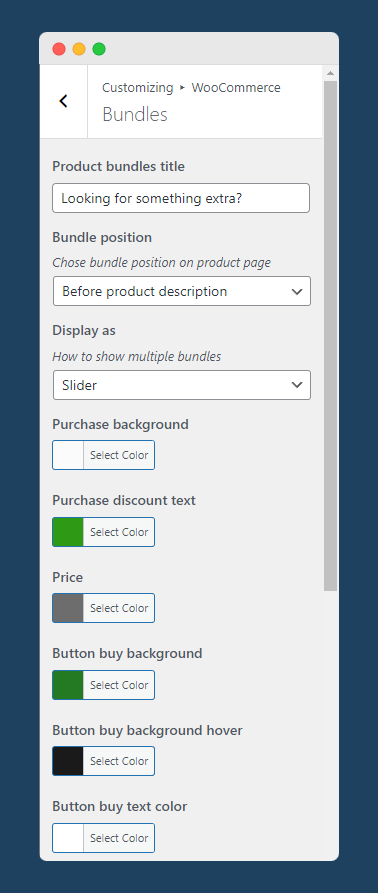 Add multiple special offers to one product
Not only can you add as many products as you want to a bundle, you can also create as many bundles as you want using the same primary product. It's worthwhile experimenting with different combinations and recommendations to see what resonates with your target audience.
If you have multiple bundles for a single product, you can use the customization options mentioned above to choose whether these bundles are displayed one by one or as a slider, giving you total control over how your related products are displayed.
Tips for setting up related products
Make sure to experiment with different types of bundles
There will likely be a trial and error process until you find the most effective related products to display on your individual product pages. Experiment with different strategies, such as attempting to cross-sell supplementary products or upsell more expensive items, to see which offers your customers are most interested in.
For example, if your online store sells smartphones, the related products displayed on a smartphone product page could be additional phone accessories (such as headphones, power banks, and phone cases), or you may present handsets with slightly higher price points and features.
Use related products and product bundles to your advantage
Displaying related products and creating product bundles can be used strategically to sell products that are not selling well (at a discounted rate) or to promote new products. For example, if you have a large inventory of a product you're trying to shift, then include it at a higher frequency in your product bundles or in the related products section on your product pages.
Make sure your related products are relevant
The key to finding success with your related products is to ensure that they're relevant to the user. It'd be of little value to show a smartphone in the related products tab if the visitor is on a gardening tool product page. Focus on what the customer would be likely to want to see, not only on what you want to sell. This helps to increase engagement, improve the chance of customers converting, and overall boost your bottom line.
Increase your average order value with related products
Showing related products on your WooCommerce website is good for your customers' experience and good for your bottom line. Indeed, a study from McKinsey found that product recommendations account for a staggering 35% of all Amazon sales. In other words, there are a lot of potential conversions to be gained just by adding related product options to your site with a plugin.
If you're ready to unleash the power of related products, then check out Frequently Bought Together by Premmerce. It's easy to set up, offers a friendly UI, and integrates seamlessly with WooCommerce and related plugins, page-builders, and themes, such as WPML, Elementor, Divi, Astra, and OceanWP. There's a 30-day, no-questions-asked refund policy, too, so you can try the plugin risk-free.
Get started with Frequently Bought Together now and watch your sales soar!
Woocommerce Frequently Bought Together
Get started giving your customers upsell bundles to increase site usability and revenue.

Comments
Ready to Get Started?
Join over 100,000 smart shop owners who use Premmerce plugins to power their WooCommerce stores.
Get started