4-Point Checklist for Running Flash Sales in WooCommerce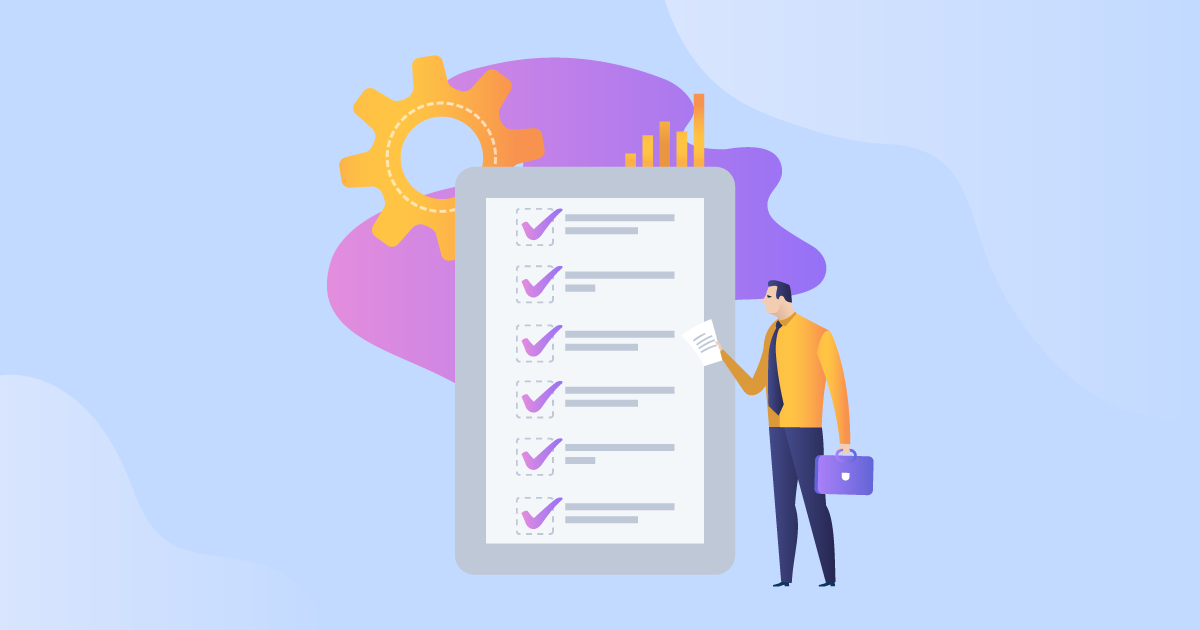 Want to boost sales on your WooCommerce store? Run a flash sale! Flash sales are an effective tactic to boost transaction rates and growth.
While flash sales are common during the holiday season, there isn't a perfect time to offer big discounts for a short period of time. What matters more is how you run a flash sale. Use this 4-point checklist to bring in big profits from your flash sale.
What is a WooCommerce flash sale?
A flash sale is a sale with big discounts on particular products for a short span of time, usually 24–36 hours. It is also called a 'deal of the day'.
Online stores run flash sales to attract a large number of sales within a short period of time. Store owners also use flash sales to unload excess or expiring stock. As a marketing tactic, flash sales can attract new customers, although you want to make sure you don't attract mostly one-time buyers who're only interested in bargains and unlikely to return.
A flash sale is common during the busiest holiday shopping days and timed closer to Black Friday and Christmas. However, as a flash sale – by design – creates urgency among customers to buy before deals expire, it can work well during any time of the year,
Why run a flash sale in WooCommerce?
There are many benefits to launching a WooCommerce flash sale. Deals of the day can help you:
Increase sales and revenue: If the price is right, people will come. Offering discounts on products or services for a limited time will encourage people to buy quickly and buy in larger quantities than usual!
Increase brand awareness: By promoting your flash sale on social media channels and email campaigns, you can pique the interest of consumers who aren't familiar with you but have a need for your products.
Generate leads: A successful flash sale promotional campaign is likely to attract new customers to your store. You can use the opportunity to collect customer data like email addresses to send them emails with offers later on.
How do you run a successful WooCommerce flash sale?
Use the 4-point checklist below to plan a flash sale that generates sales and new customers for your store.
1. Set up price tracking
If you're going to run a flash sale, you want to make sure your customers know about it! The success of your flash sale depends on it.
WooCommerce Price Tracking by Premmerce helps ensure that your customers always know when daily deals are active on your site. The WooCommerce flash sale plugin allows users to track the price of a WooCommerce product and receive notifications when the price changes, such as during a flash sale.
The plugin makes your WooCommerce flash sale strategy more effective. This is because it allows you to send automatic notifications to customers who've already shown interest in the product that's on sale, which makes them more likely to purchase!
Premmerce WooCommerce Price Tracking
Get started offering multiple currencies on your WooCommerce store making it easier to sell products in different currencies.

Setting up WooCommerce Price Tracking is straightforward:
Download the plugin and follow the installation and activation instructions available on the Premmerce site.
Once the WooCommerce plugin is activated, a 'follow price' button will appear on all of your products.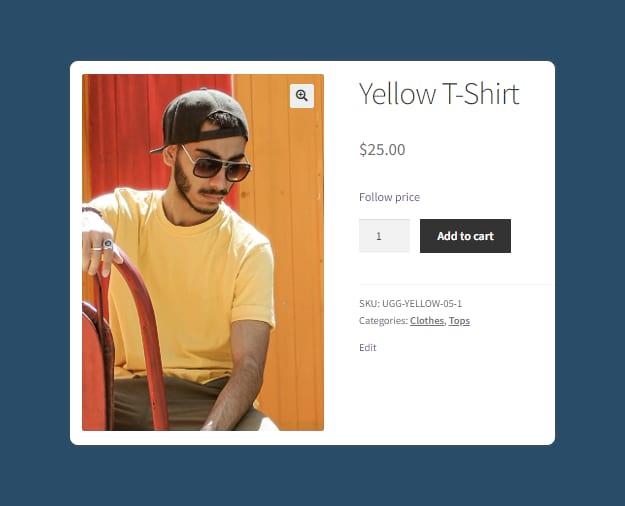 When customers click the 'follow price' button, they will be prompted to confirm they want to follow the price (if they are logged in to their account) or will be asked to enter an email address (if not already registered).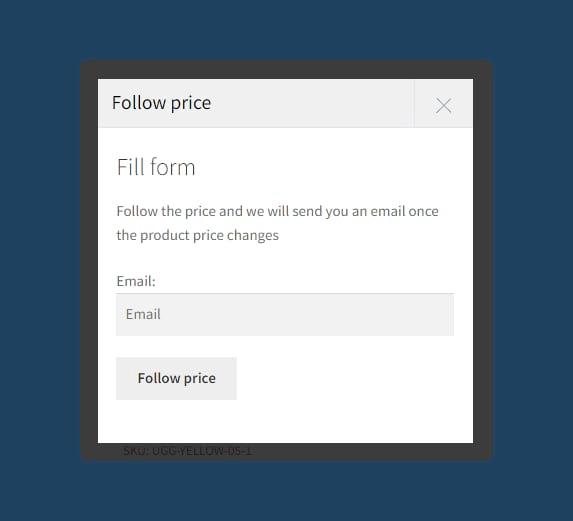 Once they have confirmed, they will receive an email notification whenever the price of the product changes. Customers can review the products they are tracking from their account page.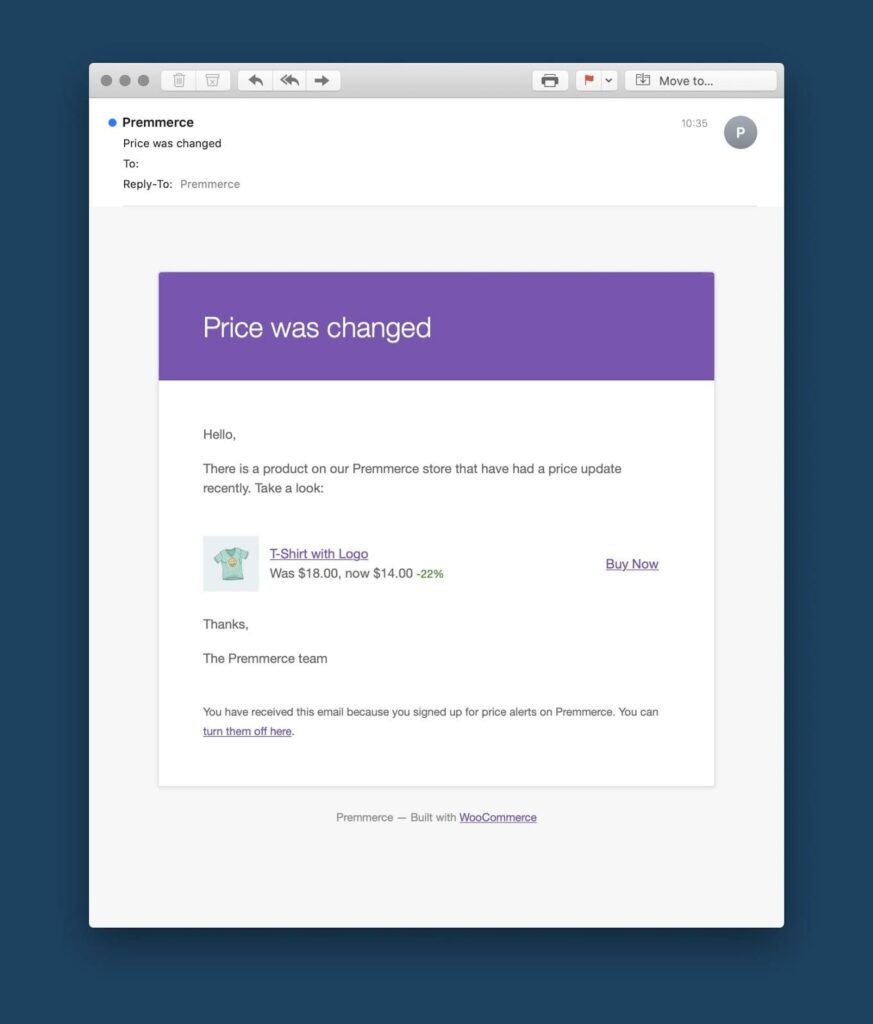 As the store owner, you can review a list of all products being tracked on the plugin admin page. You can easily keep track of products that are popular, which is helpful in creating a targeted promotional campaign for your WooCommerce flash sale.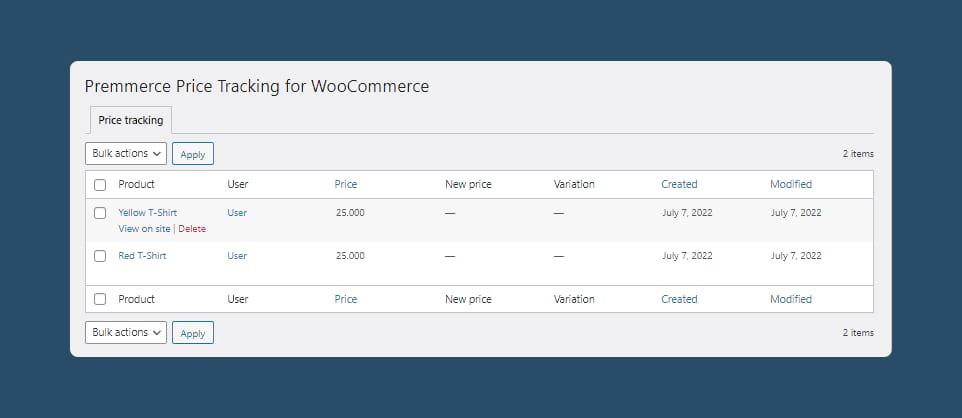 2. Promote your flash sale
Explore the best ways to promote a WooCommerce flash sale via social media and email. Facebook groups and Twitter can be good sources of promotion for flash sales.
When it comes to email, you could use an email platform built for eCommerce, like Drip, to curate email lists for customers who've shown interest in the products that are part of your flash sale.
Say you're running a flash sale on T-shirts, and specifically looking to move your store's stock of yellow T-shirts. You could send personalized emails to every customer who has looked at that specific product page in the last month, telling them that a sale is coming up. Or, you could reach out to everybody who bought a similar product, say a red T-shirt, recently and suggest they might also be interested in the yellow variety!
By segmenting your email list based on specific customer behavior, Drip allows you to target the people most likely to buy during your WooCommerce flash sale. And, using Drip's powerful analytics tools, you can see how many customers are opening those targeted emails, and how many are going on to convert. This information will serve you well in tailoring your strategy for your next flash sale.
Using Drip in combination with automated reminders from WooCommerce Price Tracking will ensure that as many of your customers as possible are aware of your flash sale, and contribute to more conversions.
3. Schedule and run your flash sale!
There are two main ways to set up a flash sale in WooCommerce. You can set up a scheduled sale using WooCommerce's default product options. For this, navigate to the products you want to put on sale in your WooCommerce store's backend, add your preferred sale price under Product data > General > Sale price, and click 'Schedule' to set the sale start and end dates.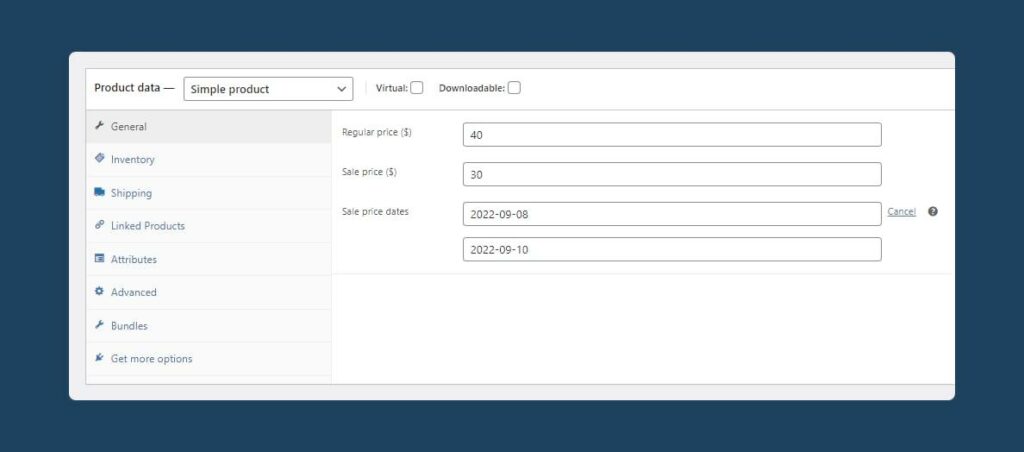 This option is fine if you only have a few sale products that you want to discount. But if you want to run a flash sale across entire product lines or even your whole store, the process can be incredibly time-consuming and impractical. In these cases, you are much better off using a WooCommerce flash sale plugin.
You can set up and schedule flash sales using the free plugin Finale Lite:
Download and install the discount plugin.
In the WooCommerce backend, navigate to XL Plugins > Finale Lite, and click 'Add New Campaign'.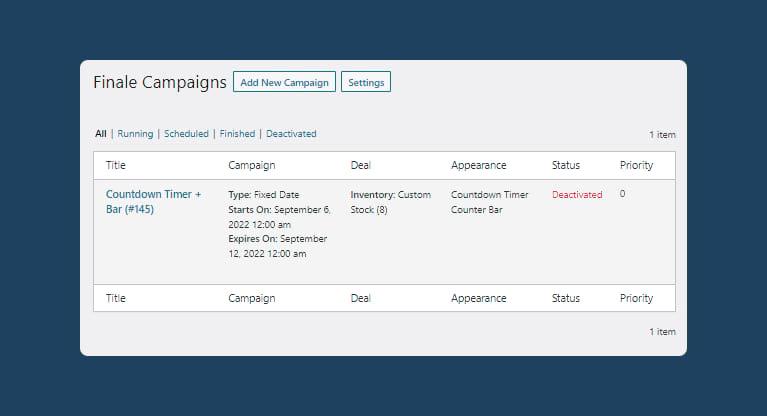 From here, you can configure the parameters of your flash sale, including:
the scheduled date;
the discount you want to offer (percentage discount or fixed amount on the sale or regular price);
the amount of stock you want the discount to apply to (for example, if you only wanted to sell 10 units of a product at a discount); and
how you want to display the discount on your site's front end.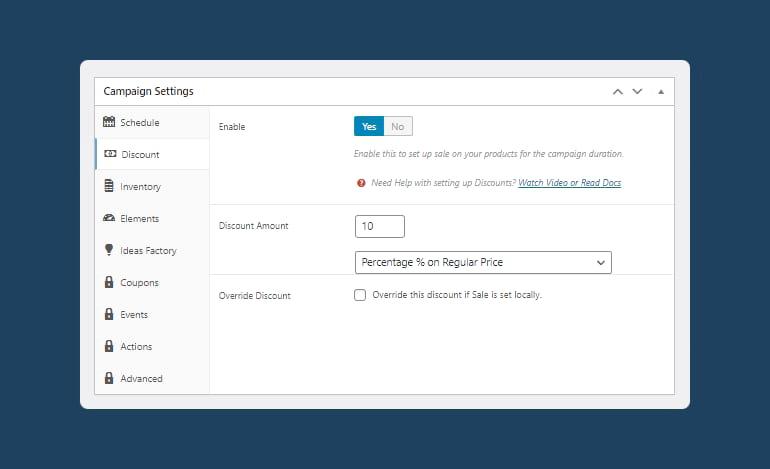 Finally, you need to configure the rules of the sale. A simple rule is for the sale to apply to all of your products, but you can also configure the sales campaign to only apply the discount based on variables such as product name, product category, price, stock status, country, membership status, and much more. For the purpose of this example, we'll set a discount on all products in the category 'T-Shirts'.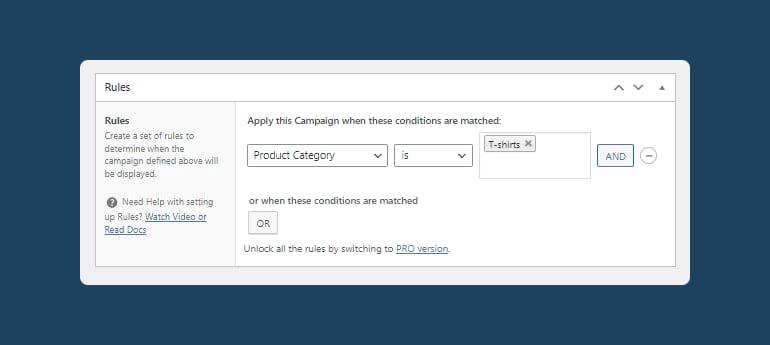 Once you reach the scheduled time, your flash sale will automatically start. If you have configured the plugin to show a countdown timer on each product page, it will automatically be displayed as soon as the campaign begins.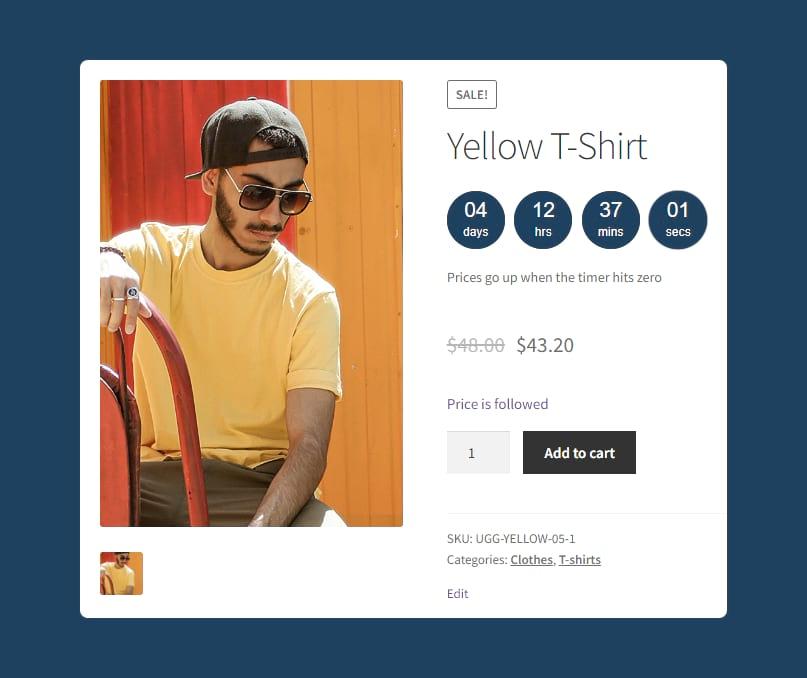 When your flash sale starts and your product prices drop, customers who have followed those product prices using WooCommerce Price Tracking will be informed that their followed products are now on sale.
4. Analyze your flash sale
Setting up an analytics tool specifically built for eCommerce, such as Meteorik, before your flash sale will help you understand which of your products are the most popular and likely to perform well in a flash sale. Meteorik's segmenting system allows you to filter your sales reports by product, variation, category, or brand/vendor. You can see your top-selling products and those that need more marketing push (such as a flash sale), and which you might consider stocking fewer of.
Having Meteorik set up for your flash sale will also tell you which products performed or converted well during the sale, and which didn't. It will help you decide which products to target the next time.
From Meteorik's variations page, you can view how each product is performing at the variation level – that means you can analyze data from any product with its own distinct SKU code. You can look at performance over time, and even get detailed reporting on sales and revenue.
Once your flash sale has ended, take a look at the numbers: which products, categories, or variations sold well? Which products should you order more of? What should you do differently the next time?
You can see the impact the sale had on your revenue, and even gain insights into variables like the number of buyers who were new customers versus returning customers. It will help you understand how your flash sale was received, what worked and what didn't, and the improvements you can make the next time around.
Launch a successful flash sale
A flash sale is an effective way to:
Increase revenue
Boost customer engagement
Get rid of excess stock
Increase brand awareness
The success of your WooCommerce flash sale depends on the number of customers you're able to attract. Social media and email outreach campaigns are essential to get the word out, but price tracking is the game-changer that will push customers to buy.
WooCommerce Price Tracking by Premmerce keeps your customers in the loop about the daily deals on your site. They can sign up to follow the price of a product they're interested in and receive a notification when that product is available at a discounted price during your flash sale.
Compatible with all popular WordPress plugins and themes, including Elementor, Divi, Astra, Avada, and OceanWP, it is the WooCommerce flash sale plugin you need. Get WooCommerce Price Tracking without delay and watch your short-term sales and leads pipeline soar.
Premmerce WooCommerce Price Tracking
Get started offering multiple currencies on your WooCommerce store making it easier to sell products in different currencies.

Comments
Ready to Get Started?
Join over 100,000 smart shop owners who use Premmerce plugins to power their WooCommerce stores.
Get started