Hit the Light With the Top 10 Essential WooCommerce Themes 2019 [COMPARISON]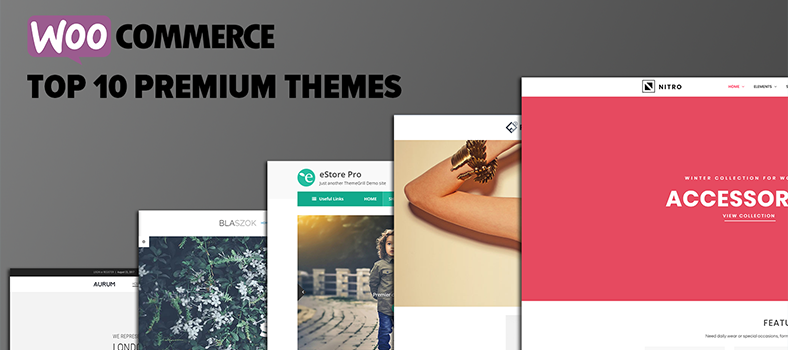 Template or theme, as WordPress users call it, is one of the most important tools in every CMS or ecommerce platform. That's what, to a great extent, defines the quality of the display of the features and the speed of customization, regarding the end user's needs.
The market of WooCommerce solutions offers plenty of premium themes from different developers. Since developing of an all-purpose theme is one of our key objectives, we evaluated the most popular existing and best WooCommerce themes by several parameters.
This article is an overview of our evaluation results. We hope it will help you choose the best theme or develop your own one.
Best WooCommerce Themes reviewed and evaluation parameters
We reviewed the top three most popular themes, available on WordPress.org catalogue (paid premium versions):
eStore
AccessPress Store
Shop Isle
We also chose the most popular and trending themes on ThemeForest:
Flatsome
KALLYAS
MayaShop
Baszok
Aurum
Nitro
In addition, we included WooStroid theme from TemplateMonster to our analysis.
Our task was not to identify the leading or the best theme, but to define a set of must-have premium theme parameters; and also determine some useful features, which are not offered by every theme, but should be considered when choosing your template.
Must-have features
To start, let's define a range of features you can find in every theme mentioned above, as these features are essential for every high-quality theme.

Responsive and retina ready
This is an obvious must-have, as in most countries mobile share of web traffic is catching up with desktop, if not surpassing it.
HTML5, CSS3 ready
Clean and valid code
SEO Optimized
It is essential to make sure that the theme meets all SEO requirements and supports proper display of all necessary SEO features.
Optimized for speed
This is one of the most important parameters, which largely depends on the theme's quality, its layout, and different scripts usage, that can slow down website loading speed.
One click demo content
A good theme must have the capacity to install all the demo data to make it look as on the demo. It will make further settings much quicker.
Child Theme support, Automatic regular Updates
This feature is, probably, one of the most important ones, as it allows to update your theme and create your own designs without losing the option to update basic theme's features.
Documentation, Support
Premium theme should definitely have good documentation on settings and effective Customer Support Service.
WPML support, Translation ready
Each theme we tested had localization features and WPML plugin support, which is the most popular among translation plugins.
Must-have layouts
Theme design is a matter of taste, personal preferences and needs. However, every premium template must support design and adaptation for the following WooCommerce pages and features:

All Base WooCommerce
These are all the features set in the default version of Storefront theme from WooCommerce developers.
Blog
Contemporary marketing demands blog design to be set and displayed for any WordPress website.
Contact Forms
The layout for using various forms on different pages of the website is also indispensable.
Portfolio/Gallery
Each premium theme we reviewed had portfolio/gallery layouts set. Although, not every online store use these features.
Must-have customization options
Using at least the most essential options for customizations of your online store is very helpful, as a great part of work can be done without involving web programmers and front-end developers.
The themes we reviewed had the following customization features:
A lot of options in customizer
Almost all tested themes' customizers allowed you to change background color, overall website and separate elements color, color of fonts, logos, and other elements of design.
Different product widgets and shortcodes
Among the widgets and shortcodes supported by the themes we tested are default WooCommerce widgets and other settings for displaying product lists, comments, articles, photos, etc.
Premium customization options
We're finished with the review of the most essential features of a good WooCommerce theme, demonstrated in the best WooCoommerce themes we mentioned in this article. Let's move to the other features, represented in just some of the themes we tested. Next to each feature, we'll put the numbers of themes, that had this feature, respectively. For example, 5/10 means that 5 out of 10 tested themes had the feature.

First of all, let's review additional customization options through settings or customizer.
Different Blog layouts (8/10)
Possibility to choose different styles for blog display
Different header layouts (7/10)
Possibility to choose different styles for website header
Different footer layouts (3/10)
Different catalog page layouts (2/10)
Different product page layouts (3/10)
Different homepage layouts (3/10)
Main Page Builder / Visual Composer (6/10)
Possibility to arrange main page blocs and widgets in any order, creating your own page structure; or using build-in Visual Composer, the most popular WordPress plugin for these purposes.
Boxed and full layout (4/10)
The option to choose whether to display the online store on the full width of the browser, or on a given width for all browsers, regardless of the size of the window.
Additional built-in features
Here is the list of additional built-in features, which are not included in the default WooCommerce theme.

Wishlist (10/10)
Probably, the most popular feature, not included in the default WooCommerce theme, but integrated to all the themes reviewed.
Compare (10/10)
Possibility to compare the products in your online store is also built-in to every theme tested.
Slider (10/10)
One of the most popular elements is slider support on the main page.
Megamenu (6/10)
Possibility to create a variety of custom menus, add different columns and other elements, except the text items of the menu.
Live Search (4/10)
Quick search with auto-mapping of results as you type. It's a very handy option, but, oddly enough, not many premium templates have it integrated.
Catalog mode (2/10)
Possibility to remove "Add to Cart" button and the option to buy from the store.
Quick view (4/10)
Possibility to quickly view the product from the catalog without switching to the product card.
Advanced Products Filter (3/10)
Advanced filter by attributes on the catalog page.
Advanced Thumbnail (3/10)
Possibility to view more than one photo when hovering over an image of the product in the catalog.
Mailchimp integration(2/10)
Size Guide (2/10)
Attaching the size table is a very important option for clothing and shoes stores, as it makes it easier for the customer to choose.
Smart image lazy loading (2/10)
This option is often enclosed with various caching plugins, but two themes had it built-in by default.
Additional Options
We grouped the following options, because they are available in many themes, but they are far from necessary for all online stores, and it is difficult to include them in the lists above.

Video guides (3/10)
A certain part of the themes, besides the documentation, had video guides, which may be important for users who are used to this type of content.
RTL, Right to Left Support (4/10)
Some themes had right to left scripts support, mainly for the Arab writing.
PSD UI source files (3/10)
Providing PSD files to allow the designer to make changes to the theme design.
600 plus google fonts support (6/10)
Icon fonts collections (6/10)
Providing a whole collection of icons for the usage in the online store.
Some less popular features
Below is the list of the features that were noted only in one of the themes reviewed.

In-Stock Alert
Sale Countdown
Built-in banner system
Popup cart option
Maintenance mode
10+ widget areas
Pricing tables
Unlimited features tub on product page
Account page layouts
Buy Now Button
Build-in modal window
Advanced Custom Fields support
Conclusion
When choosing a theme, it's better to pay attention to must-have features, layouts, and customization options. Buying the theme without all this stuff, you put yourself at risk of spending a lot of money and time to make it function properly.
Many other features that may seem to you as must-haves, as we have noted, are not available in a lot of themes. Therefore, if any of the features listed in this article are very important for you, then check carefully if the theme you want to use has it integrated.
Also, in addition to all the features listed, there are also a lot of other features we've included to our features list. None of them are supported by the themes reviewed. As we develop our own theme and explore best WooCommerce themes options in more detail, we will share our experience with you. Subscribe to our updates and feel free to ask any questions. We will gladly answer them.
P.S. We completed our first WooCommerce Themes and you can test them and give your feedback.
Comments
Ready to Get Started?
Join over 100,000 smart shop owners who use Premmerce plugins to power their WooCommerce stores.
Get started