6 Best Multi-Currency Plugins for WooCommerce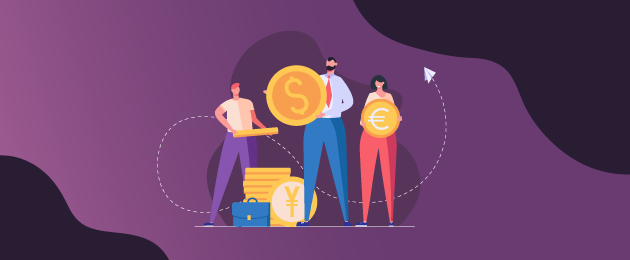 Trying to sell products globally? A WooCommerce multi-currency plugin can make international sales easier for both you and your customers!
The global eCommerce industry offers huge potential to store owners who are willing to invest in improving their international sales profile. In 2021, retail e-commerce sales amounted to approximately 4.9 trillion U.S. dollars worldwide, with this figure forecast to grow by another 50 percent by 2025. International markets often present great opportunities, but they present several unique challenges as well. One of those challenges is supporting international, inter-currency payments.
How do I accept multiple currencies in WooCommerce?
WooCommerce is built to allow store owners to sell their products to people all around the world, with built-in support for a wide range of currencies and options for setting up different tax and shipping rates for different countries. But it comes with limitations. WooCommerce by default does not offer multi-currency support; your store must have a default base currency, with all transaction costs being calculated on that basis.
This leads to a poor experience for any customers who aren't able to pay in your store's base currency. Your customers won't have a clear picture of what they are paying, owing to hidden international transaction fees and fluctuating exchange rates, and will be more likely to seek out stores where they can pay in their preferred currency.
Fortunately, setting up a multi-currency WooCommerce store is very straightforward; you can add the functionality to accept multiple currencies in your store within minutes using one of the many multi-currency WordPress plugins available, with no need for coding or technical expertise.
In this article, we will look at the 6 best plugins for setting up your store to serve customers paying in any currency.
Top 6 WooCommerce multi-currency plugins
When searching for a WooCommerce multi-currency plugin for your store, you will want to look out for the following:
Seamless multi-currency functionality for your WooCommerce store
User-friendly international shopping experience
Competitive pricing
Ease of use for both the administrator (you) and customers
Unique value that stands apart from alternatives
Finding a plugin that ticks all of these boxes can be difficult. Below, we've covered our top six picks for the best WooCommerce multi-currency plugins.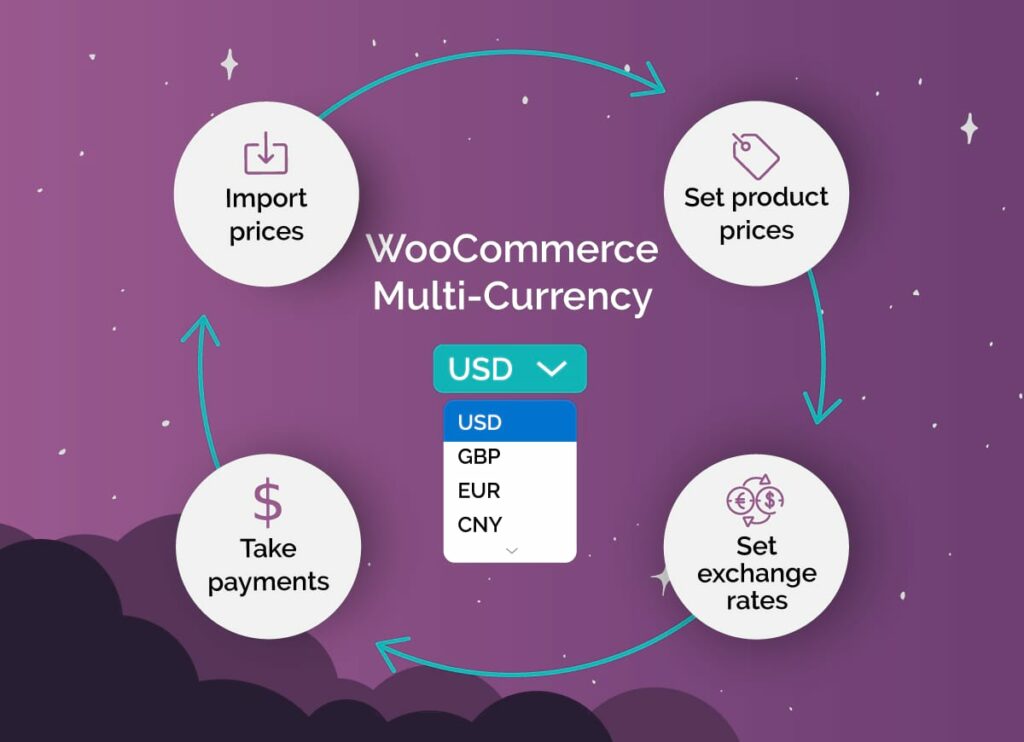 WooCommerce Multi-Currency is an all-in-one multi-currency eCommerce plugin. It enables you to create a multi-currency store in a matter of minutes.
There are a few customizable areas where WooCommerce Multi-Currency stands out from the competition:
Set the base currency at product level
With WooCommerce Multi-Currency, you can set a different base currency for different products, rather than all prices in your store being calculated from your store's default base currency. This allows you as the store owner to price specific products for different regions or markets. All converted prices for each product are calculated from their chosen base currency, rather than your default store currency.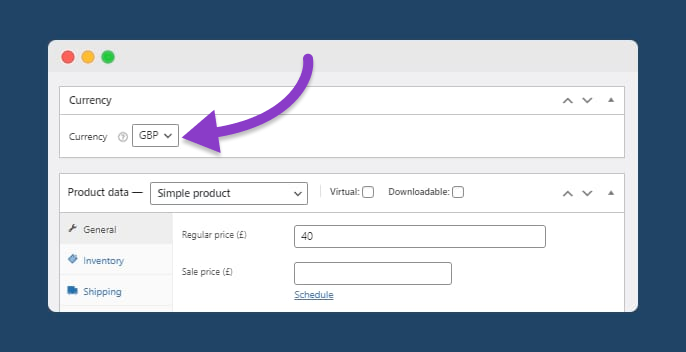 This feature is especially useful if you have certain products which sell very well in specific regions or countries – you can set the base price for these products in the currency of the region or country where they are most popular. For example, if you know your store's Red T-Shirt sells very well in the UK, but your Blue T-Shirt sells better in the USA, you could set the price for the former in GBP and the latter in USD, as shown below: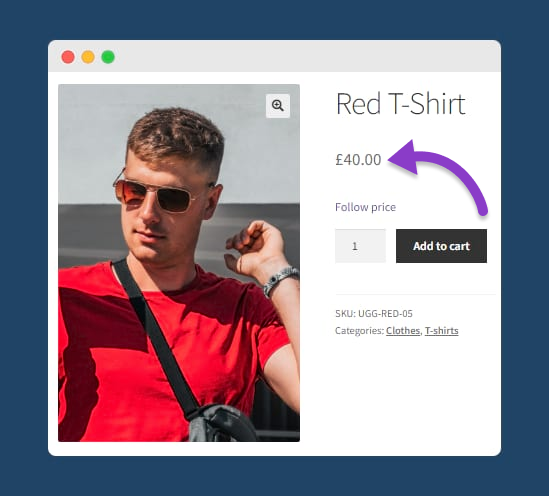 When it comes to how prices are displayed on the front-end of your store, your customers can select their preferred currency option from a drop-down menu, using WooCommerce Multi-Currency's currency selector widget. So, if you lived in the UK and wanted to buy a Blue T-Shirt, you could still view the price in GBP; the price would just be calculated based on the conversion rate for the chosen base currency for that product, in this case USD: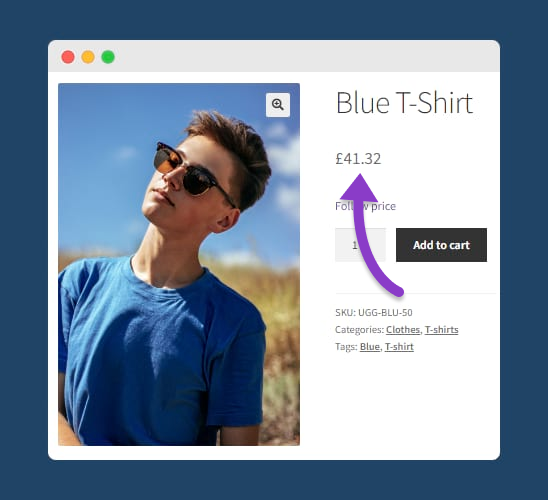 Using WooCommerce Multi-Currency, your customers can display prices in their selected currency everywhere they could need – from the product page, to the checkout page, all the way to the order receipt. This means that there are no surprises when your customer reaches the checkout.
Aside from the obvious improvements to user experience, pricing different products in different currencies also has other benefits:
Meet supplier requirements – frequently, suppliers will insist that you sell their products for a specific price in different regions. If you are working from a single base currency for your store, you are tied to the conversion rates from that currency to whichever other currencies you are selling in. This means that you don't have full control over the exact pricing of your products in different territories.
Optimize your pricing – if you know a product sells better in a certain region, you can optimize the pricing for that product in the currency people are most likely to buy it in. For example, a price of $19.99 is perceived as significantly lower than a price of $20.00, making customers more likely to purchase a product priced in this way.
Protect your customers from exchange rate fluctuations – by pricing products in the currency customers are most likely to buy them in, you avoid subjecting them to additional costs caused by changes in exchange rate or international transaction fees.
Customize your currencies and exchange rates
WooCommerce Multi-Currency offers powerful currency customization and total control over the conversion rates between your store's main currency and any additional currencies which you want to support. You can add unlimited currencies and set custom exchange rates – there is even an option to create two identical currencies with separate currency exchange rates. This enables you to import price lists with different rates for the same currency, from separate suppliers.
This is especially useful if you want to apply a different markup to products from different suppliers. You can create an internal custom currency for each individual supplier, then apply distinct currency conversion rates so that the markup for each supplier is automatically applied when you import a price list from that supplier, as WooCommerce Multi-Currency also enables you to import price lists in different currencies. The plugin integrates with the leading WordPress import extensions like WP All Import Pro and its WooCommerce add-on to make the importing process seamless.
Let's take a look at a practical example. Say you have just imported a new price list from your T-shirt supplier, which lists the price of a Yellow T-shirt as $50.00. You want to add a 20% markup to the supplier's prices, but you don't want to manually edit every single product. You can do this by adding an internal custom currency with WooCommerce Multi-Currency. Simply add a separate custom currency in USD for the supplier, with an exchange rate of 1.2 when converting to USD, and deselect "Available for user on frontend". This will then not be visible to users on your site: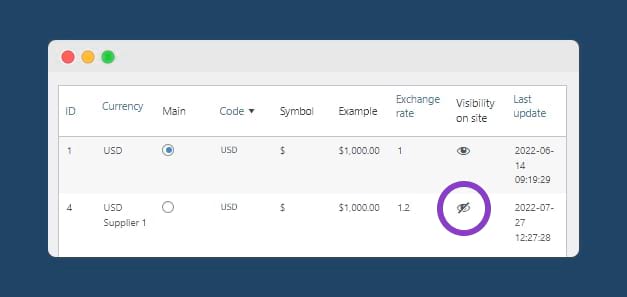 Then when you import price lists from this supplier, import them in this custom currency. The base pricing for each product will be listed in the internal custom currency, but this won't be visible on the front end, so when you display the price in USD, the 20% markup (i.e. the conversion rate between the two currencies) will be applied: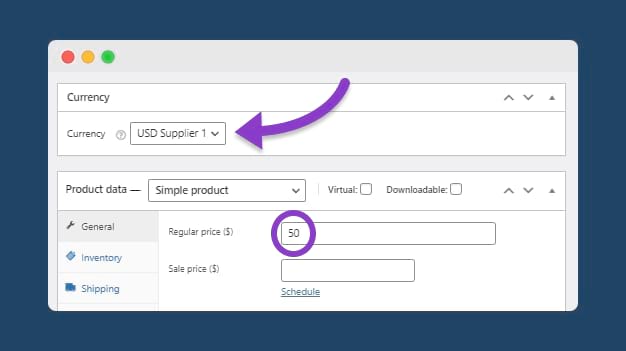 By using WooCommerce Multi-Currency's powerful currency and conversion rate customization in tandem with the ability to import price lists in different currencies, you can avoid the need for you to individually price a large number of products every time you get a new price list from a supplier. With WooCommerce Multi-Currency, the hard work is done for you.
Aside from the ability to add an unlimited number of currencies and set custom conversion rates, WooCommerce Multi-Currency also comes with all of the customization features you need to display currencies in a user-friendly price format on your store's front-end:
Support for all standard currency symbols
Configuration options for currency symbol position (left/right), number of decimals, and thousand/decimal separators
All the features required to create a conversion-optimized global store
The ability to set different base currencies for different products and the extensive customization options available for different currencies and exchange rates are two of the features that set WooCommerce Multi-Currency apart from other multi-currency plugins, but this is not all the plugin can offer. Its extensive list of features also includes:
Automatically update conversion rates through integration with currency converter extensions
Auto-detect your customer's country using geolocation (and display that country's currency on the store front-end)
A currency switch widget, with a shortcode provided so you can display it anywhere on your site
Caching plugin integrations and compatibility with multilingual plugins like WPML
…All for the low price of $49.99 per year! Below are just a couple of things which customers have to say about the plugin:
"My store works in a country where there is not a completely stable currency and this plugin helps me to easily adjust the prices of goods."

Rasheed Bydousi
"Nothing to say, it's just the perfect plugin that saves me a lot of time and money! Thank you!"

Christine
WooCommerce Multi-Currency
Get started offering multiple currencies on your WooCommerce store making it easier to sell products in different currencies.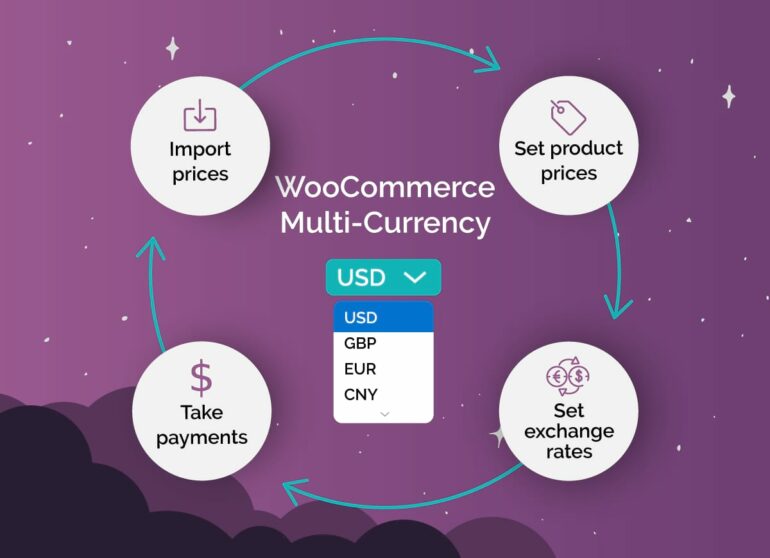 WooCommerce Multi-Currency by Tiv.net inc enables WooCommerce businesses to manually or automatically establish exchange rates. While it lacks many of the advanced features that WooCommerce Multi-Currency by Premmerce offers, it has some important ones, including automatic geolocation. It displays the product price in the currency the customer uses based on their location.
WooCommerce Multi-Currency is a simple extension meant to switch currencies and recalculate rates on the go. The user simply uses the sidebar widget to make their currency selection; the prices on the store can then be recalculated immediately.
As the administrator, you, the store owner, can add one or more additional currencies manually. The base prices are always based on your store's default currency. Prices are rounded after conversion for a professional appearance.
WooCommerce Multi-Currency also comes with a reasonably low price of $99 annually. It's an inexpensive option with a simple user interface that makes it easy to apply to your store.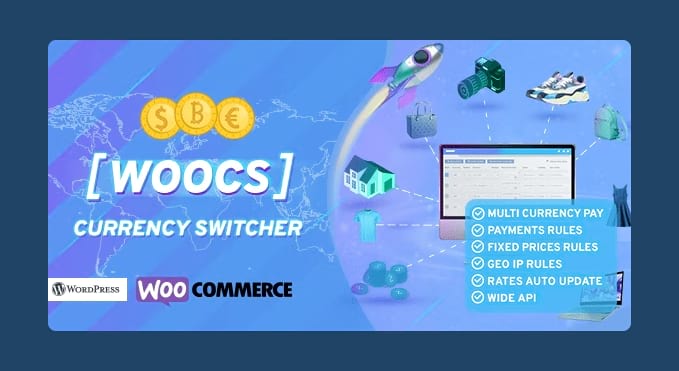 WooCommerce Currency Switcher comes with a few functionalities that place it apart. You can use the plugin to set fixed price rules based on location. GeoIP rules can be applied so that your store switches products, prices, and currencies based on the shopper's location.
Other features of this plugin include:
Welcome currency (i.e. set currency that customers will see on their first visit to your online store)
Automatic or manual rate setting
Amounts rules (minimum order for free delivery, coupons, etc.)
Prices based on user role
Show/hide payment gateways based on currency
You can add any currency to your WooCommerce store and take advantage of the unique features and typical features alike. However, some customers complain that the plugin's many features contribute to an overly complicated design. Otherwise, there are some small challenges reported, such as displaying the wrong currency or other issues related to slow/faulty IP address detection.

YITH Multi Currency Switcher adds some intuitive functionality to multi-currency store creation. Prices are displayed in applicable local currencies but settings can be altered to ensure the best currency for the shopper's location is displayed. That way, you don't always need to manually add all the currencies you otherwise would.
Alternatively, administrators can set up specific currencies based on location. They can then apply conversion rates, either manually or automatically.
In general, YITH isn't missing any of the basic multi-currency plugin functions. By default, you can ready your WooCommerce store for international sales with an unlimited number of currencies. There is a currency switcher widget everywhere on your site, enabling users to switch currencies themselves. Geolocation, some custom rules, including payment method controls by country, and optional exchange fees are also available.
The main drawbacks customers complain about are minor technical difficulties and slow customer support responses.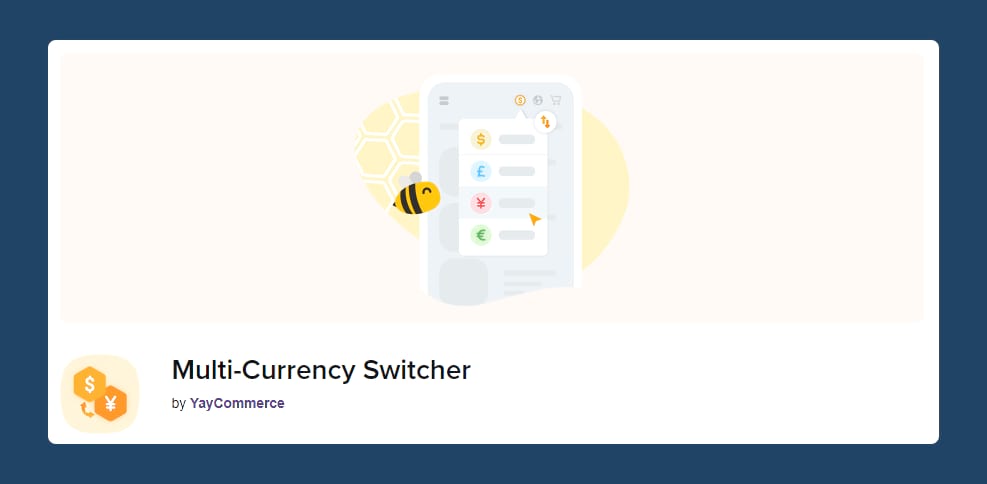 Multi-Currency Switcher is an inexpensive plugin at $49.99 annually. It is, however, perhaps the simplest tool on this list, lacking many of the advanced features that WooCommerce Multi-Currency has.
Multi-Currency Switcher comes with a geolocation tool for currency display and a widget for customers to switch to other available currencies. Despite the name, this is not just a currency switcher plugin; it also features a currency converter, price-by-country settings, additional conversion fee settings, automatically updated exchange rates, custom price-rounding settings, and checkout rules.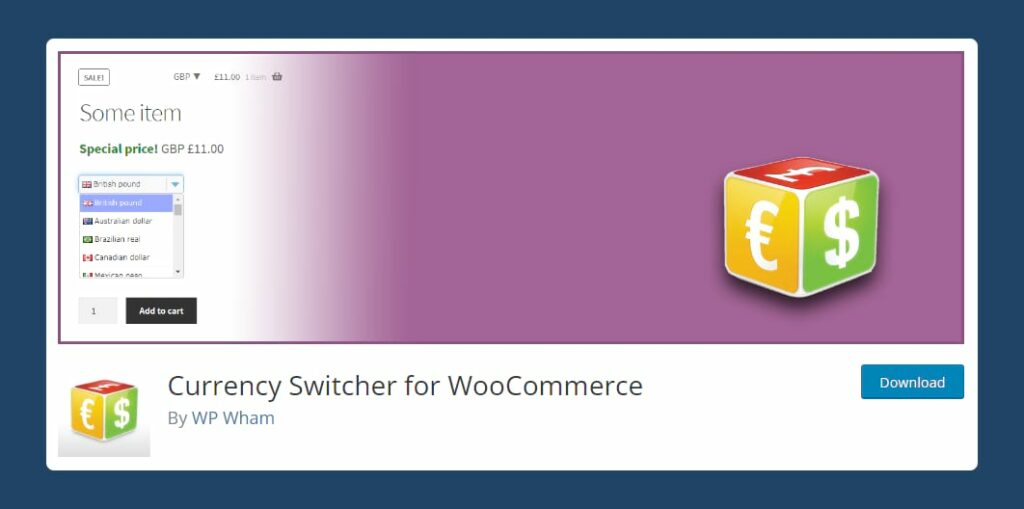 Currency Switcher for WooCommerce is a free plugin for multi-currency WooCommerce stores. It enables customers to purchase products from your store with different currencies. Geolocation is used to identify the right currency to use. You can also set rules for pricing for shoppers in different countries.
Currency Switcher for WooCommerce is one of the best free offers for multi-currency support on WooCommerce. However, the free version is limited to a maximum of three currencies, which means it isn't a good fit for stores that operate globally. In order to support additional currencies, you will need to upgrade to the premium plugin, starting from $39.99.
Why WooCommerce Multi-Currency stands out from the rest
In the end, WooCommerce Multi-Currency stands out for its great performance and unique advanced features:
Set base currencies for individual products, not just at the store level, allowing you to set a fixed price for your products in the most relevant currency
Create unlimited currencies and apply custom conversion rates
Create identical currencies with different exchange rates so you can use the same currency for different purposes
Import price lists in different currencies
Automatic geolocation shows your customers the currencies and rates you want them to see
Include a currency convertor widget on any page of your site so your customers can always view your prices in their preferred currency
Most alternatives scratch the surface in some of these areas but do not boast the extensive range of features that WooCommerce Multi-Currency offers. Overall, these additional functions mean that WooCommerce Multi-Currency provides a clear edge to any WooCommerce store looking to sell internationally.
Start selling in multiple currencies today
If you're going to sell to customers in different countries and currencies, a multi-currency plugin is a no-brainer. These plugins help you improve the experience for customers who want to pay in different currencies, and protect them from exchange rate fluctuations and hidden international transaction fees, while also making your life easier as the store owner.
WooCommerce Multi-Currency from Premmerce ticks all the boxes when it comes to multi-currency functionality. But it then goes above and beyond with the level of customization available, its suite of comprehensive and flexible features, and its competitive pricing. And all in a plugin that is easy to set up and start using within minutes.
Try WooCommerce Multi-Currency now with a 100% No-Risk 30-day Money Back Guarantee.
WooCommerce Multi-Currency
Get started offering multiple currencies on your WooCommerce store making it easier to sell products in different currencies.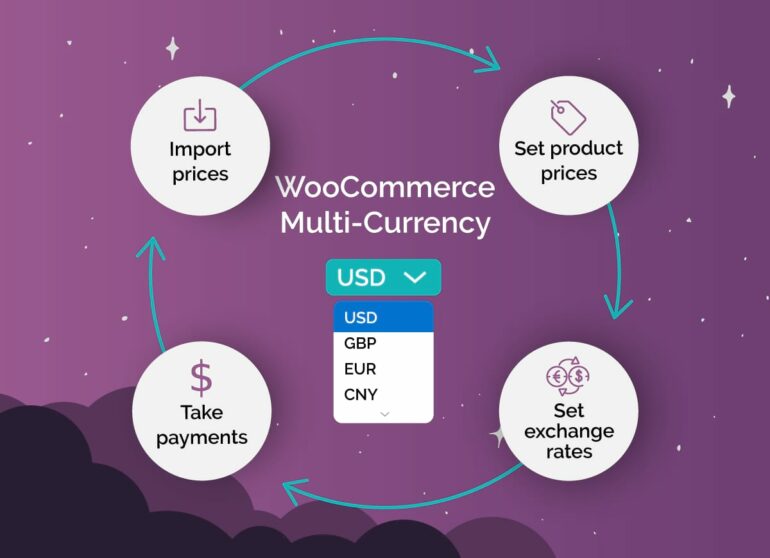 Comments
Ready to Get Started?
Join over 100,000 smart shop owners who use Premmerce plugins to power their WooCommerce stores.
Get started