The Best WooCommerce Product Designer Plugin Solutions for Every Need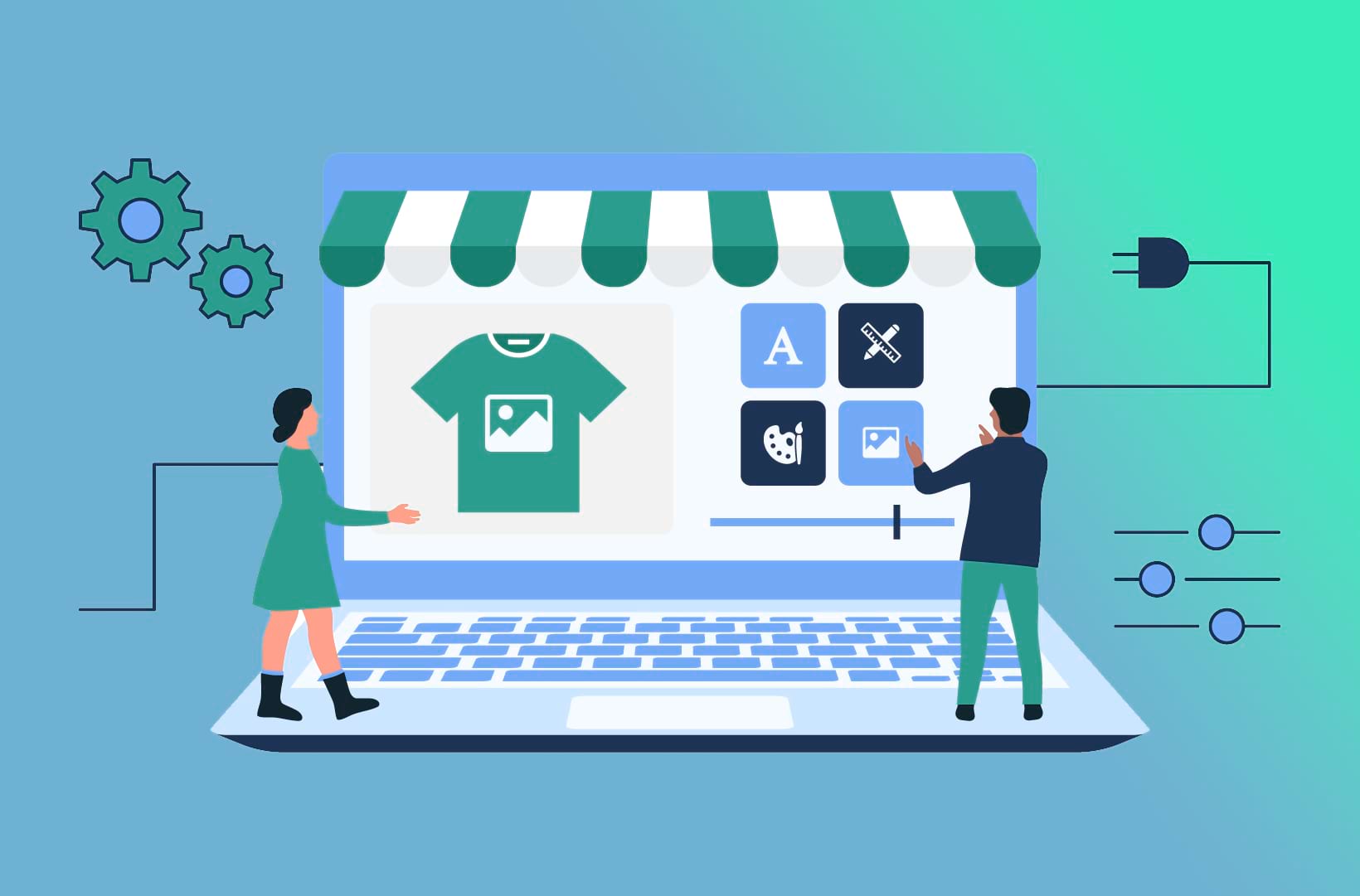 Have you ever wondered how customers could design custom products on your WooCommerce store? Personalization plays a huge part in attracting and retaining customers. It adds interactivity to your store, can increase the perceived value of products, and even reduce the likelihood of cart abandonment (after all, customers who have spent time personalizing a product are less likely to navigate away from the page without making a purchase).
WooCommerce product designer plugins are specialized and powerful, allowing customers to create custom designs and personalize products in real-time. And there's a massive variety of products that can be personalized, including T-shirts, phone cases, and business cards. As a result, business owners can harness the power of designer plugins to differentiate their offerings, cater to evolving consumer demands, and provide a unique shopping experience.
In this article, we'll delve into the world of WooCommerce product designer plugins. Whether you're a small business owner, marketer, or product manager looking to enhance your online store's performance, our guide will give you all the information you need to pick the plugin that best suits your brand.
Introduction to WooCommerce product designer plugins
WooCommerce product designer plugins allow WooCommerce stores to provide customization options for online products. Simply put, the plugins let customers create designs and personalize products (like apparel and accessories, promotional items, print materials, and more) using elements like text, images, colors, and patterns. With these plugins' help, customers can customize their items directly on the store website before they place their order.
Personalization is a highly-sought after feature and a growing trend. According to a 2020 Salesforce survey, 62% of consumers prefer personalized products and services. It's easy to see why – personalization opportunities offer uniqueness and individuality in a marketplace often filled with mass-produced items. Customers can express their individual style and connect with the product they've designed, and, what's more, personalization caters to the ever-present consumer desire for exclusivity and ownership.
Fortunately, several product designer plugins can help business owners meet this rising demand and offer a unique shopping experience that raises their store above the competition.
Why should you use a custom product designer plugin?
Let's take a look at how using custom product designer plugins can enhance your WooCommerce store:
Elevate customer experience: Allowing your customers to design and personalize their products helps deliver a superior shopping experience.
Boost conversion rates and order value: Customers are more likely to complete their purchase, and even opt for premium customizations, when they can add a personal touch to products.
Outshine your competitors: Offering unique, customizable products gives your online store a competitive edge – and helps your brand stand out in the crowded eCommerce space.
Cultivate customer retention and loyalty: Customers who have invested time personalizing a product are more likely to return for repeat purchases. This boosts loyalty and creates a community of dedicated shoppers.
Foster brand identity and customer engagement: Custom product design doesn't just reflect your customers' tastes; it also amplifies your brand identity and encourages interaction.
Social sharing opportunities: Product designer plugins often allow customers to share their unique creations on social media. This provides free advertising for your store, and increases engagement and the likelihood of attracting new customers.
Streamline the design process: With intuitive design tools, custom product designer plugins make it easy to create unique products, saving time and improving operational efficiency.
Improved inventory management: By offering customized products on-demand, you can reduce pre-made inventory and avoid overstocking or understocking issues.
What makes a good WooCommerce product designer plugin?
A wide selection of product customization plugins are available for your WooCommerce store. So, when you're considering your options, here are the key features you'll need to look out for:
Real-time product customization and previews to allow customers to see their designs come to life as they create them.
A wide range of customization options, including text, images, color picker, and patterns, to cater to various customer preferences and needs.
Support for popular file formats for uploading custom designs, including JPG, PNG, and SVG.
Integration with print-on-demand services to ensure seamless order fulfillment and reduced inventory management hassles.
Mobile-friendly and responsive design that provides an optimal user experience across different devices.
An intuitive user interface to ensure a smooth design and purchasing process for store owners and customers.
Compatibility with various themes and plugins to avoid potential conflicts and facilitate seamless integration with your existing store set-up.
You'll also need to consider the plugin's performance – a critical factor in maintaining an efficient online shopping experience. Plugins can significantly enhance the functionality of your WordPress site, but they can also slow it to a crawl if they haven't been properly optimized. This can lead to longer load times that negatively impact the user experience. In fact, a slow site could frustrate customers trying to personalize products, ultimately driving them away.
So, choose well-optimized plugins and regularly monitor their performance (using website speed test tools, like Google's PageSpeed Insights, or even specialized plugins like Query Monitor) to ensure they aren't hindering your site's load speed.
The best WooCommerce custom product designer plugins
Below, you'll find five of the most powerful product design plugins on the market – and a comprehensive overview of each solution. Keep reading to learn how the following WooCommerce plugins can add interactivity to your eCommerce store:
1. Product Manager Add-Ons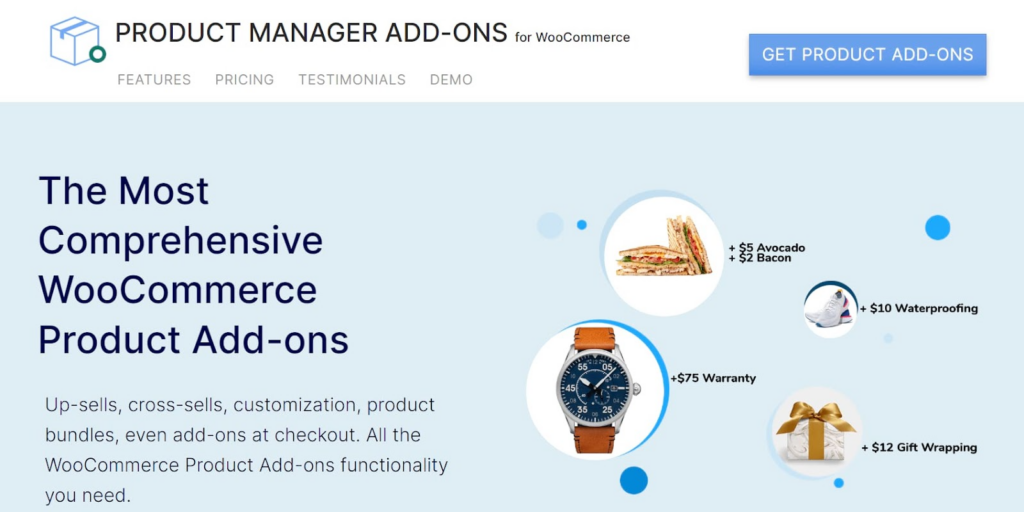 Product Manager Add-Ons from BizSwoop is a simple yet effective product add-on plugin that allows you to customize products at different stages of the customer journey. You'll be able to include add-ons on cart and checkout pages, introduce new products with samples, and enjoy responsive customer service support.
Key features include:
Unlimited customization options and a range of different input fields, such as checkbox, dropdown, radio button, text, and file upload.
Compelling visual add-ons and upsells.
Options to show, hide, and customize the product price calculation line items and totals for product add-ons.
Checkout and cart product add-ons
Quantity and order frequency limits.
Straightforward creation of product bundles.
Product Manager Add-Ons, available from $49 a year, is an excellent pick for anyone needing a cost-effective add-on tool packed with features.
2. Product Designer for WooCommerce

With Product Designer for WooCommerce, you can design and customize products that drive customer satisfaction and revenue growth on your WooCommerce site. In addition, the plugin makes it incredibly easy for customers to create, save, and even download their designs, boosting the overall shopping experience.
Key features include:
16 ready-to-use product templates.
Customizable edit zone.
Save and retrieve product customizations.
Multiple product attributes.
Individual component pricing.
If you have a lot of returning customers (and if those customers have their own accounts), then Product Designer for WooCommerce could be your best match. The plugin is available at $129 a year.
3. Variation Swatches for WooCommerce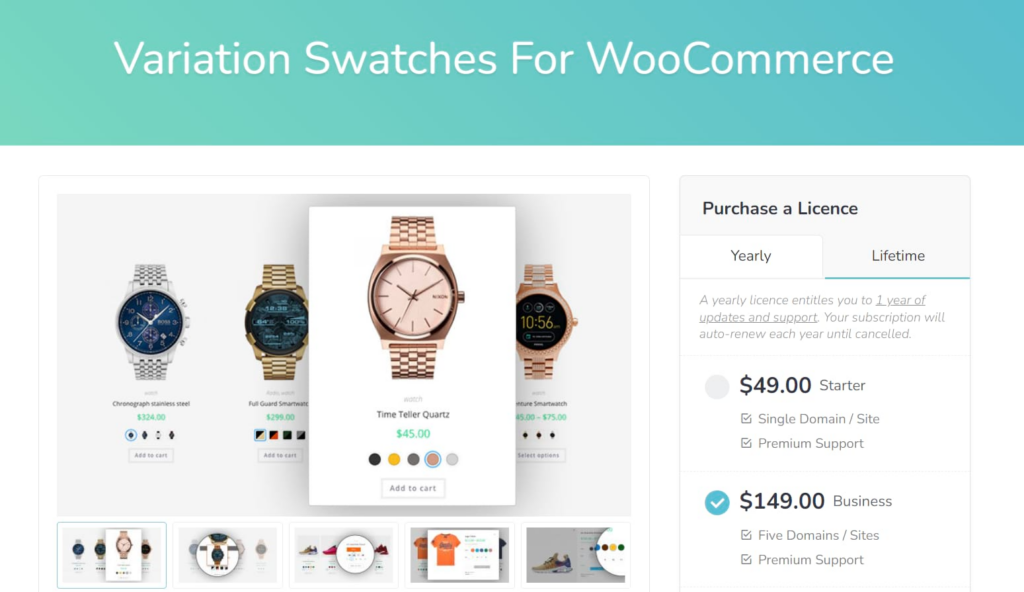 The Variation Swatches for WooCommerce plugin lets customers create color, image, and button variation swatches on your WooCommerce variable product pages. Variation Swatches for WooCommerce is compatible with most WooComerce themes and plugins – including Elementor page builder – and is frequently updated with new features.
Key features include:
Convert variation select options from a dropdown to buttons.
Create attributes into color, image, and label swatches.
Rounded or squared attribute options.
Option to cross out, blur, or hide out-of-stock variations (remember to notify customers when variations are back in stock).
Tooltip features.
Reviews highlight the fantastic customer support provided by Variation Swatches for WooCommerce – which means that it's well worth considering if you want reliable, high-quality support.
However, while Variation Swatches is a particularly good pick if you'd like to display pre-defined product variations, you'll need a more robust solution in order to offer customers more flexibility when it comes to creating their own custom products. The plugin is available from $39.00 a year.
4. Extra Product Options for WooCommerce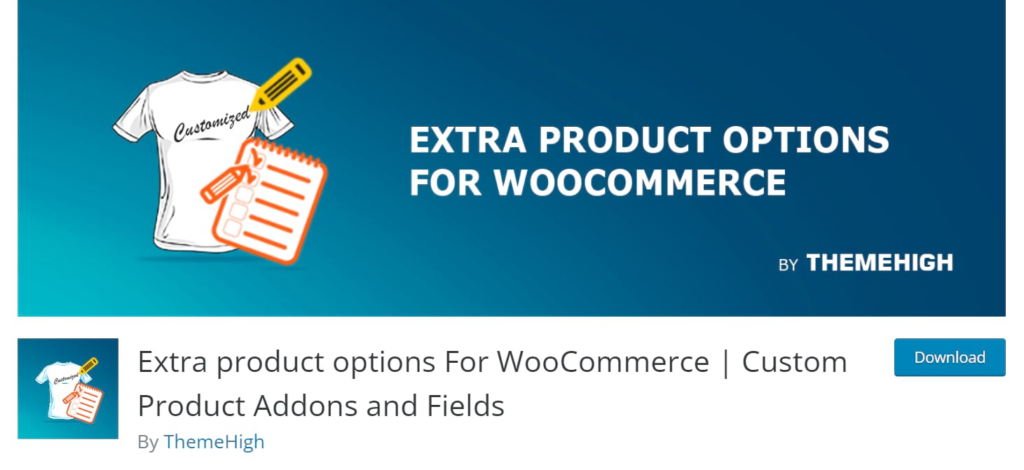 Extra Product Options is a simple yet comprehensive product design plugin that offers an intuitive way to create custom products in WooCommerce. Make your WooCommerce product pages more functional with custom fields and hooks, and easily arrange, duplicate, or delete fields as necessary.
Key features include:
Twenty-seven custom product field types.
Conditional display of fields and sections.
Ability to assign additional prices with extra fields for the products.
Custom validations for complex fields.
Date and time picker.
Store owners can try a free version of Extra Product Options for WooCommerce. As a result, it's an ideal pick for anyone working with a tight budget.
5. WooCommerce Multistep Form & Product Designer

Easy-to-use and responsive, WooCommerce Multistep Form & Product Designer allows you to create professional customized products or service forms in multiple steps. A multi-step approach breaks the process into more manageable segments, guiding customers through the process, adding an exciting sense of progression, and making customization less overwhelming.
Key features include:
Multi-layer product designer.
Form step designer.
Conditional logic for linking steps.
Complex product price calculation.
Automatic updates.
Because WooCommerce Multistep Form & Product Designer enables product and service customization in multiple steps, it's incredibly versatile – and pricing starts at $23 for a regular license.
FAQs
Are product designer plugins compatible with most WooCommerce themes?
Product designer plugins, including Product Manager Add-Ons, are usually compatible with most WooCommerce themes. However, you should still double-check the plugin documentation or contact the developers to ensure your plugin of choice integrates seamlessly with your theme.
What customization options do product designer plugins offer?
Product designer plugins typically offer various customization options, including adding text, images, clipart, and shapes, changing colors and patterns, resizing and rotating elements, and utilizing different fonts and styles. Product Manager Add-Ons has even more customization options, like checkboxes, text fields, dropdown lists, radio buttons, image uploads, and the ability to add fees for add-ons, among others.
What kind of support can I expect from Product Manager Add-Ons developers?
The developers of Product Manager Add-Ons offer 5-star support and a 14-day money-back guarantee – which means you'll be able to reclaim your money without a hassle if you're not entirely satisfied with the plugin. Product Manager Add-Ons also allows users to install and use the plugin before paying, and the set-up process is a breeze thanks to easy download instructions.
Is Product Manager Add-Ons suitable for all types of WooCommerce stores?
Absolutely! Product Manager Add-Ons is designed for various WooCommerce store types, including fashion and apparel, health and beauty, electronics, food and drink, restaurants, wholesale, and more.
What additional features can I expect from Product Manager Add-Ons compared to other product designer plugins?
Most design plugins offer a variety of customization options (like adding text and images), however, with Product Manager Add-Ons, you'll have access to a more impressive suite of features, including advanced product add-on types, shopping cart & checkout add-ons, product bundles, samples, restrictions, and more. These extra features help store owners create a more comprehensive and customizable shopping experience for their customers, ultimately leading to increased sales and revenue.
Get started with a custom product designer plugin today
Incorporating a product designer tool into your WooCommerce store can significantly enhance your customers' shopping experience and boost your online store's performance. A product designer plugin also gives your customers the power to tailor items of interest to meet their specific needs – and, in turn, your business will benefit from increased order value and customer retention!
If you're in the market for a product designer plugin, opt for one with real-time customization, a wide variety of design options, seamless integration with print-on-demand services, mobile-friendly design, and compatibility with popular themes and plugins. And remember, it's well worth taking your time to research each plugin and make an informed choice about which best suits your business needs.
We'd recommend checking out Product Manager Add-Ons! The plugin is user-friendly, compatible with all different kinds of WooCommerce store, and boasts a wide range of comprehensive features – like unlimited customization options, visual add-ons and upsells, product bundles, and advanced product add-on types.
Don't miss out on the opportunity to boost your revenue and give your customers a unique, interactive, and engaging experience. Try Product Manager Add-Ons today and experience the benefits of a powerful custom product designer plugin.
Comments
Ready to Get Started?
Join over 100,000 smart shop owners who use Premmerce plugins to power their WooCommerce stores.
Get started