Premmerce Agency Grand Opening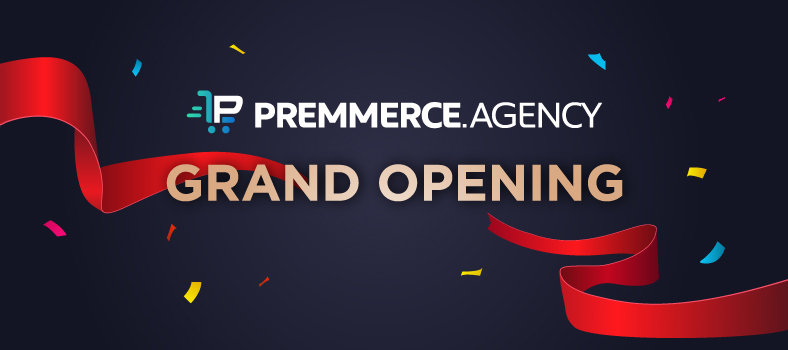 Today, I'm happy to introduce you to the new opportunities in WordPress and IT outsourcing that we offer to the companies worldwide.
We've been involved in the IT industry for a decade and we're real pros not only in creating our own thriving products but also in building effective tech teams to bring your ideas to life.
Who can benefit from our cooperation most?
Web and Marketing agency
Our research shows that when an agency receives a tech task from its client, the chance of winning the contract in 70% depends on how fast it provides the client with the relevant feedback or estimate. We consult agencies and estimate their clients' projects, which considerably increases their production capacity. Being a certified Codeable and WordPress partner, we specialize in projects with sophisticated architecture, the tasks that only 1% of the WP developers can handle. As a result, you thrill your clients with your world-class specialization, increase your profit margins and enjoy peace of mind. Read more about our Partnership possibilities
Startup
Being the owners of several successful startups, we know how to bring your ideas to life. Unlike most outsourcing companies, we started our way from the development of our own product. It was an enterprise e-commerce platform and we made it commercial and quite popular due to effective marketing strategy and promotion. We managed to gain our market share and established a partnership with a number of resellers. Afterward, we entered the WordPress community and during one year of activities in the WordPress community, we achieved 20K active installs, 20K of monthly traffic on our official resources and enjoyed the return on investments in this business direction. Read more about web application development
SMBs
We are passionate about e-commerce and have profound insight into this domain. We're ready to provide your business with all the necessary consulting and ensure your growth! Read more about WordPress development services and e-commerce development services.
Why our clients choose to work with us
The majority of IT companies started to provide their clients with software solutions as teams working according to typical outsourcing or outstaffing models. Our company had a slightly different story. We started our way as a product company and this fact adds a lot of value to our activity as we can share hands-on expertise on a number of areas essential for business success.
We developed our own enterprise e-commerce platform that was launched commercially back in 2009. We built a full-fledged marketing strategy and promotion, gained our market share, established partnership with a number of partners and reselling companies. Afterward, we entered the WordPress community and created 20 plugins and three themes from scratch. During one year of activities in the Word Press ecosystem, we achieved 20K active installs, 20K of monthly traffic on our official resources and enjoyed the return on investments in this business direction.
We've partnered with Automatic WooCommerce and started the joint project on the development of a solution for its official marketplace, involving the Pinterest engineering team for the flexible integration.
Plus, we joined the premium platform for WordPress services called Codeable last summer and have participated in more than 60 projects since that time. We managed to gain 5-star service reviews and excellent level of customer satisfaction and we are really proud of this fact.
Our experience encouraged us to learn a lot about the issues startup businesses, web agencies or SMB clients face and came up with the solutions that can be implied to handle each case effectively.
We are experts in the most popular back-end technologies such as WordPress and Laravel along with the front-end technologies used for web application architecture namely Vue and React frameworks.
Also, we have hands-on experience in the mobile application development, creating PWA, native iOS and Android applications.
Our fundamental marketing and technology background together with the experience in launching our own successful products helps us to conduct ultra constructive dialogue with you and engage all our resources for your ultimate success.
Considering everything mentioned above, we can recommend the most effective technology for your final product, run the software development life cycle from creating the MVP to your project maintenance providing high quality at each stage.
Read more about Premmerce Agency.
Partner with us
We're looking for partners in USA, Canada, UK, Nordic countries and Europe for win-win cooperation in the IT outsourcing. Just write at our live chat or e-mail on address info@premmerce.com and I'll be happy to present this opportunity to you!
Thank you for being a great Premmerce products user!
Comments
Ready to Get Started?
Join over 100,000 smart shop owners who use Premmerce plugins to power their WooCommerce stores.
Get started