Get up to 50% off on Black Friday 2019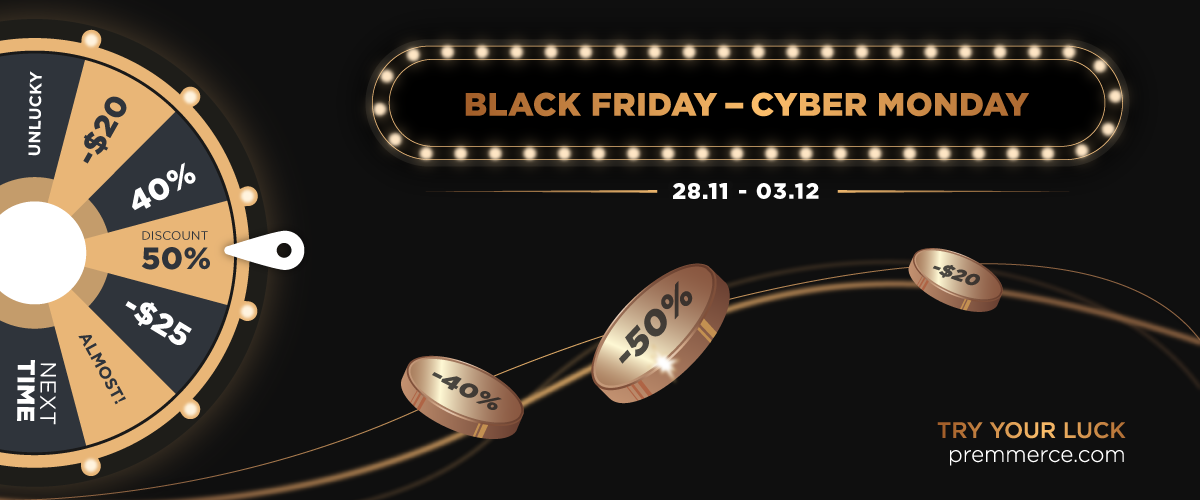 On Black Friday – Cyber Monday days on Premmerce, everyone gets a chance to win massive discounts for all the Premmerce products: WordPress WooCommerce plugins, themes, and Premmerce suites.
November 28 – December 3, 2019. Get 40% to 50% or $20 to $25 off on our website. You can use them on one or a bundle of products.
You can win the following discounts for purchases on Premmerce.com:
A discount of 50% or 40% on any total cost of goods in your shopping cart.
A discount of $25 or $20 on any total cost of goods in your shopping cart.
All you have to do is leave your email and turn the wheel.
Black Friday Terms
Only one discount code can be applied per one order. Discounts don't sum up.
You can use your promotional code ONLY from Nov 28 till Dec 3.
If you don't win, come back the next day and try your luck again!
You can take part in the Premmerce Good Luck Wheel only once in 24 hours.
You can try your luck every day throughout the Black Friday days, but use only one discount you win.
With the discount, you can buy any product on Premmerce website: Premmerce Suites, Premmerce Plugins, and Premmerce themes.
The discount is valid though Nov 28 – Dec 3, 2019.
Getting and using your discounts on Premmerce Black Friday
Here's how you can try your luck:
Anytime between Nov 28 – Dec 3, 2019, go to premmerce.com
Insert your email in the field
Press "Try your luck"
Wait for the wheel to turn & check your win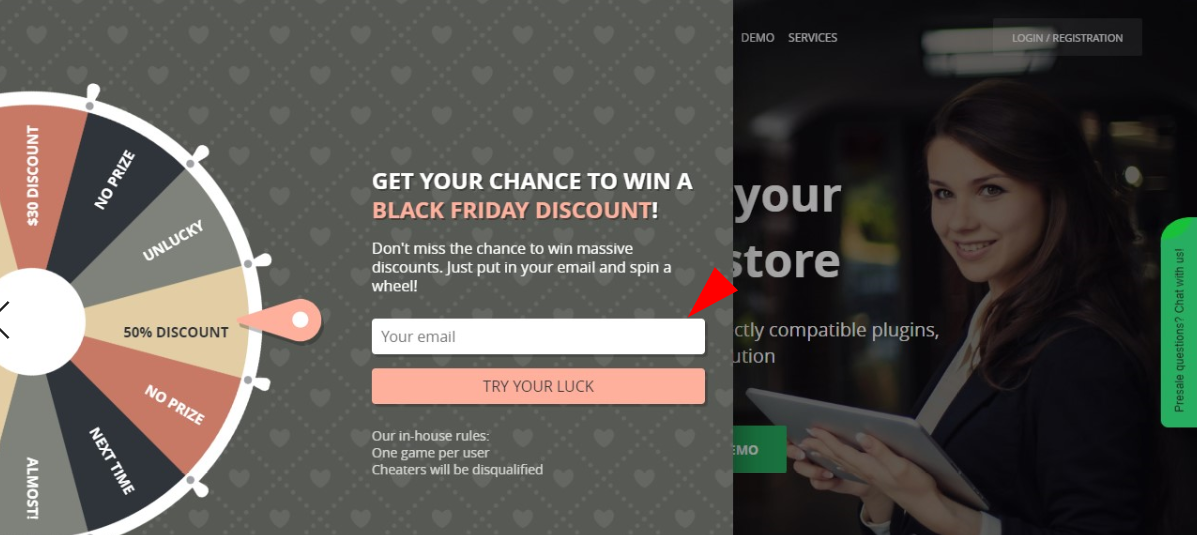 If you win a discount, copy the code the system will display and save it. Close the window.
If you don't win a discount, come back in 24 hours and try again!
Using your discount
You can use your discount any time during the period of time Nov 28 till Dec 3, 2019.
To use your discount, go to the website, pick the product or products you need and add them to your cart. When you're ready, click the BUY button.
Copy your promo code and paste it into the required field.
2. After you have inserted your promotional code, click 'Apply'.
3. You will see the price with the discount: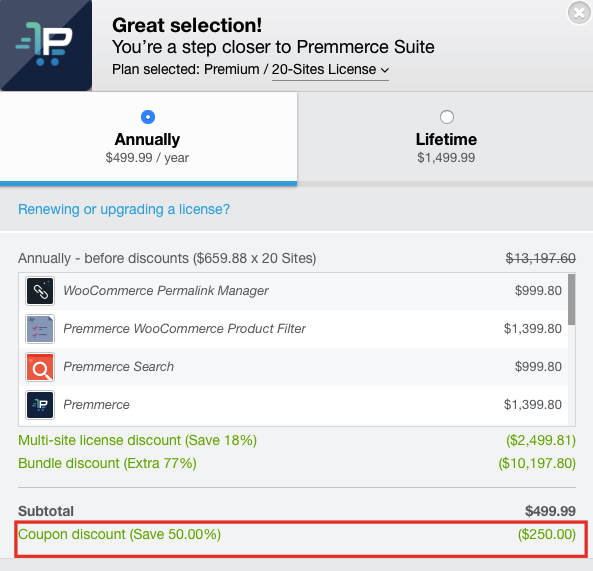 4. Pay for the order and enjoy your purchase.
Remember: you can use your promotional code ONLY during Nov 28 – Dec 3, 2019.
Good luck on your Black Friday weekend and Cyber Monday shopping!
Comments
Ready to Get Started?
Join over 100,000 smart shop owners who use Premmerce plugins to power their WooCommerce stores.
Get started