Goodlook is a free full-featured e-commerce WordPress theme - specially built for WooCommerce stores.
Download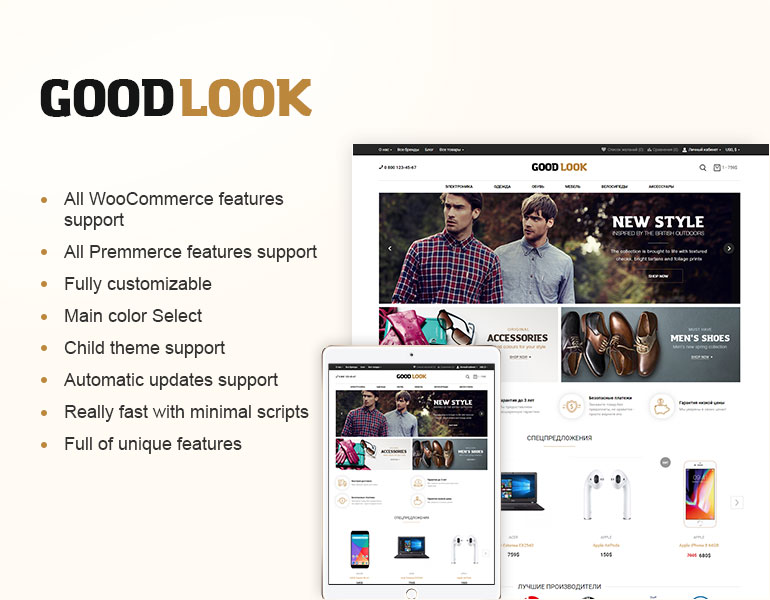 Any questions?
Check out the FAQs
Still have unanswered questions and need to get in touch?
Contact us
Documentation
We have tested how our plugins work with the basic WooCommerce plugin and the standard storefront theme and haven't noticed any influence on the response rate of the store.
are perfect for developers and store owners. If you want to optimize your WooCommerce URLs and improve your site's SEO, then you need to use our .
are a set of WordPress plugins that extends and improves the functionality of WooCommerce. In order to use our plugins, you must have a self-hosted WordPress site running WooCommerce.
Nope. You can optimize your WooCommerce permalinks with our plugins without any coding knowledge.
Yes, you can use our plugins on client sites in two ways. Either you can purchase the 5 Site / Unlimited license OR purchase an appropriate license for each client sites. You can also refer your clients to purchase directly from our site using your affiliate link to earn a 20% commission.
Why Choose Premmerce?
Expert Support
We pride ourselves on providing expert and timely support for our plugins. Our support team are knowledgeable WooCommerce support agents and developers.
Your Success Matters
Our plugins are aimed at making your WooCommerce stores faster, easier to use and rank higher in Google search results. We care about the success of your ecommerce sites.
Money Back Guarantee
If for any reason you are not happy with our product or service, simply let us know within 30 days of your purchase and we'll refund 100% of your money. No questions asked.
Professional Team
Our plugins have been around since 2018 and our team have been in the WordPress space for over 10 years. We know WordPress.
Ready to Get Started?
Join over 100,000 smart shop owners who use Premmerce plugins to power their WooCommerce stores.
Get started